Cruise Director Jo Boase is getting married in less than two weeks' time, but it has taken her a while to decide what to wear.
While planning for the big day, she managed to accumulate no fewer than 19 wedding dresses, and she was having great difficulty choosing between them.
What better way than to show the dresses off to the 450 passengers on board Saga Pearl II and ask the passengers to decide. A catwalk was set up in the ship's Discovery Lounge, and Sir Michael Parker – who organised birthday parties for The Queen Mother's 80th, 90th and 100th, arranged the fireworks for Charles and Diana's wedding, and put on 26 Royal Tournaments – was roped in to act as compere.
Jo and the ship's dancers paraded in the dresses and by a show of hands and a volley of applause, whoops and whistles, the audience made its choice – which fortunately happened to be one of Jo's favourite three.
But how did she come to have so many wedding dresses to choose from?. Let Jo explain: "I bought one a long time ago, but wasn't sure. Then the BBC Antiques Roadshow lecturers came on board and told me about a shop in Klaipedia, Lithuania that sold Italian haute couture wedding dresses at really low prices.
"Next time we docked there, I bought a stunning one-off designer dress for £46.50. It would have been at least £2,000 anywhere else. Then I thought, 'you idiot, you should have bought loads more and put them on ebay!'
Next time, I went back with hotel director Dawn Cartwright and bought 17, including another particularly lovely one which Dawn picked out. It looked nothing on the hanger, but really good when I tried it on."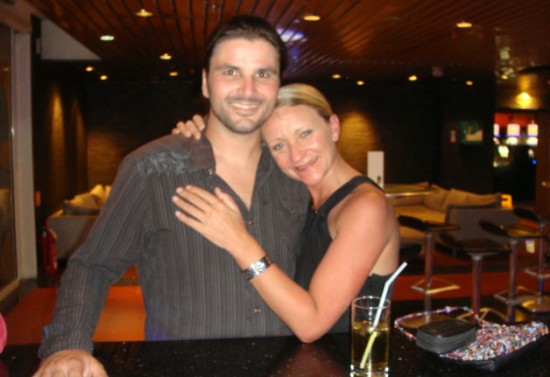 Jo met fiancé Julien Ravon in 2011 when Saga Pearl II was being refurbished before joining the company's fleet. "He was quite dishy and when he said he was a carpenter I couldn't believe my luck because I had just bought a 200-year-old lock-keeper's cottage in Saddleworth, Yorkshire and it need lots of work.
"He also plays in a band so he understands the unsocial hours and vagaries of working in the entertainment world.
"Julien is 10 years younger than me but at 33 he is more mature in many ways. "
The wedding ceremony will be on August 14 in Biarritz. Julien's father is a church choirmaster and it will be a Basque ceremony. "The English guests won't have a clue what's going on, and neither will the French," said Jo.
Captain Philip Rentell, with whom Jo has worked for 20 years, will give her away, and his wife, Helen, is providing the blue garter. Among the eight bridesmaids are hotel director Dawn, shore excursions manager Jacquie Forbes-Watson, chief purser Annie Popova, and fellow cruise director Kayleigh McMahon.
At least they know what Jo will be wearing. You, me, and fiancé Julien will have to wait until she walks up the aisle.