The maiden voyage of a new cruise ship is one of the most memorable holidays it's possible to have. 
The ship is brand spanking new, with every rail, counter-top and decoration gleaming. There's a certain smell to a new ship – a combination of new carpets and fresh paint, with a hint of glue and topped off with the floral notes of the arrangements provided for the event.
Making themselves at home in their new surroundings, every single member of the crew is suffused with pride at being among the first to take the vessel out of port for the first time.
The Captain, in particular, is bedecked in a neatly-pressed new uniform, the gold braid glistening on his epaulettes and his cap. No-one will be more eager to show off his new baby – and as well as passengers to greet, he'll be welcoming port officials at every new call, exchanging plaques and mementoes for each maiden visit.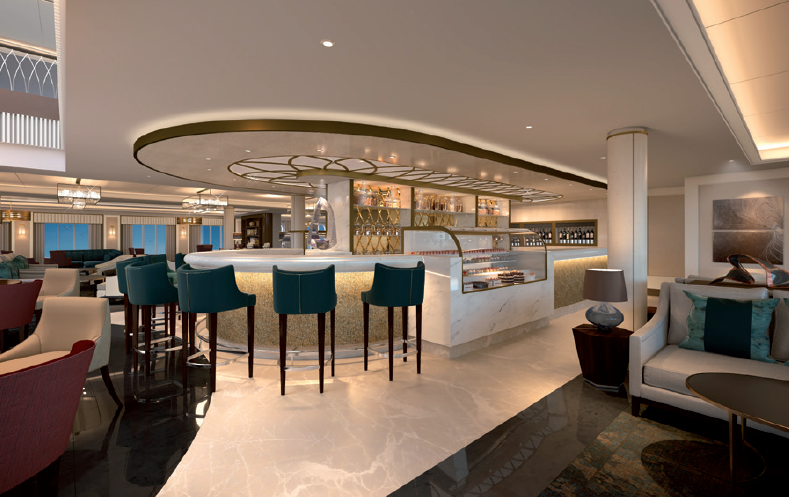 Ship christenings are magical events, with Champagne flowing freely, a gala dinner for a privileged coterie of specially-invited guests, and very often fireworks to match the most thrilling displays of Guy Fawkes' Night or Thanksgiving.
For the first guests on a brand-new ship the sheets on the beds have never been crisper; the towels in the bathrooms will be at their fluffiest. On many nights when guests return to their cabins after dinner, they will no doubt fi nd little extra gifts – special mementoes of their unique trip.
Every aspect of a maiden voyage is cruising at its ultimate peak. It's a privilege afforded to a select few. For Spirit of Discovery, hopefuls have been registering their interest for months by putting down a deposit. Only now will they be starting to receive phone calls telling them what itineraries are available.
YOU could become one of the fortunate few, joining them for this once-in-a-lifetime experience for Spirit of Discovery's maiden voyage, setting out from Dover on July 10, 2019.
You'll travel on a 13-night cruise around the British Isles, with the new ship welcomed like a hero at each port of call and with celebrations all the way.
For the chance to win a place on Spirit of Discovery's maiden voyage, you simply need to answer three simple questions.
What is the minimum qualifying age for travel with Saga Cruises?
What is the northernmost port on Spirit of Discovery's maiden voyage?
Where is Spirit of Discovery being built?
Terms & Conditions
• To enter this competition, you must be: (a) UK resident; and (b) 50 years old or over at the time of the maiden voyage 'A British First' departing 10th July 2019.
Only one entry per individual will be counted.
Competitions are not open to employees (or members of their immediate families) of Saga plc or any subsidiary of Saga plc, or of World of Cruising and Luxury Travel Ltd and its subsidiary companies
Any personal information that you provide to World of Cruising and Luxury Travel Ltd will be treated in accordance with current UK Data Protection legislation, and will not be disclosed to a third party without your consent.
Validity of the prize cannot be extended.
Saga plc cannot be responsible for the unforeseen cancellation of the holiday due to circumstances beyond our control.
No purchase necessary.
Saga plc reserves the right to substitute an alternative cruise of a similar value due to any unforeseen circumstances.
The holiday is ABTA and ATOL protected. Saga plc full terms and conditions apply.
The winner will be chosen completely at random.
Third party entries are not allowed and any entry that is deemed to be entered by a third party will be disqualified. Unless permission has been given otherwise when entering the prize draw, all previously unknown data to the promoters will be used solely for the purposes of the prize draw entered and correspondence immediately associated with it.
The last day for competition entries is 31st December 2017.
By entering the competition, the winner agrees to participate in such promotional activity and material as Saga Holidays and World of Cruising may require.
Prize is subject to availability, capacity controlled, non-negotiable, non-transferable and non-refundable. There is no cash or other alternatives in whole or in part in exchange for the prize. Saga plc reserves the right at its sole discretion to substitute an alternative prize of similar value.
Please read our Privacy Policy which tells you how we use any personal information we may collect about you by entering a competition: Privacy policy..
From time to time, World of Cruising may enable specially chosen third party partners to mail or email you with relevant information regarding products, services and special offers that may be of interest to you. If you prefer not to receive these mailings, please tick here:

yes

World of Cruising reserves the right to amend these rules at any time. World of Cruising may also create rules which will apply to a specific competition only. If we do this we will publish the amended competition rules and/or specific competition rules on the relevant competition page.
The judge's decision will be final, and no correspondence will be entered into.