Uncover the hidden treasures of Venice and encounter unforgettable sights on this once-in-a-lifetime odyssey around the "Queen of the Adriatic".
Begin your cruise boarding Uniworld's luxurious River Countess ship, where you will be treated to both world-class cuisine – expertly prepared using the finest, freshest ingredients – and unlimited beverages, including fine wine, beers and spirits. This recently remodelled river ship showcases a variety of well-appointed relaxation areas, including a spa, sun deck, lounge and full-service bar. With a capacity of only 130 guests, River Countess offers all-inclusive luxury, unsurpassed comfort and impeccable service from butlers trained to meet the same high standards set at Buckingham Palace.
The first full day of exploration starts with a delightful walking tour through Venice's labyrinthine back lanes, revealing a close-up view of the city's residential heart, the legendary Doge's Palace, and the iconic Rialto Bridge. Learn about the time-honoured Venetian tradition of Murano glassmaking from a skilled glassmaker's demonstration at the Arti Veneziane alla Giudecca Glass Factory. You will then venture inside St Mark's Basilica once it is closed to the public, for an exclusive after-hours lighting ceremony, before returning to the ship for a Captain's Welcome Reception and Gala Dinner.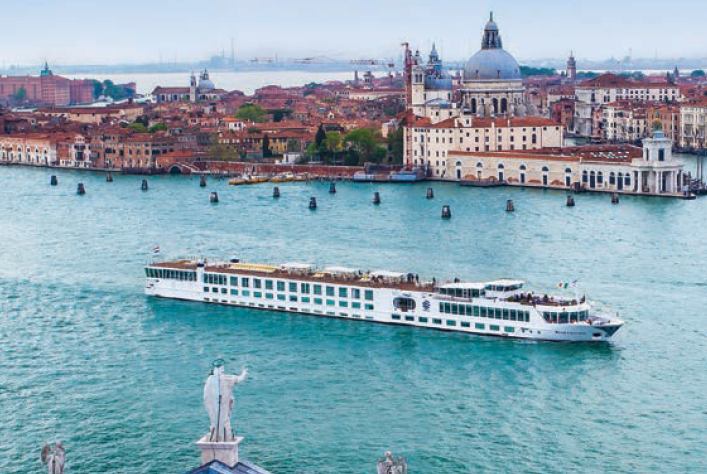 Whether you choose to embark on a walking discovery tour in Padua or Chioggia, or alternatively opt for an exclusive "Go Active" guided bike tour, cycling along Chioggia's beaches, there will be many magnificent views to admire. Padua is one of the oldest cities in Northern Italy and home to an ancient university (established in 1222), with frescoes by Giotto in its Scrovegni Chapel, and the vast Basilica of St Anthony – a pilgrimage site dating back to the 13th century. Meanwhile, a walking tour through slow-paced Chioggia will uncover delightful insights into this quaint fishing port, located inside the Venetian lagoon.
Food-lovers will be in their element in Bologna, with its unrivalled speciality shops and markets selling locally made mortadella and tortellini, delicious Parma ham and immense rounds of Parmesan cheese.
If your interests lie with the arts, you can instead opt to spend the morning in Ferrara. This culturally significant town has a multitude of 14th and 15th-century palaces, and a long history of art linked with the noble Renaissance family of d'Este, making it a revered UNESCO World Heritage Site.
The next day of your cruise will ensure you see the colourful fishing village of Chioggia in all its glory. Embrace the bustle of the fish market, where an expert guide will give you a flavour of local life and share the secrets behind Italy's famed frutti di mare.
Next comes "The Magical Islands of Venice", a full day spent discovering Venice Lagoon, with its captivating islands. Stroll around Burano, with its rainbow of colourful homes, and visit a lace-making atelier. On Mazzorbo, you can unwind with a very special wine tasting featuring the unique local Dorona grape, which yields a luscious golden wine.
The final full day of your adventure offers two options. One choice is to join an exclusive "Do as the Locals Do" Venice walking tour, to get a feel for daily life in Venice while strolling through the vibrant Rialto Market with a skilled guide. The other option is to tour the renowned Accademia Gallery with an expert art historian, on the "Venetian Painters at the Accademia" tour.
Your cruise concludes with complimentary transfers to Venice Marco Polo International Airport for your flight home.
For your chance to win this cruise, tell us:
Which of the Venice Lagoon islands boasts brightly coloured homes?
a: Mazzorbo
b: Burano
c: Torcello
This competition is closed