The eternal city is one of the World's wonders, with iconic sights at every turn. But with cruise ships docking some 50 miles away at Civitavecchia, a brief visit needs careful planning.
1. FAMILY FUN
08:30 Of course you can opt for one of your cruise line's expensive tours. But trains leave Civitavecchia station three times an hour for Rome's Termini station (between 45 and 80 minutes depending on the number of stops). You'll be part of real Italy, travelling with schoolkids, "nonnas" heading to the markets, and commuters on their way to work.
10:00 Sure, there are cheaper ways of getting around Rome, but the most convenient for a family is the trusty Hop-On Hop-Off bus. Board it outside Termini station, then sit back, listen to the commentary and admire the stupendous views. Naturally, the nine stops are conveniently arranged for the city's major tourist highlights.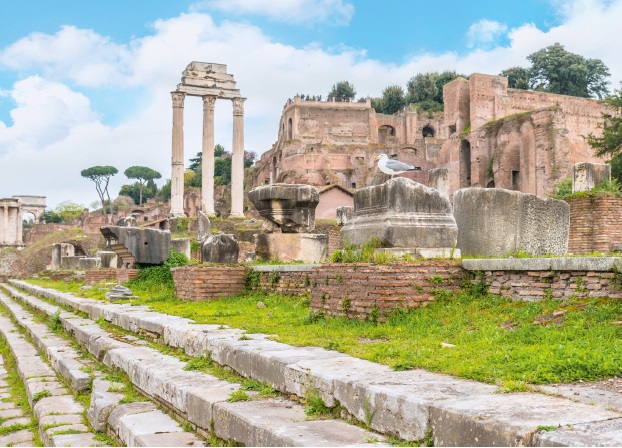 10:30 Hop off at the third stop (Colosseum, Roman Forum and Palatine Hill) for the awe-inspiring remains of the ancient city of the Caesars. These haunting ruins are imposing enough from the outside, but most children won't be happy until they're inside the Colosseum, discovering all the gory details of how the gladiators fought each other and those wild beasts. Be prepared for long queues – or pay the skip-the-line supplement offered by the bus company when you book your tour.
12:00 Reboarding the bus, you'll be taken past the Circus Maximus and the imposing wedding-cake architecture of Piazza Venezia (a monument to Victor Emmanuel II, who became the first king of united Italy in 1861). Alight at the sixth stop, Vatican City. Young children probably won't appreciate the wonders of the Vatican museums, so head instead for St Peter's Basilica, commemorating the martyrdom of the apostle during the Emperor Nero's reign in 64AD.
The glorious piazza is where the Pope addresses the world every Christmas and Easter. Several companies offer skip-the-line tours with audio guides and access to the dome (there are 551 steps to the top unless you take the lift). Either way, be warned: the dress code is strictly enforced. No mini skirts, bare shoulders or shorts (men and women).
13:30 By now you'll all be feeling peckish, so remember that eating is as much a part of the Roman experience as seeing historic monuments and Renaissance art treasures. Find a restaurant that offers authentic cuisine, then sit back and enjoy the free theatre that is Rome.
15:00 The seventh stop is the famous Trevi Fountain. Designed by Nicholas Salvi and completed in 1762, it's the largest Baroque fountain in the city – the perfect place for that family selfie. Encourage the kids to stand with their backs to the fountain before throwing a coin with their right hands over their left shoulders. According to legend, this will guarantee their (and your) return to the Eternal City – hopefully with more time to explore, since you should be thinking of catching that return train to Civitavecchia around 4.30pm.
THE BASICS
• For trains, see www.civitavecchia.net
• For buses, see Hop on Hop off buses. Optional extras include skip-the-line entrance to the Colosseum and Vatican museums.
• Colosseum entry costs 12 euros for adults (7.50 for European Union citizens, with free entry to visitors aged 17 and under).
2. FIRST TIME?
07:30 If you've never been to Rome and you aren't already planning a return, you must prioritise. You can't possibly experience everything in one day – especially given the two hours or so of travelling time between the city and Civitavecchia. Your best plan is to start your day as early as you can, and do plenty of homework beforehand, pre-booking as many skip-the-line entrances as possible.
If there are three or four of you with similar agendas, it might be worth arranging a private tour which concentrates on the specific things you want to see. Alternatively, several companies offer organised one-day tours from Civitavecchia for time-poor cruise passengers – and these may be better value, or offer more attractive itineraries, than the shore excursions your cruise line is offering. Whatever your decision, no visit to Rome is complete without the following…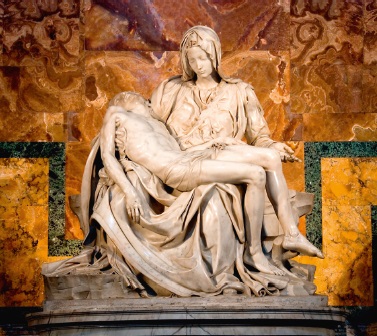 09:00 Begin at the incomparable Vatican museums – but the queues can be immense, so make sure you have either booked your entry time online, or have it included in your tour itinerary. Michelangelo's unforgettable frescos in the Sistine Chapel (scenes from Genesis on the ceiling, The Last Judgement on its altar wall) are even more wondrous in real life (and extra-vibrant thanks to restoration and modern lighting). But you could spend a month here without running out of new masterpieces to see.
11:00 Again, few will want to skip St Peter's Basilica. Highlights include Michelangelo's marvelous Pieta (with mother Mary cradling the slain Christ) and Bernini's Baldacchino, the centrepiece of the church).
12:30 Is there anywhere more beautiful in Rome to have lunch than Piazza Navona? Admittedly it's full of fellow tourists, and those charming al fresco restaurants charge for the view. But just savour Bernini's Fountain of the Four Rivers, the buskers and street artists and enjoy your moment in the sun in this exquisite and historic public space.
14:00 Too pressed for time to explore either the Colosseum or the Roman Forum? Then climb the set of stairs designed by Michelangelo leading to Pizza del Campidoglio on the top of the Capitoline Hill. This is one of the great free views of Rome (even more spectacular when floodlit at night), overlooking the remains of the ancient city as it was in the days of the emperors.
15:00 Rome really is a city best explored on foot. It's less than a mile, for example, from the Trevi Fountain to the Spanish Steps – a stroll that can take as little as 15 minutes or an entire day. The world-famous steps – one of Rome's great rendezvous spots – lie directly opposite Via dei Condotti, the Italian capital's richest shopping street, and home to Gucci, Versace, Armani and Dolce & Gabbana. But watch the time as well as your wallet. You'll soon have to head back to Civitavecchia, and you still haven't seen the Pantheon, the Villa Borghese or the Basilica di San Giovanni.
THE BASICS
• Buy online tickets for the Vatican museums (including the Sistine Chapel) at mv.vatican.va. Price 16 euros for adults; 8 euros for children aged 6-12; booking fee 4 euros per ticket. The museums are normally closed on Sundays and other religious holidays.
• A Biglitetto Giornaliero (one-day ticket) for Rome's buses, Metro, trams and city rail lines costs 6 euros. For tourists, the two-line Metro is the easiest to negotiate. See rome.info/transportation/tickets/.
3. BEEN THERE? GO HERE
1. CINECITTA STUDIOS
Italy's most celebrated film studio, founded by Mussolini in 1936 to rival Hollywood, is now a living monument to Italy's love of cinema.
Take Rome's Metro A line from Termini towards Anagnina, and Cinecitta is the last stop but one. There's a fabulous museum that occupies several of the original fascist-era buildings. One is dedicated entirely to Fellini. Other sections relive the so-called "sword-and-sandal" era of the 1950s and 60s when generous tax breaks saw scores of English-language epics such as Quo Vadis, Ben Hur, Ulysses, Hercules and Cleopatra shot on Cinecitta's stages. Around 60 of those were inspired by Greek mythology or the Bible, while another 40 were set in Ancient Rome. You can see costumes worn by Elizabeth Taylor, Peter Ustinov and Richard Burton, and there are also rooms dedicated
to Italy's movie divas (Sophia Loren, Gina Lollobrigida, Claudia Cardinale) as well as to Sergio Leone's "Spaghetti Westerns".
If you take the backstage English-language tour you can see where Martin Scorcese filmed Gangs of New York and visit the set used for the BBC/HBO TV series Rome.
2. CIMITERO ACATTOLICO
It may seem strange to recommend a graveyard to tourists but this really is one of Rome's hidden gems. The so-called "Protestant Cemetery" also includes the last resting place of Jews, other non-Catholics and a few agnostics. Take the B Metro Line to Piramide, the next stop after Circus Maximus.
Rome's only Egyptian-style pyramid is more than 2,000 years old, having been built in the first century before Christ in honour of Roman tribune Gaius Cestius. Today it stands guard over this picturesque and strangely uplifting selection of tombstones and family vaults. The most famous "guests" are those giants of the British Romantic age, the poets John Keats and Percy Bysshe Shelley. Keats was a virtual unknown when he died in Rome in 1821, aged 25. The self-penned epitaph – "Here lies one whose name was writ in water" – belies his posthumous fame.
3. THE JEWISH QUARTER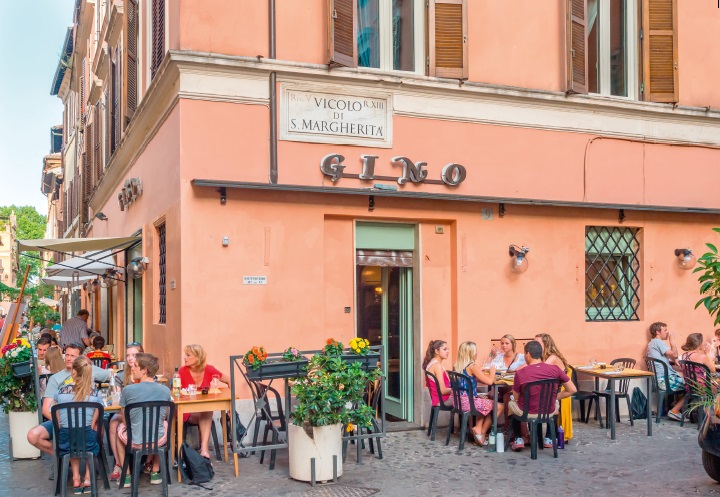 Though Rome is a city of 900 churches, if you're looking for something different you should visit the Grand Synagogue on the banks of the Tiber, home to the city's Jewish Museum.
Jews were living in Rome long before the time of Christ, and they have  survived despite centuries of persecution. In 1555, Rome became the setting of the world's second ghetto (after Venice), in which all Jews were confined between sunset and sunrise. The museum also explains what happened to the Jews under Mussolini, and following the Nazi occupation in 1943. Today's Jewish Quarter, gathered around the synagogue and roughly occupying the site of the old ghetto, is now a magnet for foodies, serving Italian food with a delicious kosher twist.
THE BASICS
• Cinecitta Studios are open from 9.30am-6.30pm, with English-language backlot tours available at 11.30am and 4pm. Admission: 10 euros for museum only; 20 euros for museum and backlot tour.
• Cimitero Acattolico is open Monday to Saturday from 9am-5pm (last entry 4.30pm), with restricted access on Sundays and public holidays. Admission: 3 euros.
• The Jewish Museum of Rome (Museo Ebraico di Roma) is open Sunday to Thursday, 10am-5pm, and Friday from 9am-2pm. Admission: 11 euros; under-10s free.