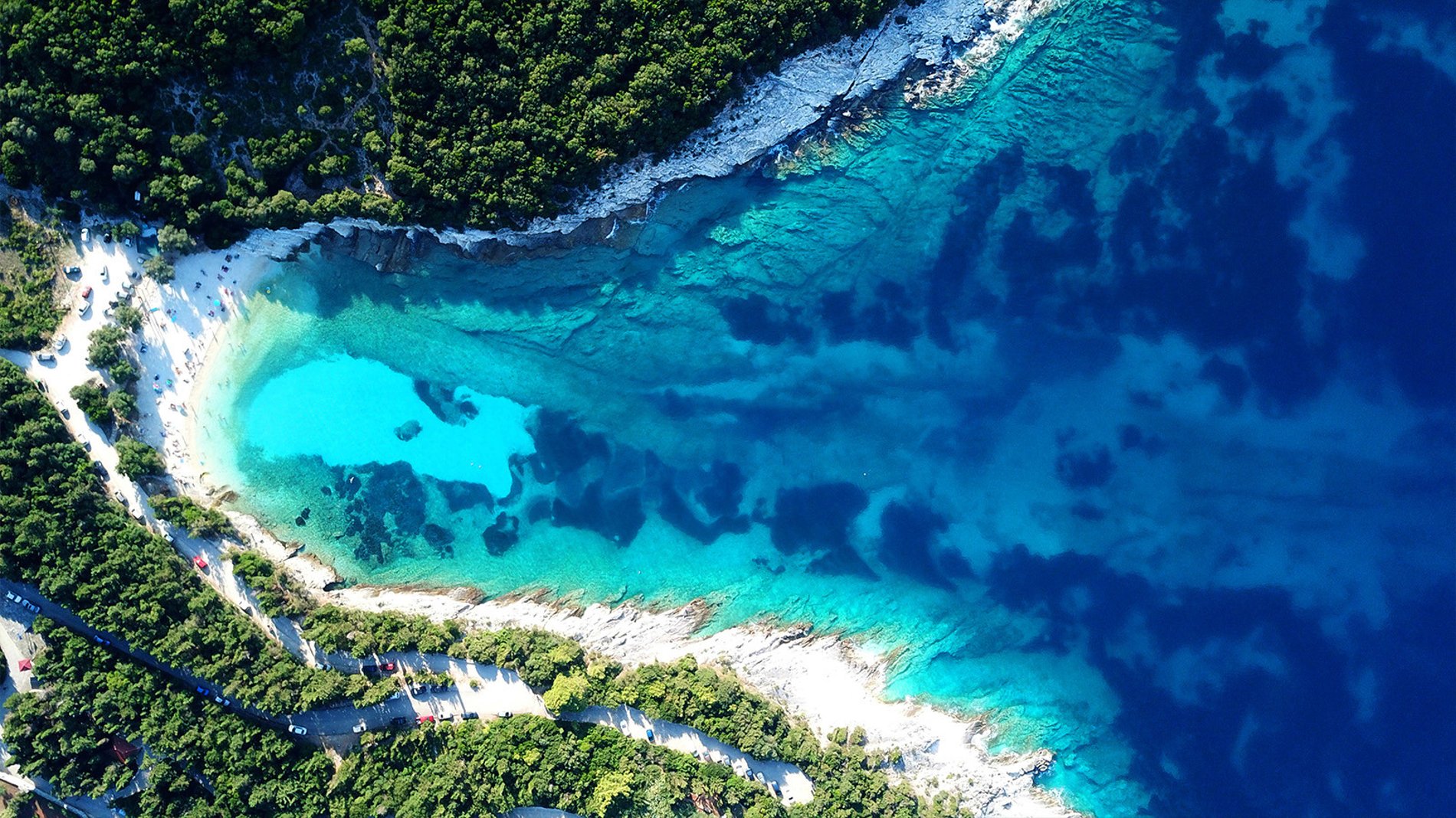 Explore the Caribbean without the crowds
From lagoon-like coves to live reggae,
these under-the-radar islands offer an
authentic slice of the Caribbean

Escaping some of the 30 million travellers who wash up on the Caribbean's paradisiacal shores annually may seem an impossible task.

But beyond the tourist favourites of Jamaica, Barbados and Turks and Caicos are a slew of lesser-known islands where you can lap up some crowd-free Caribbean sunshine.
Typically more remote and basking in the shadow of their bigger, brashier, more developed sister isles, these pocket-sized beauties are packed to the brim with sites and activities.
Think tumbling lost-world waterfalls, ancient cave petroglyphs, award-winning rum distilleries and centuries-old plantation homes to tour.
Most welcome both loungers and keen adventurers, with sleepy sand bars to live-out your castaway fantasies and volcanic peaks to scale.
On traffic-light-free Nevis, the local green vervet monkeys outnumber the locals, whilst the ABC isle of Aruba wears its Dutch heritage proudly. So slip on some flip flops or hiking boots and be swept away by our sensational six unspoiled Caribbean isles...

Aruba
From ancient rock paintings to burrowing owls, glittering casinos and wild cactus deserts, semi-arid Aruba is awash with surprises.

Fifteen miles north of Venezuela, this island is a former Dutch colony, whose head of state continues to be the Netherland's reigning monarch.
Pretty-in-pastel gable-roofed Dutch houses line the streets of its charming capital Oranjestad, named after the Prince of Orange.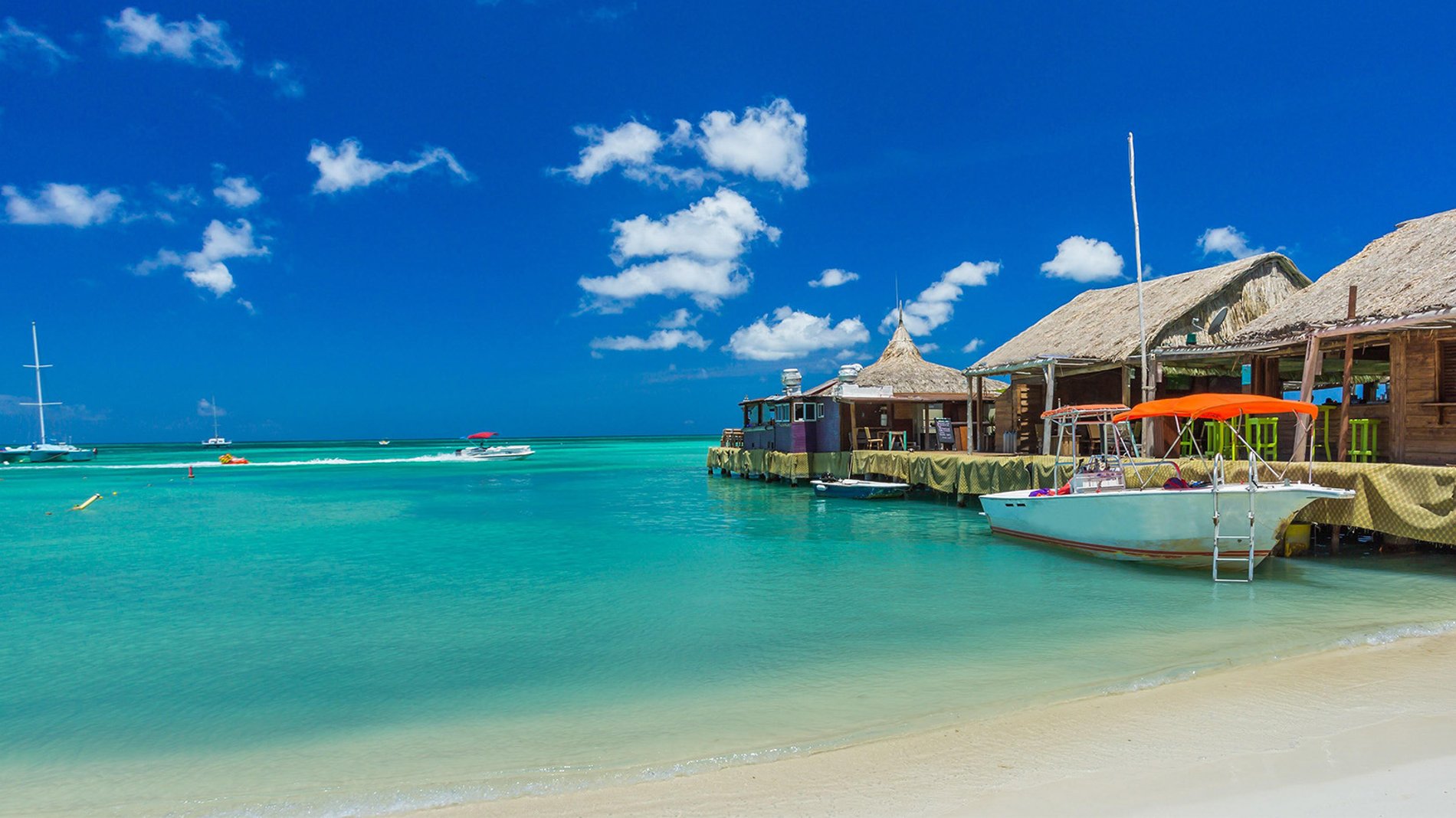 It's easy to see why locals nickname Aruba 'One Happy Island.'
As well as sitting safely below the hurricane belt, it claims near-perfect weather with less than 20 inches of rainfall a year and daytime temperatures of 27 degrees.
Its near constant warm trade winds have helped the island evolve into a surfing, kiteboarding and windsurfing mecca (no wetsuits required!).
Aruba's craggy northern limestone coastline is primed for adventures below the water too, with some twenty dive spots including sunken airplanes to discover.
For more sunshine, sea and sand (dunes), cruisers can get their explorer's fix at Arikok National Park, home to a bird sanctuary, sea- sculpted natural pools and astonishing Arawak native cave paintings.
Want to just flop on a beach?
There are 40 to unfurl your beach towel on, with a local bus service connecting the main ones.
Why you should go: To sunbathe alongside flamingos on Renaissance, a 40-acre offshore island reached via an eight-minute water taxi ride from Aruba's capital of Oranjestad.

Get on board
NCL's 14-night 'Caribbean: Curacao, Aruba & Barbados' cruise aboard Norwegian Jade, roundtrip from Tampa (Florida), via Key West (Florida), Great Stirrup Cay, Puerto Plata (Dominican Republic), Saint Thomas (British Virgin Islands), Saint John's (Antigua and Barbuda), Bridgetown (Barbados), Saint George's (St Vincent and the Grenadines), Willemstad (Curacao), Oranjestad (Aruba) and Georgetown (Grand Cayman), departs December 10, 2023, from £1,284.
Princess Cruises' 13-night 'Circle Caribbean' cruise aboard Emerald Princess, roundtrip from Ft. Lauderdale (Florida) via St. Kitts, Guadeloupe, St Lucia, Barbados, Grenada, Trinidad and Tobago, Martinique and Aruba, departs November 25, 2023, from £1,699.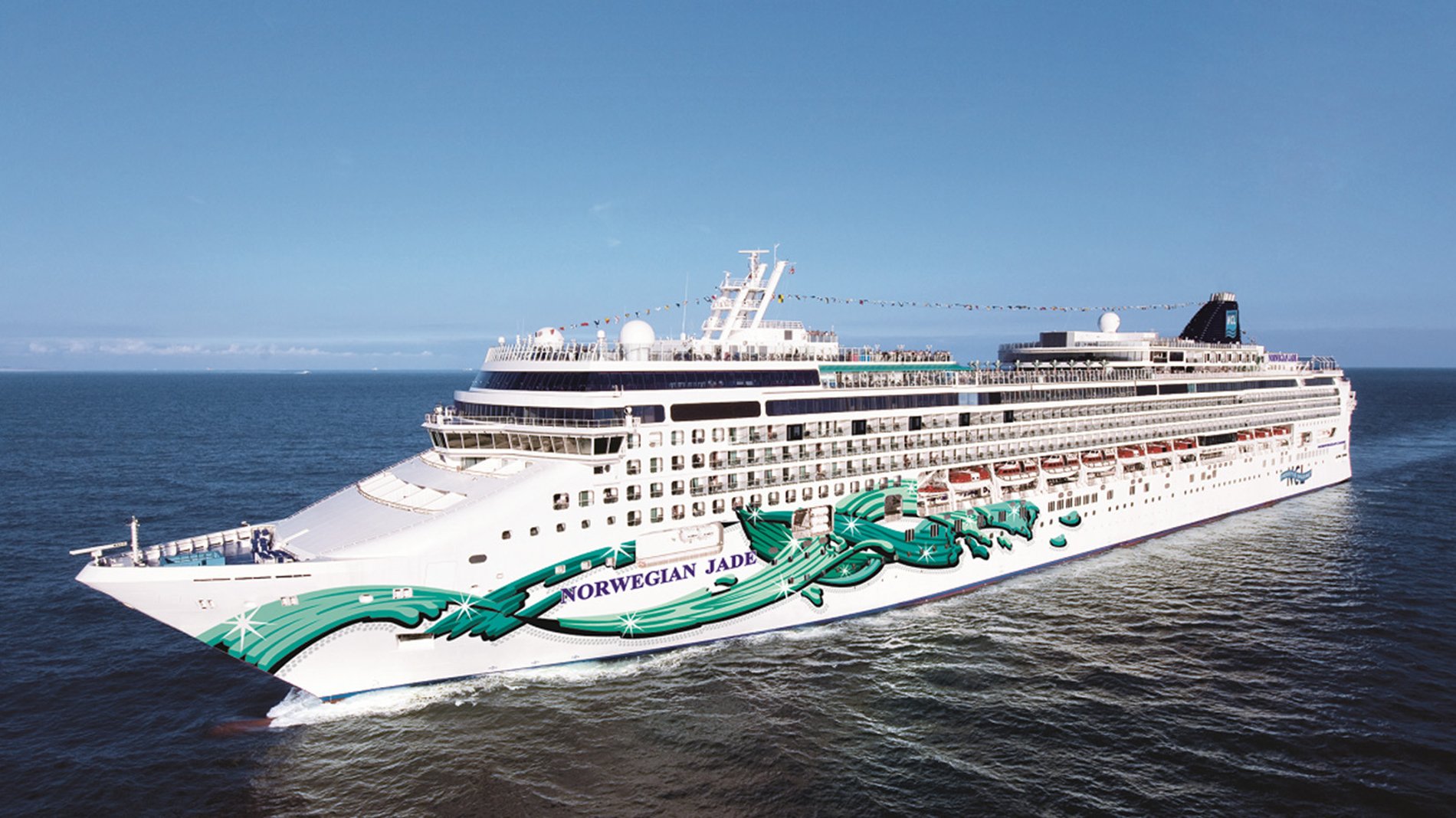 St Vincent & the Grenadines
With its secluded coves, postcard-worthy harbours and a storied seafaring history, this archipelago of 32 emerald-hued volcanic islands and cays – located south of Saint Lucia and west of Barbados – is flooded with tropical treasures.

The largest island of the chain is St. Vincent, which promises Atlantic-surf pounded black beaches, a network of well-marked jungle-trails and the oldest botanical gardens in the West Indies.

Did we mention the 1,200-metre-high (active!) volcano that intrepid cruisers can conquer?

For a more sedate hike, scramble up to Napoleonic-era Fort Charlotte. It stands sentinel over the harbour of Kingstown, aka St. Vincent's colonial capital, worth lingering in for its Georgian and Gothic-style cathedrals and lively marketplace.

Stretching 45-miles south are a dozen or so smaller islands known as The Grenadines.

Famous for its traditional double-ended fishing boats, Bequia (pronounced 'beck-way') claims 24 dive sites, a historic 18th-century fort and a hawksbill turtle sanctuary founded by fishermen.
Meanwhile, Mustique (reached via a one-hour catamaran sail from St. Vincent) is a magnet
for A-listers who flock to its trio of postcard-perfect beaches: Macaroni, Princess Margaret and Lagoon.
Then there's itsy-bitsy boot-shaped Canouan, a 3.2 square mile isle ringed by one of the Caribbean's largest living reefs.
Its neighbour, the jewel in South Grenadine's crown, is Tobago Cays.
A utopia for snorkellers and scuba divers, the five deserted islands are part of a protected marine park inhabited by stingrays and sea turtles.
Why you should go: To kick back and enjoy Caribbean islands that haven't been spoilt by tourism.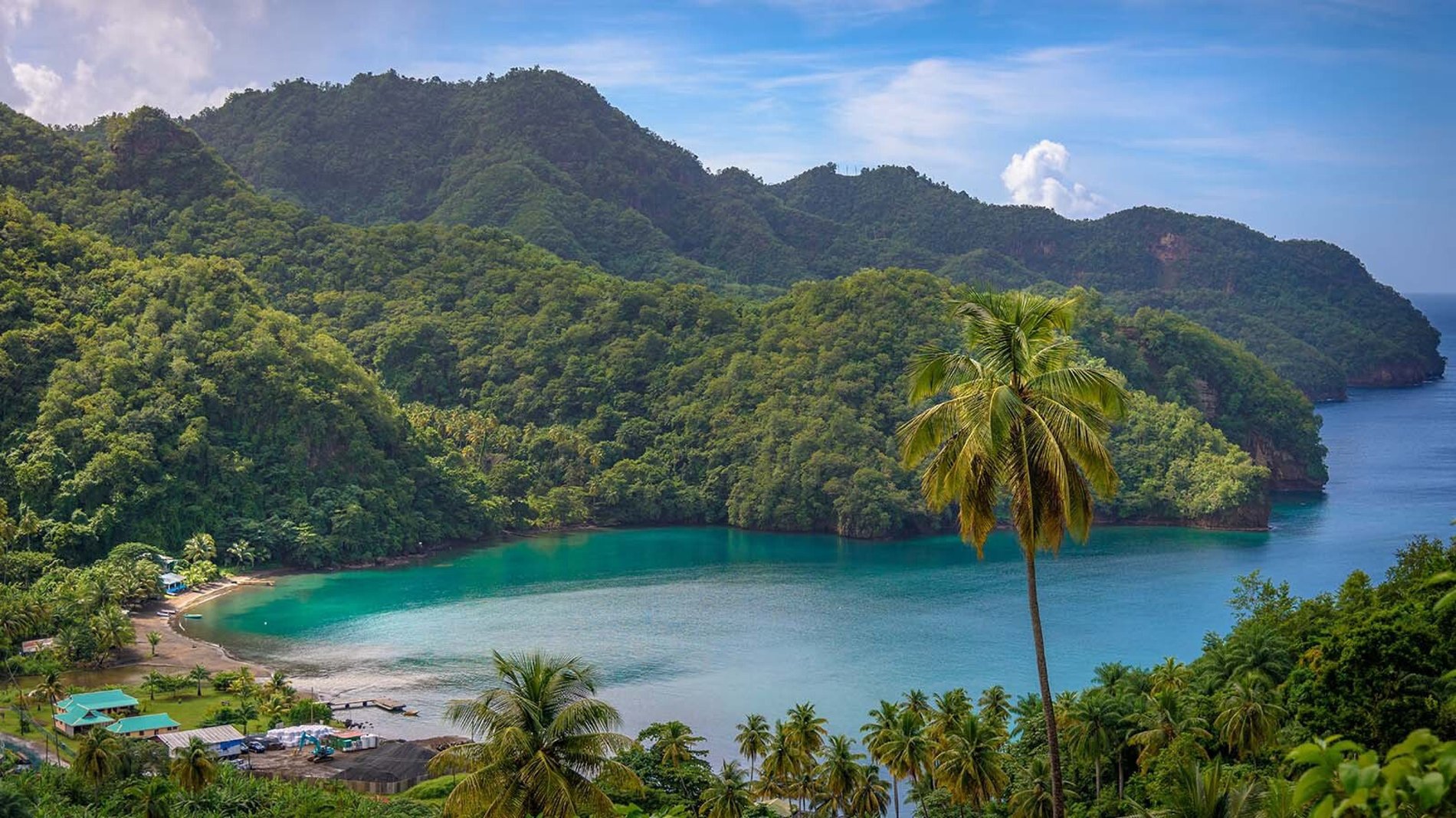 Get on board
Seabourn's six-night 'Classic Caribbean Yacht Harbors' cruise aboard Seabourn Ovation, from Bridgetown (Barbados) to Philipsburg (St Maartan) via Port Elizabeth (Bequia – St Vincent and the Grenadines), Saint Pierre (Martinique), Pointe-a-Pitre (Guadeloupe), Antigua and South Friar's Bay (St Kitts and Nevis), departs January 21, 2024, from £4,789.
TUI's seven-night 'Tropical Shores' cruise aboard Marella Discovery, roundtrip from Bridgetown (Barbados) via Charlotte Amalie (U.S Virgin Islands), San Juan (Puerto Rico), Frederiksted (U.S Virgin Islands), Roseau (Dominica) and Kingstown (St Vincent), departs December 7, 2023, from £1,581.

Anguilla
Glamour meets old island charm on this pint-sized island with a larger-than-life personality that's the most northerly of the Leeward chain.

It owes its somewhat unflattering moniker ('eel' in Spanish) to its long, sinuous shape.

Famous for its round-the-island summertime boat race, rousing live music and diverse culinary scene featuring everything from roadside flame-grilled fare to Michelin starred dining, flat-as-a-pancake Anguilla also boasts some of the best snorkelling in the Caribbean.

Leatherback, green and hawksbill turtles can all be sighted at Captain's, Maunday's, Limestone and Meads bays from April to November.

The island's embargo on monster-sized cruise ships and jet skis is one reason it's escaped the throngs of people that descend on St. Maarten, its sister isle that's separated by just 12 miles of turquoise waters.
Soak up the serenity on a birding tour arranged by the Anguilla National Trust, try the centuries-old tradition of salt-picking from the island's natural saltwater lagoons, or indulge in an artisanal shopping spree for driftwood sculptures and traditional Anguillan fashion.
The Atlantic and Caribbean-lapped island is also scattered with Pre-Columbian archaeological sites.
A highlight is Fountain Cavern National Park's Big Spring cave nestled near the island's northeastern coast.
A prehistoric Amerindian ceremonial site, cruisers can marvel bedrock etched with 100 petroglyphs dating back to 600 A.D.
Why you should go: To hit the greens in style on the island's reimagined 18-hole championship course designed by golfing legend Greg Norman.

Get on board
MSC's seven-night 'Pointe-a-Pitre, Roseau, Philipsburg, St John's, Basseterre, Fort de France, Pointe-a-Pitre' cruise aboard MSC Seaside, roundtrip from Pointe-a-Pietre (Guadeloupe) via Roseau (Dominica), Philipsburg (Anguilla), Saint John's (Antigua and Barbuda), Basseterre (St.Kitts) and Fort-de-France (Martinique), departs January 14, 2024, from £671.
Windstar Cruises six-night 'Beach Fun & Sun: A remote Caribbean Getaway,' cruise aboard Star Pride, roundtrip from Saint Maarten via Antigua, Anguilla, Tortola (BVI), Jost Van Dyke (BVI), Virgin Gorda (BVI) and Gustavia (Saint Barthélemy), departs November 4, 2023, from £1,991.

Grenada
Roughly the size of the Isle of Wight, this tri-island eastern Caribbean state is the most southerly of the north-south arc of the Lesser Antilles chain.

Tussled over by the French and British, the original Spice Island' is one of the smallest independent countries in the western hemisphere.
An island of superlatives, Grenada claims the world's first underwater sculpture park (founded by British artist and environmentalist Jason deCaires Taylor), the Caribbean's largest diveable shipwreck and the region's oldest working water- powered rum distillery.
You could be cooling off in one of its 18 spectacular waterfalls one minute and visiting a working organic cacao farm the next.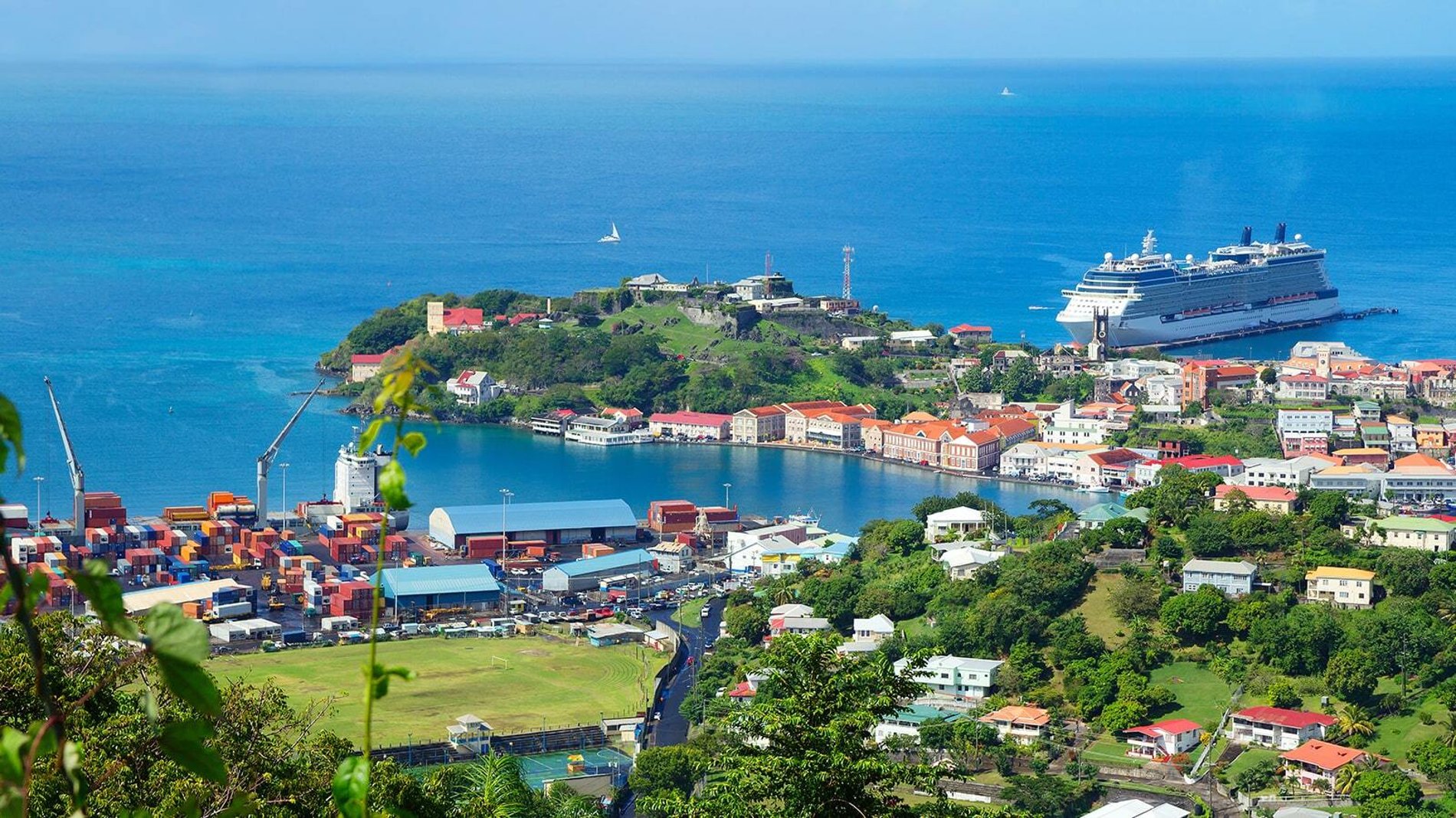 Grenada's coastline is freckled with 45 beaches (like award-winning Grand Anse), while its mountainous rainforest interior is ripe for exploration.

Slap bang in the island's centre is Grand Etang National Park, blessed with four peaks, miles of walking trails, a cobalt-blue crater lake and charismatic wildlife including Mona monkeys, tropical mockingbirds and armadillos.

Meanwhile, its vividly painted capital of St. George's is a hit with history buffs.

Founded by the French in 1650, its natural horseshoe-shaped harbour is bookended by two brooding forts. 18th-century Fort George makes for a scenic climb.
Epicureans are also in for a treat.
The island's three award-winning rum distilleries and five bean-to-bar chocolate factories offer tasting tours, whilst Grenada's working nutmeg, cinnamon and clove plantation estates are portals to Grenada's spicy history.
Why you should go: To walk on chocolate at the island's 400-year-old Belmont Estate, where polishing beans with your feet is part of their seasonal cacao production tour.

Get on board
Silversea's 10-night 'Fort Lauderdale to Bridgetown' cruise, aboard Silver Dawn, from Fort Lauderdale (Florida) to Bridgetown (Barbados) via San Juan (Puerto Rico), Gustavia (Anguilla), Saint John's (Antigua and Barbuda), Roseau (Dominica), Fort-de-France (Martinique), Saint George's (Grenada) and Port Elizabeth (Bequia – St Vincent and the Grenadines), departs January 5, 2024, from £3,088.

Carnival's 13-night 'Southern Caribbean from Miami, FL' cruise, aboard Carnival Conquest, roundtrip from Miami via St. Maarten, Antigua, Dominica, Barbados, Grenada, Curaçao, Aruba, Grand Turk, departsJanuary 28, 2024, from £1,349.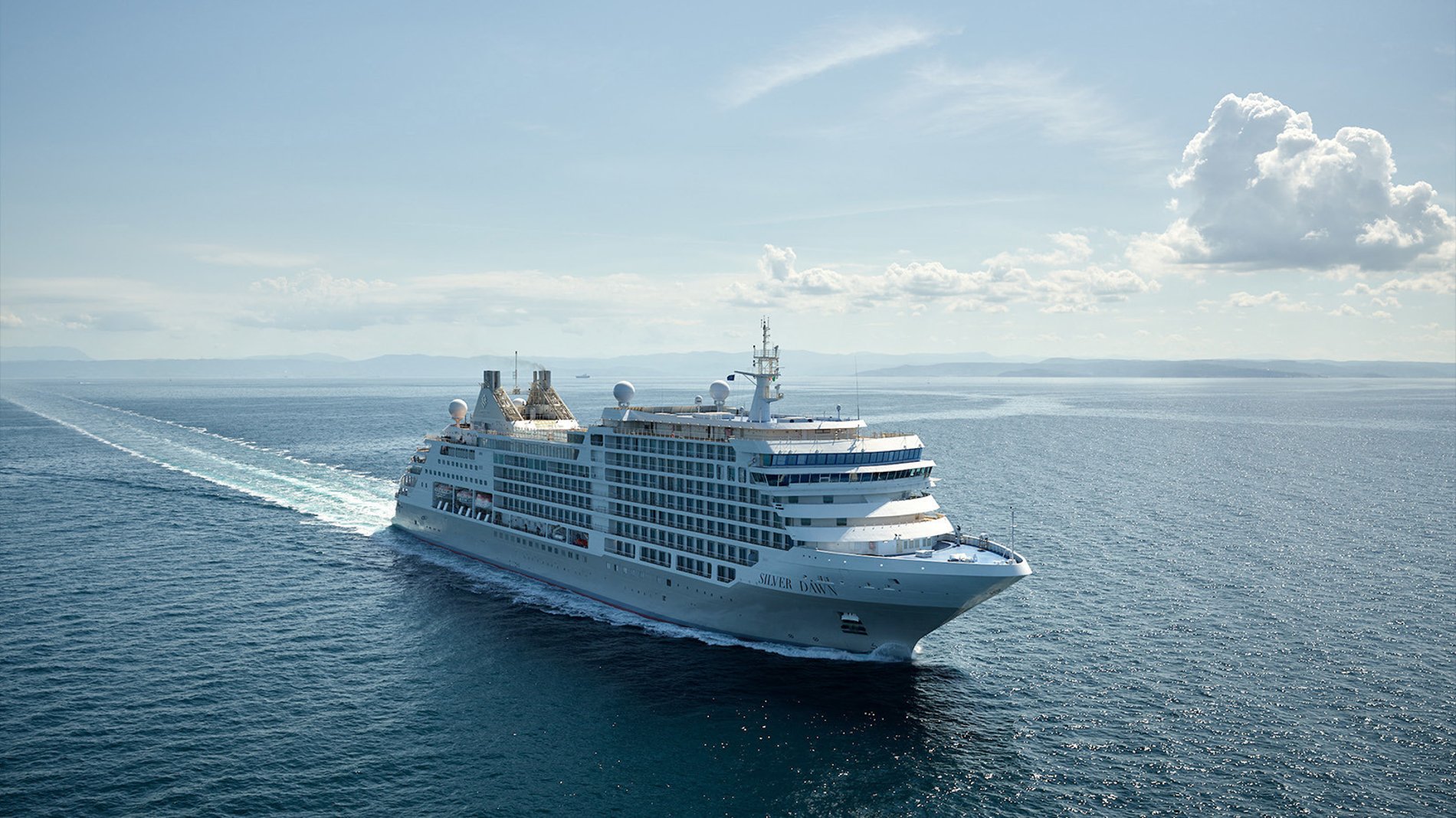 St. Kitts & Nevis
Shaped like a tennis racquet and ball, this dual-island nation nestles in a quiet corner of the Eastern Caribbean's Leeward Island chain.
Once the most illustrious sugar colony in all the Caribbean, St. Kitts' down-to-earth charm permeates everything from its all-public beaches to its fuss-free local fare like stewed saltfish.
After taking in the sights of its gingerbread- trimmed capital, get your island bearings on the historic narrow gauge sugar train which conveyed cane from field to mill and circumnavigates the island.
For a literal change of perspective, make a beeline for brooding Brimstone Hill, a UNESCO 80-foot-high fortress commanding sweeping views of five neighbouring Caribbean islands.
A four-mile drive south along St. Kitts' west coast is Wingfield Estate, housing the ruins of a historic sugar mill and rum distillery as well as being the launchpad to rainforest adventures like ziplining, hiking and ATV tours.
Beachgoers, meanwhile, can bodysurf from Conaree Bay's volcanic blackened sands, dolphin watch on Turtle Beach or explore sunken wrecks from White House Bay on the island's southeast peninsula.
A two-mile stretch of shallow water is all that separates St. Kitts from its sister isle of Nevis, connected via a short ferry hop.
Steeped in old-fashioned West Indian charm, the 36-square- mile island boasts 40 dive sites. Beautified by Georgian era stone architecture, its cheerfully painted capital's must-see is a museum dedicated to the island's most famous son, Alexander Hamilton (of Broadway musical hit fame).
It's an island with something for everyone – you can blend culture with the great outdoors at an indigenous rock painted coastal canyon, soak in the healing waters of Nevis Hot Springs or finesse the art of 'limin' (doing precisely nothing!) at its calypso, reggae and steel drum music-playing beachside bars.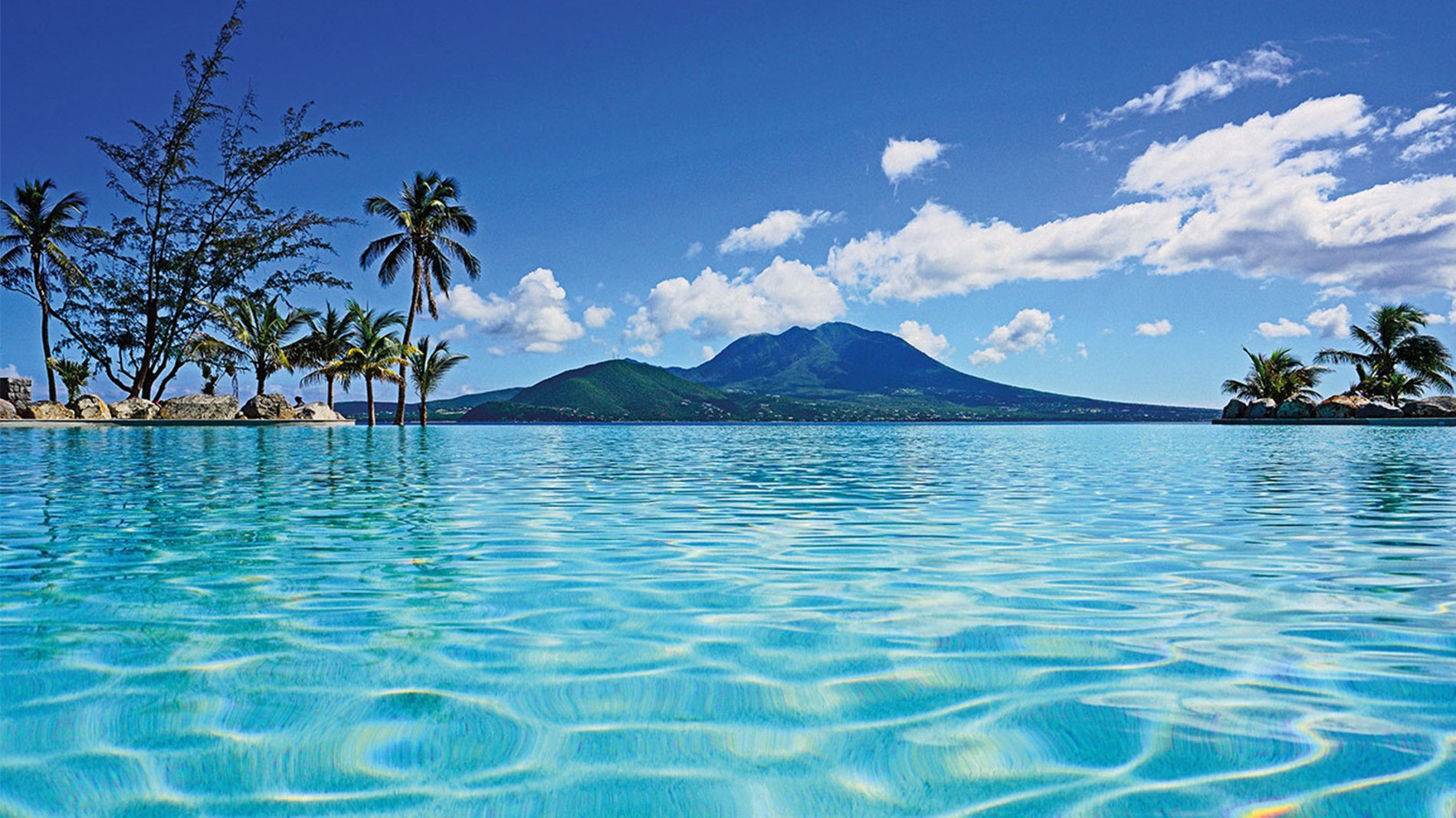 Why you should go: To taste the local version of paella, known as 'Pelau.'
Get on board
Celebrity Cruises '10 night Ultimate Southern Caribbean' cruise aboard Celebrity Beyond, roundtrip from Fort Lauderdale (Florida), via Philipsburg (St. Maarten), Roseau (Dominica), Bridgetown (Barbados) and Saint John's, Basseterre (St Kitts), departs December 1, 2023, from £2,979.
Royal Caribbean nine-night 'Eastern Caribbean' cruise aboard Grandeur of the Seas, roundtrip from Miami (Florida), via Nassau (Bahamas), Labadee (Haiti), San Juan (Puerto Rico), Basseterre (St. Kitts) and Philipsburg (St. Maarten), departs January 5, 2024, from £494.
Montserrat
Roughly the size of Barcelona, this pear-shaped isle is located midway between St. Kitts and Guadeloupe in the Eastern Caribbean's Lesser Antilles chain.
Nicknamed the 'Emerald Isle of the Caribbean' for its historic ties and likeness to coastal Ireland, it's the only country to observe St. Patrick's Day outside of Ireland.
Even its national dish of goat water is a tribute to Montserrat's Irish-African roots.
Endowed with black sandy beaches, jungle-clad hills and pristine coral reefs, it's easy to see why this British overseas territory is a nature-lover's paradise, inspiring musical legends like Elton John and Stevie Wonder to record here in the 1980s.
Birders should flock to its protected Centre Hills Forest Reserve for a chance to hear the island's rare forest thrush or see the endemic Montserrat oriole alongside endangered and eccentric wildlife such as the Montserrat galliwasp that's half-snake, half-lizard!
Time your visit between June and September for a chance to see four species of nesting turtles, or enjoy snorkelling with spotted eagle rays, sharks and supersized sponges year-round.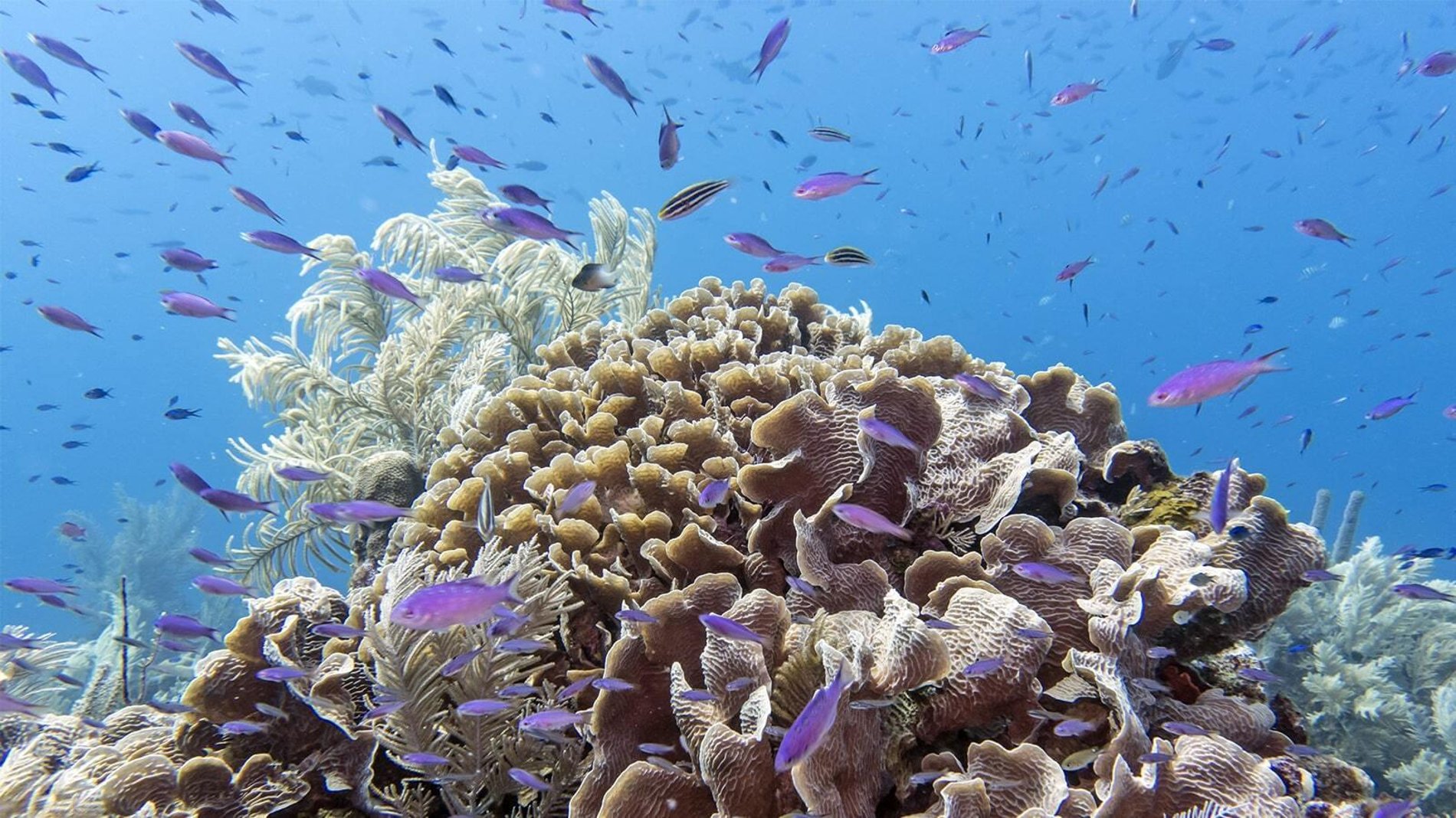 Montserrat owes its rich marine life to volcanic eruptions, which smothered the island's southern region in ash in the mid 90s (and again in 2010), having lain dormant for 350 years.
For something slower-paced, unwind on secluded Rendezvous Bay, the island's only blonde beach, or admire orchids in Montserrat's blissful botanical garden which has an onsite museum.
Why you should go: You can safely view Montserrat's famously rumbling volcano (the Soufrière Hills) and modern-day Caribbean Pompeii (aka its abandoned capital of Plymouth) from The Montserrat Volcano Observatory.
Book it
P&O Cruises' 14-night 'Caribbean', aboard Britannia, roundtrip from Bridgetown (Barbados) via Curacao, Bonaire, Castries, Saint George's, Saint Vincent, Saint Kitts, Saint John's and Saint Martin, departs November 3, 2023, from £1,385.
Seadream's six-night 'Grand Leeward Islands', aboard SeaDream I, from San Juan (Puerto Rico) to Marigot (Saint Martin), via White Bay, Jost van Dyke, (B. V. I.), Little Bay (Montserrat), Terre De Haut, Iles des Saintes (Guadeloupe, F.W.I.), Chrishi Beach Club (St. Kitts & Nevis), Saba (Antilles), Gustavia (St. Barths, F.W.I), departs December 16, 2023, from £3,318.

Sarah Freeman's choice
Green and gorgeous Grenada for its authentically local food scene that draws on its bountiful larder and spice heritage.
Must eats include curried goat, nutty-flavoured Grenadian caviar (made from the roe of white sea urchin) and spice-infused crab backs.