This summer, Southampton is the battleground for a fierce fight between two of the most eagerly-anticipated cruise ships in recent years: P&O Cruises' Britannia and Royal Caribbean International's Anthem of the Seas.
Britannia has already united its troops (otherwise known as the Food Heroes) and taken the fight to the fore, setting the precedent with a regal naming ceremony. But is Her Majesty the Queen enough to see off the American competition and its innovative artillery? Bolsover Cruise Club weighs up the competition and decides whether the fight for Southampton 2015 is really a fair one.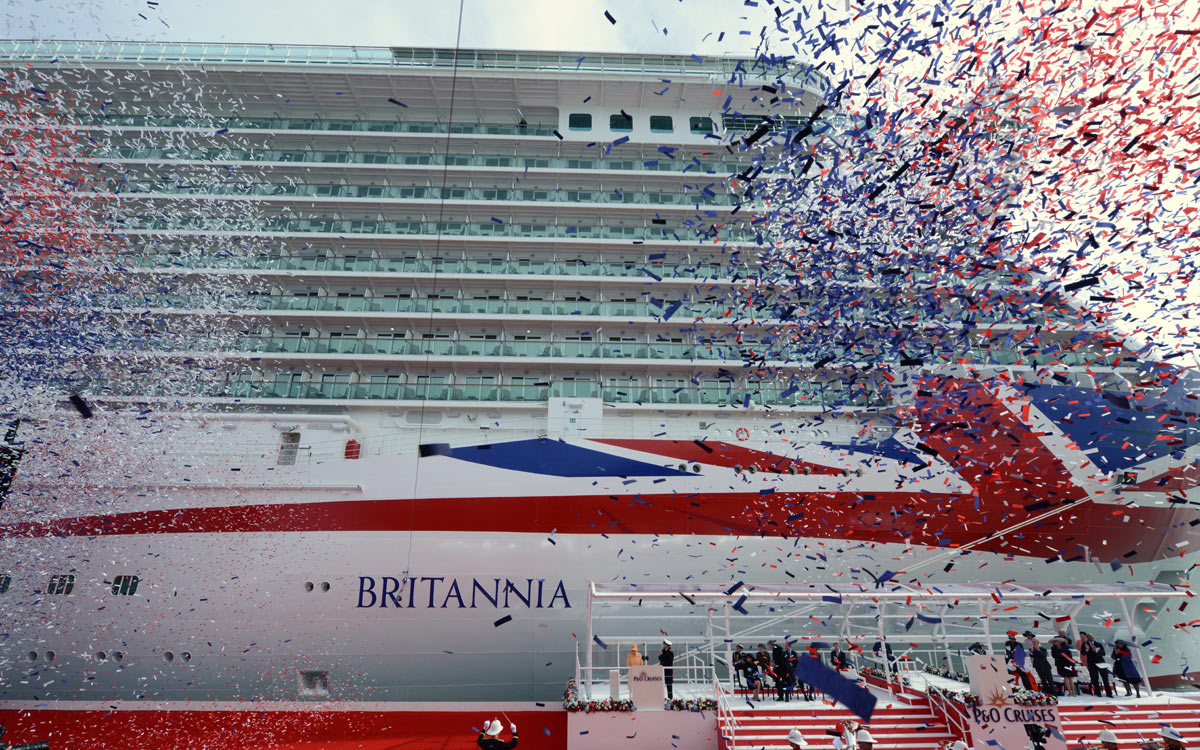 Britannia: Celebrity chefs and elegant interiors … but is she family friendly?
Britannia received a right royal welcome when arriving into Southampton in March; fanfares rang out, confetti fell and crowds gathered. It was a spectacle of red, white and blue, punctuated by a regal naming ceremony brimming with the pomp and splendour we Brits do so well.
First impressions are everything and Britannia made a great one; feedback from her inaugural cruise has been fantastic. But as beautiful as our newest Brit may be, is she family-friendly enough to compete with the action-packed Anthem of the Seas? We think so.
While you won't find skydiving or surf simulators decorating Britannia's decks, her kid's clubs are the most impressive in the P&O Cruises fleet. H2O is an achingly hip spot for teens, complete with retro games machines, pool tables, and chill-out spots with flat screen TV's. A dedicated Teen Deck will no doubt prove popular too.
There's soft-play and pirates ahoy at Splashers, complete with its very own pirate ship play area, water cannons and paddling pool in the outdoor Splash Zone. Britannia has kids well covered, leaving parents to enjoy some precious me time in the Oasis Spa; a haven of sleek marble and state-of-the-art hydrotherapy facilities that wouldn't look out of place in some of the best luxury spas in the UK. Take into account the serene surroundings of The Retreat and the aptly named Serenity Pool, and Britannia is well on her way to Nirvana.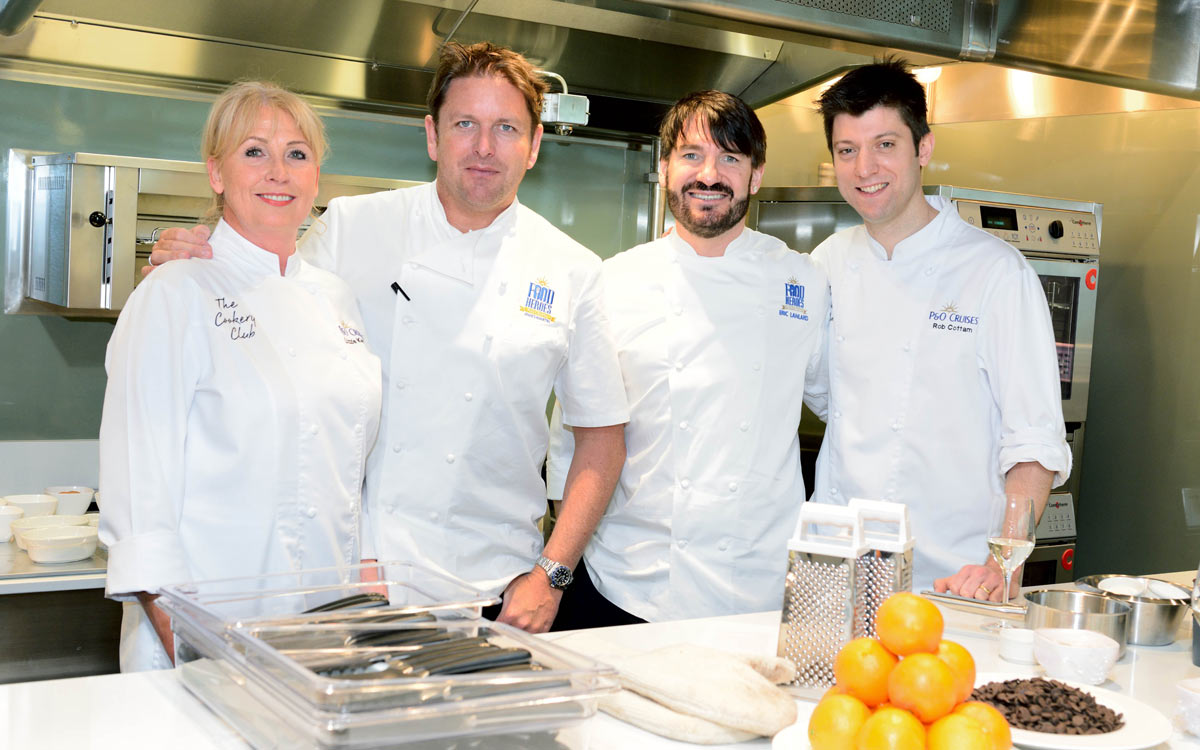 We Brits take our food seriously and Britannia pleases every palate with what is surely one of the most varied culinary offerings at seas. If dining is Britannia's winning hand, then The Cookery Club is her ace card; sleek, sophisticated and perfectly equipped, the culinary creation centre is sure to impress even the most established chefs set to cook in it. Pierre Koffmann is a legend of the culinary world; a Michelin starred master in his art and mentor to the likes of James Martin. Mary Berry is the nation's cake-baking sweetheart and Nathan Outlaw holds an incredible four Michelin stars. Big names will board Britannia, sharing their culinary expertise and hosting exclusive dinners of the kind that would cost hundreds of pounds to enjoy on land.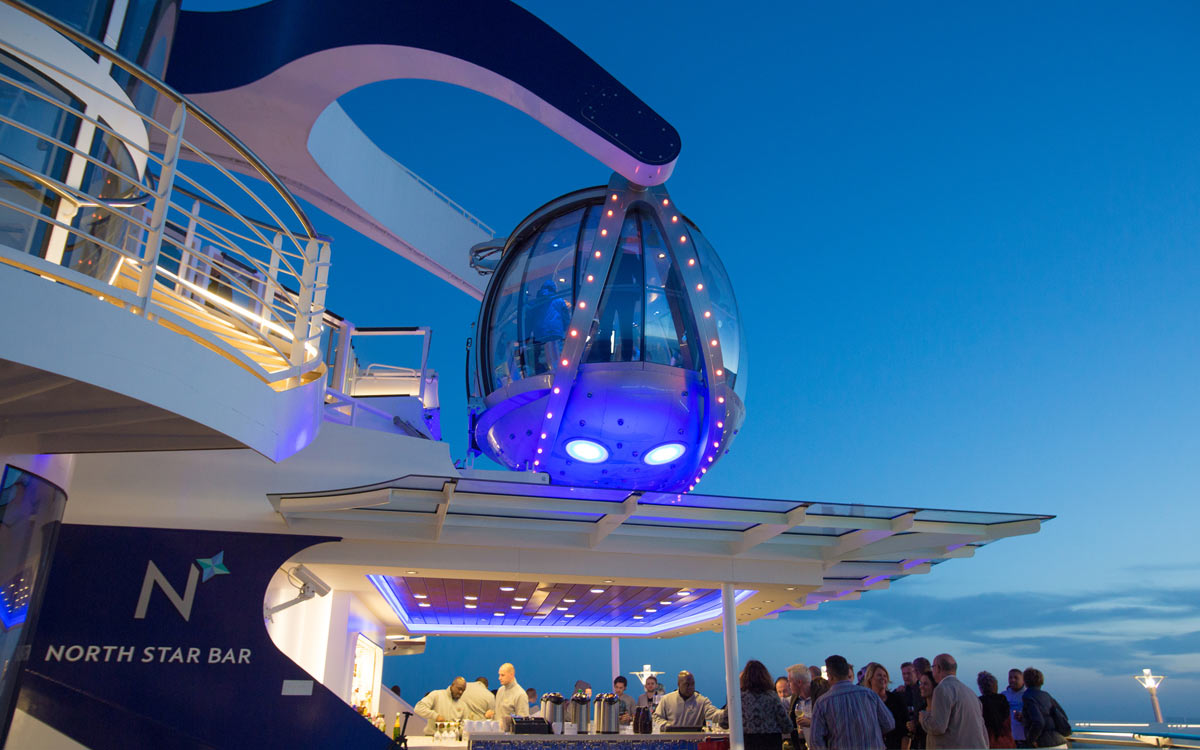 What gives Anthem of the Seas the WOW factor?
For as much as Britannia is elegant, Anthem of the Seas is innovative. Taking everything that is great about Quantum Class and placing it in a ship set to home port in Southampton at the same time as Britannia was a clever move by Royal Caribbean International. But can we really compare two ships that are clearly quite different?
If you're looking for adventure and adrenaline-fuelled activities, Anthem of the Seas' appeal is undeniable. Sky-diving with an ocean backdrop; surfing without leaving the ship; dodgems, trapeze and a floating DJ booth in the SeaPlex; 'I'm bored' is a phrase that will become redundant for the length of your holiday. Royal Caribbean's stage shows are some of the best in the industry and with smash hit We Will Rock You already announced, Anthem of the Seas promises to win the battle against Britannia in terms of entertainment.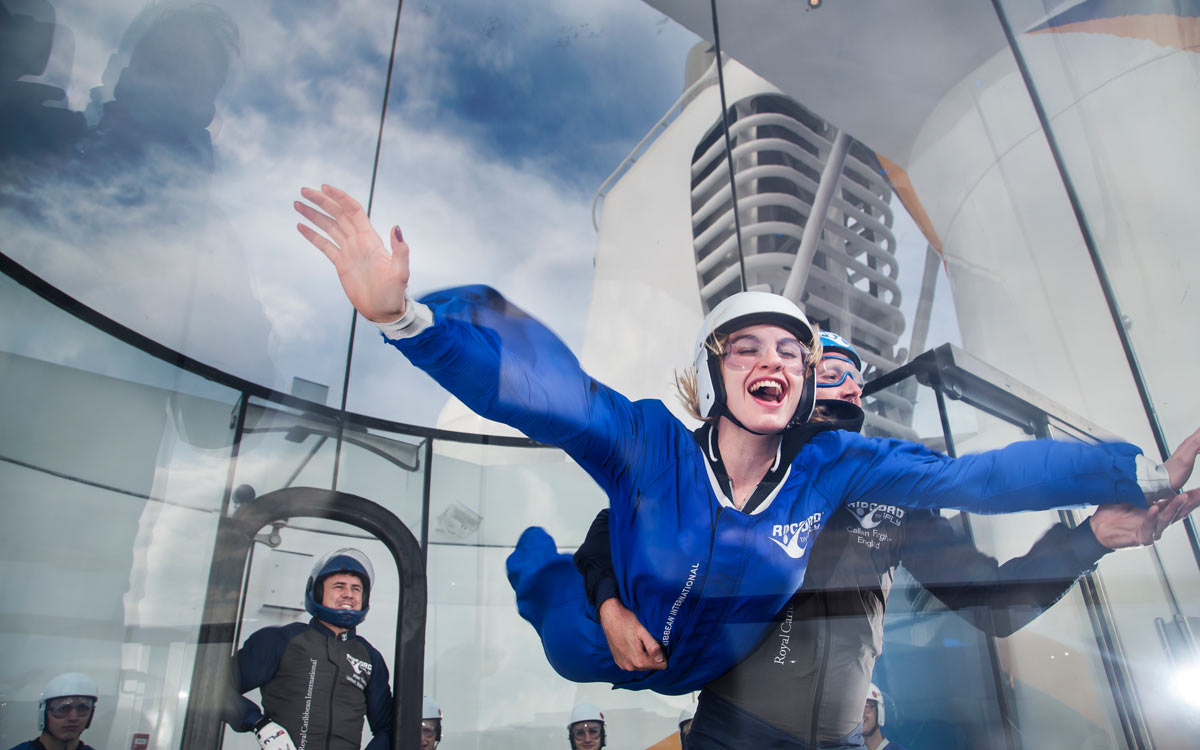 Much has been made of Dynamic Dining and Anthem of the Seas will offer guests a multitude of incredible restaurants; from the Johnny Rockets burger bar to the fantastical food experience of Wonderland and the formal sophistication at The Grande. The Bionic Bar proved a popular novelty aboard Quantum of the Seas and makes Britannia's beautifully styled lounges look traditional to the extreme.
Can you choose between fabulous and fun?
It has become apparent that Britannia and Anthem of the Seas offer their passengers something completely different. Britannia is quintessentially British and her sleek designer interiors are befitting of a ship designed to merge the traditional with the contemporary.
Whilst Anthem of the Seas also benefits from stunning design, her appeal is geared more towards fun and all arrows point to the ship's most exciting activities. Passengers can expect everything they would from an amazing land based resort with the added appeal of ever-changing destinations.
So, the final verdict from Bolsover Cruise Club? They say that preference is subjective and we just can't choose between Southampton's newest neighbours.