Bordeaux is that rarest of destinations, a port that is equally welcoming to ocean-going cruise ships and river vessels.
They berth right in the heart of the city; passengers can stroll ashore to enjoy the pleasures of its enviable esplanade and then wander into a multitude of shops, bars, restaurants, gardens, and impressive public squares.
With a population of 1.15 million, Bordeaux is the sixth largest in France and with 362 monuments historiques it is second only to Paris for the number of its listed buildings. The city has been a UNESCO World Heritage-listed site since 2007.
Alain Juppe, a former Prime Minister of France who is now the city's mayor, has overseen a vast transformation of Bordeaux's fortunes and attracted millions of euros for the benefit of residents and visitors alike.
A modern tramway system runs silently among its historic streets. The £120 million Pont Jaques ChabanDelmas – longest vertical-lift bridge in Europe – can be raised 175 feet to allow ships to pass beneath it. A 42,000-seater stadium opens later this year and will be among the venues for the Euro 2016 football championships. A rail link is under construction that will reduce the journey time to Paris from three hours to two.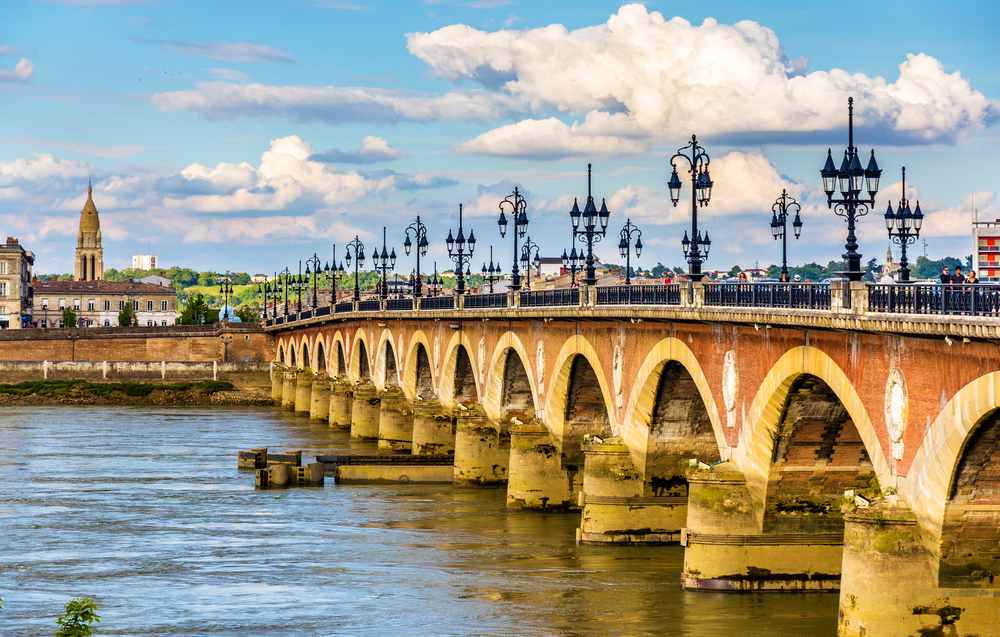 A survivor of political scandals, Juppe has come to be revered by Bordeaux. London's Boris Johnson must be as green as a claret bottle with envy for his French counterpart.
Ah, I hear you say… claret. Yes, Bordeaux is at the heart of  France's finest wine region, and is surrounded by 60 separate designated production areas and 10,000 individual vineyards. Visits to the chateaux and tasting sessions are an essential part of any self-respecting shore excursion, whether it is to premier cru producers such as Chateau Lafite-Rothschild, Chateau Margaux, and Chateau Latour, or  to a lesser maker whose wines will be more familiar on our supermarket shelves.
It's also only a few miles to France's Atlantic coast, famous for beaches… and oysters.
Visiting cruise ships include those operated by  Azamara, Costa, Hapag-Lloyd,  Holland America, Fred Olsen,  P&O Cruises,, Regent Seven Seas, Seabourn and Silversea. They often tie up overnight in Bordeaux to allow passengers maximum time to make to the most of the city and its surroundings.
River cruise operators such as CroisiEurope, European Waterways, Uniworld  and Viking base vessels in the city for week-long cruises along the Gironde estuary and up the Garonne and Dordogne rivers – taking in charming smaller destinations such as Cadillac and Blaye, Pauillac and Libourne, with excursions to such famous wine names as St Emilion and Sauternes.
Visitors staying overnight in port might also be afforded the sight of a barge carrying fuselage and wing parts for the Airbus A380 pausing at Bordeaux's 19th Century Pont de Pierre (Stone Bridge) waiting for the tide reach the perfect height before squeezing through one of its 17 arches.
Just one of the contrasting sights, ancient and modern, in what is undoubtedly one of the finest cruise destinations in Europe, and indeed the world.
Factfile
Capital of the Aquitaine region of France. Under English rule between 1152 and 1453, after the marriage of Eleanor of Aquitaine to Henry II.
Attracts more than 5.5 million visitors each year – with 65 per cent from elsewhere in France and with the UK leading the number of foreign visitors.
www.bordeaux-tourism.co.uk