Search for your ideal Cruise
Disney Cruise Line
Disney Cruise Line is a subsidiary of The Walt Disney Company. The line, launched in 1998, has established itself as a leader in the cruise industry, providing a setting where families can reconnect, adults can recharge and children can experience all Disney has to offer. Fun fact: the Disney ships are painted in Mickey Mouse-inspired colours – black hull, white superstructure, yellow trim and two giant red funnels, each with the Disney Cruise Line Mickey Mouse logo.
Why choose this cruise line?
Disney's signature service, attention to detail, and rich storytelling are some of the reasons why Disney cruises are voted among the best at sea.
Disney cruises pride themselves on immersive storytelling, Disney Crew Members are available 24 hours a day to make your holiday as captivating and carefree as possible, and guests can experience Disney's one-of-a-kind Rotational Dining for breakfast, lunch and dinner, in which you along with your personal wait staff "rotate" to one of three wondrously themed restaurants nightly.
Disney Cruise Line has received more than 250 distinguished awards. Most recently, Travel + Leisure readers ranked Disney Cruise Line as the top ocean cruise line among those ships carrying 2,200 passengers or more as well as the best for families in the publications 2020 World's Best Awards. Before that, Disney Cruise Line and Adventures by Disney were named "Best for Families" in the ocean and river cruise categories in the 2019 Cruise Critic's Editors' Picks Awards for the fourth consecutive year.
find your perfect cruise
Disney Cruise Line ships
Disney Magic - combines classic nostalgia and modern amenities with Disney's signature service. Expect spacious staterooms, original Broadway-quality entertainment, first-rate dining. From bow to stern, set sail for unforgettable storytelling that only Disney could bring to life.
Disney Wonder - renowned for its classic design, modern innovation and timeless whimsy, the Disney Wonder is home to 11 decks overflowing with restaurants, pools, recreation and more.
Disney Dream - guests can enjoy original Broadway-calibre live shows, dine on artfully prepared meals in wondrously themed restaurants and make a splash on the AquaDuck.
Disney Fantasy - Sister ship to the Disney Dream, the Disney Fantasy is a masterpiece of design and engineering boasting Art Nouveau allure alongside modern technological advancements.
Disney Wish - the newest ship to join the Disney Cruise Line family, due to set sail in Summer 2022. Fantastical worlds and beloved stories from Disney, Marvel, Star Wars and Pixar will be brought to life like never before.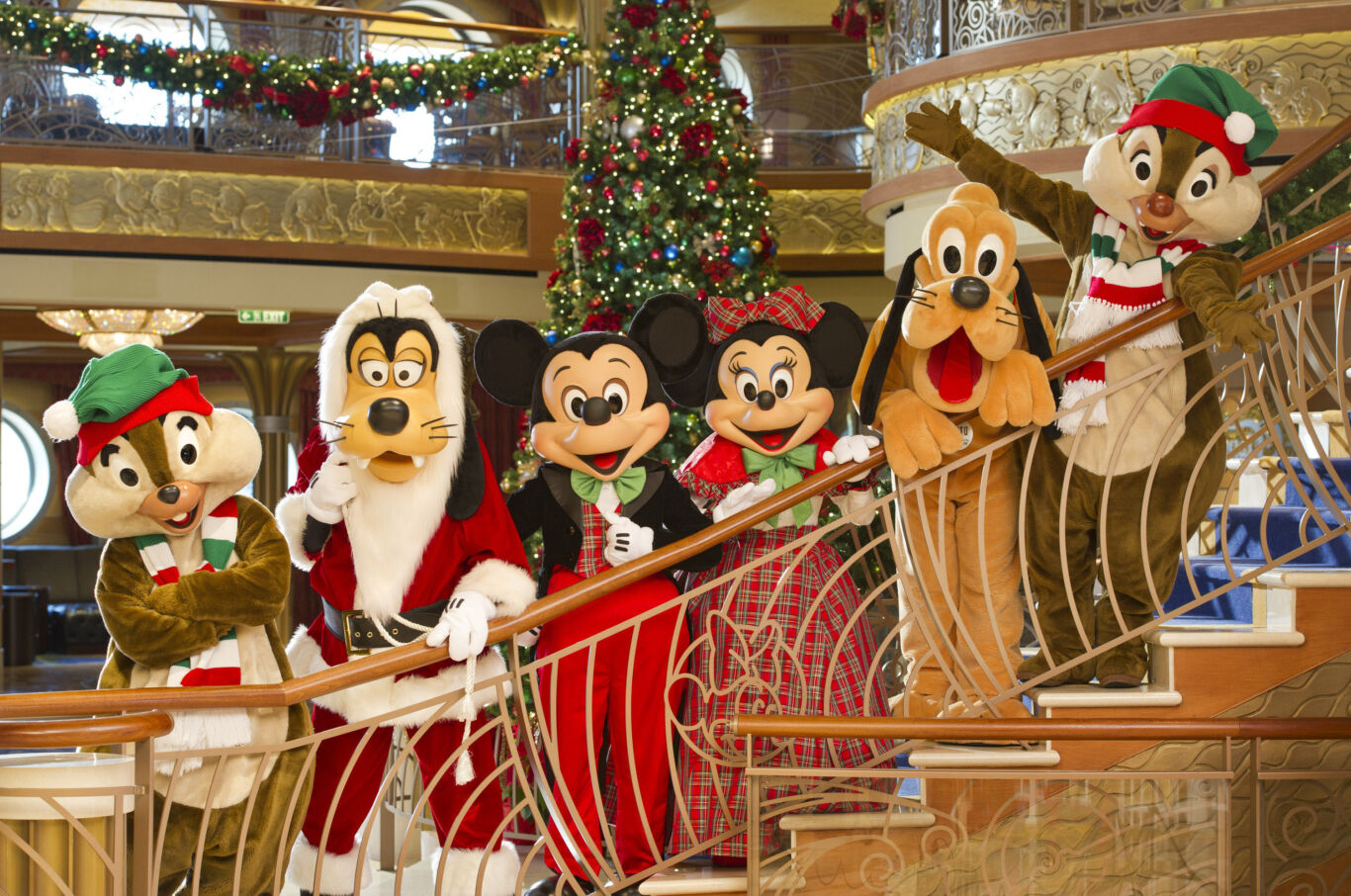 Who should cruise with Disney?
There's fun and relaxation to be had for everyone in the family on a Disney Cruise. Adults, kids, tweens and tweens will all enjoy a Disney voyage.
Disney Cruise Line dining
Duck-In Diner - known for its fresh, Middle Eastern-inspired shawarma and classic American fare like hamburgers and hot dogs.
Palo Be Our Chef - offers Northern Italian cuisine with Palo's expert chefs.
Rapunzel's Royal Table - a dining adventure with a fairytale twist at this restaurant inspired by Disney's hit animated movie Tangled!
Tiana's Place - a rousing celebration of southern cooking and live jazz music at this restaurant inspired by The Princess and the Frog.
Sweet on You - indulge in delightfully decadent frozen desserts and other sweet treats.
Vanellope's Sweets & Treats - decadent dessert shop inspired by the super-sweet arcade game from Disney's Wreck-It Ralph.
Royal Court Royal Tea - a tea party starring Disney Characters for children aged 3-12
Animator's Palate - serves up a unique dinner show starring Disney characters.
Palo - classic Northern Italian cooking with a modern twist at this chic adult-exclusive restaurant.
Room Service - feast on fresh, made-to-order dishes in the comfort of your stateroom 24 hours a day—with most meal items included in the price of your cruise.
Royal Court - French-inspired, continental fare at this stately restaurant inspired by classic Disney Princess films.
Cabanas - beach boardwalk boasting fresh food favourites for lunch and dinner plus table-service dining nightly.
Remy - the most luxurious dinner experience onboard, Remy is an adult-exclusive restaurant serving fine French fare.
Flo's Cafe - outdoor eatery with three food stations serving burgers, chicken, pizza, salads and sandwiches.
Pinocchio's Pizzeria - offers sizzling pizza throughout the day at this outdoor eatery located next to Goofy's Pool.
Eye Scream Treats - selection of soft-serve ice cream inspired by Monsters, Inc.
Frozone Treats - this poolside spot mixes up refreshing, frozen-fruit smoothies for the entire family to enjoy.
Enchanted Garden - a market-style menu of flavours from around the world at this restaurant inspired by the gardens of Versailles.
Triton's - an upscale restaurant offering fine dining "under the sea."
Royal Palace - French-inspired, continental fare at this enchanting restaurant inspired by classic Disney Princess films.
Lumiere's - serves breakfast, dinner and lunch at eatery inspired by Disney's Beauty and the Beast.
Pete's Boiler Bites - serving classic American fare such as burgers, hot dogs and tacos, Pete's Boiler Bites is a great place to enjoy a quick meal or snack.
Daisy's De-Lites - poolside eatery serving flavourful food items that are both well-balanced and delicious. Choose from salads, sandwiches, wraps and fruit.
Senses Juice Bar - serving blended beverages bursting with fresh fruit and vegetables, Senses Juice Bar near the spa provides a vitamin-infused, protein-filled boost after a vigorous workout or massage.
Preludes - snack bar located outside the Walt Disney Theatre. Pick up cookies, sweets, cocktails and popcorn before the show—or enjoy wait-staff service from your seat inside the theatre.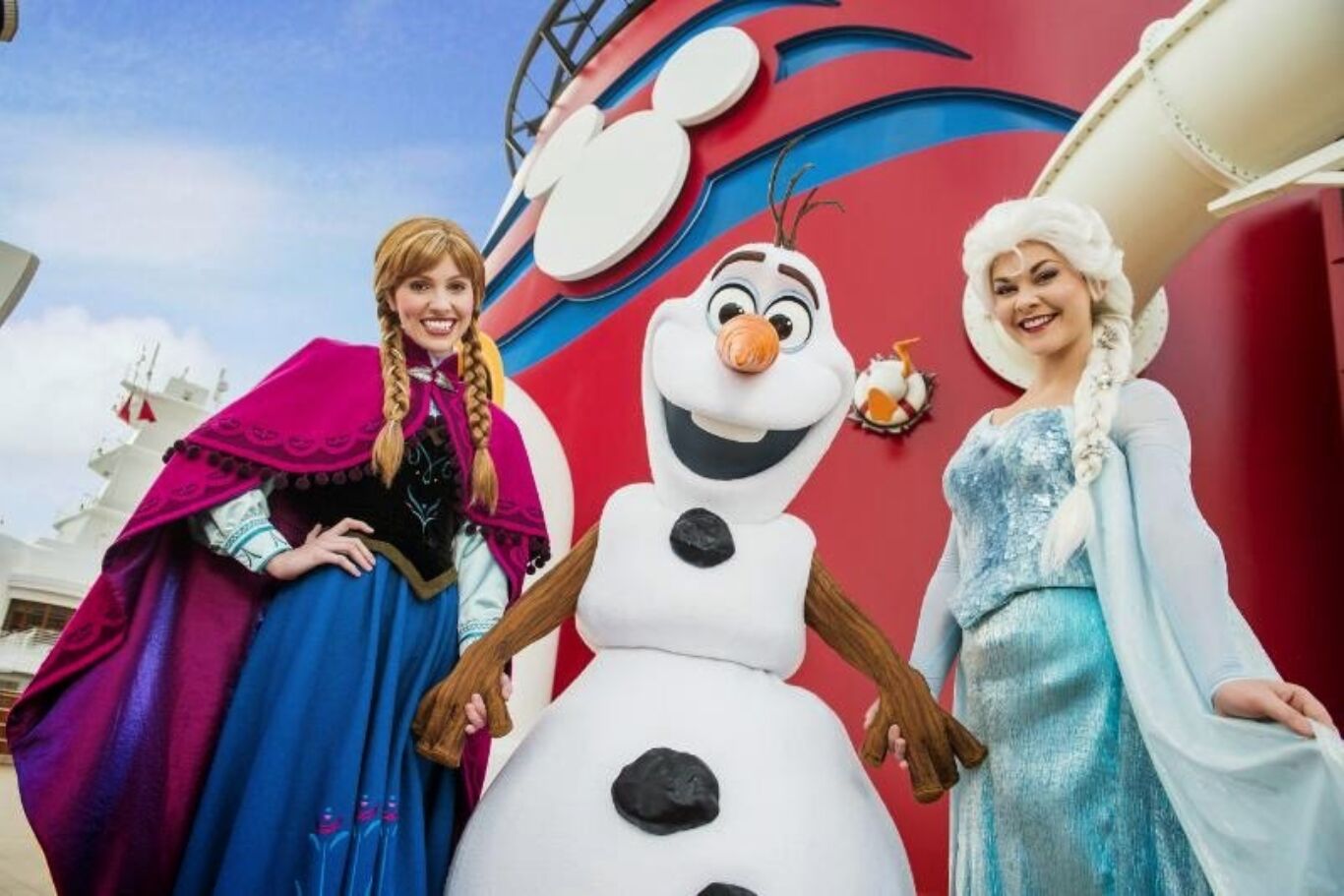 Disney Cruise Line cabins
All staterooms feature innovative comforts and modern amenities for families looking to travel the high seas in high style.
Cabins range from imaginative inside retreats to spacious and abundantly appointed suites.
Four main categories encompass 10 different room types or different deck locations within those types.
Concierge
Most luxurious accommodations, each with a large private verandah and premium amenities and services:
Concierge Royal Suite with Verandah
Concierge Two-Bedroom Suite with Verandah
Concierge One-Bedroom Suite with Verandah
Verandah
Most spacious non-Concierge staterooms, each with a private verandah, some with partial views:
Deluxe Family Oceanview Stateroom with Verandah
Deluxe Oceanview Stateroom with Verandah
Deluxe Oceanview Stateroom with Navigator's Verandah
Oceanview
Enjoy more space than Standard and scenic vistas through a real porthole window -or possibly two!
Deluxe Oceanview Stateroom
Inside
Base accommodations, featuring a classic nautical motif, porthole mirror and no exterior view:
Deluxe Inside Stateroom
Standard Inside Stateroom
Eighty-eight percent of the staterooms on the Disney Fantasy and Disney Dream and more than 70 percent of staterooms on the Disney Magic and Disney Wonder have ocean views. Of those, nearly 90 percent and 60 percent, respectively, have private verandahs.
What's more, in a cruise industry first, most staterooms on Disney ships feature a split "bath-and-a-half" design, providing families with the added convenience of a sink and tub/shower in one room and a sink and toilet in a separate room.
Cruise inclusions
Your stateroom along with all applicable taxes and port fees
Breakfast, lunch and dinner
Soft drinks served at meals and at each ship's beverage station
Snacks and ice cream throughout the ship
Disney Character Meet & Greets
Entertainment including live Broadway-style productions at the Walt Disney Theatre as well as Disney movie classics and current first-run films at the Buena Vista Theatre