Search for your ideal Cruise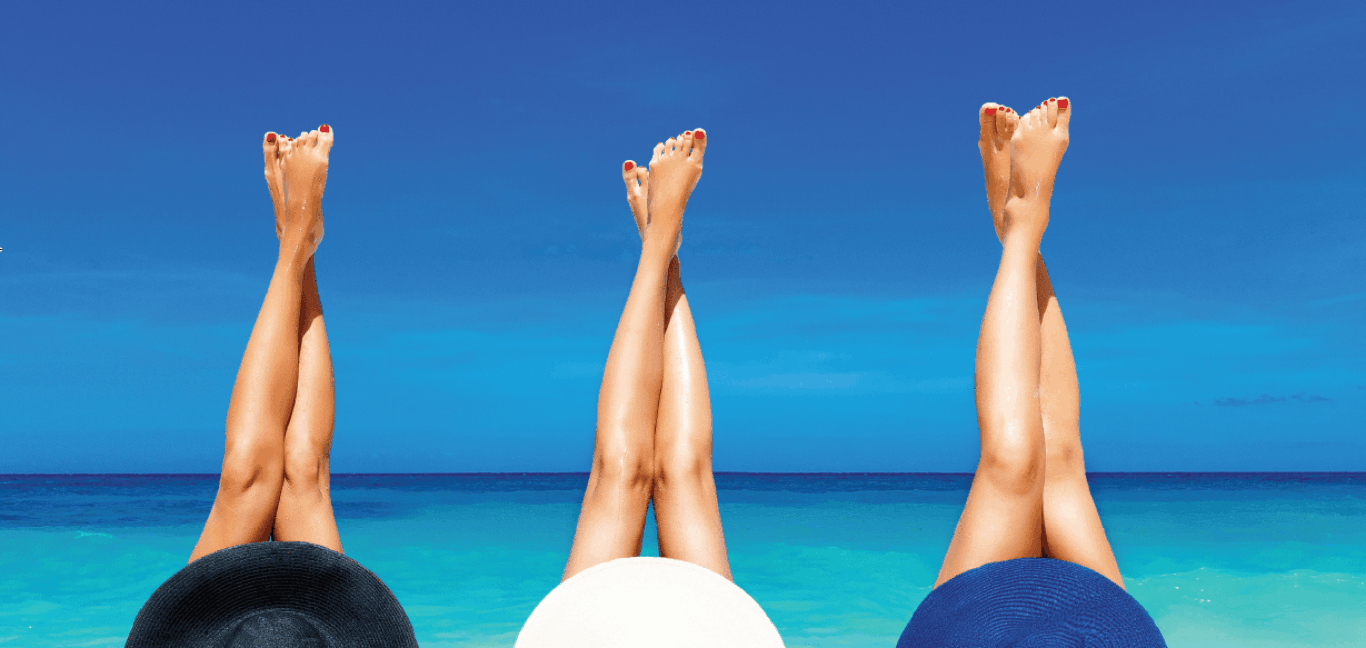 3 steps to keep your feet happy
You put them up on sea days, walk them off on shore days, then expect them to look swanky all night long. That's why you need Vicci Bentley's three-step strategy to keep your feet sweet. Step 1: SOLE SOOTHING Keeping dry, hard skin at bay is fundamental for feet that both look and feel good. Checking in
You put them up on sea days, walk them off on shore days, then expect them to look swanky all night long. That's why you need Vicci Bentley's three-step strategy to keep your feet sweet.
Step 1: SOLE SOOTHING
Keeping dry, hard skin at bay is fundamental for feet that both look and feel good. Checking in for a pedicure before your trip will certainly give you a flying start, but the maintenance you put in yourself is the key to keeping skin soft and in the pink.
DRY BUFF for a smoother finish. If you wear sandals, buffing every other day is a must to get rid of tough, discoloured skin. Soaking feet first swells dead skin, meaning there's a risk of over-buffing, so treat them dry. Use a fine-textured foot file to shift dead skin safely from heels and soles, and an emery board for fine-tuning hard skin around toes.
Try: Margaret Dabbs Professional Foot File, £24 (Space.NK) with compressed crystal technology that smooths as it buffs. Scholl Velvet Smooth Diamond Pedi Electronic Foot File, £39.99 (Boots) smooths swiftly without the arm-ache.
DITCH THE DEAD SKIN. "Exfoliating helps get rid of surface dry skin cells, leaving feet softer," says Mavala expert Lyn Gray. Soak feet in warm water with a couple of drops of antiseptic lavender oil added. Blot with a towel, then massage a foot scrub all over feet in circular movements. Pay extra attention to tough zones like heels and balls of feet, but go gently on more sensitive uppers. Rinse and pat dry.
Try: Mavala Smoothing Scrub Cream, £14.25.
SOOTHE AND MOISTURISE. "Heels bear the greatest impact and dry out most easily. Skin here is also thicker and less penetrable, so you need a richer moisturiser to keep them soft," Lyn Gray counsels. Massage on enough to smooth without leaving a greasy film – or wipe off the excess with a damp cloth or tissue to prevent slipping in shoes.
Try: Manuka ApiNourish Foot & Heel Cream, £8.99 (Superdrug).
SLEEP ON IT. Give extra-tough feet an overnight moisture pack. Slather on a foot cream that contains hydroxy acids to help loosen dead skin, ready for buffing off in the morning. Pop on cotton socks to boost effectiveness.
Step 2: SHORE FOOTING
Even the briefest trips ashore deserve shoes that help you stay the course. I recently watched someone in flip flops shuffling uncomfortably over rough, slippy ground. Shoes that support you during the day are the best investment – then feet will look and feel light at night.
SOCK IT. Go shoe-shopping at the end of the day when your feet are slightly swollen. Wear the same socks you'll take away with you – this makes all the difference between pinching and total comfort.
ROUND AT HEEL. Choose low, supportive, rounded heels that bevel inwards. Thick heels that flare outwards encourage your feet to slap down, risking sore shins.
ON A ROLL. When you walk, your feet should roll smoothly forwards from heel to toe. Make sure your shoes have flexible soles and easily bendable toe areas.
LIGHT FANTASTIC. Look for lightweight, breathable materials that keep your feet comfortably cool.
WALK ON AIR. Slip in a pair of insoles to maximise comfort, support your feet and prevent heel and arch pain. Slip them out overnight for an airing to keep your shoes sweet.
Try: Carnation Powerstep, £39.91 (firstaidfast.co.uk).
GET PLASTERED. If you feel a blister or "hot spot" coming, plaster it fast before the skin rubs or breaks.
Try: Carnation Hydro Blister Care, £2.10.
Or use Carnation Anti-Blister Stick, £4.15, to prevent friction before it happens.
BE SUN SMART. If you're wearing open sandals, don't forget the SPF50. Nothing looks or feels worse than sore, red, puffy uppers…
Try: Vichy Ideal Soleil Invisible Hydrating Mist, SPF50, £18 (Boots). High protection in a refreshing spray that's easy to reapply on the go.
Step 3: KEEP DANCING
Maybe you picked your polish before your left – or even sneaked in a pedi at the spa on board. There are still a few tricks left to make sure your day-to-evening feet look groomed and trim. Don't worry – they're quick.
GIVE CUTICLES A BOOST. Work a little oil around your nails to make dry skin vanish and polish even glossier. This is an instant makeover for a tired-looking pedi or mani, too. Try: OPI Nail Envy Avoplex Cuticle Oil, £10.50 (Debenhams).
MAKE ANKLES LOOK ELEGANT. To de-puff and revive feet and ankles, circle your feet 10 times in each direction. Point and flex each foot 10 times, holding for five seconds between each position. Now roll your soles back and forth over a 500ml chilled water bottle (keep the cap tightly screwed!) for two minutes.
STRETCH AND WIGGLE YOUR TOES. Boost circulation and strengthen your toe muscles. Thread wads of tissue between your toes, or use toe separators. Keeping your back straight and tummy muscles tight, squeeze your toes together and hold for five seconds. Repeat this 10 times. This feels great when you kick off your dancing shoes, too.
TRIM AND TONE CALVES. Smooth on bronzing gel in long, firm strokes from toes to knees and again from ankles for an uplifting massage with a visibly slimming effect.
Try: Legology Sun-Lite Sheer Lingerie for Legs, £36 (legology.co.uk). Fabulously natural, wash-off sunkissed colour, in a refreshing, energising, leg-contouring
gel-cream formula.