Search for your ideal Cruise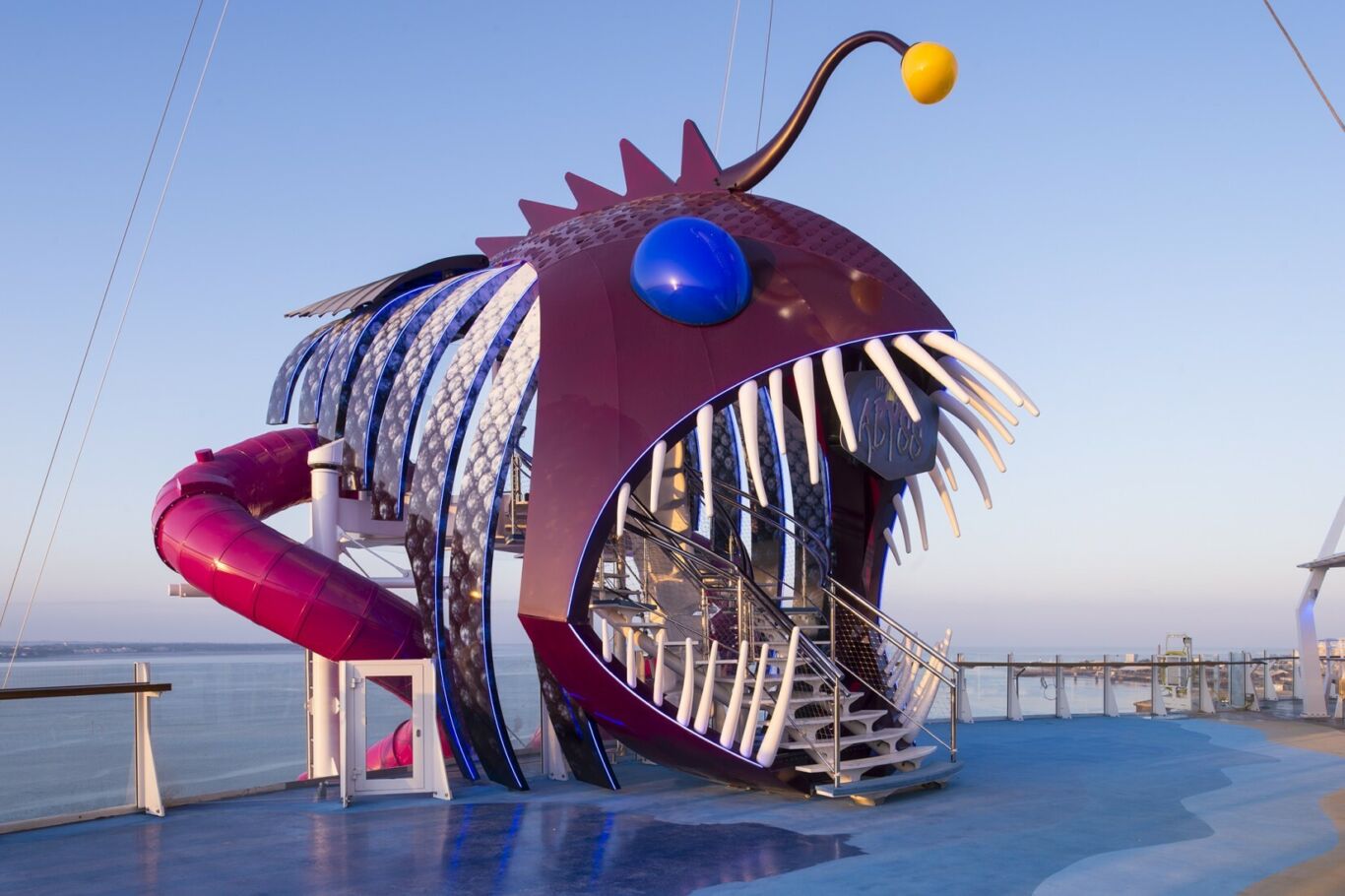 7 SUPER CRAZY THINGS TO DO ON A CRUISE
As a cruise-crazy kid I am used to people thinking that I am odd but its people who have never been on a cruise that I think are really nuts! If you don't want to experience visiting cool places around the world whilst enjoying spectacular entertainment, brill service and never-ending food then you need your
As a cruise-crazy kid I am used to people thinking that I am odd but its people who have never been on a cruise that I think are really nuts! If you don't want to experience visiting cool places around the world whilst enjoying spectacular entertainment, brill service and never-ending food then you need your head examining.
Having said that, it is possible to be sensible enough to go on a cruise and still mad enough to do some pretty wacky stuff on board. I have picked out my top screwball things to do on a ship.
7. ZIPADEEDOODAH
I loved flying through the air attached to a zip line on a cruise ship. What a blast! You can do it on excursions but also on some ships now too. The ride is 82 feet long and 9 decks up. If you get a taste for aerial antics you can take it further and learn how to do trapeze at the circus skills school.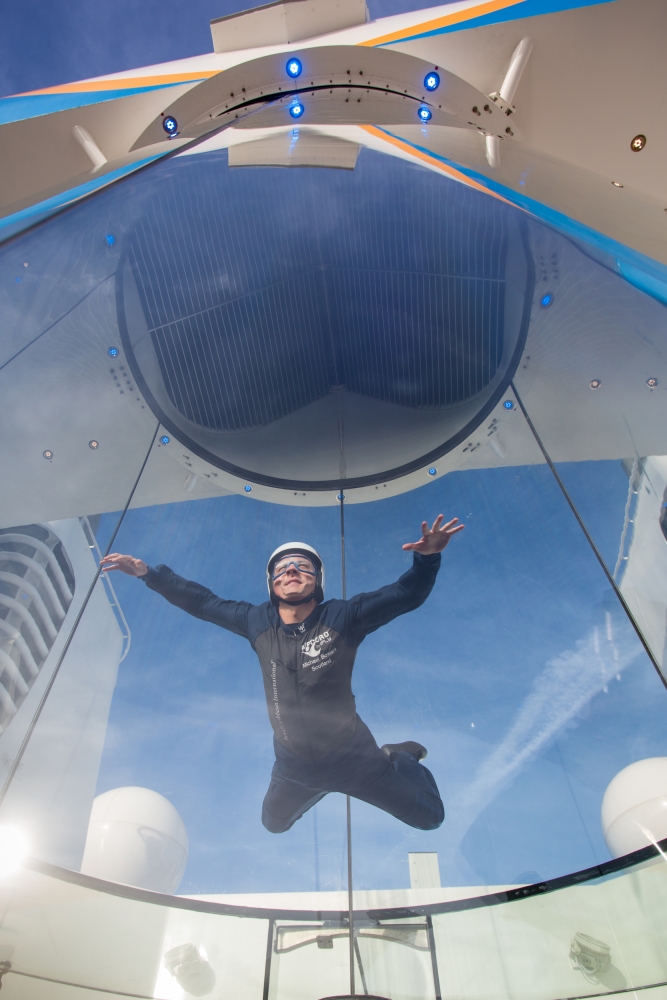 6. SKYFALL
I really thought Royal Caribbean had gone bonkers when they announced skydiving at sea but the RipCord by iFLY is a buzz. Step into the 23-foot glass wind tunnel and woooooo! Up you go! The "flight" lasts just a minute and you have to wear a flight suit, goggles and a helmet but it's worth looking like a pilot to see the views of the sea and to feel like you are really flying.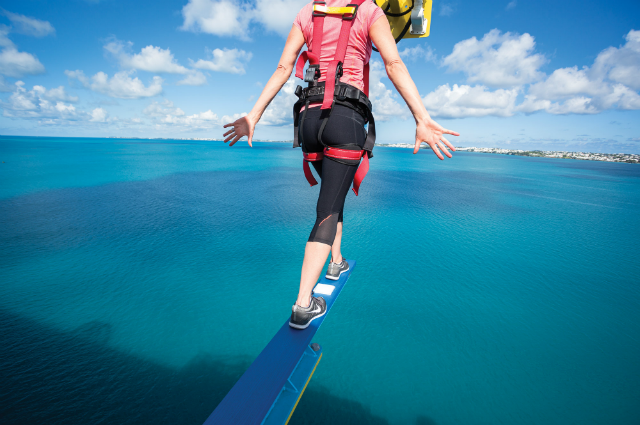 5. WALK THE PLANK
I must confess my heart was pounding when I did the ropes course on Norwegian Escape …because it's so high up! It's great once you realise that you are not going to die! Slide down the "Sky Rails" and walk 8 feet along the plank over the side of the ship – don't worry they strap you into a safety harness.
4. BEHIND THE WHEEL
My first ship was an MSC ship and they were the first cruise line to do virtual reality games including a Formula One racecar simulator. Sitting in the car it feels like you are really driving round a circuit. Back on Royal Caribbean Quantum class ships you can actually drive for real in a dodgem car and crash into people – they are called bumper cars for a reason!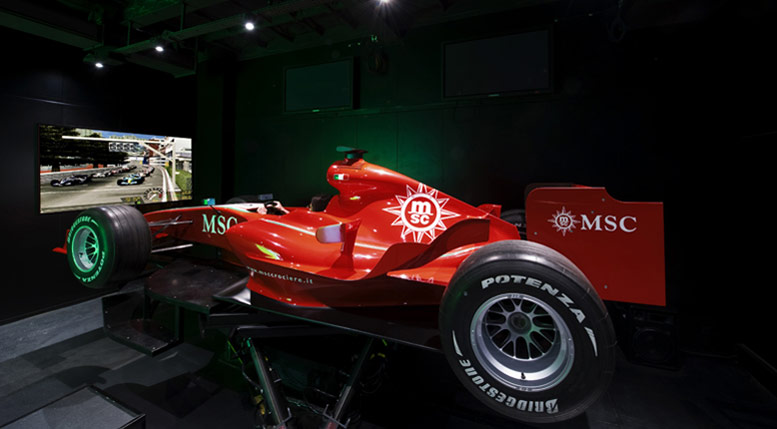 3. CATCH A WAVE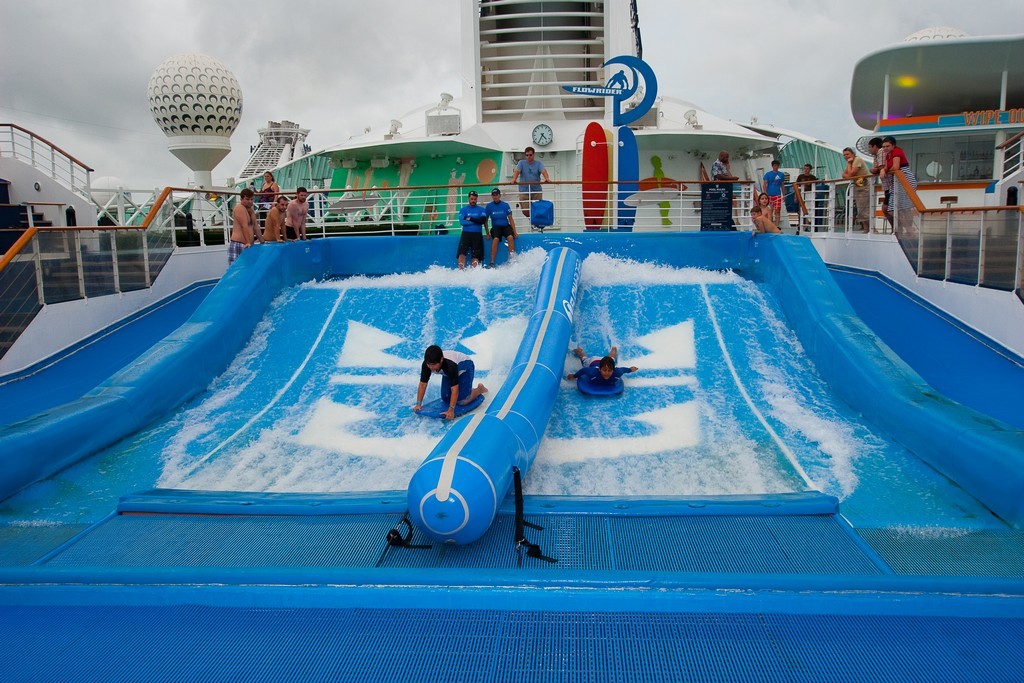 You may expect to be able to go surfing on some seaside holidays but how about doing it without getting off your cruise ship? Royal Caribbean have had surf machines called the FlowRider on their ships for a good few years now. It takes a little time to get the hang of it – plenty of wipeouts in my case – but when you catch the perfect wave…..
2. ROCK IT UP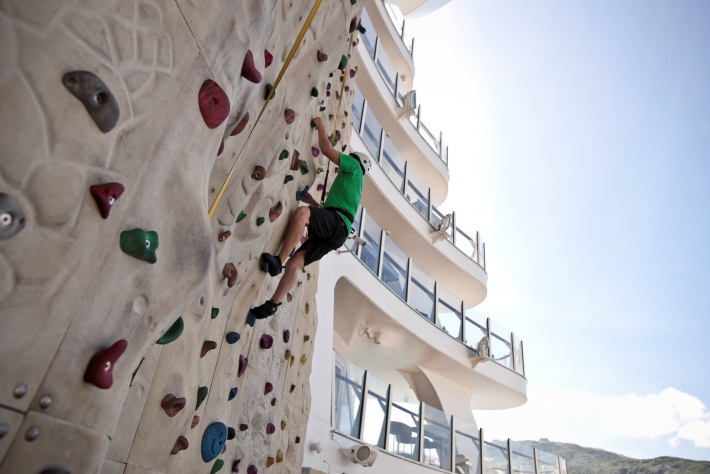 Get strapped in and go up! Pretty simple really…but it takes more skill than you think. The rock climbing wall was one of the first nutty outdoor activities that Royal Caribbean added to its ships and it proved so popular that the 30 foot high wall can be seen on lots of their ships now. Safety equipment is provided and you get to ring the bell when (if) you reach the top.
1. INTO THE ABYSS
And so to the newest and possibly the maddest thrill of all the adrenaline inducing things that you can do on a ship. Cue the fanfare…for real madder-than-mad blood pumping maniacs – welcome to the Ultimate Abyss! Deck 17 on Harmony of the Seas, past the Wipeout bar, through a fish's mouth, put your feet into the black mat and kiss your lunch goodbye. 14 seconds, 150 feet and 22mph later it's all over and you have survived the Abyss.
What will the cruise lines think of next to keep upping the wow factor on ships? Maybe a spaceship ride? Don't laugh, with the new virtual reality headsets anything can – and probably will – happen on a cruise ship near you…and I can't wait!