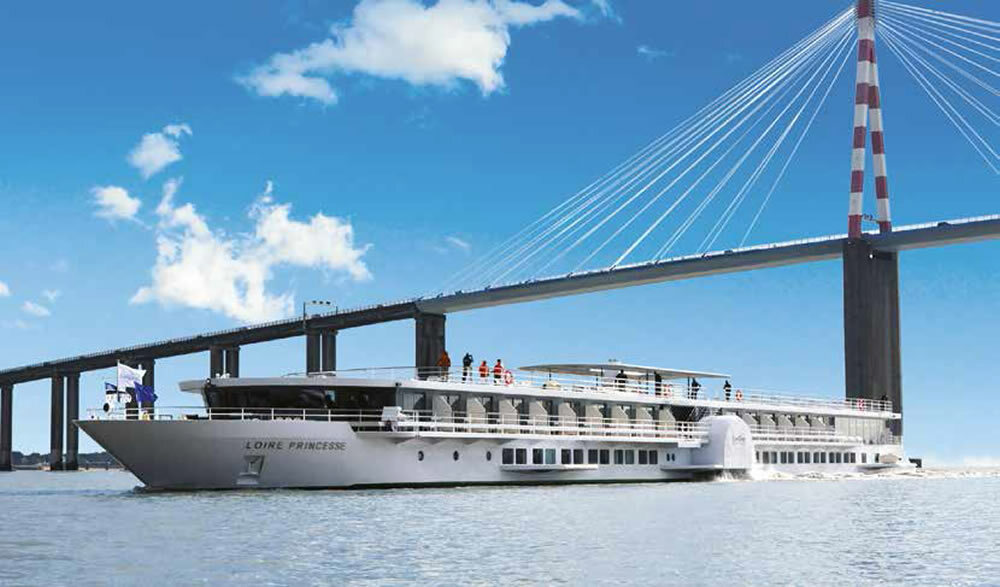 A look at Loire Princesse
It's the ambition of every river cruise operator to find new waterways, and to whisk passengers away from the well-travelled paths of the Rhine, the Danube, the Douro, the Mekong, and the Mississippi. Trouble is, nobody is building new rivers – nor are they likely to. So the solution has to be to build vessels
It's the ambition of every river cruise operator to find new waterways, and to whisk passengers away from the well-travelled paths of the Rhine, the Danube, the Douro, the Mekong, and the Mississippi.
Trouble is, nobody is building new rivers – nor are they likely to. So the solution has to be to build vessels that can boldly go where no boat has gone before.
That is the solution chosen by CroisiEurope to enable them to ply cruises on the Loire. It might be the longest river in France – at 1,012km against a mere 776km for the Seine – but its shallow waters have proved an obstacle to navigation until now.
The clever design of Loire Princesse gets over the problem. The two side-mounted paddles, 18ft in diameter and driven by electric motors, can even disturb the sandy riverbed without fear of grounding.
The fact that they project beyond the side of the ship's hull has another advantage – creating an opportunity for the designers to add substantial balconies to cabins on the main deck.
Like most of the new ships in Croisi's 43-strong fleet, Loire Princesse is a model of clean, contemporary design; there are few extravagances, although wine and beer are included with lunch and dinner.
In the cabins, all beds face the windows (and the river) and a TV drops down from the ceiling at the push of a button – once you find where the button has been concealed.
There's a bright, airy lounge bar on the main deck with a small terrace at the stern and a roomy sundeck above. On the lower deck is the restaurant serving well-cooked French specialities on a limited-choice menu.
From a base in Nantes, handily close to the fascinating collection of Machines de l'ile – including a ride-along mechanical elephant – Princesse's cruises journey down to the Atlantic port of St Nazaire and upstream as far as Angers.
Excursions vary from a trip to the shipyard which built the Queen Mary 2 and is currently constructing Harmony of the Seas, to wine-tasting among the chateaux. Fares from £1,329 p person for a 7-night cruise to St Nazaire, Ancenis (for Angers) Saumur and Bouchemaine, or £1,078 for a shorter 5-night cruise.