Search for your ideal Cruise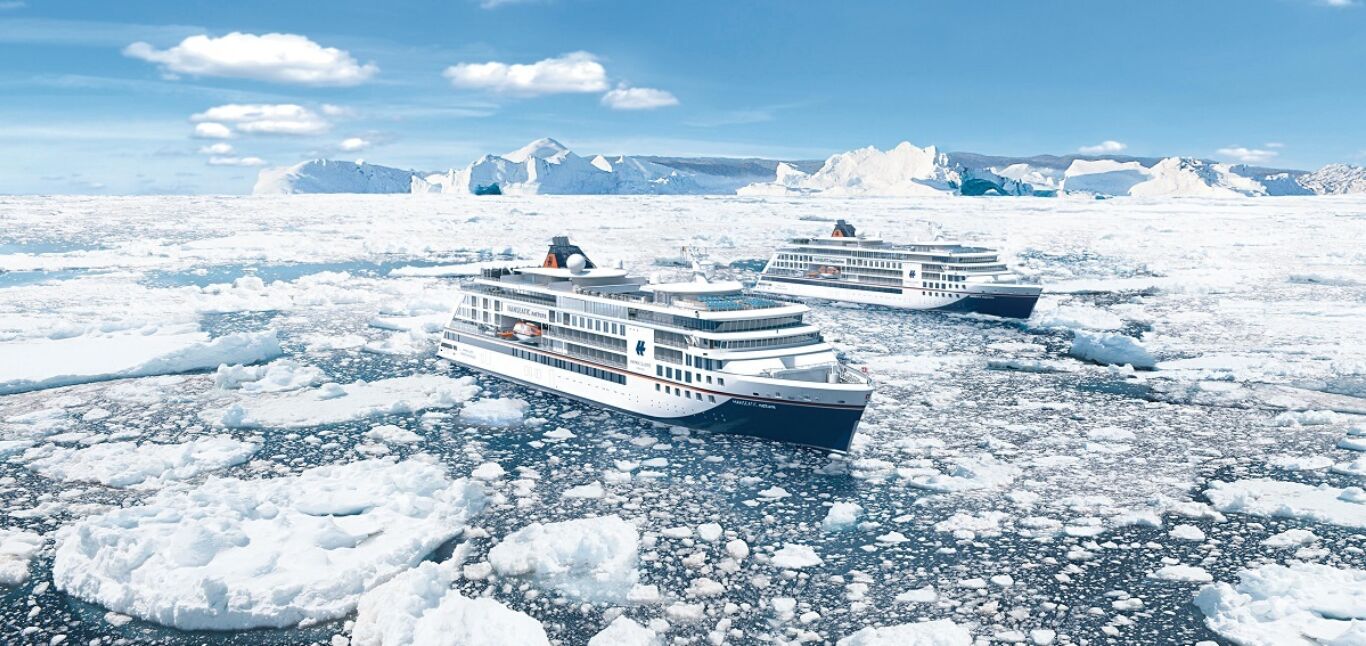 A new wave of expedition ships is on the horizon
A boom in adventure travel is being met with exciting launches from Hapag-Lloyd Cruises, Hurtigruten, Quark Expeditions, Scenic, Crystal, Ponant and Lindblad. Here's how the new additions compare… Expedition cruising is booming, with many new ships on the way. Hapag-Lloyd Cruises is building on its reputation for combining luxury and exploration by launching Hanseatic Inspiration
A boom in adventure travel is being met with exciting launches from Hapag-Lloyd Cruises, Hurtigruten, Quark Expeditions, Scenic, Crystal, Ponant and Lindblad. Here's how the new additions compare…
Expedition cruising is booming, with many new ships on the way. Hapag-Lloyd Cruises is building on its reputation for combining luxury and exploration by launching Hanseatic Inspiration in October 2019.
The ship will be able to take up to 230 passengers, or 199 on Antarctic voyages. Boasting the highest ice class for passenger ships, Hanseatic Inspiration will also have three restaurants, a large wellness and fitness area, and a marina for water sports. Sixteen Zodiacs and E-Zodiacs, with eco-friendly electric drive systems, will allow passengers to land in remote areas.
The seven-deck ship, under construction in Norway, has two extendible glass balconies so that passengers have the feeling of floating above the ocean. An all-round deck at the bow brings guests even closer to the action than the captain. As well as voyages to the Arctic, Antarctic and Amazon, Hanseatic Inspiration is also doing a 14-day trip to the Great Lakes from Toronto to Chicago in June 2020. All cruises are operated in both German and English. Sister ship Hanseatic Nature, launching in April 2019, will be aimed solely at the German market.
Karl Pojer, CEO of Hapag-Lloyd Cruises, said:
"The potential in the expedition ship segment is more than three times higher than supply. By virtue of the comfort and luxuriousness of our state-of-the-art new vessels, we will appeal to even more customers in the luxury segment in future."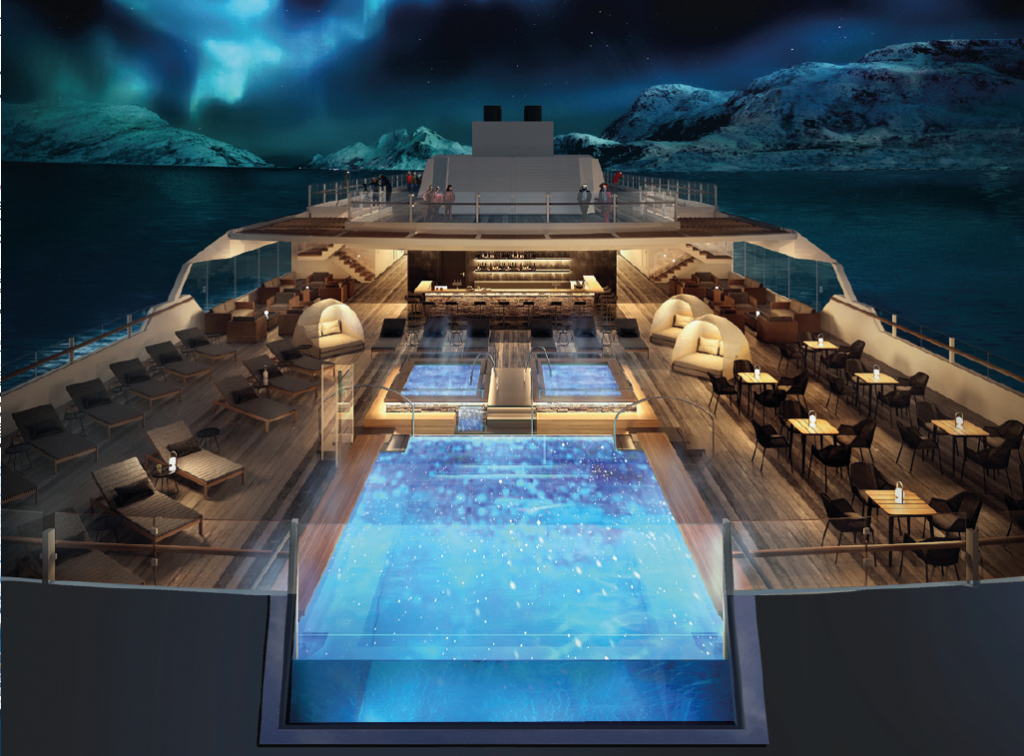 Hurtigruten, meanwhile, is aiming to "bring Antarctica to the masses" with the launch of the hybrid-powered Roald Amundsen next year. The 530 passengers will not be merely "waving at penguins", as guests on some other ships do, but be standing beside them, said the Norwegian company's British MD Magnus Zetterberg. "We are going to open Antarctica up to the masses – I think a lot of customers will want to go there but up till now they haven't been able to afford it," he added.
A sister ship, Fridtjof Nansen, will be introduced in 2019 and Hurtigruten has plans for another two vessels.
The Roald Amundsen − named after the first man to plant a flag at the South Pole − will have large observation platforms for guests to see the wildlife. Most cabins will have their own balcony, while a small number will be suites. As well as three restaurants, it will have infinity pools, hot tubs and bars.
Quark Expeditions is introducing the all-balcony World Explorer, with a glass-domed observation lounge offering skyline views, next year. The 176-passenger hybrid ship, equipped with 18 Zodiacs, will offer activities such as kayaking, paddleboarding and camping on shore.
"As the world leader in remarkable polar adventures, we constantly explore new ways to enhance the traveller experience," said company president Andrew White.
"World Explorer is Quark's fastest and finest ship to date. From an outdoor running track and heated pool to an exclusive spa and sauna, passengers will enjoy touches of luxury throughout their authentic polar expedition."
Scenic and Crystal are both launching megayachts featuring helicopters and submarines. Scenic Eclipse
is being unveiled in August next year, while Crystal Endeavor comes into service in 2019.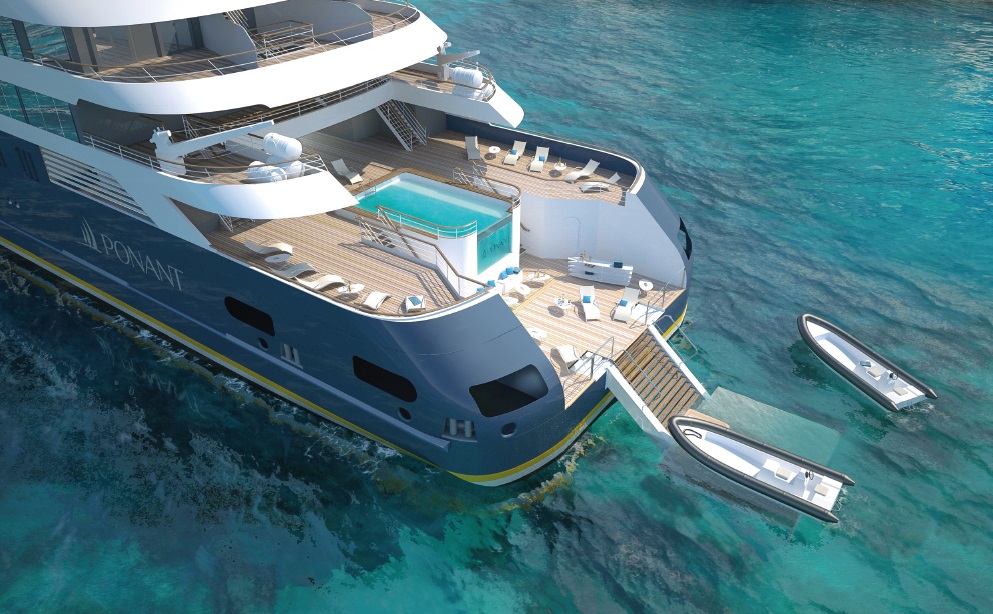 Ponant is gearing up for a busy couple of years with the launch of four ships − Le Lapérouse and Le Champlain in 2018 and Le Bougainville and Le Dumont d'Urville in 2019. All four will feature an underwater observation lounge, the Blue Eye.
Lindblad has launched the 100-passenger National Geographic Quest for trips to Alaska before heading to Costa Rica, Panama, Belize and Guatemala.
Sister ship Venture will make her inaugural voyage next June.