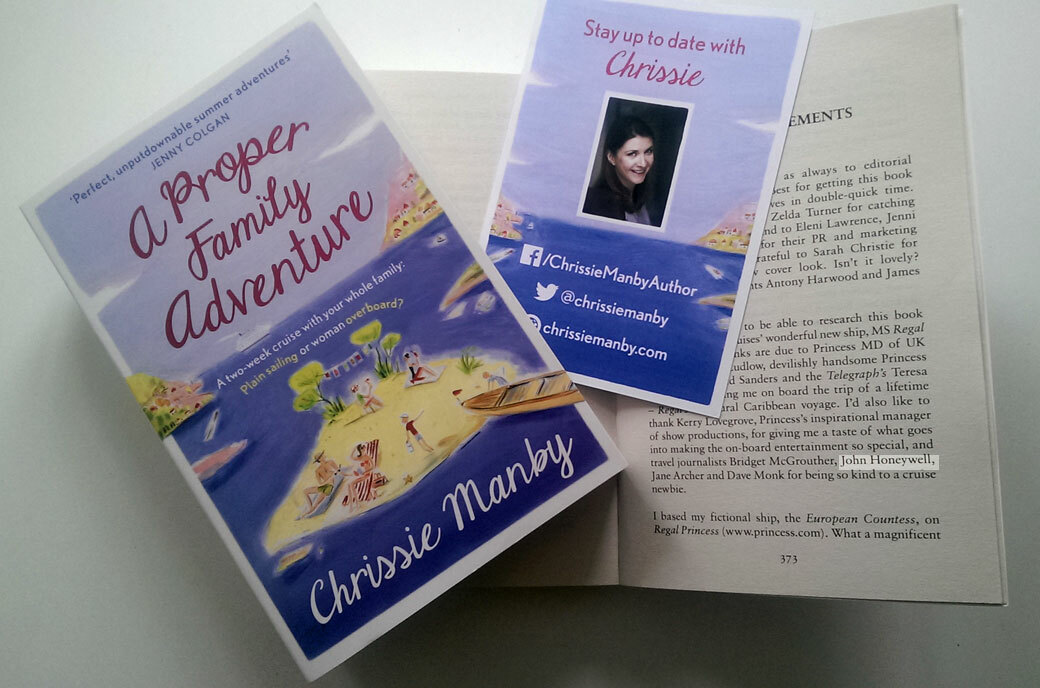 A Proper Family book launch – on cruise ship Royal Princess
World of Cruising went to a launch party with a difference yesterday – this time for a novel. We haven't abandoned our love of all things cruise, however. The event took place on a ship, and the book features a family taking a holiday at sea. Best-selling author Chrissie Manby travelled on Regal Princess last
World of Cruising went to a launch party with a difference yesterday – this time for a novel. We haven't abandoned our love of all things cruise, however. The event took place on a ship, and the book features a family taking a holiday at sea.
Best-selling author Chrissie Manby travelled on Regal Princess last November to research the book; World of Cruising editor John Honeywell was also there – and gets an acknowledgement for his help. The launch was held on board sister ship Royal Princess during a turnaround day in a rather rainy Southampton.
A Proper Family Adventure is Chrissie's 29th novel, and the third in a series about the Benson family – a follow-up to A Proper Family Holiday and A Proper Family Christmas.
It is set on board the fictional European Countess, which shares some of the features of Royal and Regal Princess, including the Movies Under The Stars open air cinema, and the Sea Walk glass walkway curving out from the side of the ship.
Chrissie said: "From the sheer scale and opulence of the ship to the delicious food and the spectacular entertainments, I found enough inspiration on board the Regal Princess for 10 novels. I can't imagine a better adventure for my fictional family or my real one."
David Sanders, Head of PR for Princess Cruises UK, said: "It's a real coup that Regal Princess helped inspire Chrissie and we're delighted to see so much of what people love about our cruises mentioned in her novel. A Proper Family Adventure is perfect holiday reading as well as a great advert for cruising."