Search for your ideal Cruise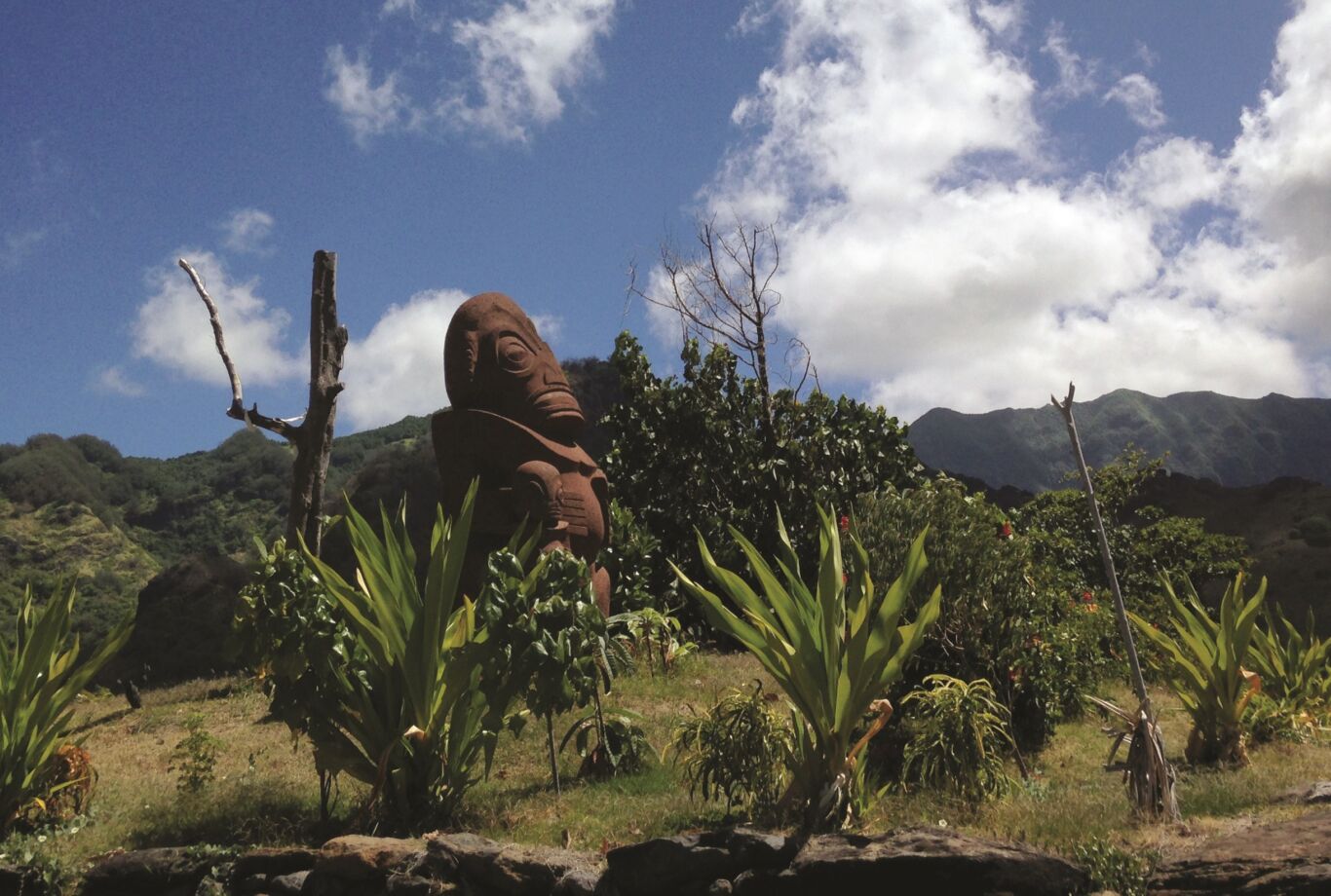 Adventure Cruise, Paradise with a dash of freight
Grass skirts and smiles on a cruise with a difference. Passengers share their ship with cargo, and they are a curiosity to the islanders in the Marquesas. By FRAN GOLDEN Four days into the voyage, in the tiny village of Hakahau on the island of Ua-Pou, passengers on the Aranui 3 watched as a crane
Grass skirts and smiles on a cruise with a difference. Passengers share their ship with cargo, and they are a curiosity to the islanders in the Marquesas. By FRAN GOLDEN
Four days into the voyage, in the tiny village of Hakahau on the island of Ua-Pou, passengers on the Aranui 3 watched as a crane swung a coffin from the ship to shore. Pallbearers met the delivery.
The Romanian-built Aranui 3 is a working freighter connecting the remote Marquesas Islands of French Polynesia to the rest of the world – the name "Aranui" means "the great highway" in Maori. Adventure-seeking passengers enthusiastically come along for the ride. While the 148 passengers on our cruise had plenty of creature comforts – air-conditioned cabins, a nice windowed dining room, lounging spots indoors and out, a pool – the front half of the ship was all cranes, winches and cargo, packed into containers. Seventeen times a year on Saturdays, the Aranui 3 embarks from Papeete, Tahiti, on a two-week voyage north into the South Pacific – the nearest of the Marquesas some 800 miles away.
For the 9,000 people who live on the Marquesas, the ship delivers the essentials of everyday life – food, toilet paper, building materials, kitchen appliances, mail, Coca-Cola, bikes, cars – and yes, coffins. The crew once hauled on a helicopter. They have transported a cow. The Marquesas are a tropical paradise of blue skies, blue sea, tropical forest, jagged volcanic peaks and lush green valleys. When the ship arrives in small villages, half the population might be on the waterfront awaiting their goods – people walking around in bare feet, trucks and cars idling, kids swimming nearby.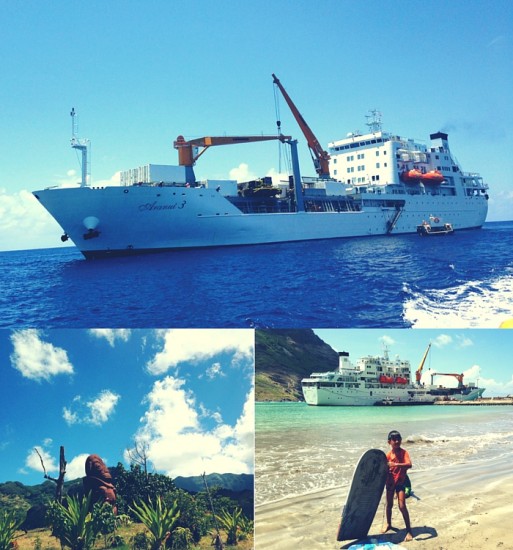 That my husband and I had chosen an experience that was different from your standard cruise was clear the minute we got to the cargo pier in Papeete and climbed the steep gangway. A burly crew member with a bunch of tattoos grabbed our suitcases and saying "Don't worry, I'm strong."
'Stepping onboard Aranui 3 was like a throwback to cruise ships of the 1980s (though it debuted in 2003)'
The front desk looked like it belonged in an old Parisian hotel, though with a few Polynesian artefacts. Our standard cabin had a porthole and twin beds that were fixed in place. In-room storage included a locker. The tiny bathroom at least had a well-functioning, curtained shower. Towels and sheets are changed every fourth day. The ship also has more posh accommodations including suites with queen-sized beds, some even with balconies and turndown service. For those on a budget, dormitory accommodations have the sort of cubicles you'd find on an overnight railcar and shared facilities.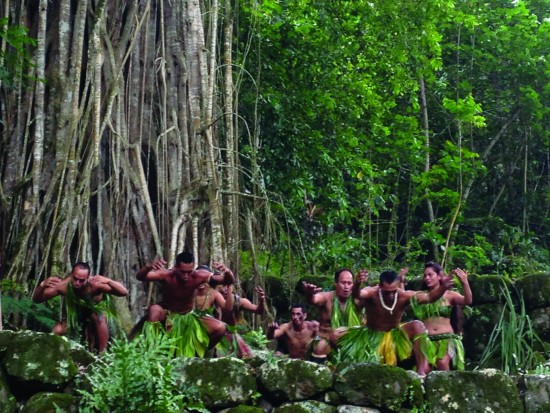 A welcome celebration with grass-skirted, bare-chested men and grass-skirted, barely-covered women exuberantly dancing a warrior dance around the pool while passengers sipped rum drinks, set the tone for the week. At nearly every island stop – and there were 19 in total –muscular crew sweated in the tropical heat unloading supplies while passengers embarked onto the pier or whaling boats outfitted with seats and were whisked away to experience the local culture. In some villages, the whisking was in cars owned by locals hired by the line to be at the pier at a set time on a set day. Other times we hiked, or sat in open-air trucks. Local guides and crew provided commentary. There was also free time to explore on your own – as long as you were mindful of the ship's tight schedule for departure. Some days we visited several ports; only two days were at sea.
An anxious moment came the first day when I discovered the ship had no Wi-Fi, though it was supposed to. I needed to get messages to editors and family. Exploring the sleepy atoll that was our first stop, my husband and I came across a concrete patio that was clearly the local hotspot – several adults and kids sitting on the ground with cell phones and laptops. We plopped down too and I tried to fiddle with my cell phone to no avail. Realizing the locals spoke French I tried to translate my needs. That didn't work– my French is pathetic. A shirtless man, sizing up the situation, silently held out his hand. He borrowed my phone, programmed in his password and gave me a broad smile. The rest of the group paused from their devices to smile too. Saved.
'There was Polynesian culture and history to be learned on land and on the ship'
Most of the crew were from the Marquesas and understood English, though some better than others. Passengers, ranging in age from 8 to 90, were German- French- and English-speaking in that order. Unfortunately, the English-speaking lecturer called in sick for our cruise – the crew improvised before finding a replacement several days into our sailing. Still, we learned that the Marquesas were visited by Spanish explorers, Captain Cook, whale hunters and French missionaries and that some of the visitors brought diseases that almost wiped out the population, once 100,000 strong; how the missionaries also tried to eradicate such customs as tattooing and huka dancing (which have only recently made a comeback); and how the French tested atom bombs nearby until 1996.
Helping establish a strong sense of place, the hardworking cruise director, Manaril Maruhi, conducted classes in ukulele playing, drumming, grass weaving, tying pareos (dyed cloth worn as clothing) and huka dancing. He even taught a class on how to prepare poisson cru (raw fish with coconut milk and lime). Manaril was endearingly enthusiastic. "Have fun. If you lost your smile I will try to find it," he exhorted.
'Sometimes the scene was like Club Med on the high seas, complete with a sexy air'
Watching a bare-chested Manaril gyrate his hips in a dance class, one passenger commented she needed a "cold shower."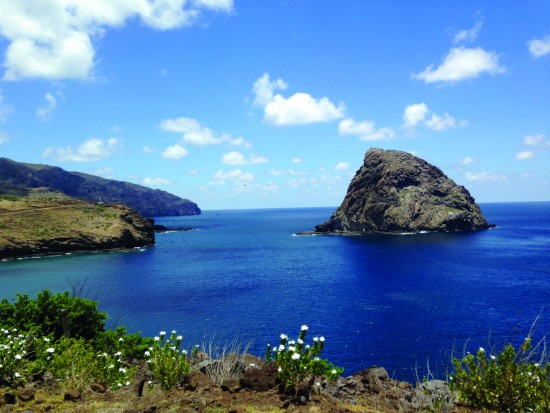 Passengers weren't the types that need much entertainment. They came onboard armed with books and Kindles, borrowing volumes about the South Pacific from the ship's library. Still, night owls found entertainment in the top-deck bar – where the Aranui Band (a cook, an officer, a cargo guy) played island tunes on a ukulele, drums, and a homemade bass. Lunch and dinner onboard were each an event, with two seatings a half-hour apart to give the flowered shirt-clad crew time to properly serve three courses – an entrée, main and dessert. You could sit anywhere you wanted. The cuisine was French-meets-Polynesian and surprisingly good – a taste of foie gras here, caviar there, lots of fresh fish. The pastry chef showed skill with desserts. Bottles of complimentary wine were on each table.
'With the ship bringing us from one beautiful bay to another, we toured sacred sites, viewed tikis, visited artisan markets and hiked jungle trails and black sands'
Some islands were more memorable than others. On Hiva Oa, the rugged beauty (and beautiful women) of Atuona attracted French painter Paul Gauguin, who is buried in a mountaintop cemetery overlooking a green valley. Nearby is the grave of Belgian singer Jacques Brel. You can visit museums dedicated to both men. On Tahuata, where Spanish explorers arrived in 1595 (and killed 200 curious locals), and where the French first settled in 1842, we toured a cathedral built by the Vatican and decorated with intricate wooden carvings created by the islands' best carvers.
'At the end of our cruise, the popular Tahitian tourist island of Bora Bora brought us startlingly back to civilization'
The biggest lesson we had learnt came from the ship's cargo chief, reminding us that in the Marquesas, we ourselves were a curiosity. "The magic of this ship is to mix a people with another people," said Tino Tsien Young. "When we look at you we see the complexity of the world."