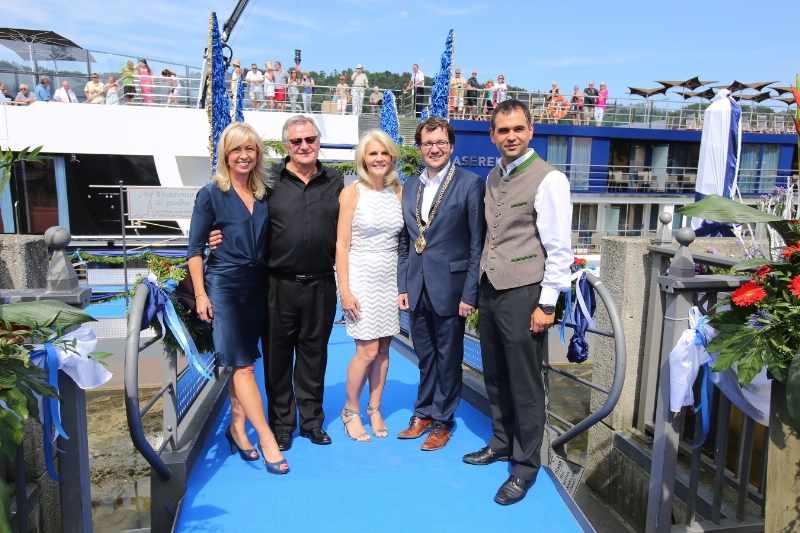 AmaWaterways christens AmaSerena in Vilshofen, Germany
Last week AmaWaterways christened its latest 164-passenger vessel AmaSerena in Vilshofen, Germany, following the ship's maiden 'Melodies of the Danube' sailing. The river cruise line's co-founders, Rudi Schreiner and Kristin Karst, were joined by the ship's godmother, American travel agent Michelle Fee, for a series of festivities. Local dignitaries, including Mayor Florian Gams and 2nd County
Last week AmaWaterways christened its latest 164-passenger vessel AmaSerena in Vilshofen, Germany, following the ship's maiden 'Melodies of the Danube' sailing.
The river cruise line's co-founders, Rudi Schreiner and Kristin Karst, were joined by the ship's godmother, American travel agent Michelle Fee, for a series of festivities. Local dignitaries, including Mayor Florian Gams and 2nd County Commissioner, Rainmund Kneidinger, helped to officially welcome the vessel to the fleet. The festive occasion was celebrated with live music, local entertainers and authentic Bavarian cuisine. Traditions including the signing of the ship's guest book, a prayer by the abbot, and the ship's official christening all took place before fireworks drew a close to the event. In keeping with the long-standing tradition within the cruise industry the godmother blessed the ship before smashing a bottle of champagne against the ship's hull.
Announced in August 2014 AmaSerena now joins the AmaWaterways fleet alongside sister ships AmaReina, AmaPrima, AmaCerto and AmaSonata. The ship's spacious accommodations feature the line's first-ever interconnecting staterooms, designed for friends or multi-generational families travelling together. Other facilities on-board include signature twin balconies, salon and spa services, sun decks, multiple dining venues, intimate wine rooms, fitness rooms, and heated sun deck swimming pools with swim-up bars.
Kristin Karst said "It is an exciting time for AmaWaterways as we welcome AmaSerena, our most innovative ship to-date, to our European fleet. AmaWaterways takes great pride in selecting its godmothers and we are honoured to have Michelle Fee join our family. She has been a fantastic partner of ours over the years, always supporting AmaWaterways and encouraging her network of franchise owners and travel professionals to do the same."
The christening took place following AmaSerena's maiden voyage that departed Budapest on 29 July. The seven-night sailing along the Danube visited European destinations including Bratislava, Vienna, Linz and Passau. Future itineraries planned for AmaSerena include 'The Enchanting Rhine', 'Magnificent Europe' and 'The Romantic Danube', calling into destinations in France, Germany, Austria, Switzerland and others.
(Photo credit to AMAWaterways)