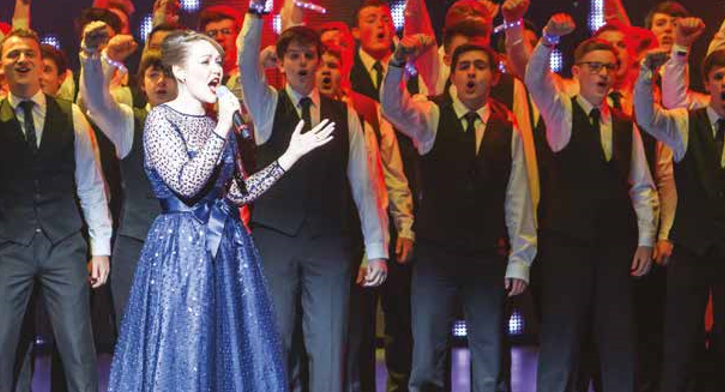 Anthem of the Seas hits all the right notes
Laura-Jane Parker tests Royal Caribbean's new super-ship to the limit. There I was, wind in my hair, eyes glistening, chin up, staring out from the aft of Anthem of the Seas. It was a beautiful spring morning in Southampton and I had roughly 48 hours to explore a brand-new ship, so I was excited. But
Laura-Jane Parker tests Royal Caribbean's new super-ship to the limit.
There I was, wind in my hair, eyes glistening, chin up, staring out from the aft of Anthem of the Seas. It was a beautiful spring morning in Southampton and I had roughly 48 hours to explore a brand-new ship, so I was excited. But then, horror of horrors, a thin string of dribble began to escape from the corner of my mouth and my face bumped into a pane of glass as I started to flail for my balance.
Everyone around me pointed and laughed. Fortunately, I hadn't made an early stop at one of the many bars and got carried away with some set-sail shots. I was in fact testing the first of many attractions aboard – RipCord by iFLY – askydiving simulator within which I was trying (and failing) to get to grips with the perfect balanced pose to adopt inside a wind tunnel at sea.
Anthem promises to deliver a cruise experience like no other. Royal Caribbean aims to reinvent cruising, using the latest technology and entertainment to deliver a holiday experience that can't be found anywhere else. These are bold claims, and as someone new to cruising and perhaps slightly younger than an average passenger (I certainly can't function in a world without 4G), I felt well placed to put Anthem of the Seas to the test.
As far as the tech goes, it's completely and utterly woven into the fabric of Anthem of the Seas. From the moment you board the ship you can manage your schedule and plan your time using the Royal iQ app, accessible on smart phones, on stateroom TVs, and at many screens across the ship. Passengers pay for drinks, book entertainment and access staterooms using a nifty chip on a watch strap linked to onboard account.
There are even innovative Back To The Future-style virtual balcony screens in interior cabins showing a live webcam feed of the view from the ship. I can confirm that at sea, the wifi was beyond compare (phew). On other ships, it can feel a little like stepping back in time by a couple of decades, which has put me and I'm sure others my age off a cruise holiday. But on Anthem of the Seas you feel very much in the here and now – if not the future!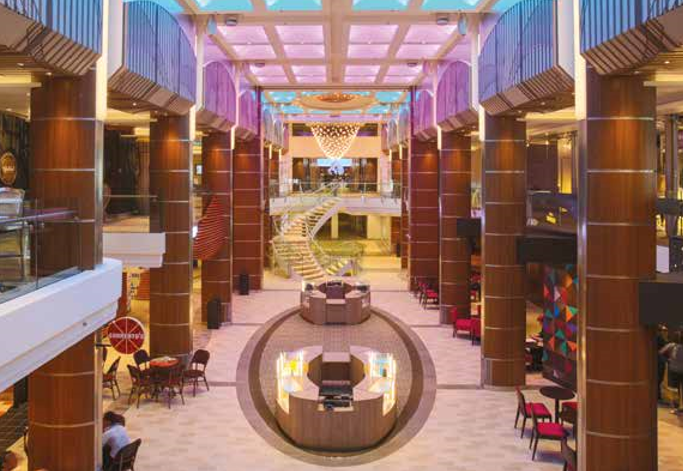 Beyond making life on board smoother, technology also plays an impressive and groundbreaking role in the many attractions. The Two70 entertainment venue is a tour de force of technology and spectacle. By day, it's a cafe with triple deck height windows giving breathtaking views of the seascape. At night, those windows transform into triple height screens, which work in tandem with six other screens attached to robotic arms to create a visually spectacular backdrop to the entertainment on the bill.
I watched the venue come to life for a midnight showing of Spectra's Cabaret show – which seemed to be thebrilliantly bonkers brainchild of Graham Norton and Lady Gaga (no, stay with me), making full use of the capabilities of the space, transporting you to other worlds entirely!
At the opposite end of the ship is the Royal Theatre, showing a production of We Will Rock You which more than holds its own against anything you might see in the West End. The performers, band and staging were magnificent. It was so hard to remember as we stood clapping and singing along to the 'We Are The Champions' encore (just me?) that we were floating out at sea!
The cherry on Anthem's innovation cake is its North Star attraction – essentially a London Eye pod, attached to a robotic arm on the top deck, gently lifting passen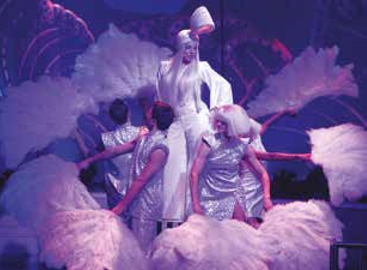 gers 300 feet above water level to give unprecedented views of the ship and the sea. I have honestly never experienced anything like it, and I don't even enjoy heights! It is one of the most beautiful and exhilarating things to do on the ship, and is not to be missed.
Not all the technology was successful. There was a lot of buzz about the signature Bionic Bar, where two robotic "bartenders" mix drinks ordered via iPad. After I placed my order, one of the arms refused to move while the other became stuck on a loop of making a drink and pouring it away. Something I said? Hopefully this was just a one-offmalfunction, but if this is the future of bars, I think I'll stick to a trusty barkeep to whom I can offload my troubles. I can't see a robotic arm being much company, but who knows – perhaps the next upgrade will include a Siri-esque personality. One for the suggestion box perhaps?
Leaving the technology and gadgets to one side, the other thing that makes Anthem stand out from other cruise ships is just the sheer amount of STUFF there is to do. In my all-too-brief 48 hours I almost ran myself ragged trying to experience as much as possible and still feel I only scratched the surface. It's impossible for anyone to get bored, no matter what their interests or how long you are at sea for.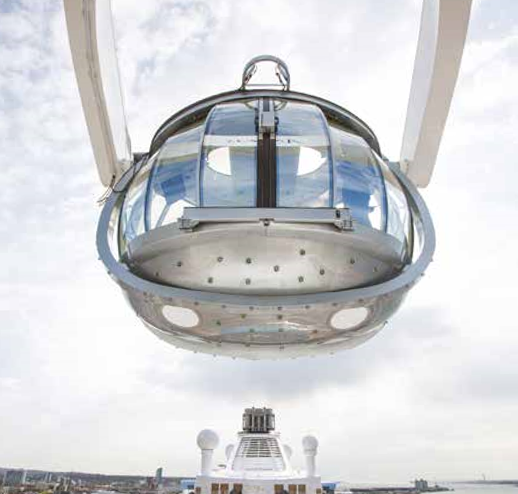 For the thrill seekers, there's the iFLY (dribble optional), the climbing wall, and surfing simulator. For the fitness fanatics there is a running track around the sun deck, several pools to splash around in (indoors and outdoors) and a fullyequipped gym, with fitness classes run daily.
For the foodies, there is an almost obscene choice of restaurants including recognisable names such as Jamie's Italian and burger bar Johnny Rockets. Highlights for me were the cooked-to-perfection steak at Chops Grille andthe many all-you-can-eat buffet selections at breakfast and lunch at the WindJammer cafe (I try to be never knowingly underfed).
Finally for the fun lovers there's a wonderful area called the SeaPlex, which has a variety of different setups – it's a basketball court, a circus school and a full size dodgem car ring or roller disco rink!
If all that sounds too much like hard work for a holiday, there are several opportunities to just chill. First of these is a spa offering a full selection of services by a delightful team of staff. I indulged in a seaweed massage treatment which blew the cobwebs away and left me feeling very zen – blessed relief after the wind tunnel! There are several Jacuzzis and my favourite spot for relaxing is a seat in the adults-only Solarium – an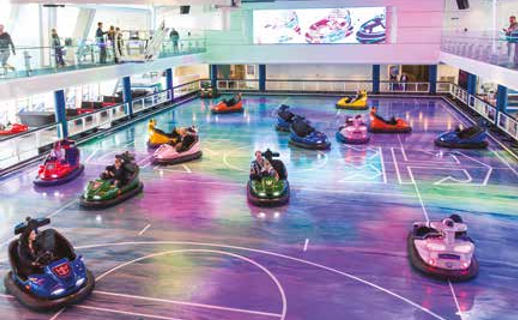 absolutely glorious glass-fronted area at the front of the ship with a series of tiered pools that each flow into the one below. Does Anthem live up to its self-proclaimed gamechanging technological offering? For me, it's a definite "yes."
Gimmicks like the Bionic Bar that may date quickly, but the attention to detail on the basics, and the sheer range of interesting things to see, do and experience, make Anthem is about as far and away from your traditional cruise ship as you can get, in the best possible way. It's almost enough to make you forget that the cruise ship itself is not actually the destination, which some may feel will distract from the many ports and areas of the world the ship is set to visit. But I for one feel capable of being able to appreciate both at the same time. Anthem, you're not just any ship – and I applaud you for it.