Search for your ideal Cruise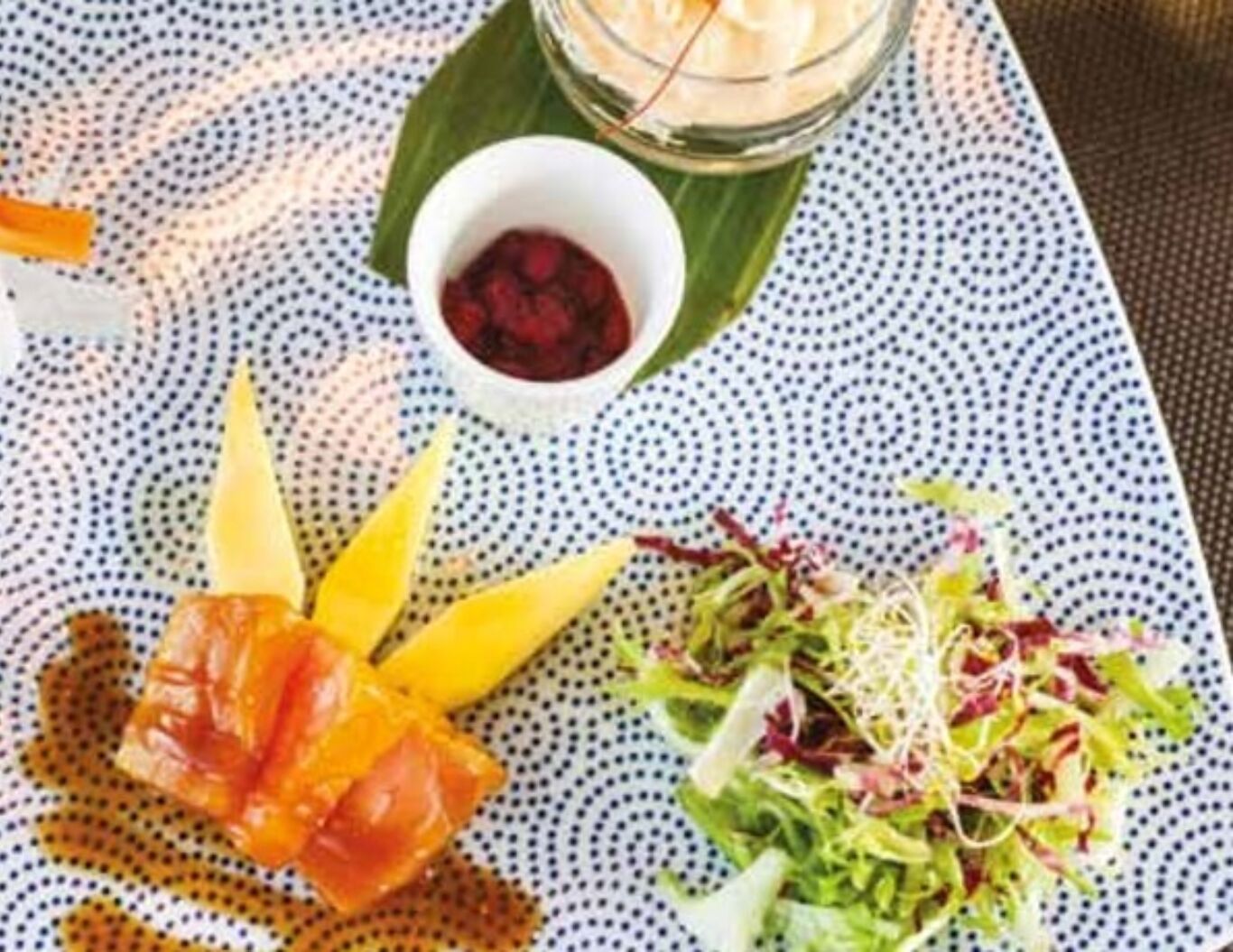 Asian Salmon Shot
Asian marinated salmon, mango salad, coconut-lime foam, pomegranate chilli chutney. Serves 10 Take one small side of salmon, marinate it with the listed ingredients, then roast it gently on one side. Marinade: Mix together 100g soy sauce, 100g sesame oil, 100g fish sauce, 1 tsp each of coriander seeds and turmeric, 50g brown sugar, 3
Asian marinated salmon, mango salad, coconut-lime foam, pomegranate chilli chutney.
Serves 10
Take one small side of salmon, marinate it with the listed ingredients, then roast it gently on one side.
Marinade: Mix together 100g soy sauce, 100g sesame oil, 100g fish sauce, 1 tsp each of coriander seeds and turmeric, 50g brown sugar, 3 bay leaves, 3 star anise, 8 cloves, 100g crushed root ginger (peeled), 2 fresh chilis (to taste). Rub into salmon and leave for at least 30 minutes.
Mango salad: Mix 50g mustard, 400g white balsamic vinegar and 200g honey, then slowly whisk in 150ml olive oil and 250ml sesame oil. Add to three rip mangoes, peeled and cubed.
Coconut lime foam: Sauté together 6 cloves of garlic, 1 small onion (both finely chopped) 100g crushed root ginger and 1 stalk of lemon grass. Add 1 tsp red curry paste and 2 lime leaves. Stir in 1 tin of coconut cream and 100ml fresh cream. Strain through a fine sieve.
Pomegranate chilli chutney: Sauté 1 red onion, finely diced, add the seeds from one pomegranate, 200ml pomegranate syrup, 1 tsp dried or fresh chilli (to taste) and 50g sugar. Serve with the salad, foam, and chutney.