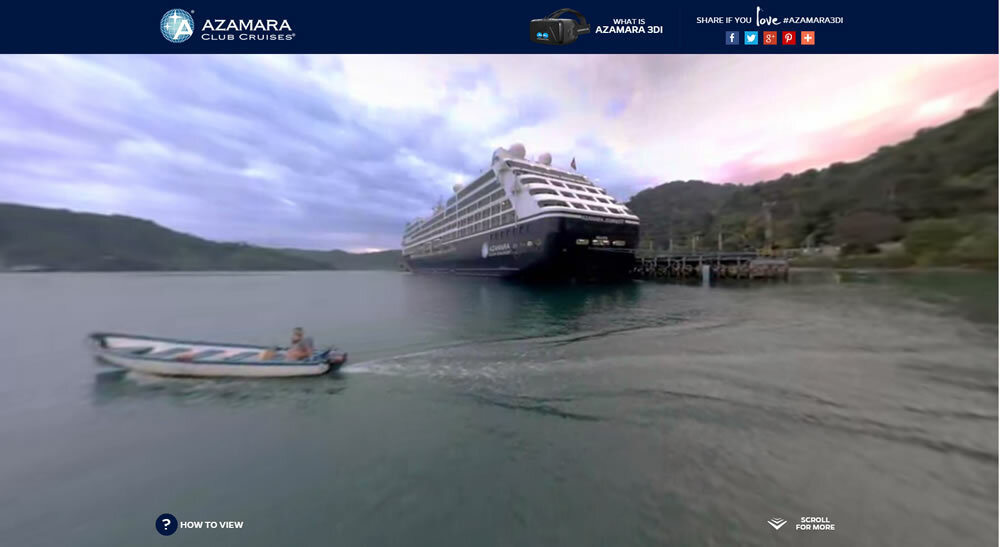 Azamara uses Oculus Rift technology to offer 360-degree virtual reality experiences
Azamara Club Cruises has unveiled the first of a series of 360-degree virtual reality experiences called 'Azamara 3DI'. The virtual reality experiences are powered by the latest Oculus Rift technology which is most commonly used for adding virtual reality aspects to video games. The luxury boutique line is the first company in the cruise industry to
Azamara Club Cruises has unveiled the first of a series of 360-degree virtual reality experiences called 'Azamara 3DI'.
The virtual reality experiences are powered by the latest Oculus Rift technology which is most commonly used for adding virtual reality aspects to video games. The luxury boutique line is the first company in the cruise industry to bring their ships and destinations to life in 3D, allowing guests to experience a cruise in virtual reality.
From touring the on-board offerings of an Azamara ship, zip lining through a Costa Rican rainforest, taking a moonlit carriage ride in Cartagena, Colombia or sailing through the Panama Canal, the Azamara 3DI videos bring loyal and future guests as close to 'being there' as possible. Using Azamara's own Oculus Rift DK2 headsets and headphones, this sensory journey will showcase the Azamara experience at trade shows and industry events from June in the UK.
"Committed to Destination Immersion by ensuring guests have longer stays in port, more over-nights and night touring on all voyages, we continue to redefine the luxury cruise experience for the next generation," says Larry Pimentel, President and CEO of Azamara Club Cruises. "Equally, we invest in our guests' experiences both on and off of our ships which begins with their first Azamara touch point. As travellers and travel partners research our offerings and itineraries, we need to arm them with the best tools possible to ensure they have the resources they need to make a well informed decision about which voyage is best for them. Our new Azamara 3DI experiential series will be a game changer in vacation planning."
Richard Twynam, Managing Director UK & Ireland, Azamara Club Cruises said, "We are thrilled to be able to use Oculus Rift technology to demonstrate the Azamara difference to loyal and prospective guests, and we hope that this travel experience will inspire future holidays with us."
The 3DI experience can be viewed online here. Users can navigate 360-degrees to look around while the video plays. The next opportunity for members of the public to experience Azamara 3DI using the Oculus Rift technology is at the Luxury Travel Fair in November.
Other cruise lines have been looking into technology to help guests to experience cruise ships from the comfort of home. Royal Caribbean have uploaded virtual tours of Allure of the Seas and Quantum of the Seas using Google Street View and Carnival have used Google Cardboard headsets to offer tours of its latest ship Carnival Vista.