Search for your ideal Cruise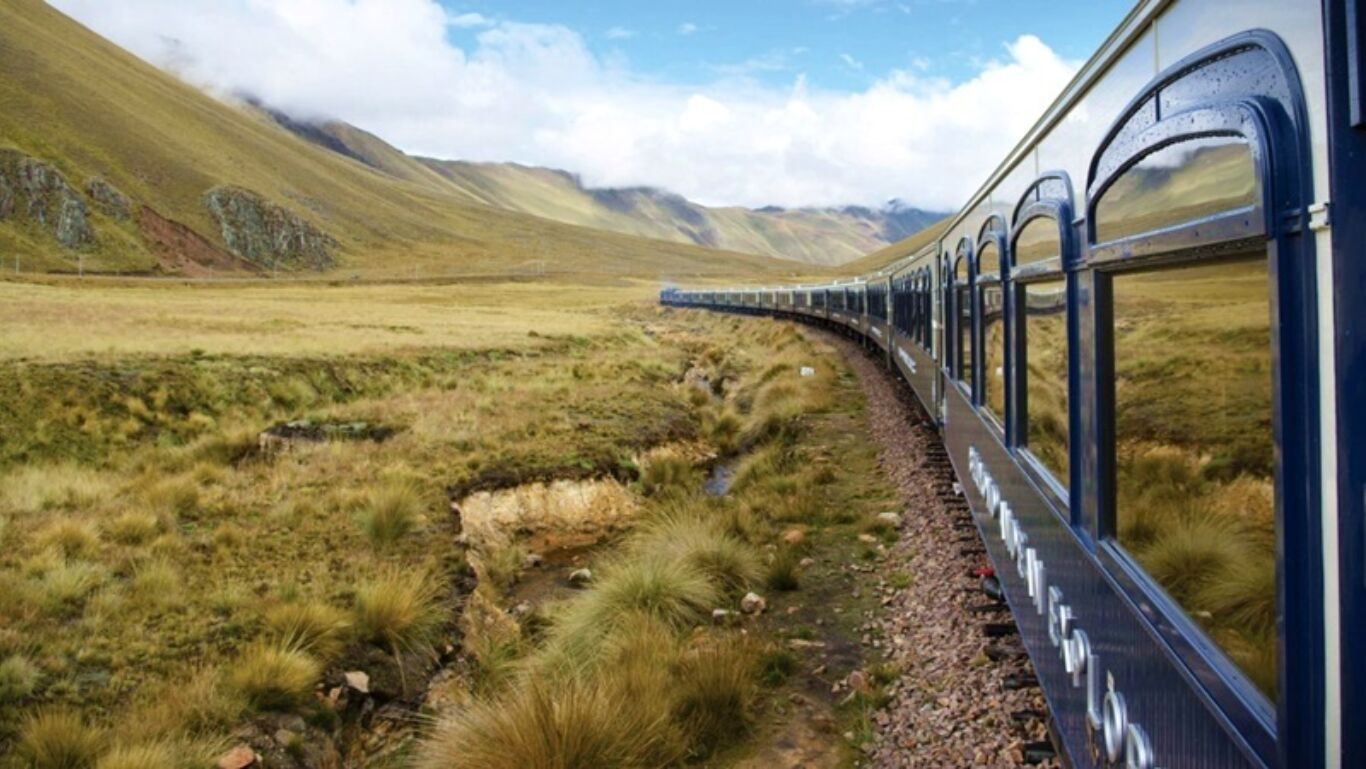 Belmond Andean Explorer Train: The Allure
By Jason Kearney- Travel Writer at Totally Latin America Travel The First Luxury Sleeper Train in South America Peru is now an enticing and popular cruise destination with frequent calls to the main port of Callao, near Lima the capital. Lima offers the day cruise visitor access to a vibrant city of ten million people with
By Jason Kearney- Travel Writer at Totally Latin America Travel
The First Luxury Sleeper Train in South America
Peru is now an enticing and popular cruise destination with frequent calls to the main port of Callao, near Lima the capital. Lima offers the day cruise visitor access to a vibrant city of ten million people with a rich and noble colonial past boasting beautiful architecture, breathtaking Pacific Ocean vistas, cultural fusions and culinary creations of world renowned chefs Gastón Acurio, Virgilio Martinez and Mitsuharu Tsumura; all served with the enchantment of the Latin joie de vivre. This country is visited by many cruise lines including Holland America Line, Oceania Cruises, Silver Sea, Fred Olsen, P&O, Phoenix Reisen, Cunard, Silver Sea, Celebrity and Crystal Cruises.
In addition to day visits, it is now a perfect choice for pre-or post-cruise visits. The country is home to the famed and glorious Machu Picchu, but there is so much more to come and see. No nation has such diversity to offer such as the Amazon rainforest -with River Cruise option, the Inca city of Cusco- UNESCO World Heritage Centre, Lake Titicaca- highest navigable lake in the world, The Colca Canyon- twice as deep as The Grand Canyon. The Latin American travel experts at Totally Latin America offer a full range of luxury tailor made multi-day itineraries to allow the cruise traveller venture inland to discover the hidden gems of this mystical South American land.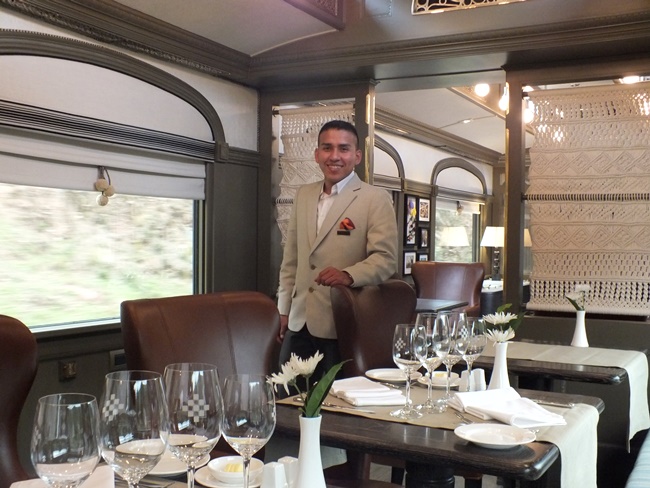 A new 2017 luxury overnight train service has just begun and is called the Belmond Andean Explorer. This can allow the cruise traveller, pre-or post-trip, to venture in luxurious surrounds to places not previously accessible. The Belmond Andean Explorer operates from the city of Cusco in the Andean Highlands to Arequipa in the South of Peru and I took the journey from Cusco to Puno. This trip called the Spirit of the Water is an overnight service. This journey gives travellers P access to the remote and beautiful highland altiplano of the Andes Mountains in Peru and culminates beside the majestic Lake Titicaca. Let us go and explore this new luxury journey.
C.F Cavafy in his poem The Road to Ithaca wrote "As you set out for Ithaca hope that your journey is a long one, full of adventure, full of discovery". Traveling from Cusco Peru to the provincial city of Puno a flight takes an hour plus transfer, a tourist bus takes ten hours and the train takes twenty-one hours. The logical choice is to fly, or is it?
In a world beset by speed it is enticing to enjoy time as opposed to saving it. Our inner sanctums pine to be cast away to some magical land and experience the seduction of a royal class service; which alas our daily routine cannot deliver. Thankfully a new overnight sleeper train The Belmond Andean Explorer can realize those inner yearnings into a truly breath-taking experience as it meanders across the high altiplano plains, nestling under the majestic Andean Mountains of Peru.
The Belmond Andean Explorer train on this route from Cusco to Puno is called The Spirit of the Water, as the final destination sees us awaken aside Lake Titicaca. My journey begins in Cusco, an 11am departure to Puno with the train looking resplendent in its navy blue and grey livery, complimented by impeccably presented staff members. Prior to boarding an Andean Huayno dance group perform much to the admiration of today's 26 passengers. The train has a capacity of 48 travelers, set to increase to 60 next year and comprises 16 carriages to increase to 21. Staff outnumber passengers and this is a reflection of the emphasis on consummate customer service and attention to detail. On boarding we are treated to a champagne reception and introduction by Javier Carlavilla, Chief of Luxury Trains at Peru Rail.
First impressions are one of old world charm and decadent opulent surroundings. A brief inventory of the train is a rear open-air observation deck, piano bar lounge and two restaurant cars; all complemented by an array of carriages dedicated to four categories of accommodation. These range from two sumptuous double bed De Luxe Suites, six double bed Junior Suites, eleven Twin Cabins and finally to five Bunk Bed offerings. The interior décor is inspired by colours drawn from the Incan heritage of the region.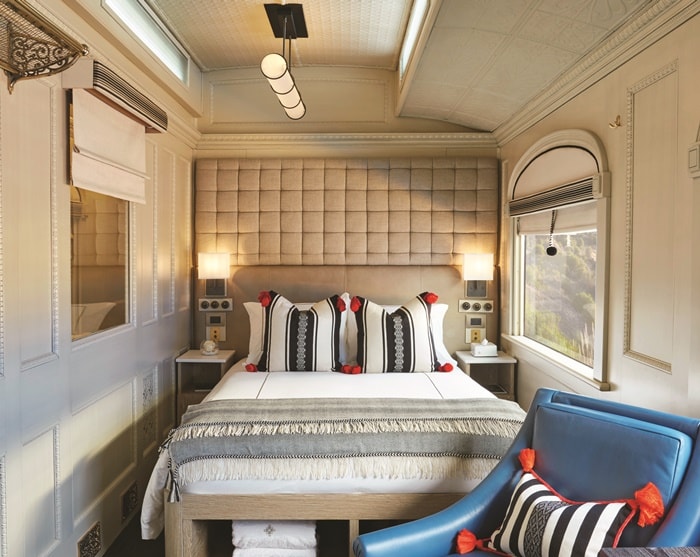 I chose the twin bed option which comes furnished with two small beds and an en suite shower washroom. By day the beds fold to a couch arrangement and at 7.30 p.m. staff perform their turndown service transforming the cabin to its sleeping arrangement.
All aboard!
We depart Cusco and roll down the Huatanay River valley through sprawling suburbs and steadily the momentum builds to that familiar and captivating clickety-clack clickety clack sound. Travelling along the heartland of Peru each glance from the cabin vista catches microcosms of daily rural life. Both people and nature combine in a foreboding but equally enchanting landscape that gradually changes to a more rural agrarian panorama.
From the outset staff greet each traveler by name and attend to their needs including Pisco sour; a refreshing Peruvian cocktail of Pisco liquor, lime juice, egg white, syrup and Angostura bitters. Pastiches of food are also regularly offered, all crafted by the influence of the legendary chef Diego Muñoz. In the lounge and observation car travellers begin to converse with their newly found friends and some choose to share lunch at 12.30 p.m. in the restaurant carriages.
Today's lunch is one of giant corn with Andean cheese, seared sea bass and dessert of poached cara cara with cardamom and thyme. All foods inspired by Peru and time to share stories with both old friends and new acquaintances. Everyone aboard shares a common bond, they love train travel and it is an immediate starter conversation. Travelers are here not to get from one place to another but to enjoy the journey and human interaction by sharing their life stories and learning from new acquaintances. Nobody has anywhere to go, no appointments and train travel exudes soul, elegance and old world charm which will lead this Belmond Andean Explorer train service to contribute to the renaissance of rail.
After lunch, we disembark to visit the ruins of Raqchi and David our guide carries us back in time to appreciate the purpose of this Inca sanctuary built circa 1439. The site is vast with 156 Colca store houses and Ushnu ritual houses, in addition to a remaining Wiracocha Temple wall towering at 60 feet in height.
As the evening sun fades, the train in all its grandeur rumbles along into a mystic where the Incan altiplano rolls away to a secluded rendezvous with the Andean sky. We are now at La Raya, some 14,150 feet high, a valley with snowcapped peaks and we venture out to visit a small market and an austere but charming church. The Andean people sell beautiful colorful garments and trinkets in this remote haven.
Back on board we are treated to cocktails and settle down to dinner of Alpaca tortellini, duck breast and Urubamba Valley beetroot served glazed in elderberry sauce. The final stages of the journey see us descend to the city of Puno at 11 p.m. the train rumbles to a halt and passengers gradually make their way from the lounge to their cabins to slumber. The next morning, sunrise at 5.15a.m. can be witnessed over Lake Titicaca the highest navigable lake on our planet. Breakfast is served from 6 a.m. and after dining further tours to visit the reed islands of Uros and Taquile are offered. Alas my journey ends here and I bid farewell but feel enriched by this experience. Cavafy taught us how Ithaca "gave you the marvelous journey". Rest assured with The Belmond Andean Explorer Train you too can live a Peruvian odyssey; the allure of a new marvelous journey awaits for all cruise visitors to Peru.