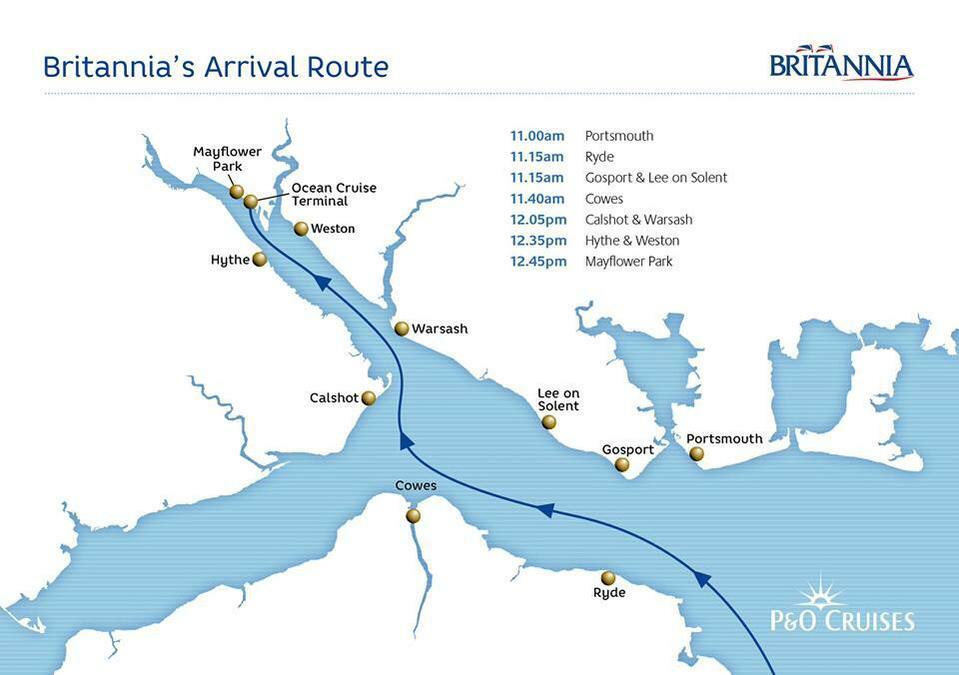 The best places to photograph Britannia this Friday
P&O Cruises' Britannia will be docking in Southampton this Friday and this momentous occasion will be witnessed by many eager fans and the media. Details of the arrival have been released and so we can now reveal the best places to spot her en-route to her berth at Ocean Terminal. A flotilla of small boats
P&O Cruises' Britannia will be docking in Southampton this Friday and this momentous occasion will be witnessed by many eager fans and the media.
Details of the arrival have been released and so we can now reveal the best places to spot her en-route to her berth at Ocean Terminal. A flotilla of small boats is expected to follow the new cruise ship as she sails into Southampton for the very first time with helicopters and three fire-tugs in attendance
The Pilot will board Britannia at approximately 10.00am off The Nab. At around 11.40am Britannia will pass the Prince Consort Buoy,. At around 12.35pm she will pass Dock Head and at around 1.05pm she will be held in position off Mayflower Park (having turned around) ready for a parachute drop to Mayflower Park.
At around 1.30pm she will make her way to Ocean Dock and she is expected to be berthed, with all lines fast, by 2.00pm.
The best places to photograph Britannia this Friday
At around 11am if you are on the coast in Portsmouth you may catch a glimpse of Britannia sailing by. At 11.15am residents in Ryde on the Isle of Wight may be able to see the ship as might those in Gosport. At around 11.40 those in Cowes on the Isle of Wight might see Britannia and at around 12.05pm residents of Calshot and Warsash should be able to spot Britannia. At 12.35pm she should be seen from Hythe and Weston.
At 12.45pm she should be adjacent to Mayflower Park and this will undoubtedly be the best place to take photographs. It will be very busy at the park so you might want to get there early to secure a great place to capture the event. Here you will see Britannia sail past, turn around and return to the park as she waits for the parachute drop.
As you would expect these timings are approximate and the weather will affect the views available from the destinations along the route.
If you spot Britannia on Friday tweet us your photographs to @WorldofCruising with the hashtag #Britannia
(Image courtesy of P&O Cruises)