Search for your ideal Cruise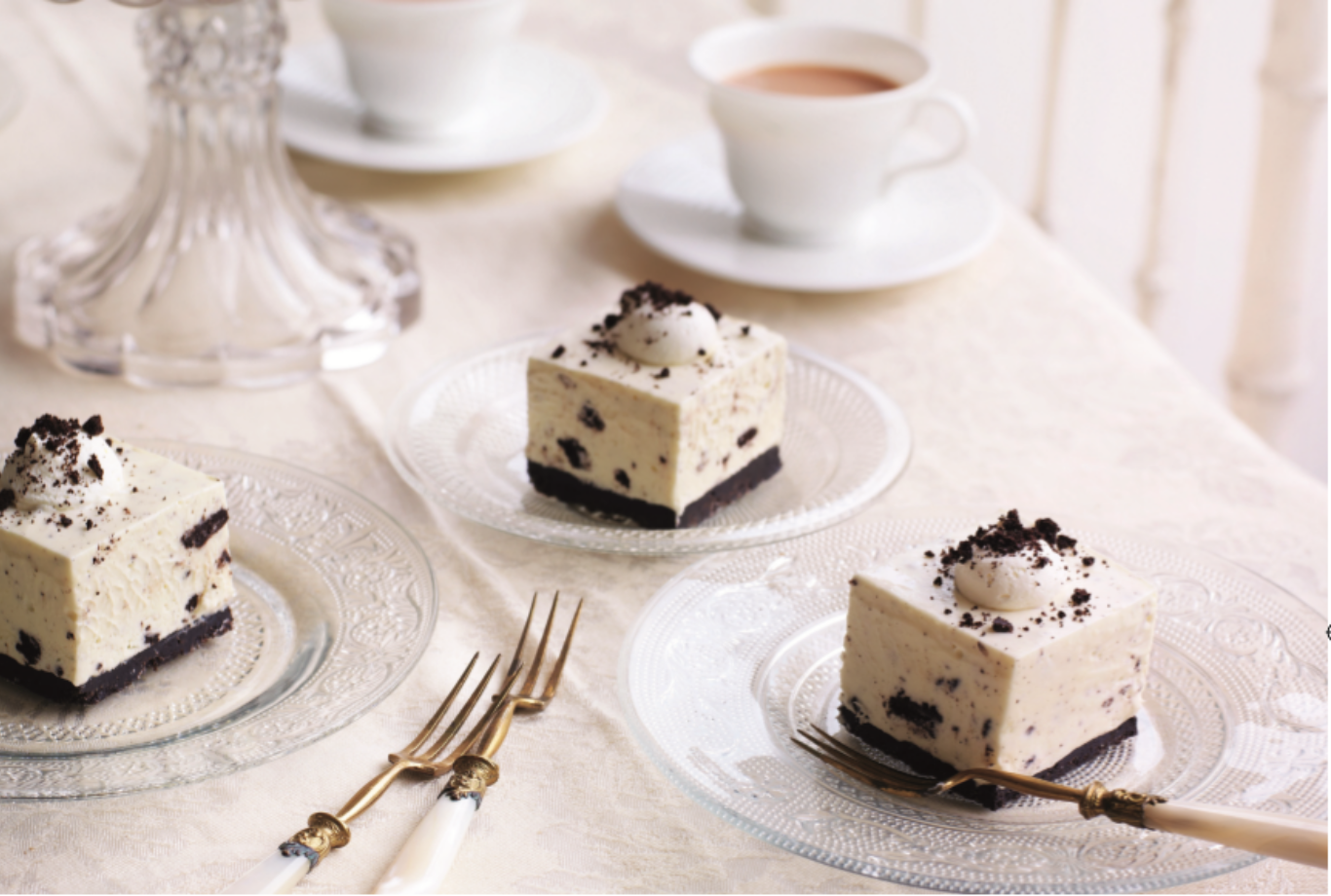 Black-Bottom Cheesecake Squares by Eric Lanlard
Eric says: "Here is a guilty pleasure of mine – a simple yet striking no-bake cheesecake that isn't too much work, but at the same time is very indulgent. It's important to use good-quality cream cheese for this recipe" Makes 12 ♦ Preparation time: 20 minutes, plus chilling ♦ Cooking time: 5 minutes ♦ 350g
Eric says: "Here is a guilty pleasure of mine – a simple yet striking no-bake cheesecake that isn't too much work, but at the same time is very indulgent. It's important to use good-quality cream cheese for this recipe"
Makes 12 ♦ Preparation time: 20 minutes, plus chilling ♦ Cooking time: 5 minutes
♦ 350g (12oz) Oreo biscuits
♦ 125g (4½oz) unsalted butter, melted
♦ 2 tsp powdered gelatine
♦ 4 tbsp hot water
♦ 175g (6oz) white chocolate, roughly chopped
♦ 350g (12oz) cream cheese
♦ 300ml (½ pint) double cream
♦ 1 tsp vanilla bean paste
♦ 100g (3½oz) golden caster sugar
1 Line the base of a 23cm (9in) square springform cake tin with baking paper. Then, using a knife, open up 250g (9oz) of the Oreo biscuits, scrape the creamy filling into a large bowl and set aside.
2 Put the biscuits into a food processor and whizz until they resemble fine breadcrumbs. Add the melted butter and mix until well combined. Using a tablespoon, press the biscuit base evenly into the prepared tin and leave to firm up in the refrigerator.
3 Meanwhile, put the gelatine into a small heatproof bowl, pour over the 4 tablespoons of water and set aside. Melt the chocolate in a heatproof bowl over a saucepan of barely simmering water, making sure the water does not touch the bowl. Leave to cool for a few minutes. Scrape the creamy filling from the remaining biscuits and add to the bowl with the other biscuit filling, then crush the remaining biscuits and set aside.
4 Beat the cream cheese, cream, vanilla paste, Oreo filling and sugar together in a bowl using an electric hand whisk. Stir in the gelatine mixture and the melted white chocolate, then fold in the crushed biscuits, reserving a few crumbs for decoration.
5 Pour the mixture on to the biscuit base, keeping a little bit back to use as decoration. Leave to set in the refrigerator for about 4 hours. Finally, using a sharp knife dipped in hot water, cut into 12 small squares. Add a small scoop of the remaining cream mixture to the top of each square, then dust with the reserved cookie crumbs for decoration.