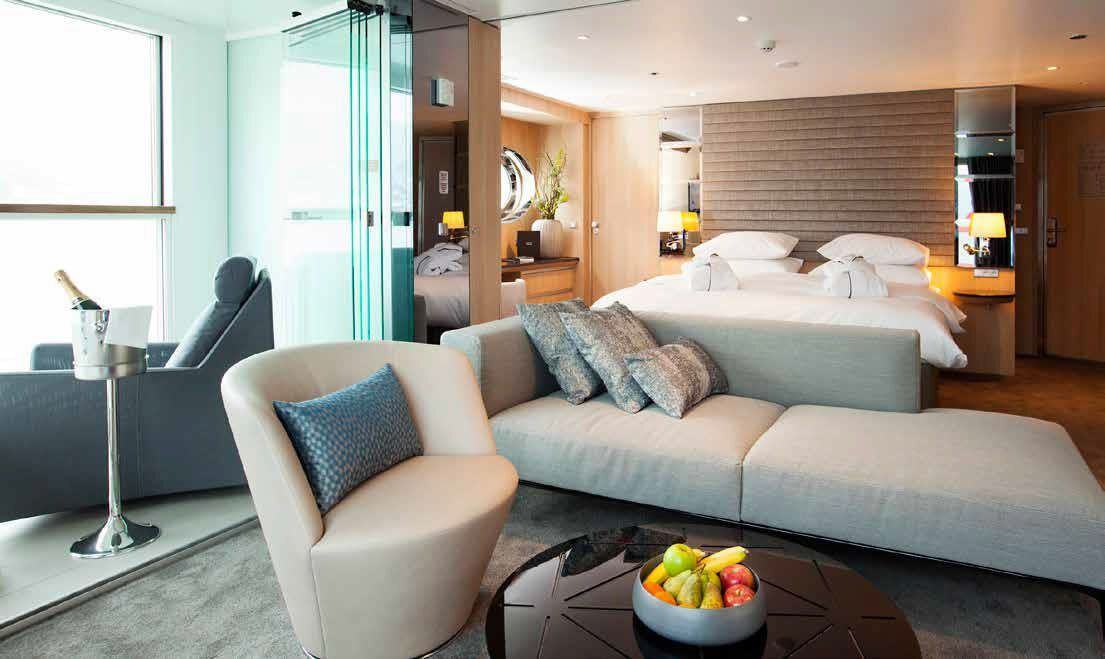 Boldly going to infinity & beyond: Scenic Jasper review
Bridget McGrouther takes an out-of-this-world voyage on Scenic's latest space ship. A space ship seems an odd term for something that doesn't leave our atmosphere and is not a UFO. Yet this is the description Scenic used for their latest river ship – the all-new, all-singing and all-dancing Scenic Jasper. It was in Amsterdam rather
Bridget McGrouther takes an out-of-this-world voyage on Scenic's latest space ship.
A space ship seems an odd term for something that doesn't leave our atmosphere and is not a UFO. Yet this is the description Scenic used for their latest river ship – the all-new, all-singing and all-dancing Scenic Jasper.
It was in Amsterdam rather than on Mars that I boarded the 11th vessel in the Australian owned, state-of-the-art fleet (re-branded now as Scenic rather than Scenic Tours). This 169-passenger space ship is indeed quite roomy, particularly in the plush Royal Panorama Suite. At a generous 44m², Scenic boasts it is the 'largest panorama suite on Europe's rivers.'
Even without electric adjustable beds, our more modest 19m² Balcony Suite was still very stylish, especially as it featured the hi-tech 'sun lounge'. At the first glimpse of blue sky, a glass partition can be swept aside and the window swished open to reveal an instant balcony.
There was also space for a compact shower room rather than the Royal's whirlpool bath, but we shared such suite luxuries as the L'Occitane toiletries, HD TV, Mac mini system, futuristic alarm clock and very slick wardrobes. Best of all, (in addition to the fully all-inclusive meals, shore excursions, flights, transfers, complimentary Wi-Fi, tips, drinks and a mini bar that was magically restocked at no extra charge), we had our own private butler. I don't think that was ever included on the Starship Enterprise.
If – like me – you find it awkward to ask a butler to unpack your case or run a bath, Chris actually pre-empted our needs when we arrived on a late-night flight, after dinner was over. We welcomed his suggestion of room service and a short time later, he delivered our hot meals along with two large glasses of wine. Not a bad way to begin our voyage to explore new worlds!
The excellent food and friendly service were indeed highlights of our 'Dutch Sights and Belgium Delights' cruise, where guests can dine in up to six venues. The buffet breakfasts and lunches in the Crystal Dining-room were always delicious, as were the à la carte dinners.
I especially enjoyed the Italian cuisine in Portobello Restaurant, although my favourite dinner of all was the exquisite Table La Rive, an invitation-only sixcourse extravaganza reserved exclusively for guests on the Diamond Deck. Each dish was sublime, accompanied by a well-chosen selection of fine wines from our maître d'.
Sadly, although we did once make use of the late breakfast at the River Café, we never got the chance to try out the al fresco Riverview Terrace barbecue and weren't brave enough to take a dip in the new outdoor Vitality Pool on the Sun Deck, even though the bubbly water was as warm as a bath.
We did, however, boldly go to new frontiers, with a daily ScenicChoice selection of excursions that included guided walking and cycling tours using the bikes on board. On hearing they were electric, there was almost a stampede to sign up (that apparently doesn't usually happen with the average 55+ age of international passengers). No wonder the Dutch joke about 'psychopaths on cycle paths'!
There was no such rush for the gym, I may add, though it was tricky to get a booking at the spa, once word spread about the excellent Indonesian masseuse. From Amsterdam we chose to visit pretty Zaanse Schans, with its historic windmills. It was a Triple Dutch treat – exploring a working mill, being shown how to make clogs, and stopping off at a cheese farm. The mature Old Willig tasted much better than its name suggested, especially with a spot of Wasabi mustard.
In Antwerp our guide told quirky stories as we marvelled at the beautiful gabled buildings on medieval squares. The walk ended at a statue of the city's most famous son, Rubens; strange that from one angle, the artist's thumb looked like he was carrying a phaser gun.
Highlight of the cruise was the Scenic Enrich experience at the quaint harbour of Hoorn. Dribbling over kibbeling (a local delicacy of deep-fried cod) at a fish 'n' chip shop and popping in for light refreshment at a cosy pub was certainly my kind of guided tour… Yet the best was yet to come as we were invited to meet the very friendly and hospitable locals who prepared a home-cooked Dutch dinner in the aweinspiring Oosterkerk church. What better way to 'seek out new life and new civilizations' than to chat and laugh over a shared meal with those who live there?
Back on board, the conversation kept flowing as the drinks were served from the complimentary bar. Nightly entertainment included music from the resident pianist/ DJ and the funniest-ever crew show. In fact, the crew were all stars, and Scenic Jasper's mission to provide an out-of-this-world voyage was certainly accomplished.