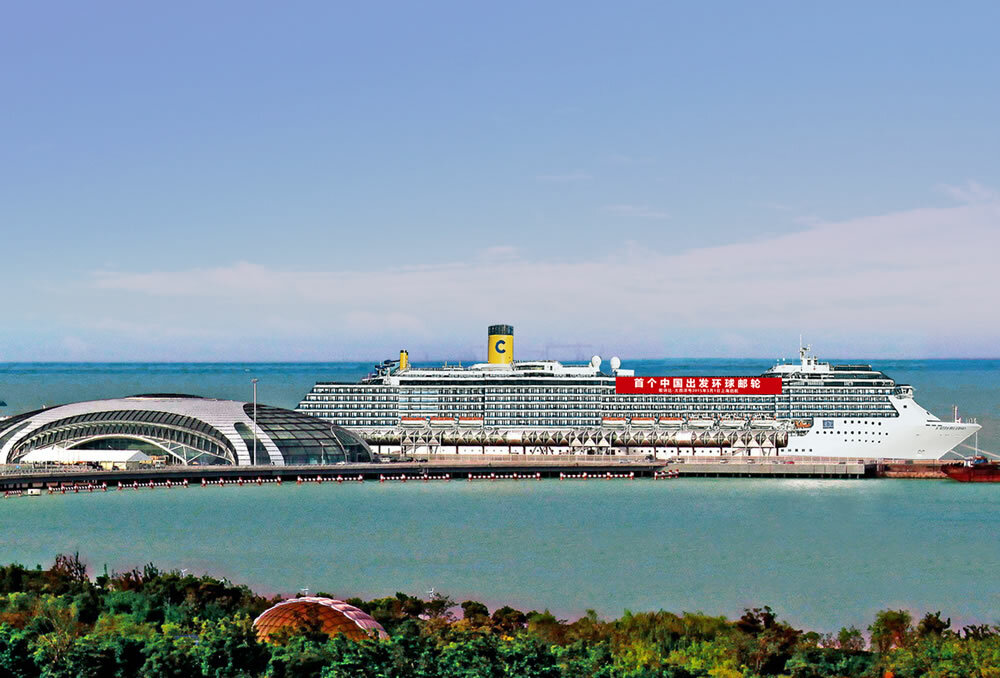 Carnival Corporation to send two additional cruise ships to China in 2016
Carnival Corporation has announced it is to send an additional two cruise ships to service the Chinese cruise market in 2016. This announcement will take Carnival Corporation's fleet of China-based ships up to six. The company will base three ships in China year-round ships with the remaining three ships there seasonally. Overall, Carnival Corporation is
Carnival Corporation has announced it is to send an additional two cruise ships to service the Chinese cruise market in 2016.
This announcement will take Carnival Corporation's fleet of China-based ships up to six. The company will base three ships in China year-round ships with the remaining three ships there seasonally. Overall, Carnival Corporation is expected to have the largest cruise presence in China in 2016.
The move will increase the company's total capacity in China by 58 percent. Both the Costa Cruises and Princess Cruises brands will each send a ship to the region so as to provide additional capacity to meet accelerating consumer demand. The Chinese market is expected to deliver double-digit annual returns for the company and is expected to eventually become the largest cruise market in the world.
Princess Cruises is being positioned to serve the luxury cruise market by offering its exclusive Princess Class experience designed specifically for the Chinese market. The cruise line will send Golden Princess to northern China in 2016, sailing out of Tianjin on a seasonal basis on voyages to destinations in northern Asia. Golden Princess will join the brand's first China-based ship, Sapphire Princess, which has been home-ported in Shanghai since 2014. Sapphire Princess will begin sailing year-round in China as of 2016.
Meanwhile, Costa Cruises announced it will be sending Costa Fortuna to the region in April 2016 as its fourth ship based in China. Costa Fortuna will join Costa Serena, Costa Atlantica and Costa Victoria already based in China. This move will increase the brand's total available capacity in China by 43 percent in 2016.
Alan Buckelew, chief operations officer for Carnival Corporation, said "Our Costa and Princess brands are performing extremely well in China, and these new ship deployments will strengthen our growth position and enable us to carry nearly one million passengers in 2016, as we continue executing our plan to meet surging consumer demand for cruising in China. As momentum accelerates in the market, we have a significant opportunity to increase cruising demand amongst China's growing middle class and a new generation of Chinese travellers who are hungry for new vacation experiences. Our focus is on exceeding guest expectations on every ship and really tailoring our product for Chinese tastes, which helps create new advocates and spread the joy of cruising in China. Through our brands, our expanding operations and our potential joint ventures in China, we're excited to play a lead role in helping China become one of the world's leading cruise markets."
In May Carnival Corporation announced that the latest ship under construction for its Princess brand will be based in China year-round when introduced in summer 2017. Back in January 2015 Carnival Corporation signed a Memorandum of Understanding with China Merchants Group (CMG) to explore the possibility of two joint ventures designed to accelerate the development and growth of the cruise industry in China. This followed the Memorandum of Understanding between Carnival Corporation and ship-builder Fincantieri in December 2014 to consider building cruise ships in China for the Chinese and Asian cruise markets.
China is an emerging market and other cruise lines are keen to secure a slice of business there too. For example Royal Caribbean recently announced it was sending its latest Quantum-class ship under construction, Ovation of the Seas, to home-port in Tianjin, China. A total of five of their vessels – Ovation of the Seas, Quantum of the Seas, Mariner of the Seas, Voyager of the Seas and Legend of the Seas – will sail in the China seas in 2016.
(Photo credit to Costa Cruises)