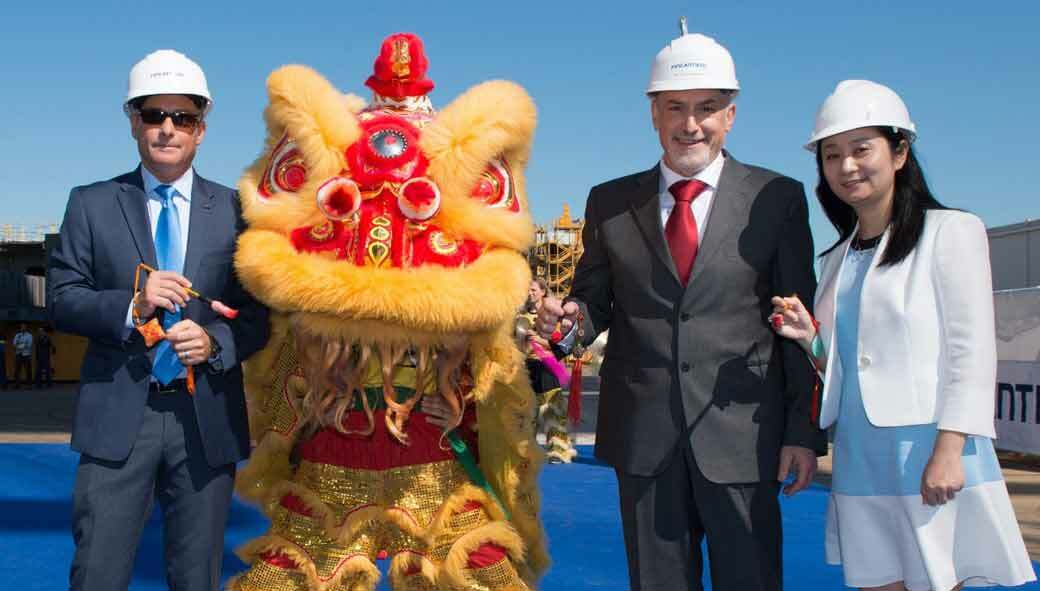 Chinese lion dance marks keel-laying of new Princess Cruises ship
The keel for Princess Cruises' third Royal class ship has been laid in the Italian shipyard where Royal Princess, Regal Princess, and P&O Cruises' Britannia were built. The 3,600-passenger ship will follow rival Quantum of the Seas, operated by Royal Caribbean, to be based in Shanghai when it is launched in summer 2017 and will
The keel for Princess Cruises' third Royal class ship has been laid in the Italian shipyard where Royal Princess, Regal Princess, and P&O Cruises' Britannia were built.
The 3,600-passenger ship will follow rival Quantum of the Seas, operated by Royal Caribbean, to be based in Shanghai when it is launched in summer 2017 and will have a number of features tailored for the Chinese market.
The ceremonial placing of the first 500-ton section of the ship in dry dock at Fincantieri's Monfalcone yard near Trieste was celebrated with a traditional Chinese lion dance and a blessing by a Catholic priest.
More than two million man hours of labour will be put into building the ship – yet to be named – which is expected to be floated out next summer.
Carnival China director Cherry Wang explained: "The lion dance has been part of the Chinese culture for thousands of years and is performed on various auspicious occasions and celebrations. The lion signifies courage, wisdom, and good fortune and brings happiness, longevity, and good luck. We believe this special ceremony will bring prosperity and good fortune to Princess Cruises and our guests in China."
Like Royal and Regal, the new ship will feature a vast multi-deck atrium and the SeaWalk promenade projecting over the sea.
In addition, it will showcase Princess experiences tailored for the Chinese market; not, as you might expect, chow mein and chopsticks, but World Leaders dinner, traditional English afternoon tea, a Lobster Grill, room-service balcony dining, and an ocean-view hot pot dinner option.
PICTURE: Princess Cruises. Anthony Kaufman, Senior Vice President, Asia Operations, Princess Cruises (left); Attilio Dapelo, Fincantieri Shipyard Director, and Cherry Wang, Country Director, Carnival China, with the lion dancer.