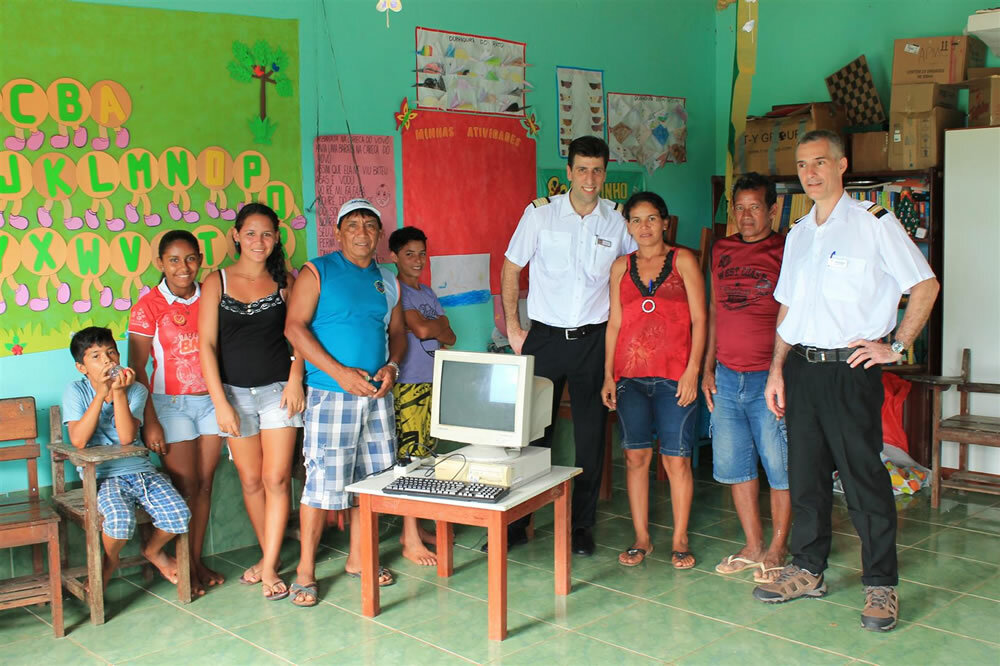 CMV donates a computer to Amazon school
Cruise and Maritime Voyages (CMV) has donated and installed the first computer ever seen in the tiny Brazilian Amazon village of Boca da Valeria. Several of the ship's officers from Marco Polo visited the village during the 42-night "Amazon, West Indies & the Azores" voyage that departed from Tilbury on 5 January. Marco Scavuzzo, Marco
Cruise and Maritime Voyages (CMV) has donated and installed the first computer ever seen in the tiny Brazilian Amazon village of Boca da Valeria.
Several of the ship's officers from Marco Polo visited the village during the 42-night "Amazon, West Indies & the Azores" voyage that departed from Tilbury on 5 January. Marco Scavuzzo, Marco Polo's Hotel Director, together with Zarko Marjanovic, Marco Polo's IT Manager, helped to instal the computer in the village community school.
The idea of a computer came to fruition after discussions with a local community leader and his wife. The village only has a population of just 120 people. The computer will help enable the children in the village to further their education. Day-to-day computer support will be offered by someone in a nearby village who has basic computer knowledge and who is also trained on how to use Microsoft Word and Excel.
CMV's Head of Marketing, Mike Hall said "We are looking forward to when we visit the village again next year, with Magellan, to see how things have progressed. It is fitting that we get the opportunity to offer a little something in return to the people of this village who give us and our passengers such a warm friendly welcome."
CMV are also finalising preparations for the maiden voyage on Magellan which is scheduled to depart on 15 March in search of a total eclipse of the sun. The ship will be in position off the remote Faroe Islands on 20 March and guests may witness this spectacular natural phenomenon, weather permitting. Guests may also be treated to a display of the Aurora Borealis (Northern Lights) if conditions are favourable.
The 12-night cruise sails from Tilbury and will call at Invergordon (Scotland), Lerwick (Shetland Islands), Reykjavik (Iceland) and the Faroes. Prices for this voyage start from £799 per person based on two people sharing an inside cabin.