Search for your ideal Cruise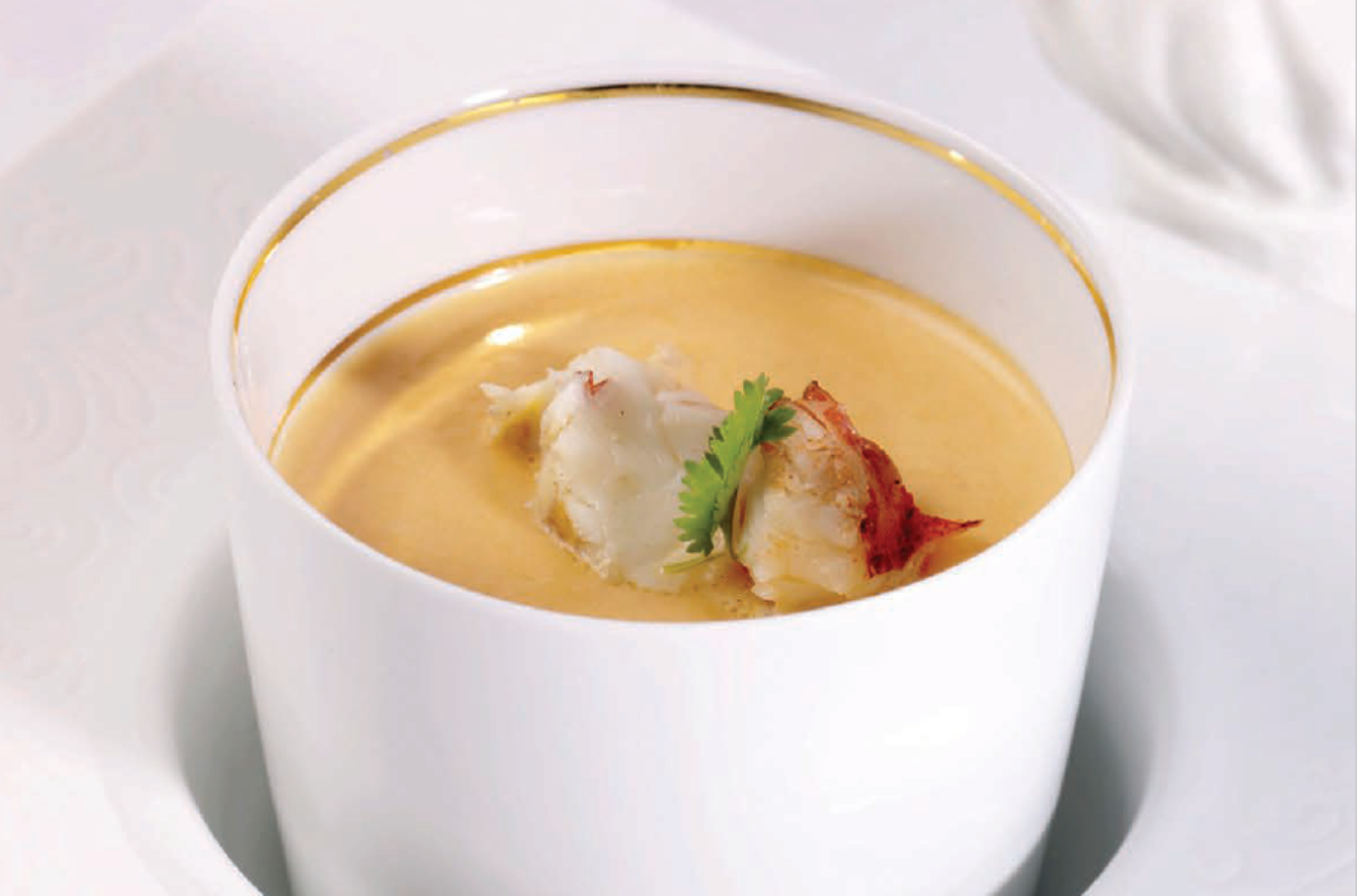 Cold carrot bisque with lobster
Lobster brings a touch of elegance wherever it's added but this creamy and flavourful carrot soup can certainly stand alone without it. 1 tablespoon unsalted butter 1 cup chopped onion 2 cups diced carrots 1 teaspoon finely minced garlic Pinch ground cumin Pinch smoked paprika (optional) 4 cups low-sodium shop-bought chicken broth or stock, or
Lobster brings a touch of elegance wherever it's added but this creamy and flavourful carrot soup can certainly stand alone without it.
1 tablespoon unsalted butter
1 cup chopped onion
2 cups diced carrots
1 teaspoon finely minced garlic
Pinch ground cumin
Pinch smoked paprika (optional)

4 cups low-sodium shop-bought chicken broth or stock, or homemade
1⁄2 cup single cream
Salt and freshly ground white pepper
4 ounces fully cooked lobster meat cut into 1⁄2 in dice (optional)
4 sprigs fresh flat-leaf parsley,for garnish
1 In a large saucepan, heat the butter over a medium heat.
Add the onion and cook, stirring, until translucent but not browned, about 5 minutes.
Add the carrots and garlic and cook, stirring, for 3 minutes.
Add the cumin, smoked paprika (if using) and chicken broth, and bring to a boil.
Reduce the heat to low, and simmer, covered, until the carrots are tender (15 to 20 minutes).
Remove the pan from the heat and allow the soup to cool for 10 minutes.2 Prepare a large bowl of ice water, and set aside.
Transfer the soup in two batches to a blender and purée until smooth, adding half the cream to each batch. (When puréeing hot soups, fill the container no more than halfway, and release one corner of the lid to prevent a vacuum eect. Place a kitchen towel over the top of the machine while you pulse.)
Immediately strain each batch through a fine sieve into a metal bowl. Season with salt and white pepper.
Place the metal bowl into the bowl of ice water to chill the soup quickly, stirring every 15 minutes or so.
When it is chilled, cover and refrigerate until it is completely cold, about 1 hour.
(The soup can be kept this way for up to 2 days. If necessary, thin it with additional stock before serving.)
3 To serve, divide the cold soup among chilled soup bowls, and top with the diced lobster meat if using.
Garnish with parsley and serve.
The soup can also be served hot (see below).
Note
When reheating, be sure to bring the soup up to 165 degrees F very quickly and then serve immediately. If serving cold, keep the temperature below 41F.