Search for your ideal Cruise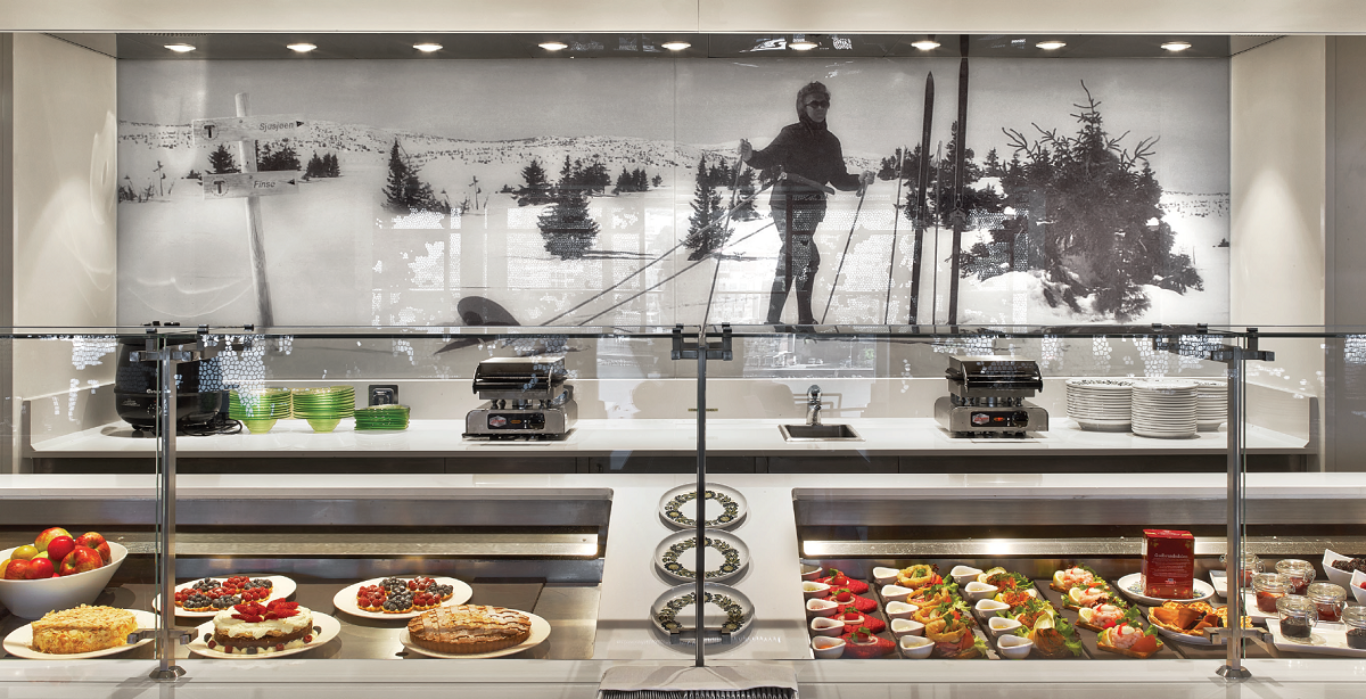 Cooking with Karine, senior vice president of Viking Cruises
Viking's guests can enjoy fine food from all over the world – plus some fabulous Norwegian home cooking, just like Grandma used to make. As a young girl growing up in Norway, Karine Hagen couldn't wait for her grandmother – Mamsen – to bake Christmas cookies. The 12 different varieties were delicious, and so full of butter
Viking's guests can enjoy fine food from all over the world – plus some fabulous Norwegian home cooking, just like Grandma used to make.
As a young girl growing up in Norway, Karine Hagen couldn't wait for her grandmother – Mamsen – to bake Christmas cookies. The 12 different varieties were delicious, and so full of butter they would last almost until Christmas the following year.
Karine learned much from Mamsen, about so many things in life. "In the kitchen, where we spent a lot of time together, there were two most valuable lessons," she says. "Tidy up as you go, particularly if you have a small kitchen, like she did, where every piece of anything had its particular place. And when cooking meat, make sure the pan (always an iron pan in her case) is very hot, and the butter brown."
Those lessons have been invaluable throughout Karine's life, especially now she is senior vice president of Viking Cruises, the company set up by her father, Torstein Hagen.
Having seen the Viking river cruise fleet grow to become the biggest in Europe, she took on a major role developing the company's ocean ships.
The first of these, Viking Star, was launched in 2015, and in 2016 Karine was godmother to Viking Sea at the christening in Greenwich. Two more ships, Viking Sky and Viking Sun, will arrive in 2017.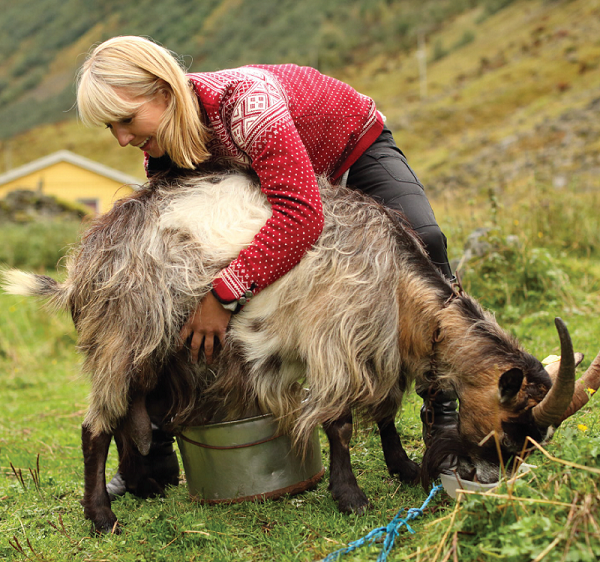 One of the unexpected delights of each ship is the deli counter in a quiet corner of the Explorers' Lounge. These are all named after Mamsen – a secret that Karine managed to keep from her father until the first one was unveiled.
"He expected it to be Karine's Deli, which is what it said on all the plans, but I thought it would be much more meaningful to name it after his mother, who was such a beacon for many of us, and whose cooking we will miss for ever.
"On the day we had the formal handover of Viking Star, we did a ship inspection tour. When we entered the Explorers' Lounge, there behind the counter was a glass panel printed with a larger-than-life photograph of Mamsen on skis pulling me as a baby in a toboggan, and a wrought iron sign on the wall in the form of her signature.
"The chefs were baking her waffles, and they had just prepared open sandwiches like she used to make. But the most meaningful, perhaps, was the dishware. The manufacturer had created an exact replica of our family china, which I had noticed as we were packing up Mamsen's belongings after she passed away. It was stamped with "Tor Viking"— and at that moment I knew that this was the tableware we had to have for Mamsen's.
"When my father saw this, he was overwhelmed with emotion and it was one of the rare occasions I have seen him cry."
Karine's influence on Viking's cuisine extends beyond Mamsen's deli. She has also helped to develop the food served in the main restaurant and the World Café, and the rotating menus of regional dishes in the Chef's Table.
"I am a great believer in discovering cultures through their food," she says, "so on ocean as well as river cruises we have a destination-inspired dish every day. Our guests can of course sample local foods ashore, but should they not have the time, I feel it is our duty to help them experience regional cuisine on board.
"All the ingredients we use are fresh and locally sourced, to reflect the destinations we visit and the local culture. Our chefs take great care to ensure that every dish is authentic, and all are trained to an exceptionally high standard. Their knowledge and experience are also shared with the waiting staff, so they can tell our guests about all the different, wonderful culinary creations."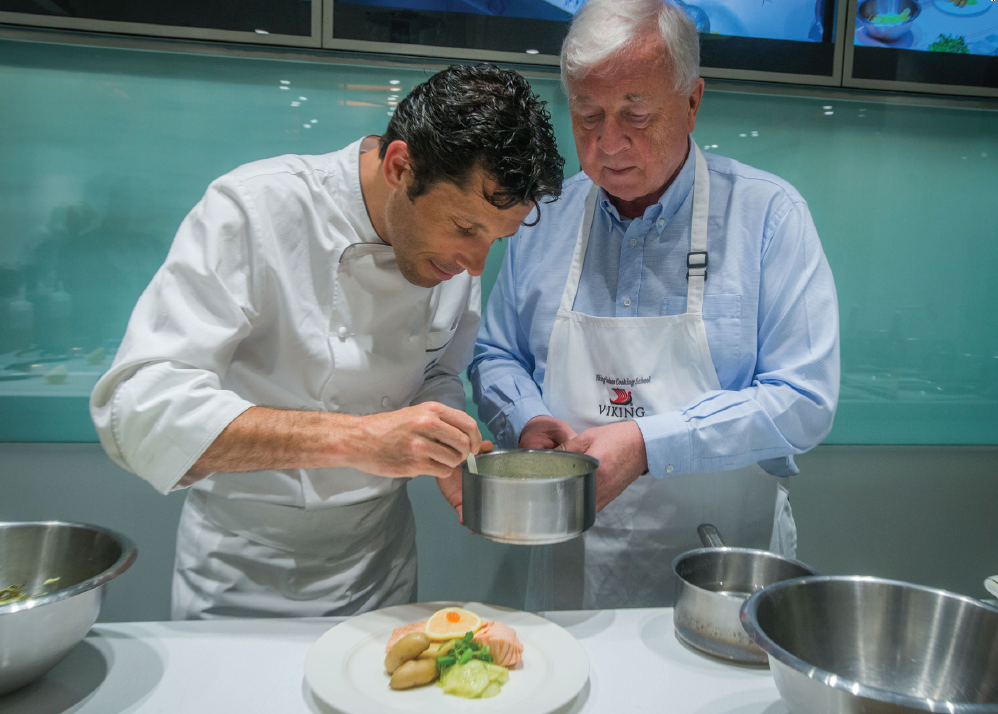 From all the food served on board, what is Karine's favourite dish?
"I would have to say it is the Chairman's Salmon. Our Chairman – my father – says he could eat poached salmon and cucumber salad for every meal, every day. I am not quite that extreme, but there is something very delicious and pure about this typically Norwegian way of preparing and presenting salmon.
"My father was so determined that our chefs get this recipe just right that he even created a short instructional video for them – you can see part of it on our website.
Karine is no stranger to the kitchen at home. "I just love cooking," she says. "And I am perhaps best known for what I can create when there is almost nothing left in the refrigerator. In Norwegian we call that making spikersuppe – nail soup.
"The salad dish I make most often is probably salade Niçoise, as I love every ingredient that goes into it: tuna (I usually use canned tuna), potatoes, eggs, French beans and anchovies."
Karine has now turned her hand to producing a recipe book full of ideas for worldwide dishes inspired by her travels. Lavishly illustrated, it's on sale aboard the ships and has been a huge success with passengers eager to take a taste of Viking home with them.
What are Karine's favourites?
"I am not a big dessert person, but I love my grandmother Mamsen's waffles," she says. "I grew up with these, and you can enjoy them at any time of day.
"We serve them made to her recipes on our ocean ships, and they have been so well received that we're considering bringing them on board the river ships as well – preferably served with a few slices of brown goat's cheese, or raspberry jam. [Editor's note: they are delicious, but you need a proper waffle iron to make these heart-shaped delights.]
"My other favourite dish to make from the book is spaghetti vongole – so simple and fast, and delicious. And as far as pasta dishes go, quite light. Preferably served with a glass of chilled Sauvignon Blanc from Marlborough, New Zealand.
If she was preparing a no-expense-spared dinner, Karine says it would have to be seafood – "Probably halibut, which is a rather expensive fish. Baked en papillote with fresh tarragon, and some wine and olive oil. But I would be just as happy with my favourite comfort food. Nothing tastes better than potato – boiled, baked or mashed – with a dollop of sour cream."