Search for your ideal Cruise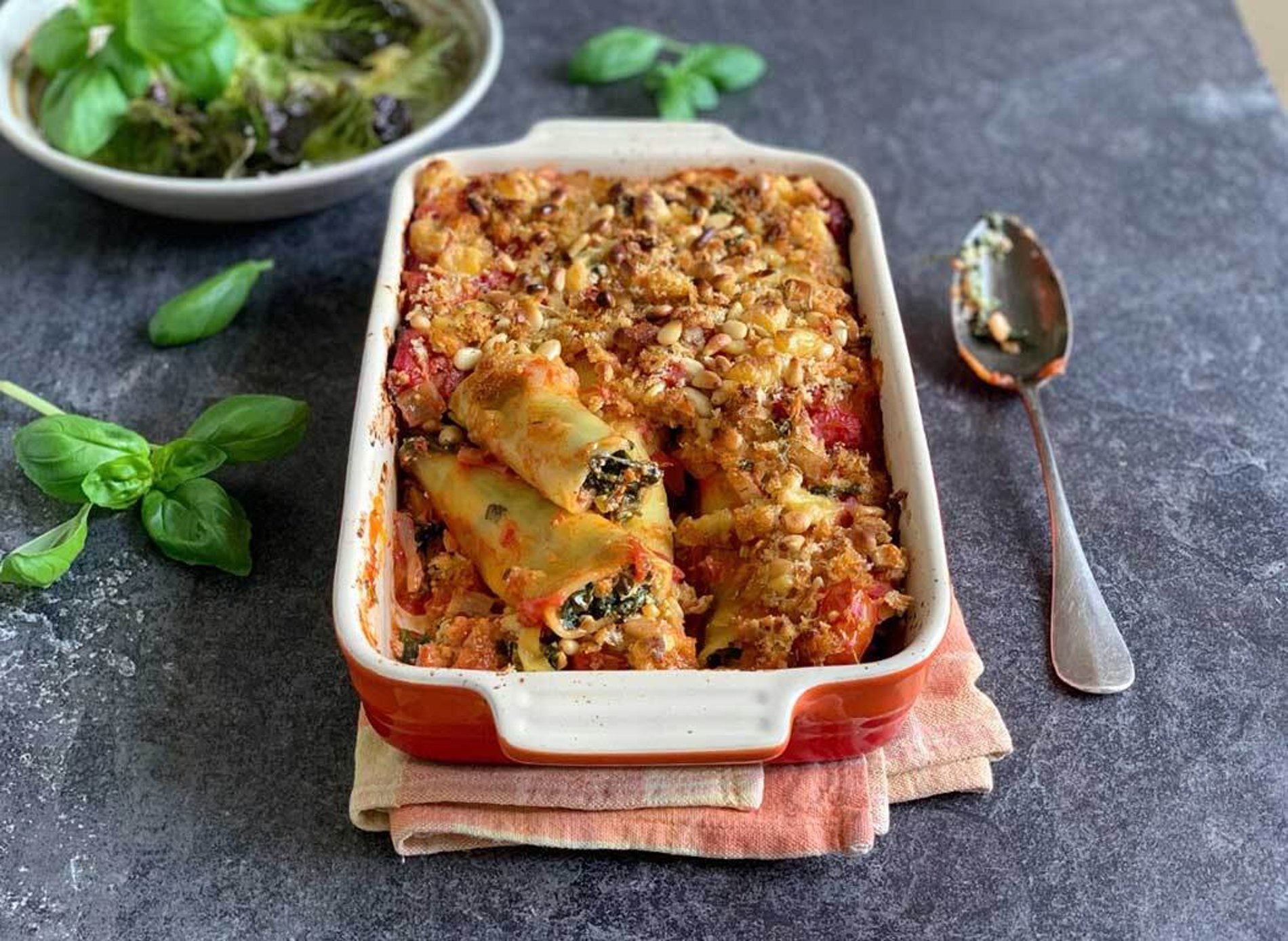 Cruise Chefs Reveal Their Favourite Plant-Based Recipes
Are you looking to embrace a more plant-based lifestyle in 2021? Then why not try these amazing vegan and vegetarian recipes created by leading cruise chefs
Words by Olivia Sharpe
Japanese roasted cauliflower with pomegranate vinaigrette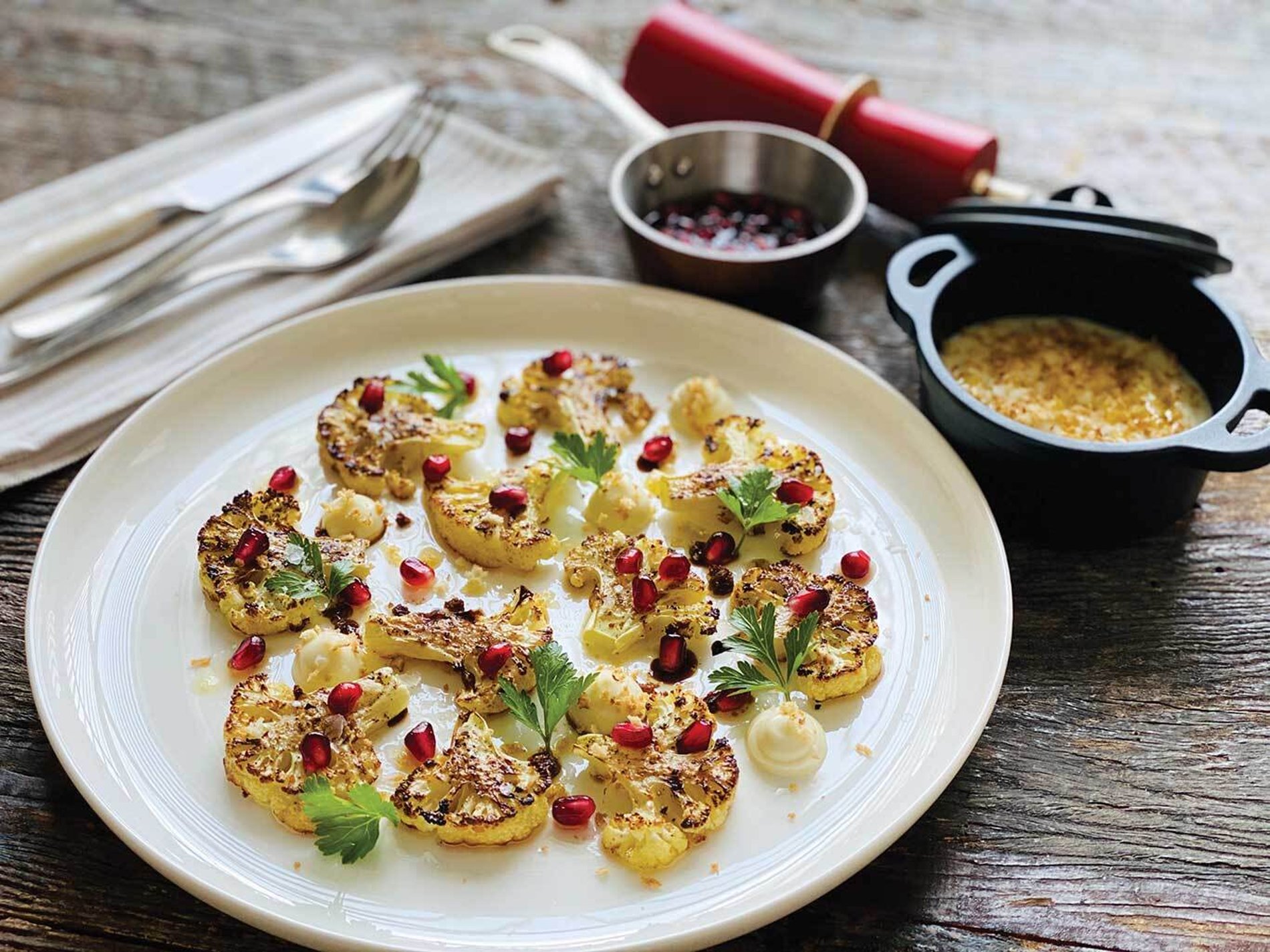 Serves 2
Anton Egger, Consultant chef, Seabourn:
'This is a new dish for our Earth & Ocean Restaurant and will be ready for guests to enjoy
when we resume sailings. The inspiration for this dish came from my travels in California
when I was invited to a family barbecue hosted by my Japanese- American chef friends.'
Ingredients

Yuzu mayonnaise

3 tbsp plant mayonnaise
1 tbsp plant sour cream
1½ tsp yuzu (Japanese citrus) juice
Pomegranate vinaigrette

6 tbsp extra virgin olive oil
2 tbsp white balsamic vinegar
2 tbsp fresh pomegranate seeds
Pinch of freshly ground black pepper
Pinch of coarse salt
Toasted Japanese panko

2 tbsp panko (Japanese breadcrumbs)
1 tbsp plant butter or margarine, unsalted
Pinch of coarse salt
Roasted cauliflower

1 medium head of cauliflower
3 tbsp extra virgin olive oil
1 pinch ground cumin (or any other spice of your choice)
Pinch of coarse salt
Pinch of freshly ground black pepper

Cauliflower mousseline

325g cauliflower florets, roughly chopped
180ml almond milk
Pinch of coarse salt
1 tbsp plant butter or margarine, unsalted
Pinch of nutmeg
Method
Preheat the oven to 250C.
In a mixing bowl, combine the mayonnaise ingredients, mix well and season to taste.
In another mixing bowl, stir together the vinaigrette ingredients. Season to taste.
To make the toasted panko, gently fry the breadcrumbs in plant butter until golden brown (2 to 3 minutes). Season with salt, transfer to a plate and allow to cool.
To make the roasted cauliflower, cut into finger-thick slices (see picture opposite) with
some stalk remaining but leaves removed.
In a large bowl, combine the olive oil, cumin, salt and pepper, and mix well. Add the cauliflower slices, toss to coat, then place slightly apart on a foil-lined baking sheet.
Roast for 8 to 10 minutes in the oven, then turn and roast for an additional 8 to 10 minutes, or until evenly browned and tender.
To make the mousseline, place cauliflower florets, almond milk and salt in a lidded saucepan and steam until tender.
Transfer the steamed cauliflower to a blender, add the plant butter and blend into a smooth mousse. Add nutmeg, adjust seasoning and set aside.
Arrange the roasted cauliflower slices on a serving plate. Spoon over the vinaigrette and mayonnaise. Dot with the cauliflower mousseline, sprinkle with panko, and garnish with fresh parsley.
Bean falafels with tzatziki salad, cucumber tomato & mint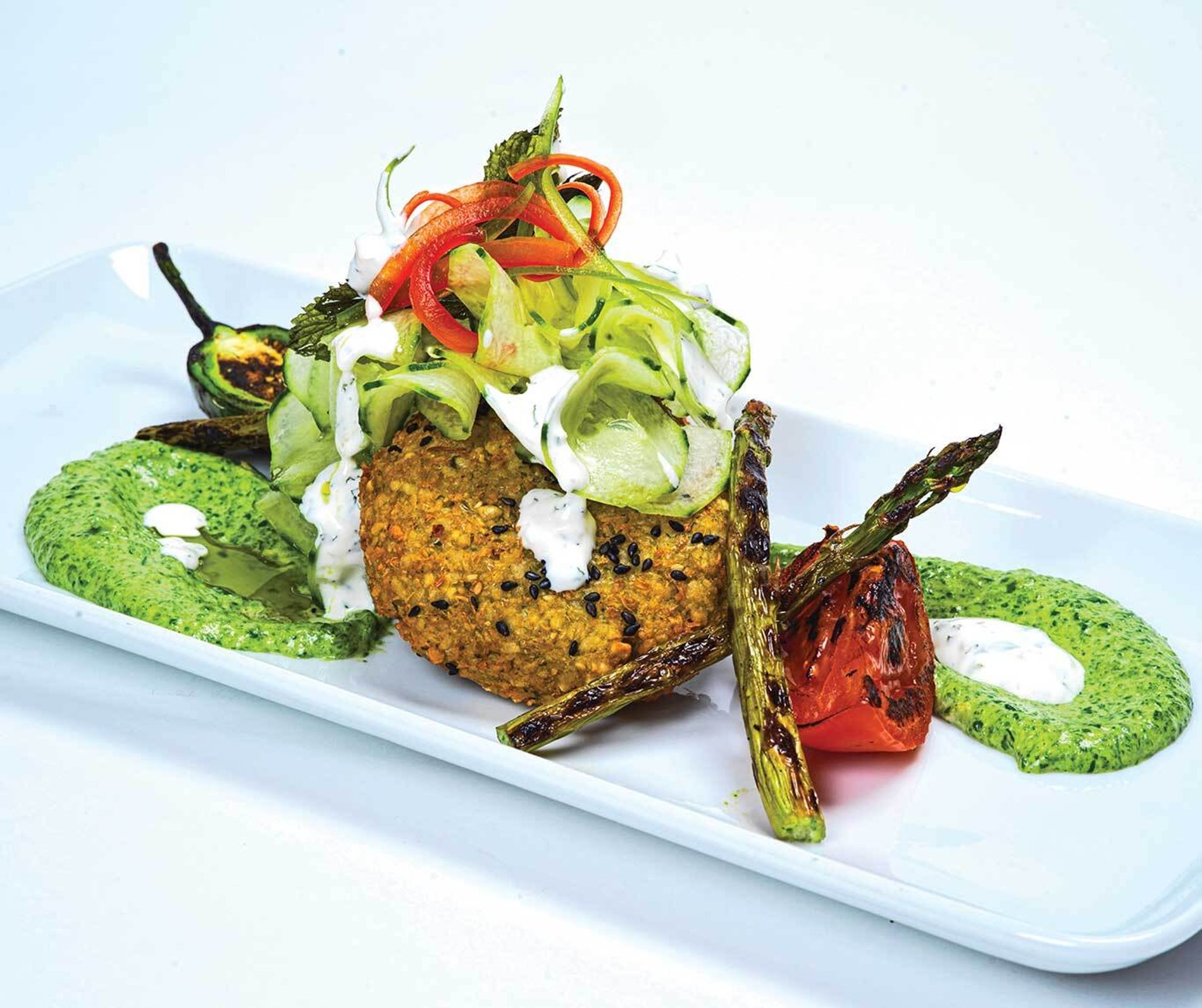 Serves 10
Rudi Sodamin, Master chef, Holland America Line:
'I create spontaneously. No sketches. I go into the kitchen and use ingredients that are already there. I create from emotion. A vision comes to me. Within minutes, I develop something that resonates and makes people very happy. I think that is the key.'
Ingredients
Falafel

30g white beans, soaked overnight
30g fresh coriander leaves
30g fresh mint
30g fresh parsley
12g coarse salt
8g crushed black pepper
8g cumin
50g olive oil
20g roasted garlic
100g roasted spring onions, chopped
Vegetable oil for deep-frying
Tzatziki
200g tahini
1 litre bottled water
15g roasted garlic
10g coarse salt
20ml lemon juice
6g cayenne pepper
80g plain Greek yoghurt
12g fresh mint
100g fresh spinach

Garnish

300g peeled cucumber, cut into ribbons
50g olive oil
50g red pepper, cut into strips
200g roasted asparagus
200g roasted tomato wedges
Half a roasted jalapeno pepper
Method
Strain the beans and place in a food processor with the remaining falafel ingredients, except the oil. Blend until well combined.
Form the falafel mix into patties. Deep-fry the patties until golden brown, remove from the pan and set aside.
For the tzatziki, blend the tahini and water in a large mixing bowl, then add all the remaining ingredients apart from the spinach.
Blanch the spinach, then place in iced water. Remove, squeeze out all the water and blend the spinach into the tahini sauce.
Season to taste with coarse salt and freshly ground black pepper.
Serve with garnish as above.
Vegan spinach & tofu cannelloni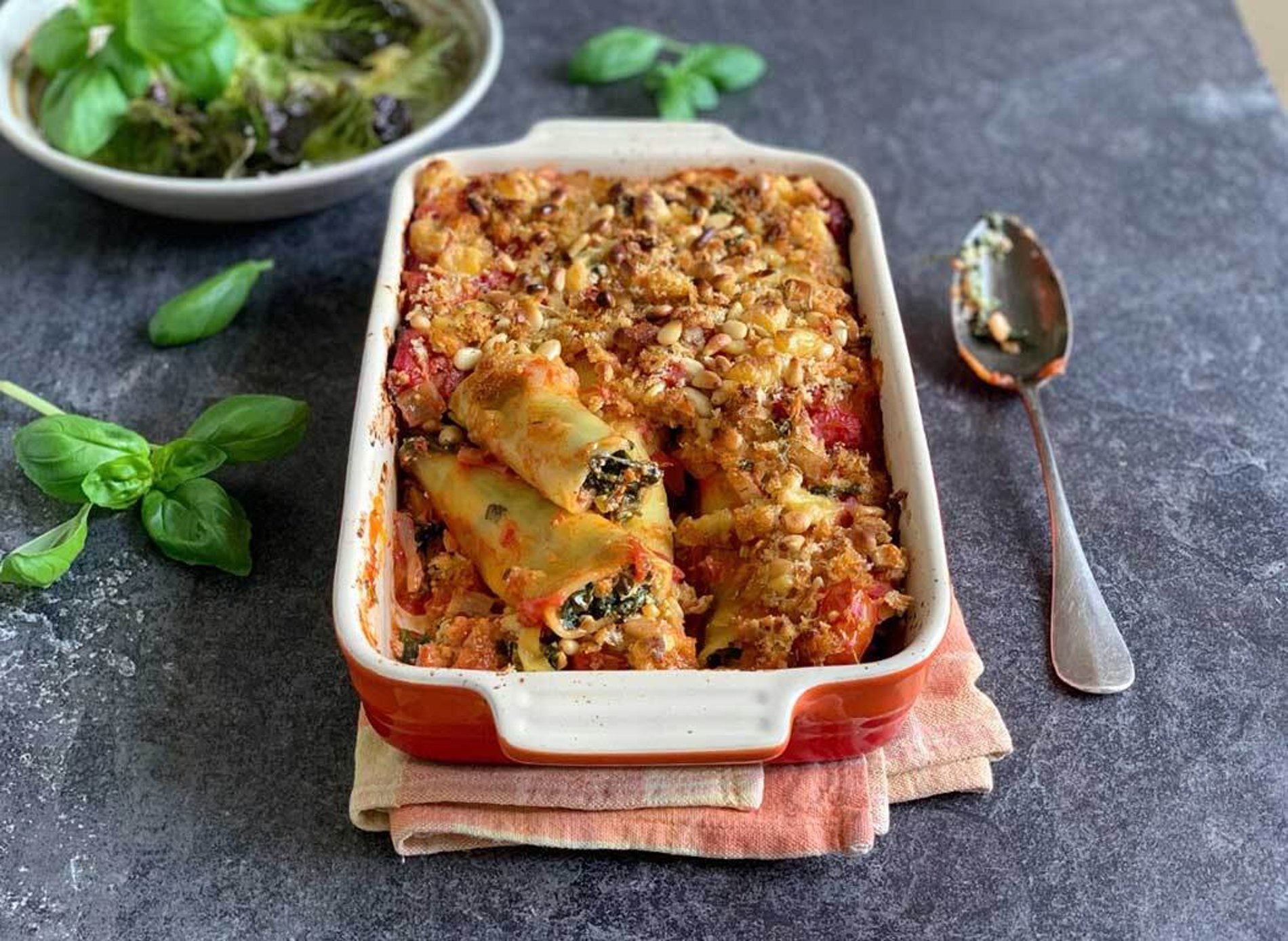 Serves 4
Karen Burns-Booth, Viking guest chef and author of cookbook Lavender & Lovage:
'I've loved my time as a guest chef on Viking Sun, something I've done twice as part of Viking's Ultimate World Cruises. I was also very proud to be able to create a special five-course British menu, highlighting some fabulous classic and heirloom British recipes for the Chef's Table restaurant.'
Ingredients
1 onion
7 garlic cloves
Vegetable oil for frying
2x400g tins chopped tomato
2 tsp red wine vinegar
250g spinach
80g pine nuts
280g smoked tofu
Pinch of grated nutmeg
Handful of fresh basil, roughly chopped
12 cannelloni tubes
1 slice stale bread, toasted
2 tbsp thyme
25g vegan cheese
Olive oil
Salt and freshly ground black pepper
Method
Preheat oven to 200C/Gas 5.
Finely chop the onion and four cloves of garlic.
Heat the vegetable oil in a large pan and fry the onion and chopped garlic on a medium heat for around 5 minutes, until softened.
Add the tomato and vinegar, bring to the boil, then simmer for around 15 minutes (you want the sauce to have thickened but still be quite liquid, as this will cook the pasta when baking later).
While the tomato sauce is simmering, prepare the cannelloni filling. First, wilt the spinach by placing in a colander.
and pouring boiling water over the top. Leave to cool, then squeeze dry and roughly chop.
Finely chop the remaining garlic and put half to one side. Heat a little oil in a frying pan and add the spinach, half the chopped garlic and 25g pine nuts.
Sauté on a high heat for a minute or two to ensure all the excess water has been removed from the spinach.
Cream the tofu in a blender and stir into the spinach. Add the nutmeg and a generous amount of freshly ground black pepper.
When your tomato sauce has finished simmering, season to taste and add the basil.
Coat the bottom of a large, rectangular oven dish with half the tomato sauce. Fill the cannelloni tubes with the spinach-and-tofu mix and place in the oven dish.
Pour the rest of the sauce over the cannelloni and bake in the oven for 30 minutes.
Meanwhile, combine the bread, thyme, vegan cheese and remaining garlic and pine nuts in a blender. Season, then blitz.
Remove the cannelloni from the oven, top with the bread mix, drizzle with olive oil and return to the oven for 10 minutes or until the crumbs are golden.
Serve with fresh salad leaves.
Oatmeal & banana pancakes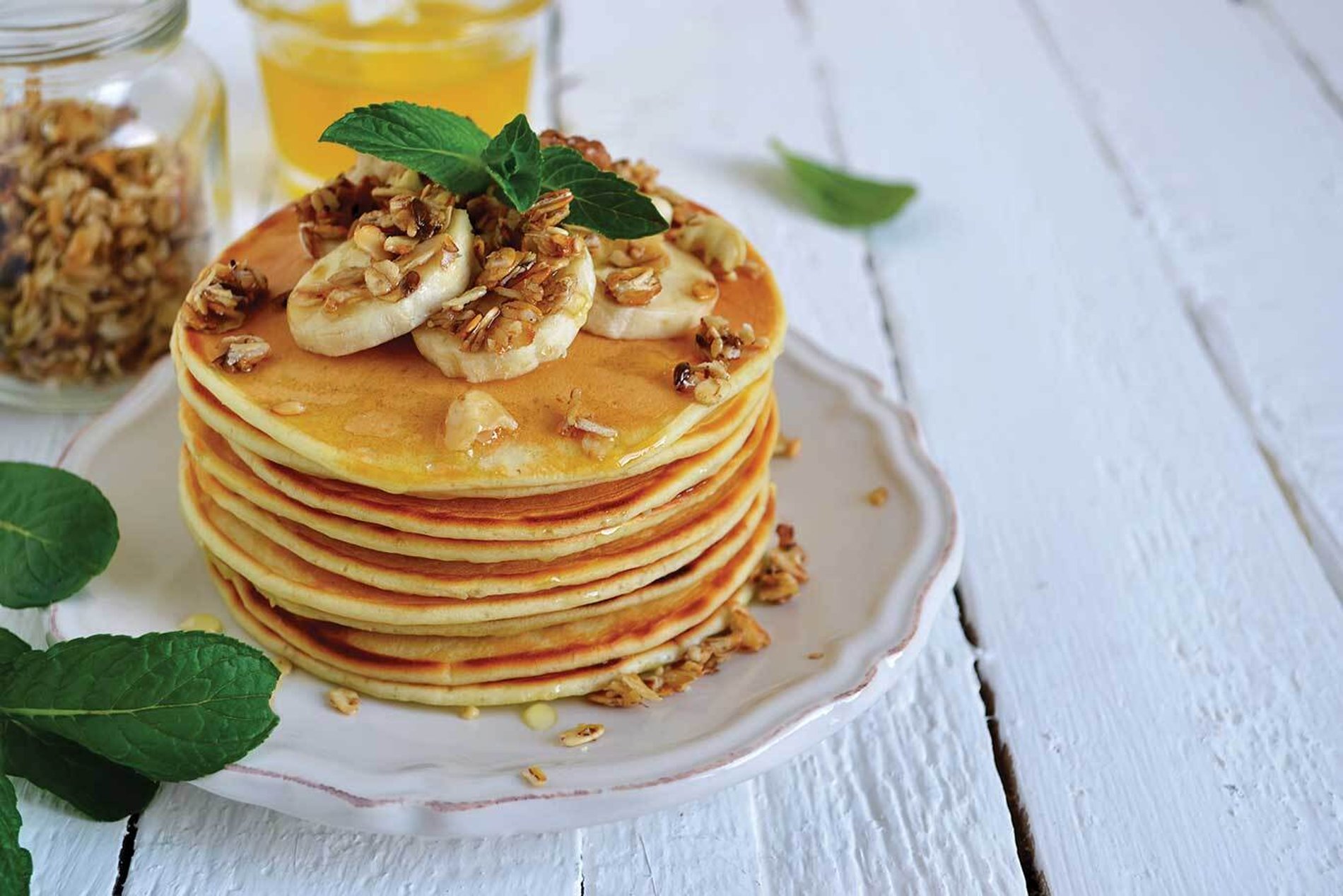 Serves 4
Franck Garanger, Corporate executive chef, Oceania Cruises:
'Breakfast is the most important meal of the day, so I love starting with a healthy plant-based dish that gives me energy. I often prepare these pancakes because they are very easy and quick to make. You can even store the pancake mix for a few days in the fridge and make them fresh every morning. The best part of this recipe is that it's 100 per cent plant-based and therefore easy to digest – plus, my kids love it.'

Ingredients
2 ripe bananas
350ml plant-based milk (cashew, almond or soy is recommended, though cow's milk can also be used)
1½ tbsp maple syrup
65g oatmeal
300g oat flour (rolled oats, blitzed in a high-speed blender)
2 tsp baking powder
2 tbsp vegetable oil for frying topping
Chopped fruit of your choice
Toasted pecans or walnuts
125ml maple syrup
Method
Peel the bananas, place in a large bowl and mash with a fork until puréed. Whisk in the milk and maple syrup. Add the oats, oat flour and baking powder. Mix well, then set aside for 15 minutes to rest.
Add a little oil to a warm non-stick frying pan.
Spoon the banana mix into the pan to form pancakes about 8cm in diameter.
Fry on both sides over a medium heat until cooked thoroughly and beginning to brown.
Transfer to a plate and garnish with the chopped fruit and toasted pecans. Drizzle with maple syrup and serve.