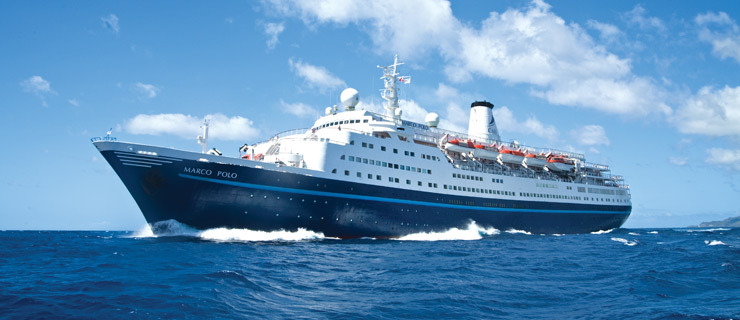 Cruise & Maritime Voyages offers BOGOF cruises
Cruise & Maritime Voyages is running a Buy One Get One Free promotion where a second passenger travels free when sailing with a full paying lead passenger. Running until 30 November 2015 the offer is available on selected cruise 2016/2017 itineraries with departure dates up to 2 March 2017. Magellan's World Cruise in 2017 and
Cruise & Maritime Voyages is running a Buy One Get One Free promotion where a second passenger travels free when sailing with a full paying lead passenger.
Running until 30 November 2015 the offer is available on selected cruise 2016/2017 itineraries with departure dates up to 2 March 2017. Magellan's World Cruise in 2017 and its sectors, Astor voyages and the CMV Signature River Cruises programme are all excluded from the promotion.
An inside cabin on a seven-night Marco Polo cruise to the Norwegian Fjords departing London Tilbury on 25 April 2016 starts from £969 for the first person with the second sharing passenger free. This is equivalent to from £485 per person.
Mike Hall, Head of Marketing at Cruise & Maritime Voyages, said "November is going to be a good time to book a cruise with us. As a growing company we recognise that planning a holiday is very important to all our customers. Knowing that good deals are available early has proved popular with our passengers and those thinking perhaps of a cruise for the first time. As the ships in our fleet are not huge they do get booked up quicker. With the current Buy One Get One Free deal we are expecting a number of cruises of being close to full by the closing booking date of 30 November."
World Cruises
The 800-passenger Marco Polo will embark on a 54-night no-fly South America cruise from Avonmouth, Bristol, on 5 January 2016. The ship will call at La Coruña, Gran Canaria and Cape Verde on its way to the east coast of South America. It shall cruise along the Brazilian, Argentinian and Chilean coasts before heading back to Bristol with calls in Cape Verde, Madeira and Lisbon. Excluded from the Buy One Get One Free promotion, prices start from £1,999 per person based on two sharing an inside cabin.
In 2017 the 1,250-passenger Magellan will embark on a mammoth 120-night world cruise. Departing Tilbury, London, on 5 January 2017 the ship will travel to French Polynesia, Australia, New Zealand, Borneo, Vietnam, Malaysia, India, Singapore, Hong Kong and more. As well as crossing the equator the ship will transit through both the Panama and Suez Canals. A total of 43 ports of call will be included.
Discounted extras have been offered for this cruise including car parking at Tilbury for the reduced rate of £2.49 per day and an all-inclusive drinks package for £12.50 per person per day. The voyage is also excluded from the Buy One Get One Free promotion and prices start from £8,499 per person based on two sharing an inside cabin.
(Photo credit to Cruise & Maritime Voyages)