Search for your ideal Cruise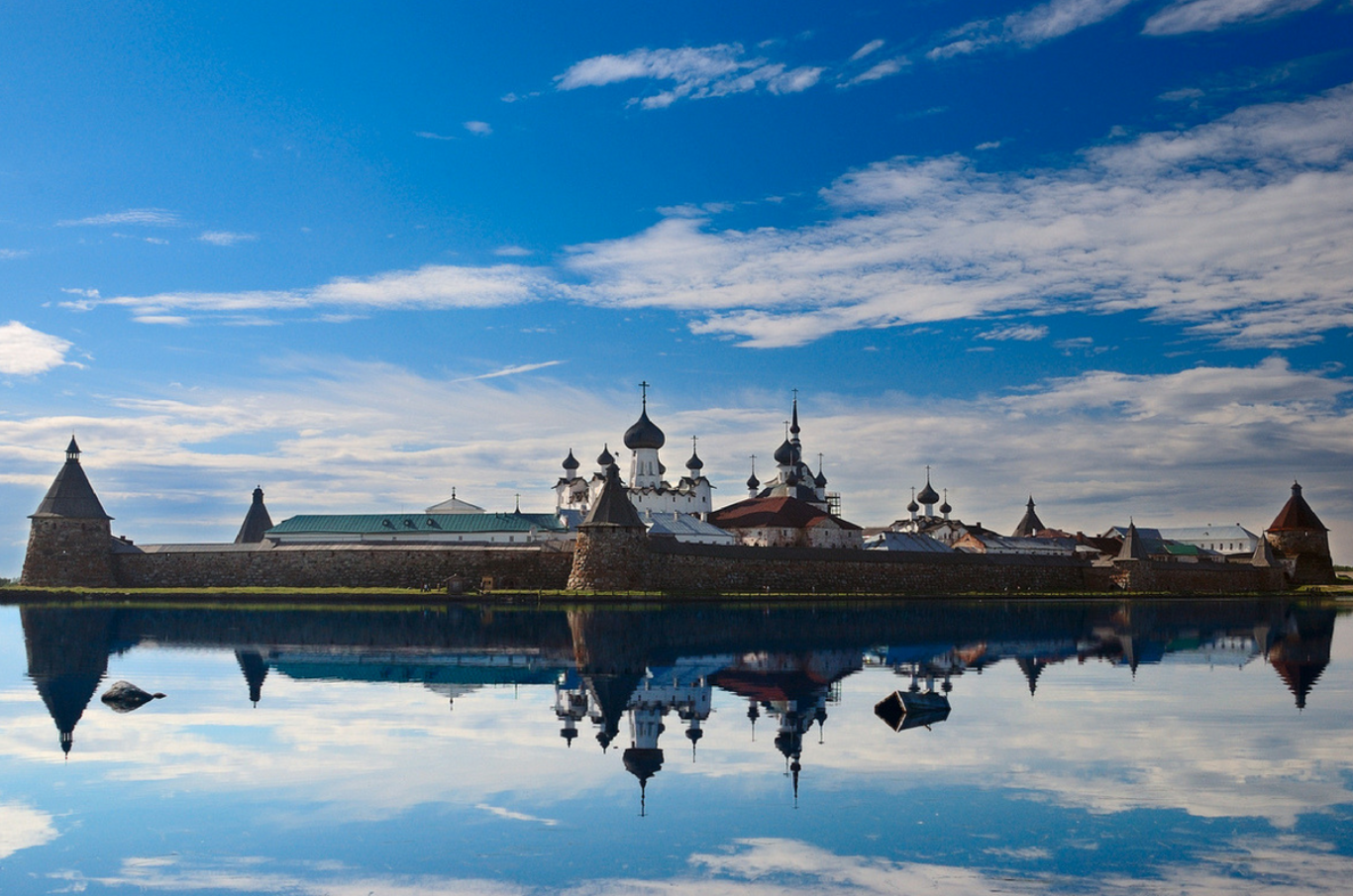 A cruise to Northern Russia
Snowy, sparsely populated and full of chilling reminders of the past, Northern Russia isn't everyone's dream destination. But for those brave enough to make the trip, it's a truly memorable experience. Northern Russia is a world away from the elaborate palaces, onion domes and glittering shops of Moscow and St Petersburg. Some of the 20th century's
Snowy, sparsely populated and full of chilling reminders of the past, Northern Russia isn't everyone's dream destination. But for those brave enough to make the trip, it's a truly memorable experience.
Northern Russia is a world away from the elaborate palaces, onion domes and glittering shops of Moscow and St Petersburg.
Some of the 20th century's darkest events have taken place in this starkly beautiful landscape, but it's a destination that's richly rewarding for cruise passengers with a taste for adventure – especially if they also have an interest in Russian and military history.
There are few opportunities to get there, with only a handful of smaller luxury ships offering White Sea sailings in June, scheduled to make the most of the midnight sun.
Itineraries from the UK follow the long Norwegian coastline, where passengers can watch the landscape slowly change, with sparkling fjords and pretty villages giving way to tundra. Wildlife spotting is an added bonus, with the chance to see whales and plenty of sea birds, plus the magnificent sea eagle in the fjords.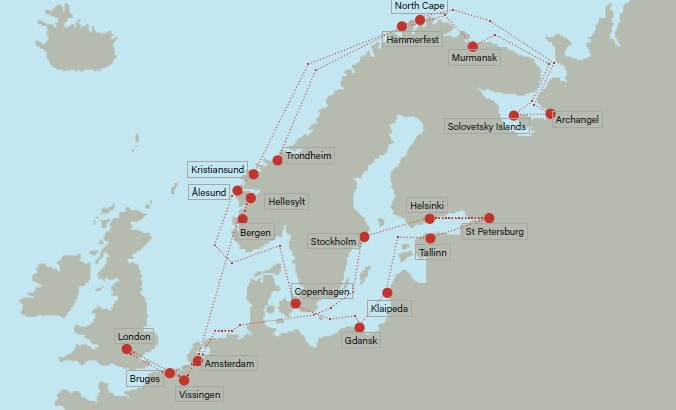 On board, experts give history lectures to provide a context for the sights you're about to see – though even armed with background knowledge, you should still prepare for a culture shock.
Swan Hellenic's Minerva and Oceania's Nautica sailed into Northern Russia in 2016, and next year Nautica offers a spectacular 32-night Voyage of the Kings cruise, which includes a two-night stay in St Petersburg – so you can appreciate the contrast – as well as featuring calls to Poland, Lithuania, Denmark, Sweden, Finland and Norway.
If a one-month sailing is difficult to fit in, Silversea's Silver Cloud o⁄ ers a 17-night cruise to northern Russia, sailing from Oslo and crossing the Arctic Circle, with calls including Geiranger, Tromso, Honningsvag, Alta and Bergen.
North Russia is a fascinating, haunting region like nowhere else on Earth, and with your visas, paperwork, language problems and transport all taken care of, cruising is probably the best way for outsiders to experience it. So if you're ready for a chilling adventure, here are some of the sights you mustn't miss…
ARCHANGEL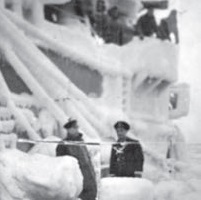 Daniel Craig fans who remember him as Professor Fluke Kelso in the film Archangel will have an idea of what to expect – and they'll know this city is not your average tourist hotspot.
Instead it's a place that has seen much hardship since its founding in the 16th century, when Tsar Ivan the Terrible established a settlement near the Archangel Michael Monastery. Peter the Great set up the first state-owned shipbuilding yard here, and the importance of Archangel reached its peak in the late 1700s.
The city became a starting point for explorers when Arctic expeditions got underway in the 20th century, and thelong-held dream to open up the Northern Sea Route to the Pacific was realised in 1932, when the icebreaker Sibiryakov made it from Archangel to the Bering Strait, eventually reaching Japan.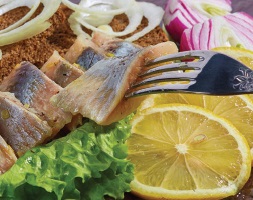 With a population of 400,000, Archangel is the administrative, industrial and cultural capital of Northern Russia. But although this is a sizeable community it's easy to get your bearings in the city centre because there is only one tower block – a 24-storey office building in Lenin Square.
A stroll along the Northern Dvina embankment is a compelling walk through history, past monuments to fallen soldiers of the Red Army and a statue of Peter the Great. Nearby is Chumbarova-Luchinskogo, a street lined with beautiful wooden merchants' houses – a proud survivor in a town dominated by concrete. From here you can wander to the Archangel Fine Arts Museum, a lacklustre 1960s building that nonetheless contains an extraordinarily rich art collection, including medieval icons and wooden sculptures that have miraculously survived fire, revolution and two world wars.
MURMANSK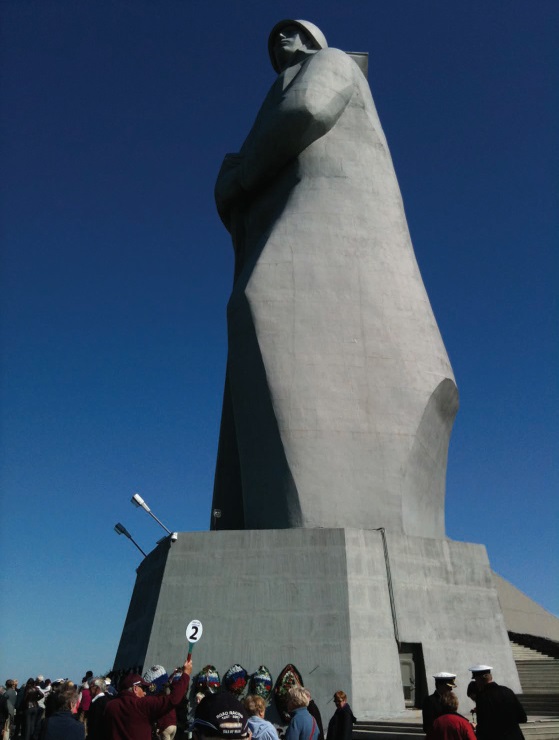 Standing 40m tall and weighing 5,000 tons, the giant figure of a soldier, with greatcoat and rifle, faces west over Murmansk and Kola Bay. Unveiled in 1974, "Alyosha" commemorates the Soviet soldiers who died here as the Red Army turned back the German advance in 1941.
Murmansk was also subjected to continuous bombing as the Nazis tried to stop Allied supply convoys reaching the port. Yet despite the threat of U-boats, battleships, and the Luftwafle, more than 66,000 Allied sailors risked their lives to ensure that food, medicine and munitions reached Russia. More than 3,000 perished
on these Arctic Convoys, dubbed "the worst journey in the world" by Winston Churchill.
Murmansk is still a Russian naval base to this day, and the people of the city show huge gratitude to WW2 veterans, who are showered with medals and affection when they visit for commemorative events. Local children are taught never to forget these men's heroism, and Gymnasium 9 School has a museum in memory of Merchant Navy and Royal Navy sailors – known as the Polar Bears because of their white berets – which can be visited by appointment.
Other excursions include a visit to Ice Breaker Lenin, the world's first nuclear-powered civilian ship, which was decommissioned in 1989 and is now a museum.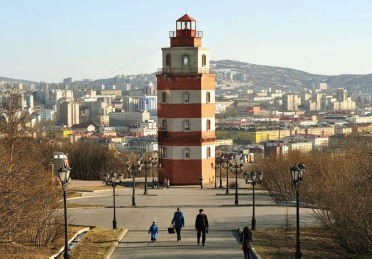 Visitors who want to try authentic Russian cuisine should head toRestoracia CaskayaOhota – but only if they don't mind a bearskin canopy above their dining table. Fish is often a good choice when eating out, as the pristine waters surrounding the Kola Peninsula are full of salmon.
The midnight sun of the summer months left Allied ships vulnerable in the Arctic waters between Norway and Russia, but cruise passengers can bask in its mellow rays, which under a clear sky merge into
a kaleidoscope of pink, topaz and gold.
SOLOVETSKY ISLANDS
The most sombre sight you can see in this remote part of the world is the 15th century Solovetsky Monastery. Once a stronghold of Christianity in the north of Russia, despite being only 100 miles from the Arctic Circle, it became a prison camp in the 1930s, during the Great Terror of Soviet dictator Josef Stalin.
Transportation here meant almost certain death, and according to Aleksandr Solzhenitsyn, whose book The Gulag Archipelago first brought Soviet prison-camps to worldwide notice, the islands were chosen because "a scream would never be heard" from such a distant outpost.
Now a UNESCO World Heritage site, the building has returned to its former life as a monastery, but an eeriness still hangs over this place where slave labourers died in their tens of thousands, building the Belomorsk Canal or in mass executions.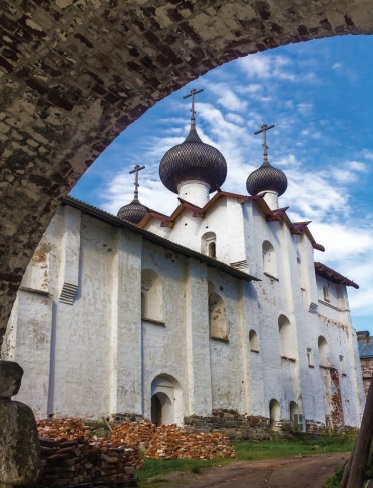 If you are feeling strong enough to visit – and it really is more of a pilgrimage – you will arrive on the islands by tender. As the early-morning mist rises, the dark onion domes of the monastery are slowly revealed. And with plenty of Soviet-era vehicles still on the roads, it is all too easy to imagine yourself back in those dark and terrifying days.
Some tours include Sekirnaya Hill, the highest point of the island. A climb to the top offers a wonderful panorama of this empty landscape, with the White Sea beyond. On the crest of the hill stands the Church of Ascension, built by monks in the 19th century. In the Gulag times, there was a punishment cell in the church, and nearby stands a tall wooden cross to remember those who perished there.
The Solovetsky Islands are truly off the beaten track, and you are unlikely ever to meet anyone else who has made the journey. That goes for many parts of this route – so don't miss the opportunity to explore if you do get the chance.
No need to worry too much about the cold: most cruise ships sail in June or July when temperatures are a pleasant 14C-18C and passengers can look out for the beluga whales which come close to the islands in summer. They are by no means the only unforgettable sight you'll see.
BOOK IT
NAUTICA
32 days from £9,048, departing Southampton on June 13, 2017. See oceaniacruises.com
or call 0345 505 1920
SILVER CLOUD
17 days from £6,999, departing Oslo (round trip) on June 20, 2017. See silversea. com or call
0844 251 0837