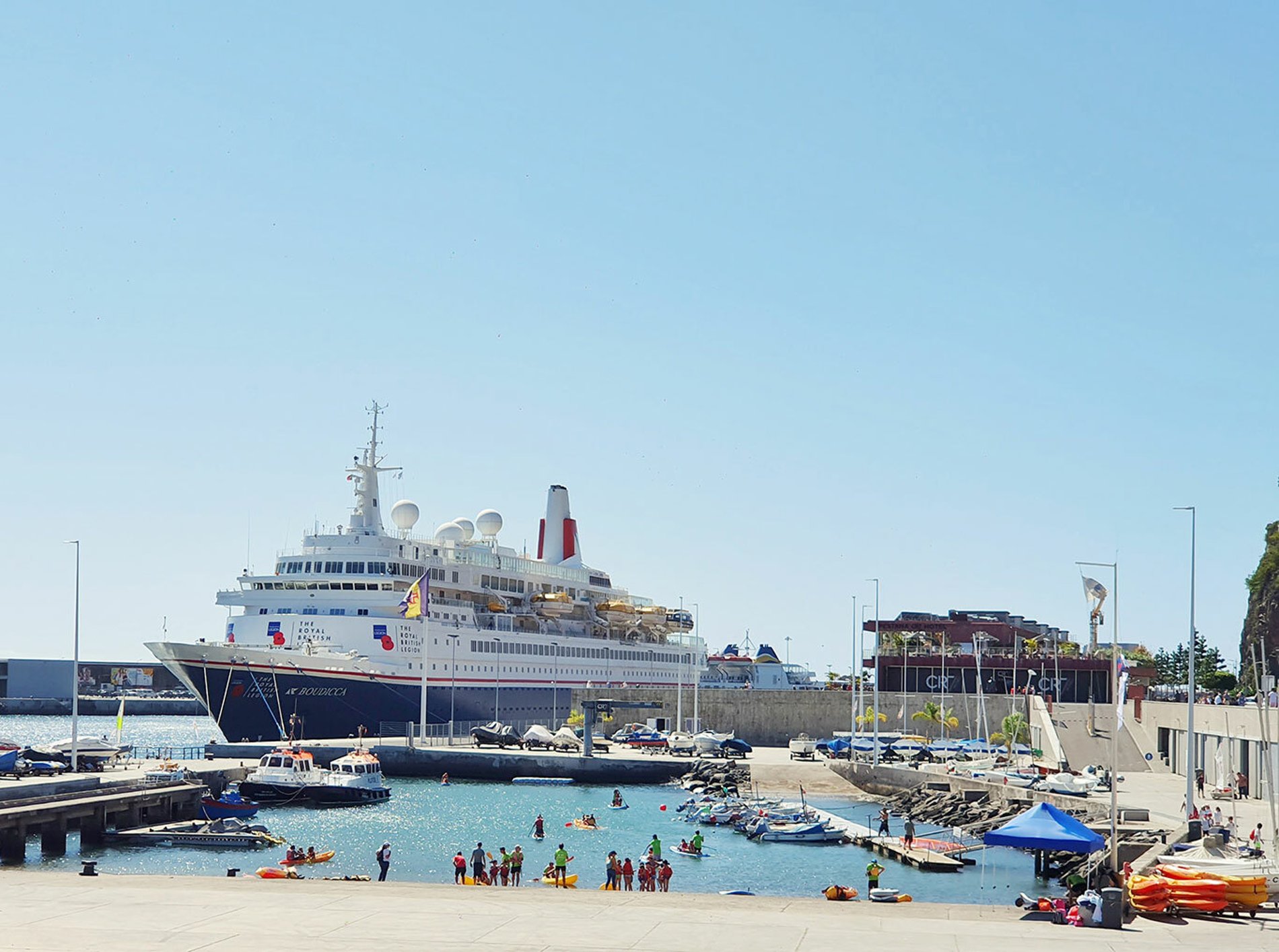 Grand Voyage: Sailing the World on Fred Olsen's Boudicca
We follow Danielle Fear on the epic 168-night voyage to South Africa, India, Singapore, Australia, the Maldives, Indonesia and the Seychelles
Danielle left the UK in early October on a 168-night cruise aboard Fred Olsen's much-loved Boudicca. Her 'Grand Voyage' will take her to amazing destinations including South Africa, India, Singapore, Australia, the Maldives, Indonesia and the Seychelles – and she'll be reporting back to World of Cruising via her exclusive monthly diary…
January
I've now been on board Boudicca for almost four months and I'm still enjoying every moment. I don't want it to end, but I still have a lot more exploring to do before we return to the UK.
Over the past few months, I've visited more incredible destinations, some new for me and some I've enjoyed before. One of my favourites was Bali, Indonesia.
There's so much to see and do, and so much incredible culture. Did you know that the island of Bali has over 4,000 temples?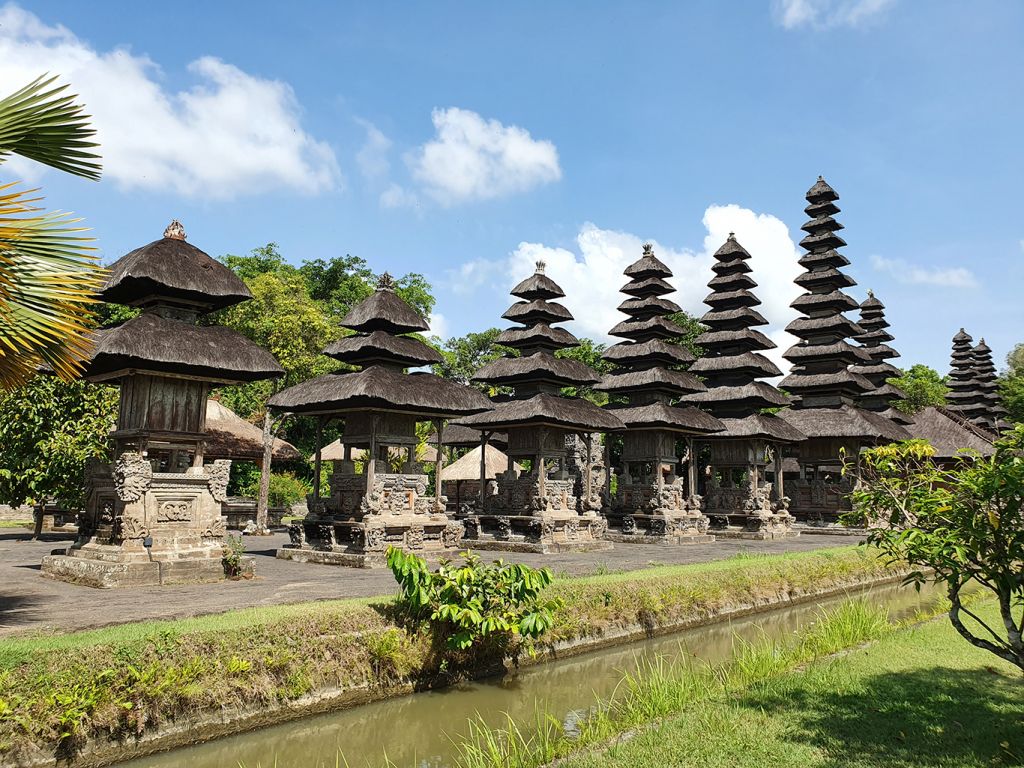 I've enjoyed Indonesia as a whole, but some of my favourite ports of call were Semarang, Komodo and Sabang. I made it back to the Pink Beach from Komodo, where the coral reef is out of this world. I visited last year and was speechless when I put my head in the water. I spent the entire two hours of free time swimming from one reef to another.
Another destination I threw myself into was Thailand. What a fabulous place it is. I visited temples, went shopping, enjoyed local food – the entire Thai experience. The most impressive temple I visited there was Wat Chalong, a national monument that was built at the beginning of the 19th-century.
I also enjoyed a tour through Phang Nga Bay from Phuket, which if you don't know is where James Bond island is located. The Man with The Golden Gun made the island famous and thousands of people flock there each year.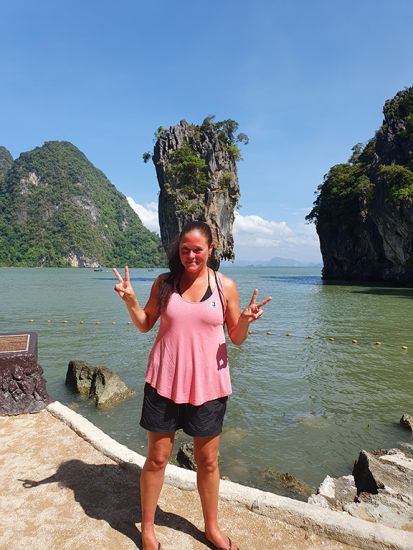 Australia has been in the headlines a lot over the past few months due to the horrific bushfires that have been causing devastation across the country.
Fortunately, when I arrived, it was cool at a mere 24 degrees celsius and it rained for some time, but the temperatures soon picked up and returned to searing heat and high humidity levels as we were leaving.
One of my favourite Australian experiences was my trip to Rottnest Island, which is inhabited by quokkas. They're closely related to the kangaroo, but there's still not a great deal known about them or how they manage to survive the harsh environment in which they live.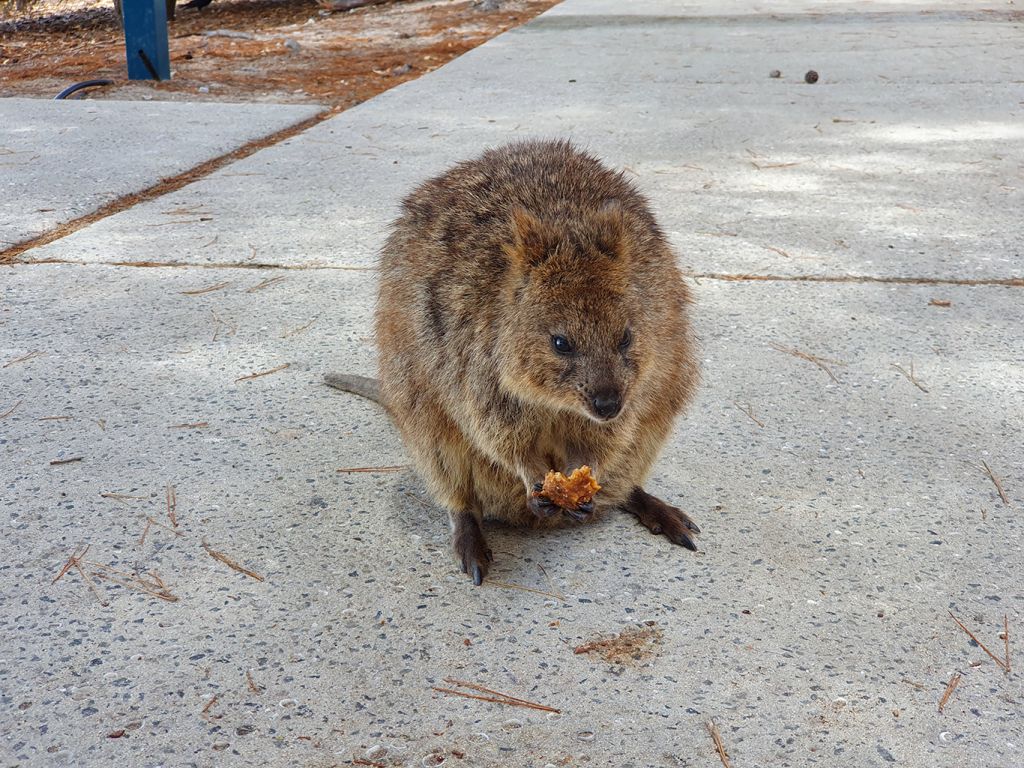 Christmas and New Year at sea were truly memorable experiences. Christmas Day began with a deck party, with egg nog and mulled wine being handed out to everyone. We had Christmas music, followed by a live band and the all-important Christmas T-shirt/jumper competition.
Everyone was in high spirits and the evening closed with a delicious dinner in the main restaurants. Boudicca had prime position in Sydney for New Year's Eve, and we waited patiently for the night to close in and the countdown to begin.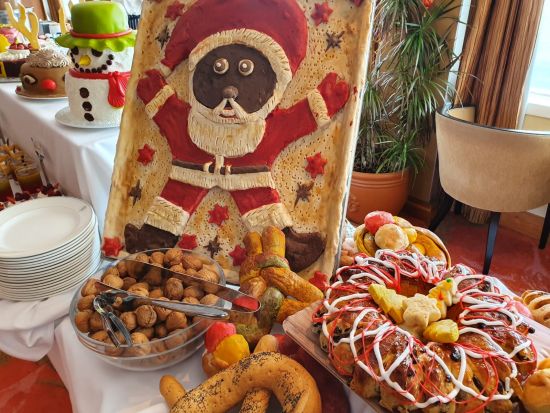 I've watched Sydney's fireworks on TV for as long as I can remember, but being there was something else. The atmosphere on board was electric and the party continued until the early morning hours. In fact, some people were up until 5am (no doubt there were some sore heads on New Year's Day).
If there's one thing you learn about yourself during a voyage such as this, it's that if you have opportunities in life to do the things you want to do, go and do them. Don't put things off.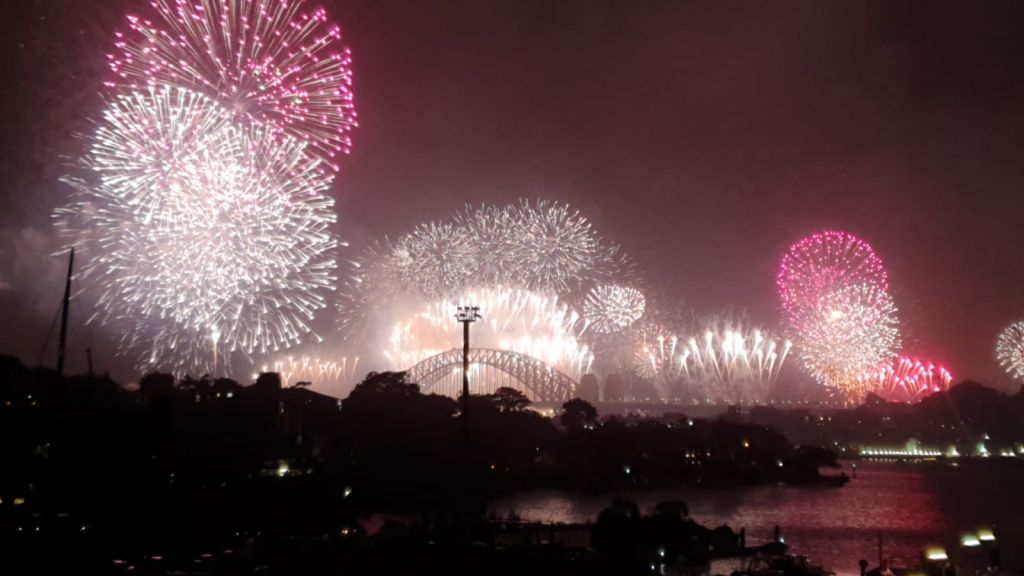 We still have more exciting places to visit and there are a few that I'm looking forward to more than others, including Jordan, India, Oman and Israel. I've tours booked in all destinations and I intend to fully immerse myself in the local cultures, cuisines and experiences on offer.
December
Half-way through my trip, I've already cruised to some amazing places. My favourite destinations so far? Cape Town and Richards Bay, South Africa; Mahé and Praslin Island, Seychelles; Kuda Bandos, Maldives; and Port Blair, Andaman Islands. Seeing African penguins at Boulders Beach, visiting the Kolmanskop ghost town in Namibia, riding a cable car to the top of Table Mountain, going on an African safari and snorkelling in the Seychelles are all things that have kept my adrenaline pumping 24/7.
In fact, over the past couple of months, I've ticked so many amazing experiences off my bucket list that it's time I came up with some new ones. Luckily, I don't think that's going to be too hard.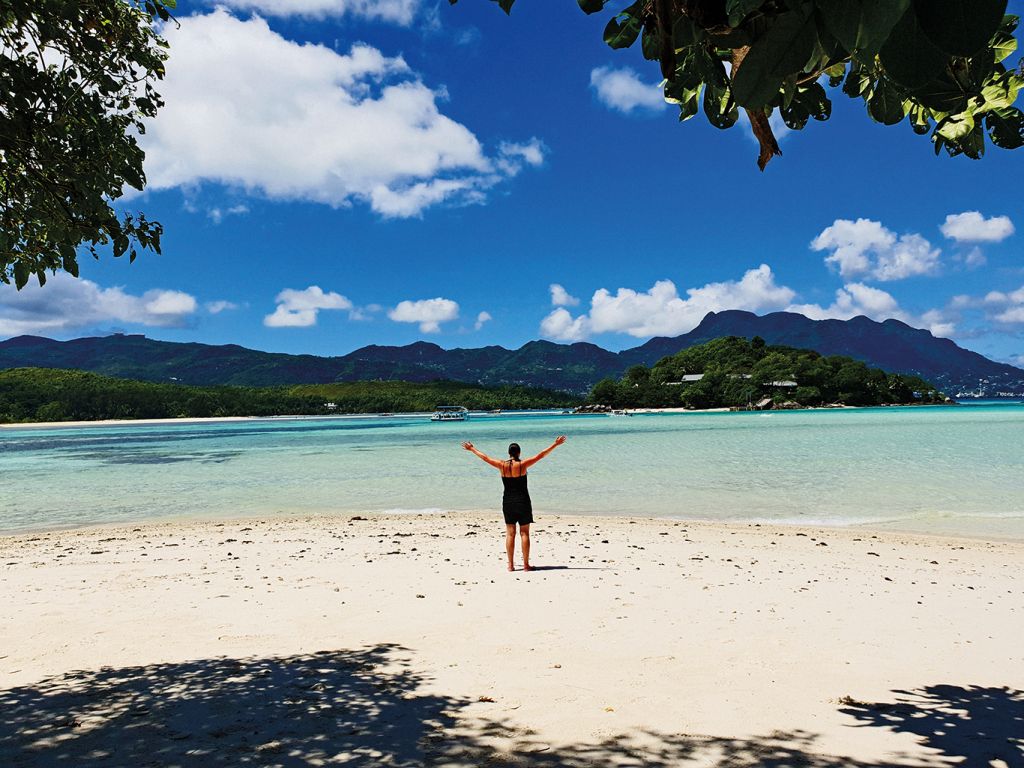 Highs and lows
I know how lucky I am to be cruising around the world, but not everyone is on board for the duration and one of the hardest things is saying goodbye to friends as they leave the ship. One of my low points was waving off several new cruise buddies in Tenerife. Since the beginning of the trip we'd bonded, met up each evening for drinks and often just sat in the sun, chatting about something and nothing on sea days.
I've missed one friend in particular, but he will be re-joining us in Bali, which is great news. Sea days are a big aspect of a world cruise and you have to use them wisely. Often, with only one day between action-packed port calls, you need to cram as much in as possible – from necessary tasks such as washing and ironing, to fun quizzes, classes such as fitness, art and crafts, and the ship's entertainment. It's not always an easy task…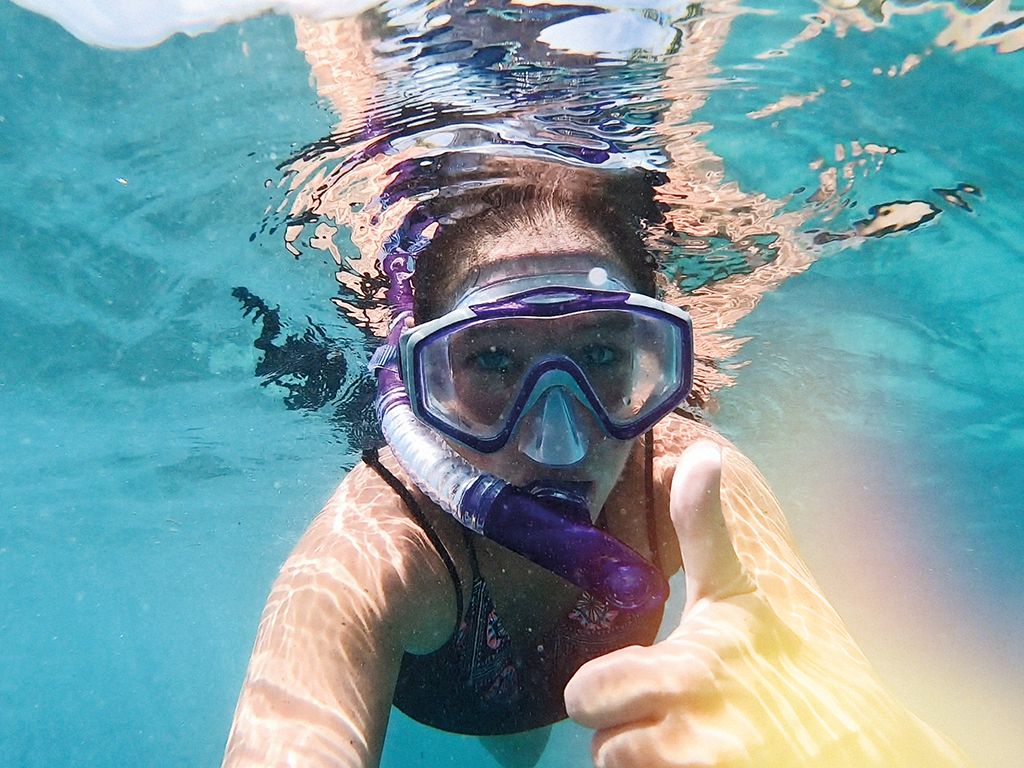 Ringing in the new year
By the time you read this, I'll be celebrating New Year in Australia, where they really do these things in style. I can't wait – and then comes Asia, with visits Indonesia, India and more. One of the best things about a world cruise is that you get to spend our winter months in the sun, then sail back to the UK in spring. Am I missing home? Of course, but the sea is always calling me and I wouldn't want to be anywhere else right now…
November
We left the Canary Islands and made our way south to Cape Verde before stopping at the island of St Helena, a British Overseas Territory in the South Atlantic.
I went on tour to the Governor's Residence which is also home to the legendary Jonathan. Jonathan (a giant tortoise) is the oldest known land vertebrate in the world, at approx. 187 years old, and it's believed he was brought to St Helena from the Seychelles in 1882.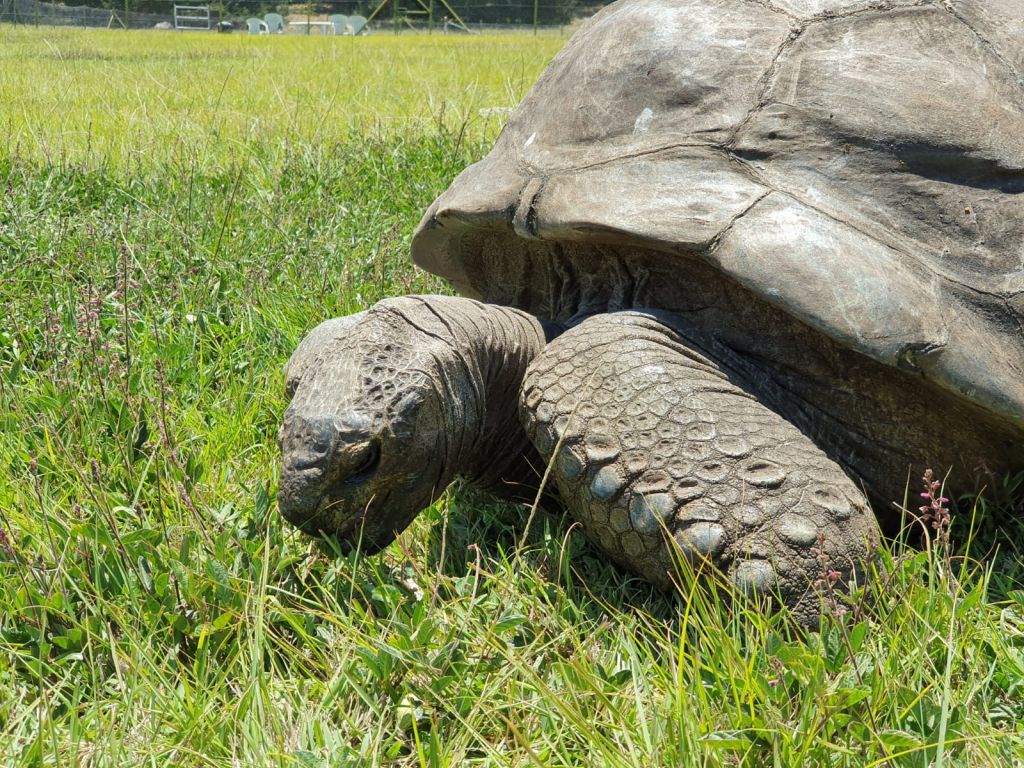 He is not bothered by the presence of humans in the slightest. He's still very active, although he is now hand fed because he's not as quick as he used to be. He's blind in his right eye and has blurred vision in his left, but aside from that, is doing very well. He shares his paddock area with three other tortoises: Emma, Fred and David.
From St Helena, Boudicca sailed toward Namibia and we made calls to Walvis Bay and Lüderitz. In both ports I went on desert-based excursions and although they may at first sound quite similar, they were incredibly different.
Walvis Bay was all about the wildlife. we found a sidewinder adder, horned adder, sand diving lizard and chameleon. I'd never seen any of them before and it was a huge privilege to find and admire them in their natural habitat. Apparently, we were quite lucky to see a chameleon. In 2018, they didn't find a single one.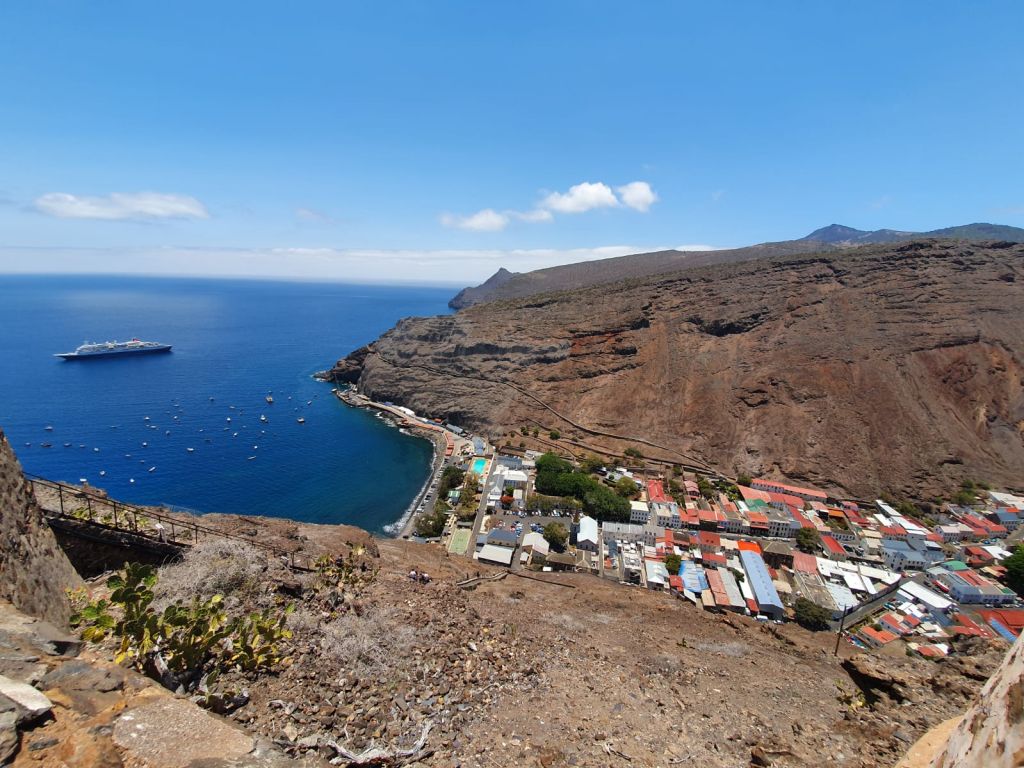 Lüderitz brought me to the Kolmanskop Ghost Town, which is roughly 10km outside of the port, in the Namib Desert. It came to life in 1908 when a local worker found a diamond in the area. He showed the stone to railway inspector August Stauch and soon after, German miners began settling and exploiting the diamond field.
The town was built in typical German architectural style and had numerous amenities, including a school, casino, theatre, hospital, power station and sports hall. It was incredible to see how Mother nature has reclaimed this once thriving town, with most buildings filled several feet high with sand.
I did several things during our call in Cape Town, but the things that stick in my mind the most were seeing the African penguins at Boulders Beach and going to the top of Table Mountain on one of the scariest yet most impressive cable car rides I've ever experienced.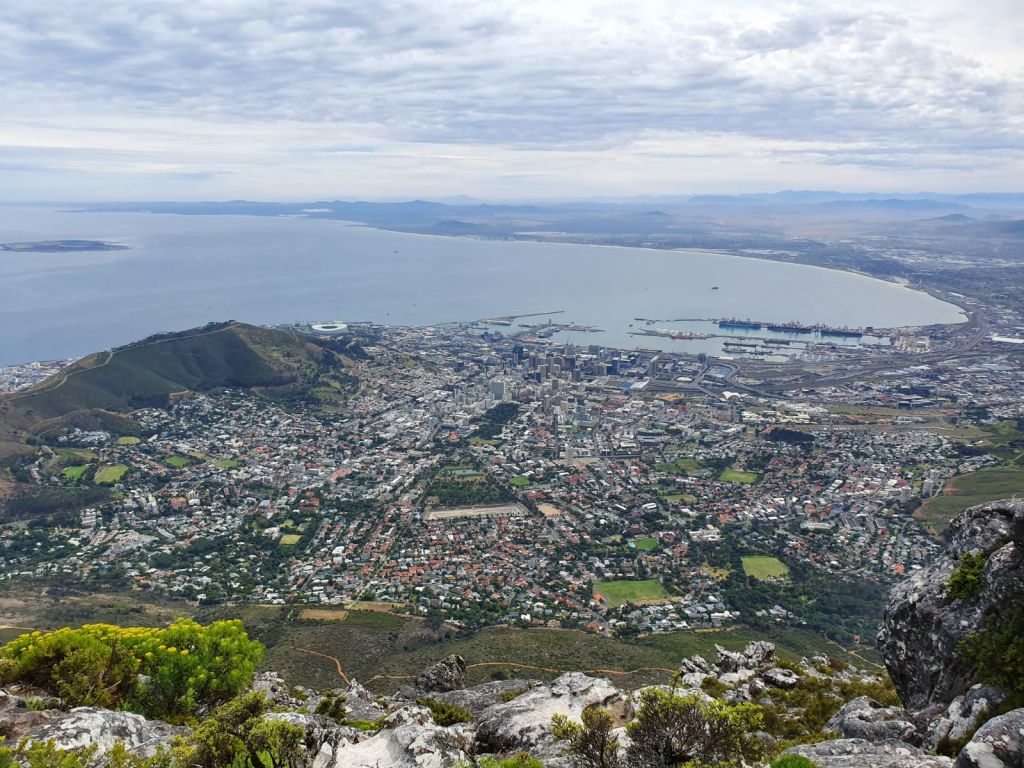 The views were spectacular, and we were very lucky that there wasn't too much low cloud coverage. The cableway has been in operation since October 1929 and to date, more than 28 million people have enjoyed the ride. At its highest point, Table Mountain is 1085m above sea level and the views in each direction are truly stunning.
Each cab can carry a maximum of 65 people and as you ascend, the floor rotates, allowing everyone a chance to see the spectacular scenery. I can now say I've visited one of the Seven Natural Wonders of the World.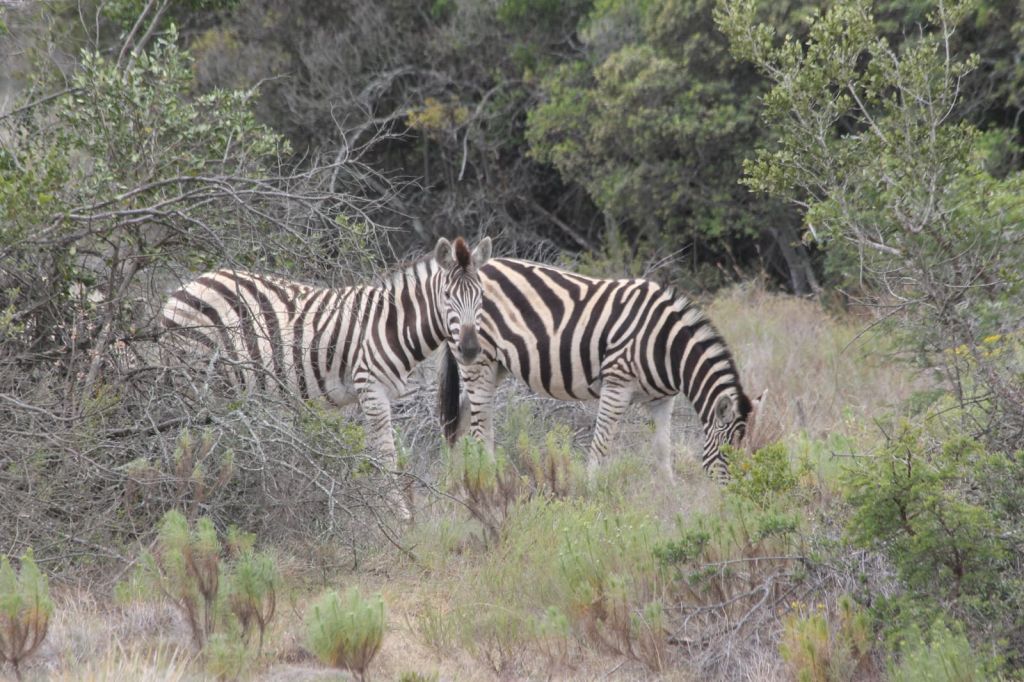 Port Elizabeth brought another first for me, a real African safari. We spotted dozens of zebras, baboon, various species of antelope, wildebeest, giraffe and more. We were also very lucky to see five white rhinos, including Thandi (Hope). She was one of four rhinos at Kariega that were attacked by poachers and she was the only one to survive.
There's still so much more to see and do on this incredible journey, this really is only the beginning. I've settled into life onboard and I'm enjoying waking up each morning to the sight of new places and the open ocean.
The food has been exceptional so far, lots of choice and I'm relishing in the fact that breakfast is served until noon in The Secret Garden, Boudicca's on-board buffet option. The Poolside Grill is my favourite lunchtime option on sea days and with a varied and ever-changing menu, I'm working my way through the options, one dish at a time. It's a hard life.
October 2019
For many travellers, a round-the-world cruise has to be the ultimate bucket-list trip, so I know how lucky I am to be spending the whole winter aboard Boudicca.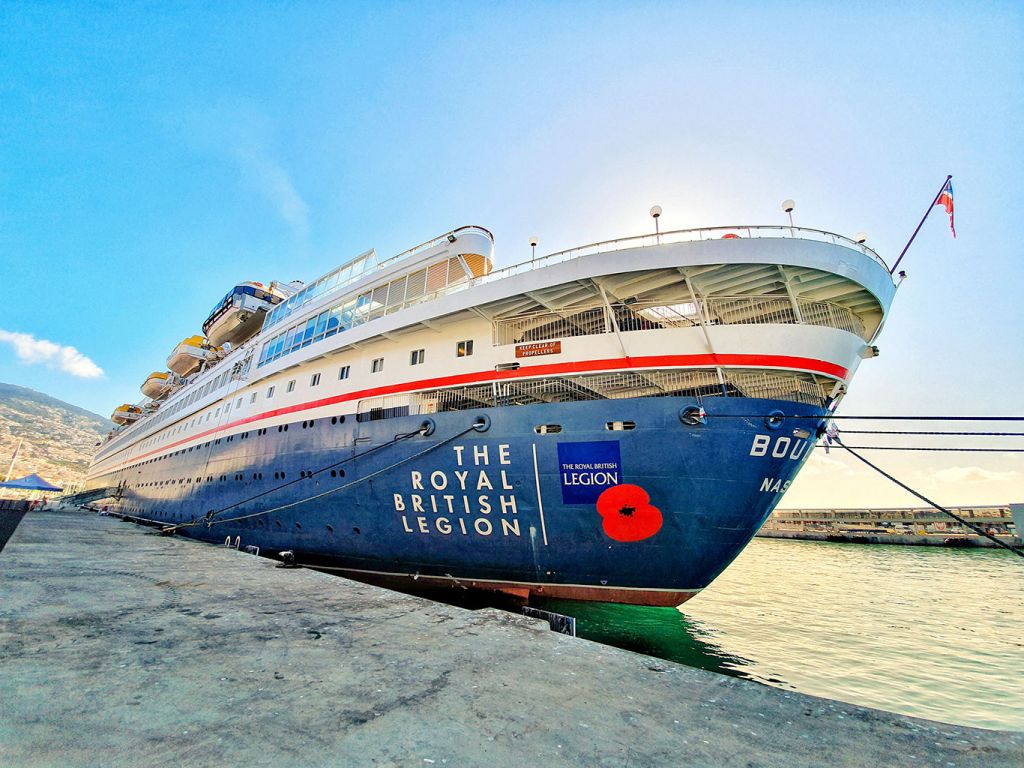 As a cruise blogger I'm often away at sea, so it wasn't too difficult to say goodbye to my family and friends – they're used to not seeing me – but I am a bit apprehensive about Christmas. This will be the first time in 35 years that I haven't been at home for the festive season, and I know I'll miss everyone dearly.
That said, I'm also looking forward to my first Christmas in the sunshine, and I speak to my mum every day on WhatsApp, so I'll be getting lots of photos of the people I'm closest to (and my cat!) as I sail around the world.
My home-from-home is an outside cabin on Deck 3 of Boudicca, and as I'm travelling alone I can use all the available space –including the ceiling, thanks to the magnetic hooks I brought with me for hanging bags and jackets on. I've got two portholes for natural light, a queen-sized bed, a bathroom with a tub, and ample wardrobe space – perfect for storing shopping!
The atmosphere on board is really friendly and there's always lots to do. So far we've had ukulele lessons, daily quizzes, dancing classes, craft classes, bridge lessons, silent discos, port presentations and loads more. I've also been reunited with some of the friends I made last year, when I was lucky enough to sail on Fred Olsen's Black Watch.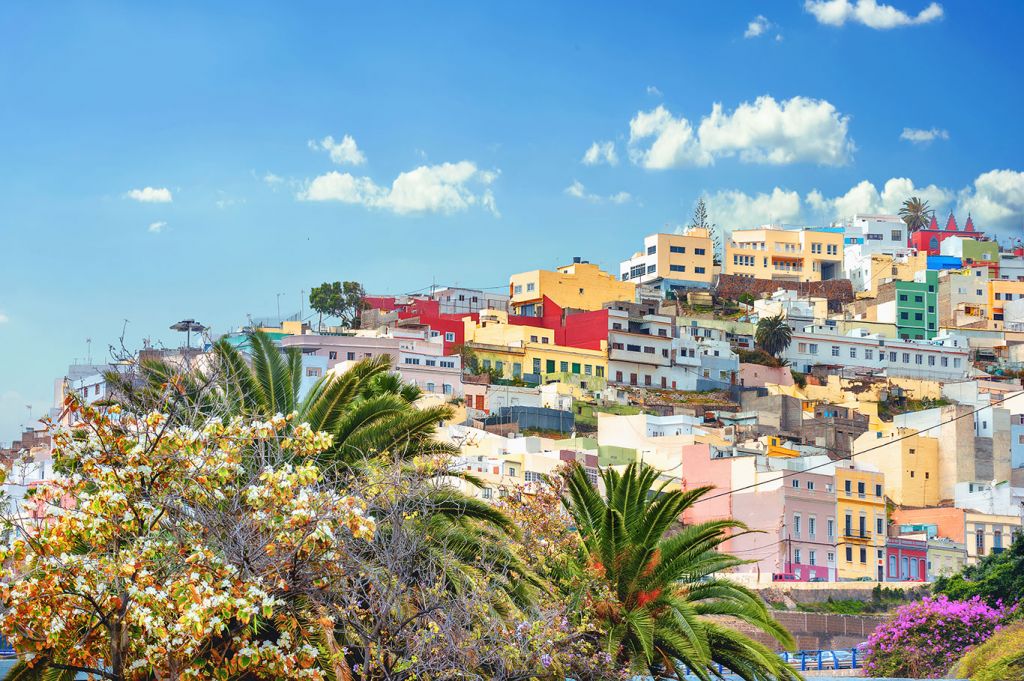 So far we've made port calls at La Coruña, Madeira, Tenerife and Las Palmas. Having new guests join the ship was quite exciting, as many of us had been communicating in an online group, though it was sad when I had to say goodbye to many of the lovely people I'd met in the first week.
Of course, that's the nature of round-the-world cruises, and you soon get used to it. There are about 100 of us staying on board for the whole trip, and so far I've managed to meet 13 of them so we can compare notes as we travel.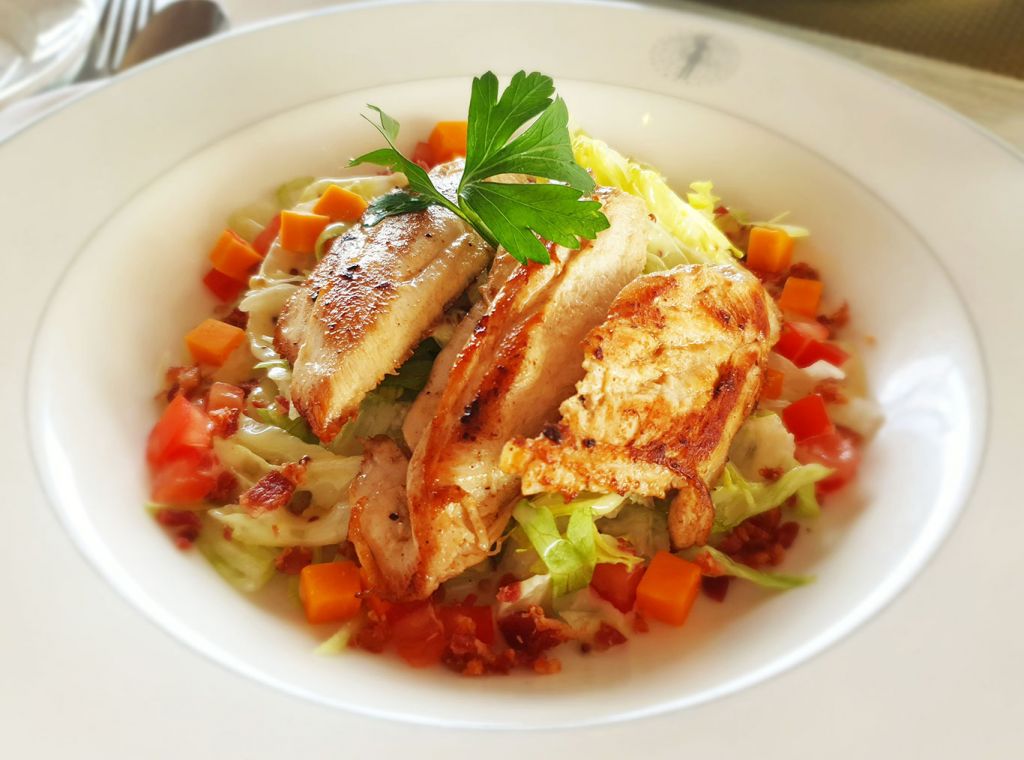 As everyone knows, food is a large aspect of any cruise, and I'm trying (but failing) not to over-indulge and be healthy. Our first formal evening was the day after we set sail from Dover, and that meant a delicious gala dinner. Châteaubriand was on the menu, along with a melt-in-the-middle chocolate pudding, and I couldn't resist either.
My plan is just to have salad at lunch, eating it alfresco at the Poolside Grill, then I can be more indulgent in the evening. But I'll be on board till March so I want to make sure I can still fit into my clothes by then!
Our next port of call will be the Cape Verde islands, followed by Namibia and South Africa, before heading on to explore the tropical islands of the Indian Ocean, including the Maldives and the Seychelles.
They're all amazing destinations, but if I had to pick just one thing that I can't wait to experience, it would probably be the New Year's Eve celebrations in Sydney.
This article will be updated monthly.