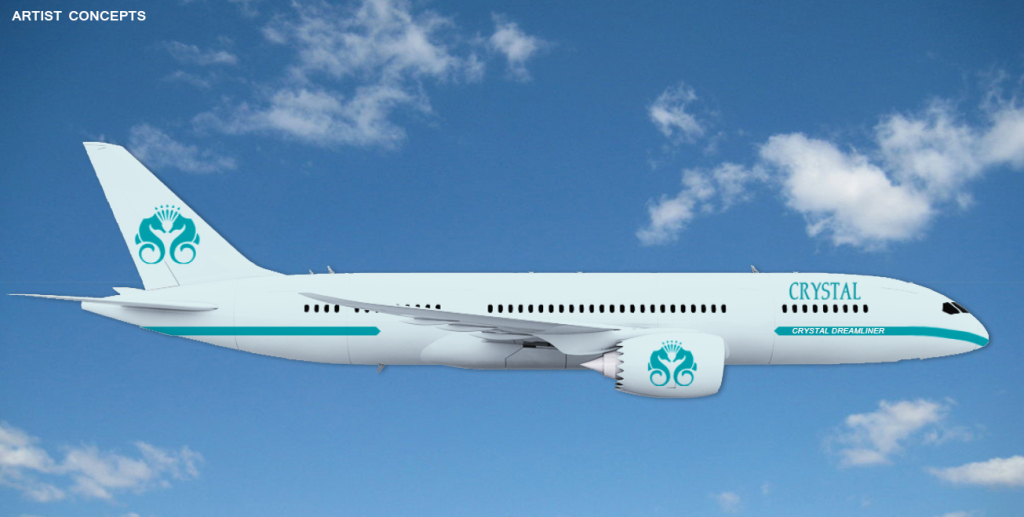 Crystal to operate Boeing 777 alongside 787 Dreamliner
Crystal Cruises has announced it has purchased a Boeing Business Jet B777-200LR to run alongside its forthcoming Boeing 787-8 Dreamliner. Ambitious expansion plans were announced in July with news that the firm would build three ocean cruise ships, launch a yacht cruise brand, expand into the river cruise business, and and obtain its own Boeing
Crystal Cruises has announced it has purchased a Boeing Business Jet B777-200LR to run alongside its forthcoming Boeing 787-8 Dreamliner.
Ambitious expansion plans were announced in July with news that the firm would build three ocean cruise ships, launch a yacht cruise brand, expand into the river cruise business, and and obtain its own Boeing 787-8 Dreamliner jet to offer luxury round-the-world flights from 2017.
Now Crystal Cruises has added a Boeing Business Jet B777-200LR to the mix, doubling the initial air projections through an expanded fleet. Crystal will work with the Registry of Aruba to develop and secure an Air Operator's Certificate (AOC) which would pave the way for Crystal Luxury Air to launch international operations.
Both aeroplanes, with a commercial capacity of up to 300 passengers, will feature luxuriously appointed interiors, plush amenities, flat-bed first class seats and a beautifully appointed lounge and bar.
The twin-aisle BBJ B777-200LR will be redesigned to accommodate just 88 guests while the Boeing 787-8 Dreamliner will be configured to accommodate just 52 guests.
The aircraft will be used to offer 14- and 28-day around-the-world and international itineraries. Trips will include accommodation at the world's most luxurious hotels, the finest Michelin star-level cuisine prepared by celebrated chefs and local cultural entertainment. Additionally, the jets will be available for special charters.
Tan Sri Lim Kok Thay, Crystal's Chairman, said: "Our mission is to make Crystal the core of what will become the world's premier luxury hospitality and lifestyle brand collection, not only for the immediate future but for years to come. The acquisition of our second luxury aircraft is another profound step toward establishing our goal."
Edie Rodriguez, Crystal's President and Chief Executive Officer, added: "Following our expansion announcement, travellers and travel agents expressed a strong interest in all-inclusive luxury air travel with a wider range of itineraries. Based on this enthusiastic feedback, we are growing our fleet to meet the demand from our guests and travel partners in luxury air options."
Crystal will launch its yacht cruising brand next month, its river cruise brand in July 2016, its airline brand in 2017 and Crystal Exclusive Class Ocean Cruises in late 2018.
(Image credit to Crystal Cruises/Boeing)