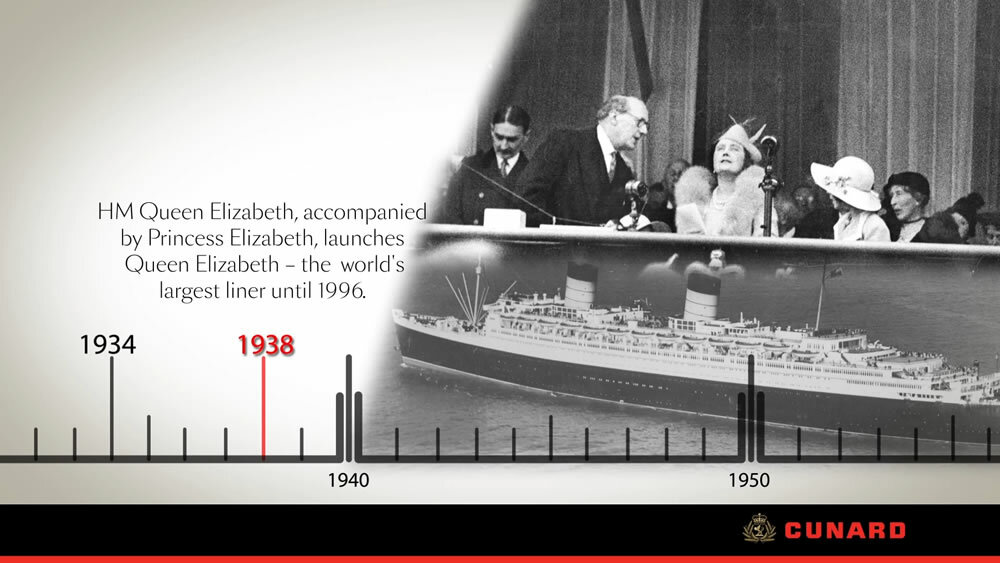 Cunard 175 year time-line video
Cunard has released a time-line video showcasing the shipping line's most iconic moments, as well as looking forward to signature 175 anniversary events taking place this year. The video depicts iconic moments from the line's past including Charles Dickens declaiming his 1842 cabin as a 'profoundly preposterous box' and Cunard's carriage of all the horses
Cunard has released a time-line video showcasing the shipping line's most iconic moments, as well as looking forward to signature 175 anniversary events taking place this year.
The video depicts iconic moments from the line's past including Charles Dickens declaiming his 1842 cabin as a 'profoundly preposterous box' and Cunard's carriage of all the horses which charged with the Light Brigade in 1853.
The five-minute video also explores how Cunard has helped shape key moments in world history, from Cunard's ship Carpathia rescuing of all of the survivors from the White Star Line's Titanic, to Sir Winston Churchill's words of esteem in thanking Queen Mary and Queen Elizabeth's troop-carrying which, in his words, "helped shorten World War II by at least a year".
In May 2015 Cunard will stage one of its most ambitious events to date, as all three Queens, Queen Mary 2, Queen Victoria and Queen Elizabeth will sail in formation into Liverpool, the spiritual home of Cunard, for the very first time. Over one million spectators are expected to line the River Mersey for the event.