Search for your ideal Cruise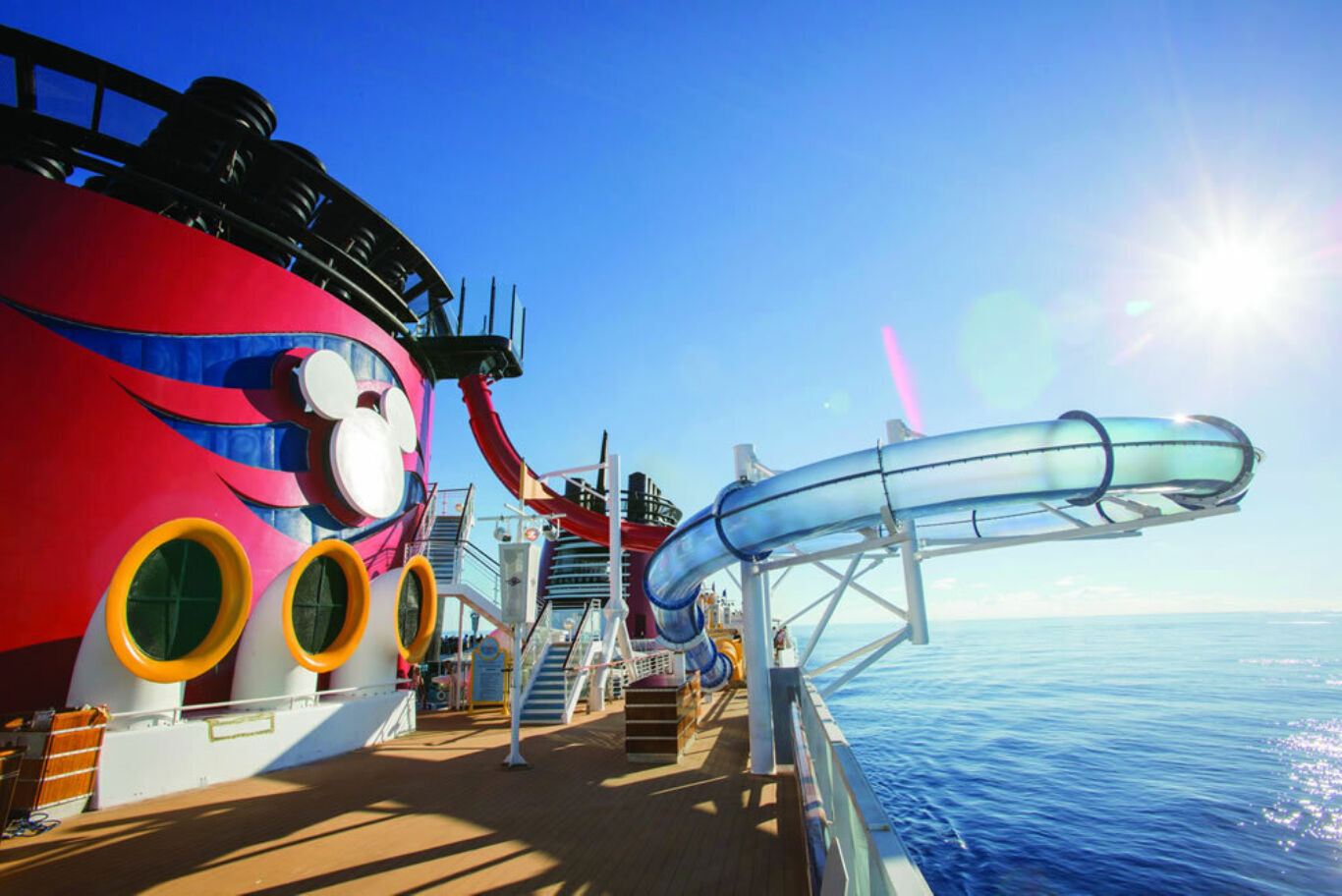 Discover why Disney Magic is not just for children
During a turnaround in Dover, we step aboard a shrine to all things Disney – and discover it's not just for the kids. Boarding Disney Magic is just like stepping into the pages of a classic Disney fairy tale, where I am instantaneously transported into a world where Mickey Mouse and his friends are brought
During a turnaround in Dover, we step aboard a shrine to all things Disney – and discover it's not just for the kids.
Boarding Disney Magic is just like stepping into the pages of a classic Disney fairy tale, where I am instantaneously transported into a world where Mickey Mouse and his friends are brought to life.
As I enter the magnificent three-deck tall atrium I feel a tremendous sense of awe and excitement. The 1920's art deco styling in this grand public space is captivating, with intricate detailing throughout, classic Disney character motifs subtlety blended into the décor, and an impressive bronze statue of 'Helmsman Mickey' as its centrepiece.
Before I arrived on board I had envisaged an extravagant, over-the-top experience designed exclusively for children. Instead this is a cosy and stylish mid-sized cruise ship with the essence of Disney woven throughout it. Disney Magic, last 'reimagined' in dry-dock back in 2013, has elegant, timeless décor, with soft creams, rich golds and dark browns perfectly complimenting the regal-coloured carpets and soft furnishings.
There are "Hidden Mickey" emblems subtly woven into a lot of the décor around the ship, providing plenty of opportunities for passengers of all ages to seek them out.
The elegance continues into the generously spacious cabins, each decorated in navy blue and royal red soft furnishings. Even an inside cabin has enough space for a double bed, a large sofa, fitted wardrobes and a split bathroom with separate toilet.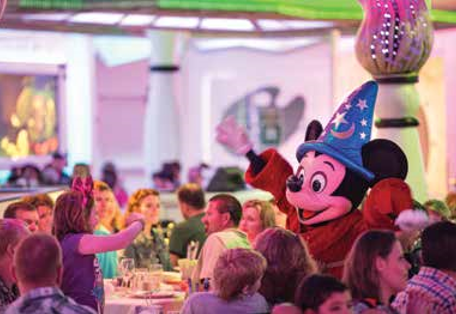 With a lack of garish interior décor you would be forgiven for assuming this is just another run-of-the-mill American-style cruise line. Disney distinguishes itself with a characteristic wow factor delivered through an army of friendly crew members which brings the entire experience to life in a very personal way. The first taste passengers get of this is when they are greeted on-board the ship in a style only Disney Cruise Line could pull off – one crew member announces over the loudspeaker "please welcome aboard the Jones family" while two lines of crew members applaud each group. This sets the tone for what would undoubtedly become a distinctive and memorable cruise experience.
When it comes to outdoor facilities three separate deck areas offer something for everyone. AquaLab is a water play area for children aged over three years and comes complete with water jets, tipping buckets and a tame, twisting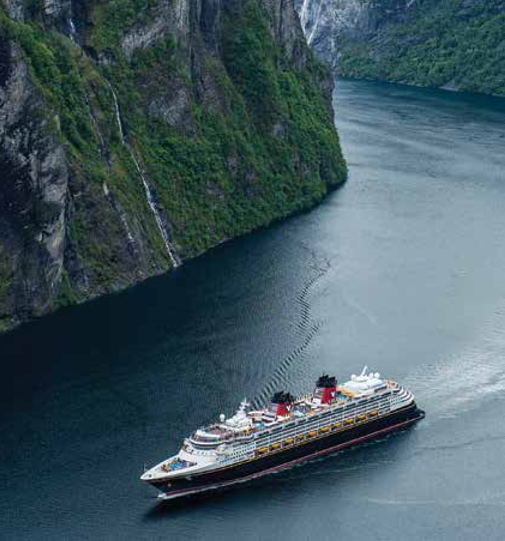 water slide. Goofy's Family Pool is the main pool area and is bordered with whirlpool tubs and sun loungers. Quiet Cove is an adults-only haven located in front of the generously proportioned Senses Spa & Salon area. Thrill seekers are also catered for with AquaDunk, a terrifying, near-vertical drop-floor water slide with a translucent clear section that extends six metres out over the side of the ship!
On the lower decks the public spaces consist of restaurants, bars and lounges, theatres, shops, adults-only spaces and children's clubs.
Disney's Oceaneer Lab and Disney's Oceaneer Club are designed for children between three and 12. The Lab is a pirate-themed room, bordered with animation, craft and gaming stations; the Club has themed zones including Marvel's Avengers Academy, Andy's Room, from the Toy Story trilogy, and Pixie Hollow is themed around Tinker Bell.
It's a Small World Nursery caters for children under three years of age at an additional charge of $9.00 (approximately £5.80) per hour for the first child, reduced to $8.00 (approximately £5.20) per hour for the second child in the same family.
D Lounge is a great space for families to enjoy together and Disney lays on a variety of interactive entertainment including game shows, dancing and singing.
Food is an important part of any cruise holiday and if the meal I devoured in the elegant French restaurant Lumiere's is anything to go by then you will certainly not be disappointed by either the quality or quantity on offer. The service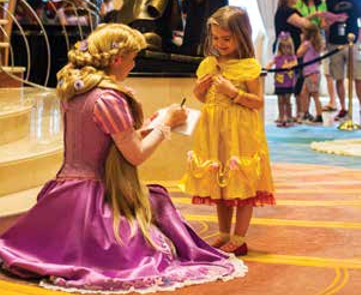 was impeccable and Captain Mickey made a character appearance, posing for photographs with diners.
My favourite main dining restaurant, Animator's Palate, offers one of the most immersive dining experiences on board. The black and white setting transforms into a technicolour world during dinner and artwork created by guests is cleverly incorporated into an exciting digital show in a way only Disney can achieve.
Disney Magic is as much a playground for adults as it is children; you don't need to be three years old to enjoy it nor do you even need to sail with children. The expansive children's club area means there are plenty of spaces that adults can enjoy too, from sunbathing by the pool to enjoying a couple's massage in the spa. All you need to bring is a fondness for the Mouse.
(Photo credit to Disney Cruise Line)