Search for your ideal Cruise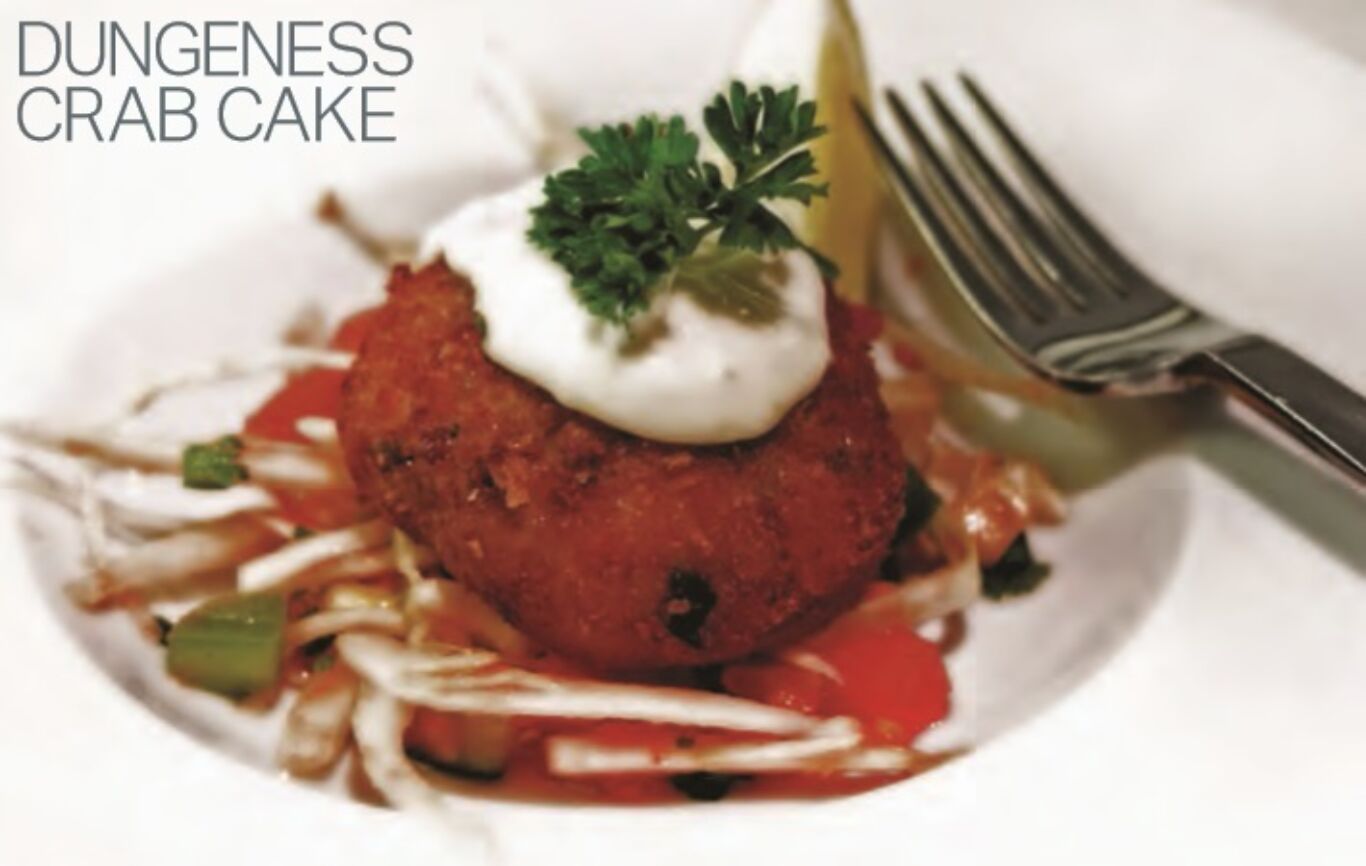 Dungeness Crab Cake
INGREDIENTS ◆ 3 oz. Dungeness crab meat ◆ 1 tbsp. chopped shallots ◆ ½ tbsp. brunoise red pepper ◆ ½ tbsp. brunoise green pepper ◆ 1 tsp. chopped parsley ◆ 1 tsp. Dijon mustard ◆ 4 tbsp. mayonnaise ◆ 4 tbsp. Panko Japanese breadcrumbs ◆ 1 ½ tbsp. lemon juice ◆ Salt and pepper to
INGREDIENTS
◆ 3 oz. Dungeness crab meat
◆ 1 tbsp. chopped shallots
◆ ½ tbsp. brunoise red pepper
◆ ½ tbsp. brunoise green pepper
◆ 1 tsp. chopped parsley
◆ 1 tsp. Dijon mustard
◆ 4 tbsp. mayonnaise
◆ 4 tbsp. Panko Japanese breadcrumbs
◆ 1 ½ tbsp. lemon juice
◆ Salt and pepper to taste
◆ 1 egg
◆ 4 fl oz vegetable oil
◆ 3 oz. shredded green cabbage
◆ 2 oz. sweetcorn (canned)
◆ 1 oz. small diced tomato (seeds removed)
◆ 1oz. tomato juice
◆ ½ oz. diced snow peas
◆ ½ oz. chopped coriander
◆ ½ piece of jalapeno pepper, minced
◆ 1tbsp. olive oil
◆ 1/2 tbsp. white vinegar
◆ ½ tsp. garlic paste
◆ 1 tbsp. whole milk
◆ 1 sprig parsley
METHOD
1 Mix the garlic paste and whole milk with 3 tbsp. mayonnaise to make garlic mayonnaise. Refrigerate.
2 Take a mixing bowl and prepare a salad by adding diced tomatoes,shredded cabbage, corn kernels, and snow peas, tomato juice, 1 tbsp. lemon juice, minced jalapenos, chopped cilantro, olive oil, vinegar, salt & pepper. Toss all the ingredients well with fingertips carefully. Keep refrigerated.
3 Heat a sauté pan, add ½ tbsp. vegetable oil and sauté the shallots and peppers until the shallots are translucent. Remove from the pan and allow to cool.
4 Drain the crabmeat and transfer to a mixing bowl. Add the sautéed onion and pepper mixture, Dijon mustard, remaining mayonnaise, remaining lemon juice, whole egg, chopped parsley, 1tbsp bread crumb and season to taste with salt and pepper. Mix all ingredients very carefully by hand, trying to keep crab pieces in nice sized chunks. Allow to rest for 10 minutes.
5 Divide the crab cake mixture into four equal portions. Coat well with the remaining breadcrumbs, shaping mixture into disks ¾" thick and about 2.5" in diameter. Put the crab cakes on a baking tray sprinkled with left-over breadcrumbs. Cover and chill thoroughly. Add the vegetable oil to a pan and shallow-fry the cakes evenly till golden or until centre temperature reaches 150°F.
6 Take four small serving bowls and arrange the salad.
Place the cooked crab cakes on top and garnish with one tbsp. of garlic mayonnaise and a sprig of parsley.