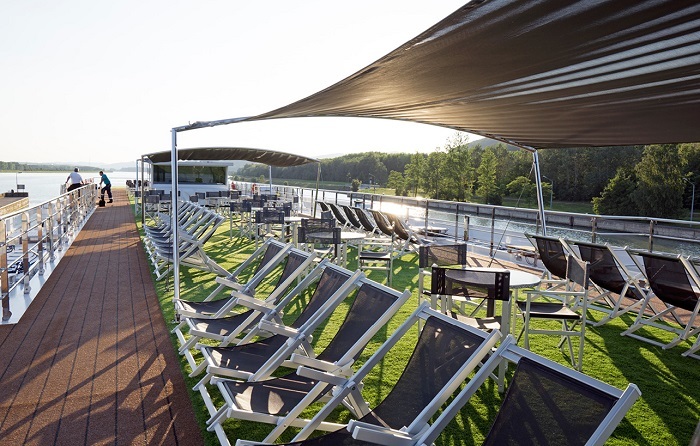 Emerald's new contemporary ships designed to attract younger passengers
It was touch and go whether the twin christening of Emerald Waterways' newest starships – Sun and Dawn – would take place in Budapest as planned on 21 August. Not because of a delay in delivery from the Dutch shipyard, but as a result of the dangerously low water levels of the River Danube. After
It was touch and go whether the twin christening of Emerald Waterways' newest starships – Sun and Dawn – would take place in Budapest as planned on 21 August.
Not because of a delay in delivery from the Dutch shipyard, but as a result of the dangerously low water levels of the River Danube.
After a long, hot and particularly dry European summer (other than in the UK, obviously), the risk was such that the brand new ships might end up grounded trying to reach the Hungarian capital. However, the day before the christening, there was an almighty storm. River levels rose dramatically just in time to keep the plans afloat.
British travel industry expert Julie Kendrick was delighted to have won the prestigious honour of becoming Godmother to Emerald Sun. The Emerald Dawn was christened by Kelly Bergin, recently appointed President of the US-based OASIS.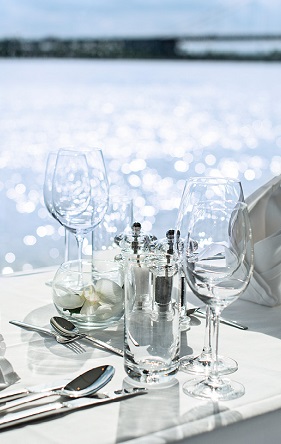 Both Champagne bottles broke with resounding smashes on the bows, witnessed by the crews standing proudly on deck and international guests made up mainly of Australians, Brits and Americans toasting the ships from the shore.
It's only two years since UK-based Emerald Waterways (known as Evergreen Waterways in Australia), first launched with Emerald Sky, christened last April by Twiggy. Emerald Star sailed into European Waterways last summer and Emerald Belle will join the fleet in 2016.
The four-star deluxe Emerald Waterways ships are the younger and trendier sisters of parent company Scenic, founded and managed by Australian husband and wife team Glen and Karen Moroney, who attended the Budapest celebration. Karen takes a personal interest in the stylish interiors of the ships and explained that there had been 70 detail changes from the original prototypes, made in response to feedback provided by passengers and crew.
Some of the key alterations include the main stairs to the Horizon Deck, which have been split so that they now have a 90 degree switch, making them less steep. The reception area is much more reminiscent of a boutique hotel than a ship, with lots of plant pots, glass and greenery, as well as eye-catching pendant lighting.
TV displays show videos, worldwide times, weather reports and the itinerary for the day ahead, while the complimentary and fast Wi-Fi available throughout is a boon for any ship.
There are 72 suites and 20 staterooms for a maximum 182 guests, including two specifically for solo occupancy and one ultra-spacious Owners' Suite. I was extremely impressed by my own Panorama balcony suite.
At a touch of a button, the upper half of the floor-to-ceiling window lowers to create an indoor balcony, where you can enjoy fresh air and riverside views from the comfort of modern, upholstered chairs on the laminatefloored deck area.
At only €5.50 for a glass of Champagne (with no extra gratuity charges), it would be rude not to, while wine and beer are complimentary during lunches and dinners served in the light and airy Terrace and Reflections Restaurants. The extraordinarily good coffee machine, which I'm led to believe cost £12,000, is well worth every penny invested, for the exceptional help-yourself cappuccinos, lattes and hot chocolates that it produces as seamlessly as any barista.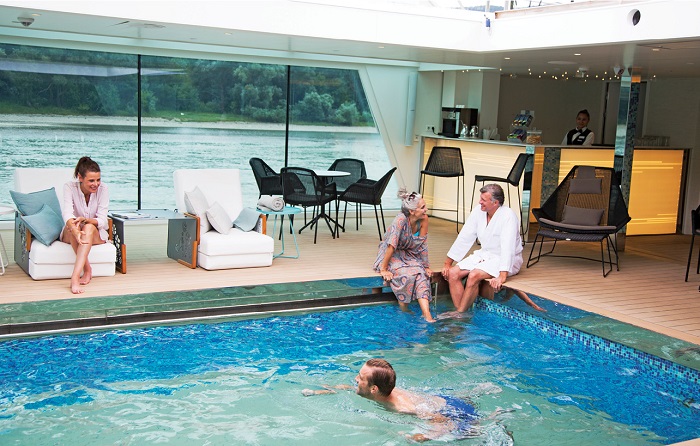 Full-length hanging space in the wardrobes for dresses and suits has been magically provided by the simple relocation of the safe and minibar, although the dress code on board Emerald Waterways is quite relaxed – smart casual during meal times with no formal nights.
A vanity area has been cleverly incorporated with a desk that folds back to provide a dressing table and mirror as well as a stool that stows away neatly underneath. There is also a useful full-length mirror on the wall behind.
In the shower room, accessed by a sliding door, additional storage has been included for toiletries next to the designer basin – not that you need to bring many as Italian Prija products are provided.
The mirrored walls help make this compact area seem more spacious, although there is not enough room for simultaneous his 'n' her brushing of teeth. On the plus side, a discreet night light gives you half a chance of not being disturbed by your partner stumbling to the loo in the early hours.
A long lie-in is facilitated by blackout blinds – if you can find them. The ones I drew at first turned out to be the transparent sunshades, so I offer my apologies to the fisherman on the riverbank who may have got more of a view than he bargained for. That's the trouble on a ship when you go to bed thinking you're in the middle of nowhere…
The outside public deck areas are fun with lots of sunbeds, free use of on-board bikes, al fresco tables and chairs, a putting green and quirky noughts and crosses – a more well-used option than the usual chess board. Below deck, there is a massage therapy room, hairdresser and gym, as well as the convivial Horizon lounge and bar – the hub of the ship.
It seems Emerald Waterways have successfully designed their state-of-the-art ships to attract those younger-than-youraverage age 55+ river cruise ship passenger. I'd be very happy to sail on their only slightly less 'all-included' and more affordable fares than Scenic (as well as many other cruise lines) on a choice of numerous eight to 17day itineraries of the Danube, Rhine, Main, Saône and Rhône Rivers. There is an exciting brand-new South-East Asia fully-inclusive cruise for 2016 through Cambodia, Vietnam and Thailand along the Mekong.
You'd most likely find me hanging out in my favourite part of the ship – the ingenious infinity heated indoor swimming pool with retractable roof, which can be transformed into a cinema after dark.
No wonder prize credits have already begun to roll for the imaginative design of these stylish ships with film star good looks and a touch of Hollywood glamour.
Fast Facts
Gratuities included.
Drinks: All tea and coffee is complimentary. beer is complimentary with lunch and dinner and costs from €3.30 per bottle outside meal times. wine is complimentary with lunch and dinner and costs from €2.70 per small glass or €5 per large glass outside meal times. cocktails: from €6.20.
Internet complimentary wi-fi throughout the ship. spa 30-minute aromatherapy massage or facial is €35.
Hair: styling shampoo and blow-dry is €30 for short hair and €35 for long hair. free extras bottled water restocked daily to cabins.
All airport transfers to and from the ship. An included shore excursion almost every cruise day. Free use of on-board bicycles. in addition, guests staying in an owner's one-bedroom suite and grand balcony suite have complimentary mini-bar and coffee machine, free laundry (four items per day), and pre-dinner canapés and after-dinner petit fours.