Search for your ideal Cruise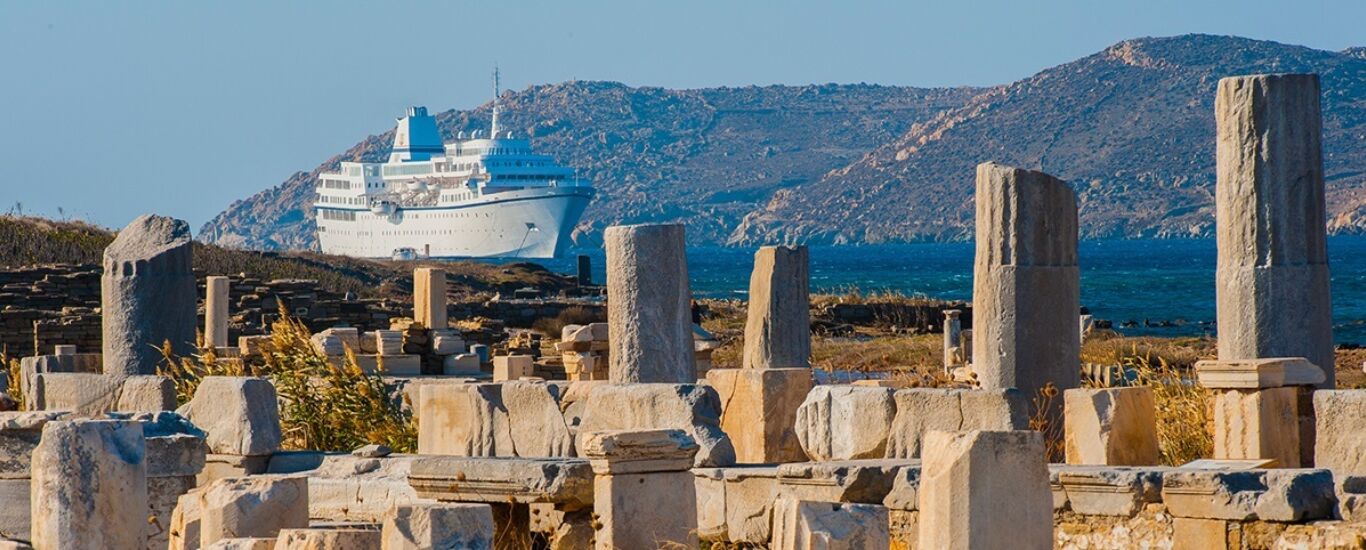 Experience the very best in award-winning, small-ship cruising
Winners of "Best for Enrichment" category at the 2016 World of Cruising Wave Awards, and "Best Specialist Cruise Line" at the 2016 British Travel Awards, Voyages to Antiquity has been voted for by our own customers for good reason. Thanks to the size of our Premium Class MV ship, Aegean Odyssey, we can take you
Winners of "Best for Enrichment" category at the 2016 World of Cruising Wave Awards, and "Best Specialist Cruise Line" at the 2016 British Travel Awards, Voyages to Antiquity has been voted for by our own customers for good reason. Thanks to the size of our Premium Class MV ship, Aegean Odyssey, we can take you to places larger vessels cannot reach.
Our aim is to bring you a unique experience by combining comfort and impeccable service with meticulously-planned itineraries to some of the most exciting and interesting ports of call in Europe, Iceland, Britain and the Mediterranean. And now, brand-new for winter 2017/18, is our just-announced programme of cruises to the Caribbean and Cuba, where we will be exploring the fascinating history or the area in a way never done before by a cruise line. We believe that your enjoyment ashore is as important as your experience on board, that's why we include, as part of the price, immersive and illuminating shore excursions at virtually every port of call.
On all of our cruises, guest speakers from a wide range of academia are an integral part of the Voyages to Antiquity experience, closely complementing the in-depth programme of tours by shining a light on the art and nature of the regions we visit. Our expert guides will then be waiting ashore to share their knowledge through our QuietVox technology, allowing you to always hear them clearly even at the busiest sites.
Our ship, Aegean Odyssey, carries an average of 350 passengers, making her ideal for those who dislike travelling with hordes of people. By day, the spacious decks provide the perfect place to unwind and watch the waves go by or, by night, to enjoy a nightcap gazing up at the stars. The Athena Health Spa and Gym is ideal for yoga and pampering, or you may simply wish to enjoy a swim in the outdoor pool.
In the evening, try a cocktail in the Lido Bar or perhaps an aperitif in the Charleston Lounge, before dining in the Marco Polo Restaurant with its casual country-club ambiance and Mediterranean-influenced food. Or try The Terrace Café & Grill which serves breakfast, lunch and traditional English Afternoon Tea, as well as our signature Tapas on the Terrace and dinner, all designed to recreate the relaxed yet sophisticated atmosphere of a Mediterranean bistro.
We're dedicated to offering our guests outstanding value for money, including all meals plus wine with dinner, and gratuities on board, overnight stays ashore, plus flights and transfers abroad as well as the highest standard of cabins, all of which feature a flat-screen television, personal safe, hairdryer and plush bedding. Most outside cabins have windows rather than portholes, and our balcony cabins offer additional comforts and conveniences. If you want to check your emails we have an optional Wi-Fi service, or you can use our internet centre.
With no-fly options now available, with sailings to and from the United Kingdom, our destinations include Ireland, France, Iceland, Portugal, Spain, Morocco and across the Middle Sea to Italy, Greece and Croatia – not to mention those all new ports-of-call in Cuba and the Caribbean, coming very soon in 2017 when once again Voyages to Antiquity will be offering you year-round cruising.
For more information and to book visit www.voyagestoantiquity.com or call 01865 410111, like us on Facebook or follow on Twitter @voyageantiquity.