Search for your ideal Cruise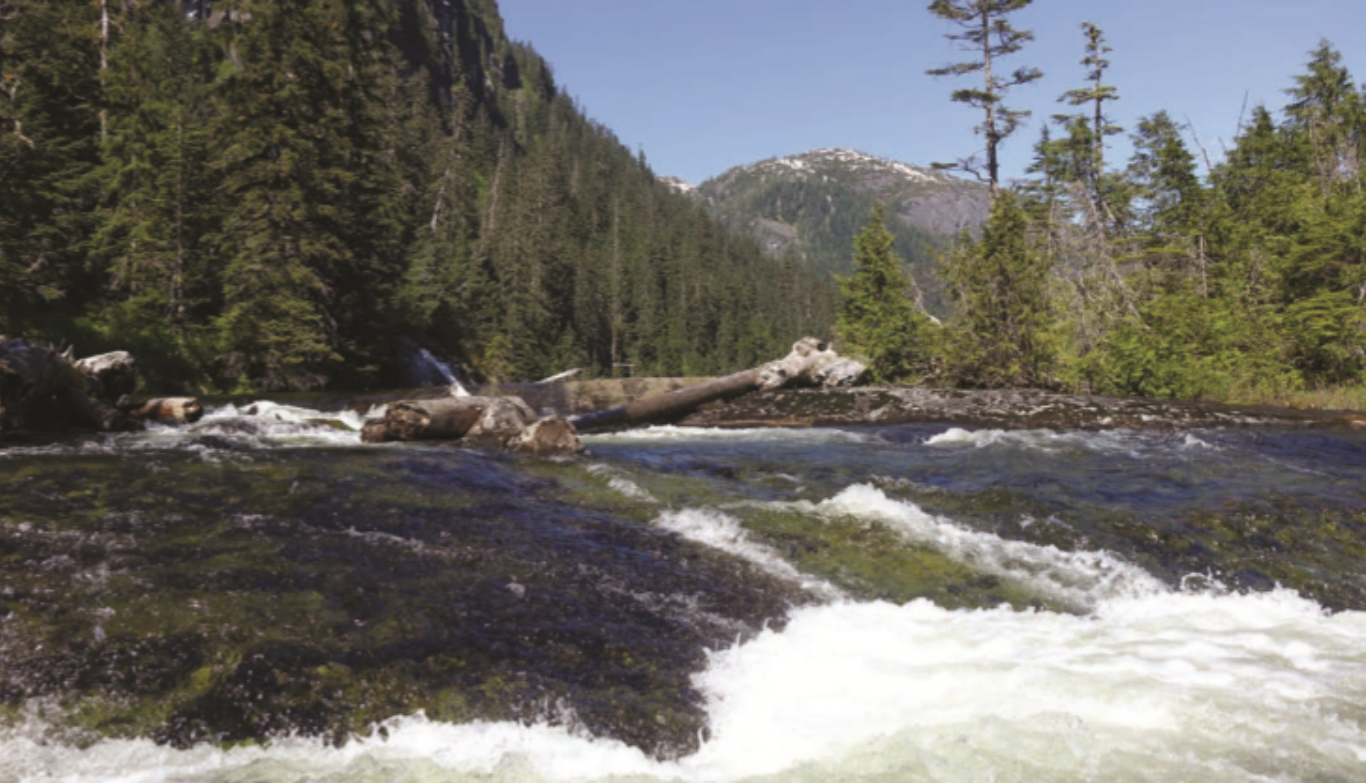 Explore the remoter parts of Alaska
If you thought cruising was all deckchairs, daiquiris and desserts, think again. There's one company that will take you to the remoter parts of Alaska – and challenge you to explore. John Roberts joined a happy band of travellers to one of the last wildernesses on earth. The footbridge ahead of me is 25 metres
If you thought cruising was all deckchairs, daiquiris and desserts, think again. There's one company that will take you to the remoter parts of Alaska – and challenge you to explore. John Roberts joined a happy band of travellers to one of the last wildernesses on earth.
The footbridge ahead of me is 25 metres long and slick with moss. It looks easy enough to cross – but it spans a chasm so deep that one false step means almost certain doom. Oh, and did I mention that it's misty? It's misty.
Travelling alone I might have turned back, but we are the Extreme Team and we never show weakness. So we take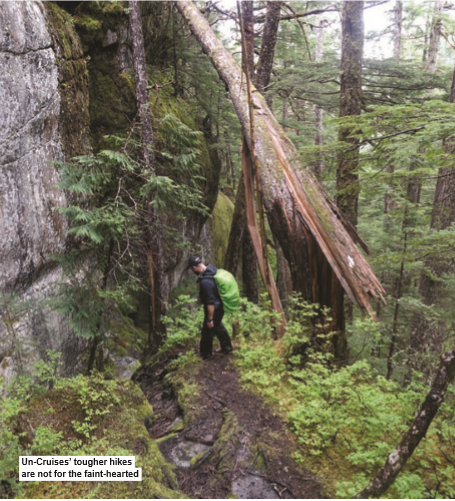 our time and pick our way across. We do the same at the next bridge, and we repeat the trick over, under or through dozens of other obstacles that Mother Nature has laid out for us in the untamed wilderness of southeast Alaska.
If you're thinking this sounds like no ordinary cruise excursion, you'd be right. I'm travelling with Un-CruiseAdventures, and never was a holiday company so aptly named.
"We know you're not here to see the boat; you're here to see Alaska," says Captain Clark Smithson, master of the Wilderness Explorer. And that's the Un-Cruise philosophy in a nutshell. Rather than enticing you to stay on board, spending dollars and gaining pounds, Un-Cruise likes its passengers to venture into the unknown and out of their comfort zones.
On this hike in Tongass National Forest, past Cascade Falls, we're definitely doing both – bounding up mountainsides, shining up log ladders and scrambling down muddy paths, treacherous with tree roots. Precarious? Yes. Worth it? Definitely.
WHEN THE GOING GETS TOUGH…
Travel for me has always been about excitement, about meeting new people and seeing new things. Combine that with the great outdoors and the chance to go running, jumping, hiking and climbing, and that's perfection. Put me with fellow travellers who enjoy the same things for the same reasons and I'm in heaven.
The Un-Cruise experience in Alaska is not for everyone, mind you. It's immersive and intense.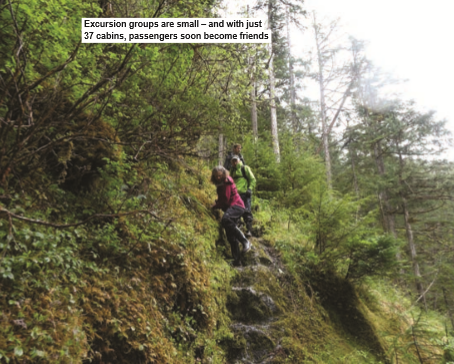 There's no internet, no phone service, and the rest of the world falls away as you sail with a small group – we were 34 passengers and acouple of dozen staff – into one of the last wildernesses left on Earth.
I don't think I've ever been more focused or lived more in the moment than in these few days, as I'm hiking, kayaking or waking up early for a workout on the top deck with a snowcapped mountain backdrop.
Each morning I open my cabin door to find a new and stunning tableau before my eyes. One day we're sailingthrough an ice-filled fjord, the next we're anchored in an eerily calm bay, sometimes in sight of whales and always greeted by a chorus of seabirds.
Each dawn brings something different but every day we share good food and stories of our wildlife sightings and our adventures. Everyone on board, including the captain and crew, has a passionate interest in nature, wilderness, animals and active travel. It's an environment that fosters bonding, and the camaraderie is almost instant.
A LIFE ON THE OCEAN WAVE
The Wilderness Explorer, our home for a week, is nothing fancy: a fivedeck vessel that can hold up to 74 passengers. But she has everything necessary for an expedition in the wilds. Because of her smaller size, you get to know all your fellow passengers well. That might not be a good thing on other ships, but Un-Cruise passengers tend to have similar interests and outlooks on life, and ourgroup gets on famously.
A main lounge and bar area, with panoramic views through large windows, is the main gathering spot for wildlife viewing, cocktail hours, informative talks and general relaxation. If you want some fresh air (and nowhere is it fresher than here) there's a spacious outdoor viewing platform, off the lounge at the bow, where you can spot seals, whales, soaring eagles, waterfalls, and glaciers – all while relaxing in a hot tub.
The open-seating main dining room offers buffets for breakfast and lunch, and dinners feature delicious and varied dishes typical of Alaska, such as fresh halibut, crab, and salmon, as well as steak, lamb and vegetarian options. The freshly baked breads and desserts are especially good.
THE ICY DEPTHS
When expedition leader Dai Mar announces the day's activities for our stop at Crow Island, there are gasps. Aside from the usual skiff tours and kayaking trips, it seems we can snorkel.
There's a chorus of incredulous voices: "Who in the world would snorkel in Alaska?" "What is the water temperature?" "What kind of gear do you wear?"
Questions are patiently answered, and then it's time for volunteers. At first there are none. And then there are three.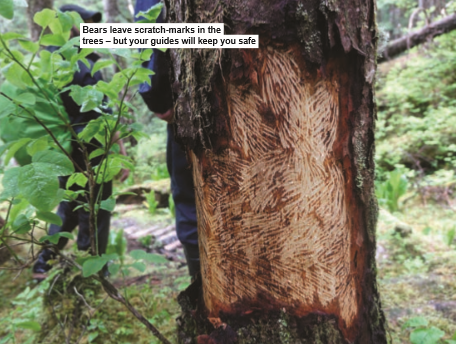 Three plucky (or foolish) souls who are going to brave the icy waters. Somehow, I'm one of them.
Next morning I join Matt – a fellow travel writer – and Ken, a keen cyclist from California, who I soon learn is up for any challenge – as we wriggle into our wetsuits (if nothing else, those photos are keepers). A short skiff ride out to a kelp-covered rock and we're there. It's too late to turn back, and the only way is in.
The water is shockingly cold, of course, but soon our wetsuits fill up
and our bodies warm the trapped water to form a layer of insulation. That's better. And the ocean is surprisingly clear. As long as we don't kick too much, we won't stir the plankton and other organisms into a cloudy soup. It's low tide and I can see about three metres down into a bizarre underworld of crabs, sea stars and puffy, plumose anemones. It's like something from the pages of a Dr Seuss book.
Dai Mar and Dan, our guides, lead the way and supply the nature notes – such as how the sunflower sea stars use their 20 arms to tear clams apart, leaving a trail of broken shells (life may be pretty down there but it's certainly no picnic).
We explore for nearly an hour before the cold begins to tell and we head back to the ship, where we are objects of curiosity for our fellow passengers ("So what was it like?") and mild celebration for our bravery (insanity).
This was the day when the Extreme Team got its name, and for the rest of our time on Wilderness Explorer we would strive to live up to it.
…THE TOUGH GET GOING
Un-Cruise offers a thoughtfully wide range of activities for its guests, and they're designed to meet most expectations and fitness levels. If you like to take it easy, try a skiff tour around the bays, coves, islands and fjords, or venture outon an easy shore walk. Feeling more motivated? Explore shorelines and open waters during a guided kayak tour. Some stops allow for solo kayaking and stand-up paddleboarding, though you're required to stay within sight of the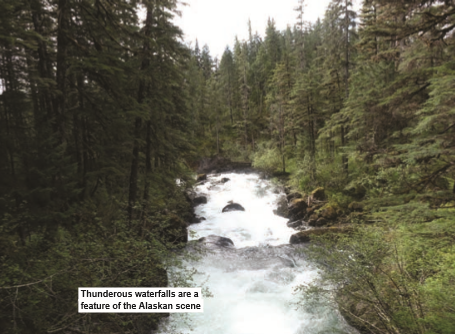 ship.
If you're a glutton for punishment, go for the bushwhacking tours or other "Hard Charger" offerings. I must admit to some initial scepticism here. On previous trips with other companies I've found that "difficult" excursions are a bit of a let-down – understandably, perhaps, given that holidaymakers aren't generally looking for a gruelling workout.
But let's put it this way: Un-Cruise mean what they say, and they expect their passengers to do the same. Sign up for a "Hard Charger" activity and you'll find it's just that: hard.
SOME LIKE IT HOT
By the middle of the voyage, having saddled myself with a quite undeserved reputation as an iron man, I am expected to sign up for every challenge going. Frankly, I'm starting to tire.
It's a satisfying exhaustion that has me sleeping soundly each night in my cosy cabin (standard staterooms arecompact with two beds) but now I need a break. So next day I pick a guided kayak tour for our morning in Mill Creek, and a hike to the top of Mount Dewey when we visit Wrangell that afternoon.
It's all relatively gentle, and a welcome chance to give my body some recovery time. Even so, I stick to my rigorous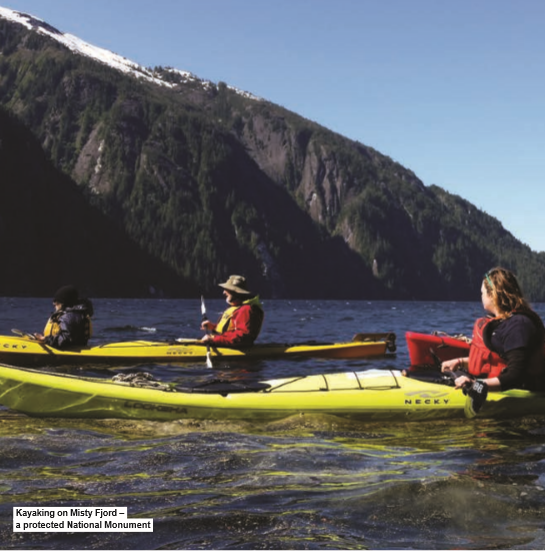 dietary regime: a cooked breakfast including a few strips of the best peppered bacon I've ever found on a cruise, and a happy-hour pint of Alaskan Brewing Co. Oatmeal Stout, served up by Spencer at the bar.
I'm sipping my beer that night as we gather for the briefing on the next day's activities. We'll be in Bailey Bay, Dai Mar says, a gorgeous spot and the last landfall before our journey's end, two days later in Ketchikan. Open sessions will allow people to try paddleboarding or kayaking at their own pace around the bay. There are skiff tours, a short walk to a lake and – yes – another Hard Charger. This time it's a hike to Lake Shelokum and beyond. A long way beyond.
Dai Mar says it won't be as difficult as that first monster hike but most people aren't taking any chances. It seems it's just the three of us again.
Sensing weakness in the Extreme Team ranks, expedition guide Ellie tests my resolve.
"You sure you'll come?" she says.
"Yeeees…" I reply, not sure at all.
"There are hot springs at the end," she says.
"I'll be there."
ALL IN THIS TOGETHER
We make it to the Bailey Bay Hot Springs without taking too much punishment – Ellie was as good as her word – and after eating lunch, I ease my aching limbs into the warm water.
For a blissful 20 minutes I lie back, enjoying my soak and taking in the scenery – mountains in the distance still frosted with snow in the second week of May, a waterfall rampaging down into the greening valley below. It's been a hard week but moments like this – and there are many of them – make it all worthwhile.
Ahead of us lies the challenging trail back to the boat, but that's fine because we'll get a second look at the tranquil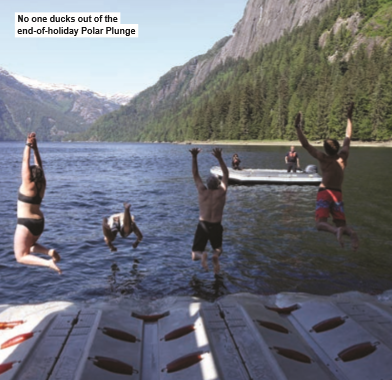 lake and another stop on the giant rocky platform so we can wander out over the massive waterfall.
It's been an amazing day, and here's an equally amazing fact about it: there may be just three of us passengers, but no less five members of the Un-Cruise staff chose to join us. That tells you everything about a company whose employees are as excited about the itinerary as its guests.
Back on board my fellow cruisers – fast becoming friends – ask how the hike went. I try to downplay its magnificence so they don't feel too bad for skipping, but I realise I'm making a poor job of it.
ANYTHING YOU CANOE…
"You'll be dropped off in kayaks from the back of the ship, which will then take off up the fjord leaving you behind…"says Dai Mar, explaining the activity planned for the last full day of our cruise.
What a way to see Misty Fjords National Monument, paddling its entire length. It's expected to be a five-mile journey, taking about three hours. Might as well finish the week by putting my body through one more test.
"Urrgh!" I hear Matt exclaim from his seat in the rear of our two-person kayak. Another wave has just poured ice-cold water into his snug cockpit. He is regretting his decision to go without a spray skirt, and I'm apologizing for suggesting he wouldn't need one. He's also wishing he hadn't let me sit up front, as 40-knot winds whip up the waves and pelt him with water from my paddle after every stroke.
This is going to be another tough assignment but, with Ellie leading the way, we brace ourselves and push through. Thirty minutes in, we aren't sure if we've actually covered any distance but we keep paddling and eventually make it to the sanctuary of a cove.
This is our first chance to appreciate our surroundings, and it's immediately obvious why Misty Fjord is protected by law as a national wilderness area. We're in a canyon of pale granite with nearvertical walls stretching 600 metres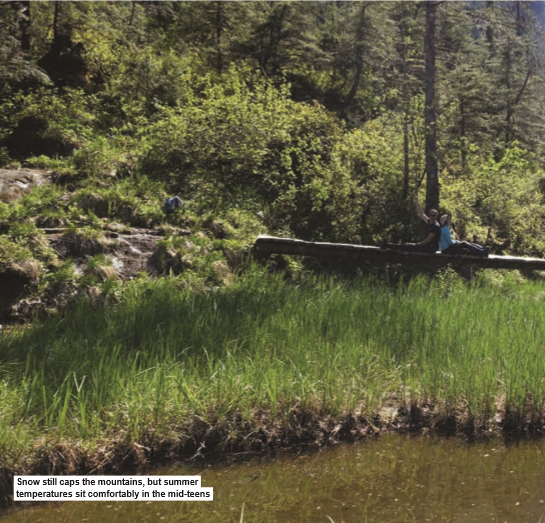 into the sky. We're bobbing in dark waters 300 metres deep. A bald eagle soars overhead.
When our paddling resumes, we aim to hold a course along the canyon walls, keeping away from the waves and wind. Matt and I are determined to finish our week of adventures strong so we settle into a rhythm and at last we seem to be making some distance.
Later – much later – we finally see Wilderness Explorer, anchored at the back of the fjord. Ellie indicates a point in the distance and tells us to aim for it, explaining that the wind and current will put us on course to reach the dock at the back of the ship.
Shoulders and arms aching, we eventually arrive, after two-and-a-half hours of frantic paddling and eight miles of choppy water (yes, eight, because the ship kept moving further into the channel to escape the wind). Tired but triumphant, Matt and I drag ourselves upstairs to the hot tub.
We're nearly done now but there's one challenge left – a ceremony to cement the bonds created during the week. This one is not to be missed, and all of us take turns launching ourselves into the 6-degree Alaskan sea. Naturally, the crew take the plunge too.
UN-CRUISE ADVENTURES WILDERNESS EXPLORER
The ship: 910 tons; 57 metres long; 74 passengers in 37 cabins, all with large viewing windows; cruising speed 11 knots; built in 1976 and refurbished in 2012; guest-to-crew ratio 3:1
Equipment: Rain gear (£17.50) and snorkel wetsuit (£20) are available to rent; all other activities/equipment included in the fare
On board: pint of beer £3.50; glass of wine £4.50; wi-fi not available
The price: Un-Cruise Alaskan adventures start from $2,295 US to $9,295 US per person, double occupancy, depending on itinerary
How to book: visit www.uncruise.com or call toll-free on 00 800 1263 9888