Search for your ideal Cruise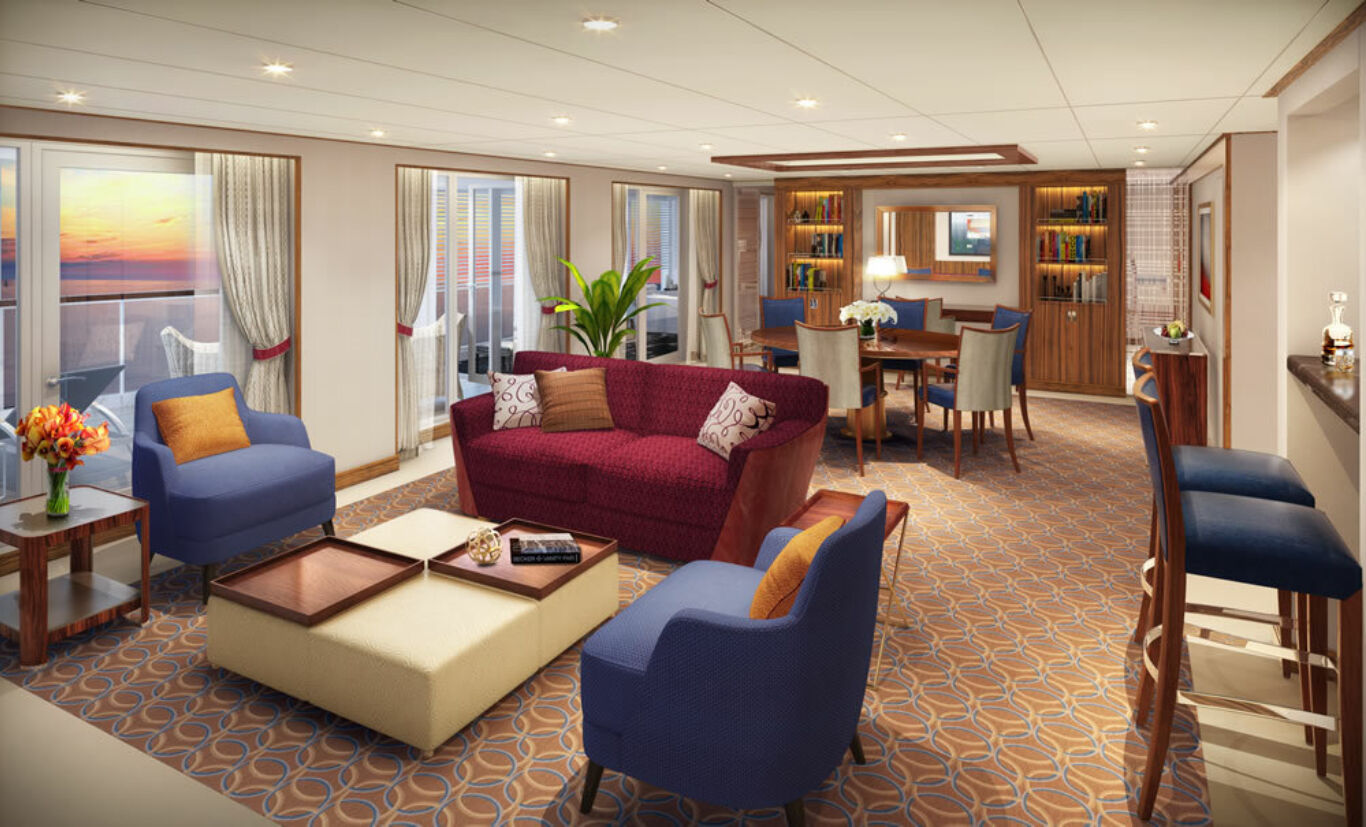 First look at Seabourn Encore's Grand Wintergarden Suites
Seabourn has released the first image of the Grand Wintergarden Suites, the most luxurious and largest suites aboard its new-build, Seabourn Encore, due to launch later this year. Located on Deck 8, each of the two Grand Wintergarden suites will provide nearly 1,550 square feet (144 square metres) of indoor and outdoor space. The suites
Seabourn has released the first image of the Grand Wintergarden Suites, the most luxurious and largest suites aboard its new-build, Seabourn Encore, due to launch later this year.
Located on Deck 8, each of the two Grand Wintergarden suites will provide nearly 1,550 square feet (144 square metres) of indoor and outdoor space.
The suites will feature large windows, two bedrooms, two bathrooms, and two private balconies, and can accommodate six people for private, in-suite dining.
The Grand Wintergarden suites will also be equipped with a pantry with wet bar and espresso machine, and three flat-screen televisions.
One of the most unique features will be a glass-enclosed solarium with a soaking tub and a daybed, an ideal spot to enjoy the sunset.
The two balconies will be outfitted with all-weather table and chairs will provide nearly 250 square feet (23 square metres) of private space.
The suite bathrooms will be furnished with a separate whirlpool tub and shower, polished stone, and mirrors. Guests will receive exclusive bath products from Molton Brown to use on-board.
Guests that book either the Grand Wintergarden suite or other premium suites will receive added amenities included in the cruise fare. These include personalised service from the Guest Service Manager, private car transfers on embarkation and disembarkation, complimentary Internet service, a daily newspaper delivered to the suite, a large tropical fruit basket, fresh flowers, an extended in-suite reference library, and more.
All suites will come with plush bathrobes and slippers; an in-suite bar stocked daily; a choice of pillows; and a flat-screen television with an extensive collection of movies, music, broadcast television and radio channels. They will also come with little extras such as a welcome bottle of chilled Champagne with canapés.
Attentive Personal Suite Stewardesses will provide personalised services during the cruise. These include providing a choice of designer soaps, drawing 'Pure Pampering' baths, managing laundry service needs, and assisting with any special requests.
Christopher Prelog, Seabourn's Vice President of Hotel Operations, said: "Seabourn Encore's Grand Wintergarden Suites will be two of the most beautiful and striking suites in ultra-luxury travel. Like a spacious vacation home, guests will enjoy the superb amenities, especially the private glassed-in Solarium with a soaking tub and lounging bed."
The interiors of the 600-passenger Seabourn Encore have been designed by renowned hospitality designer Adam D. Tihany. The 40,350 gross ton ship is based on Odyssey-class ships with one additional deck and expanded public areas.
Prices for the Grand Wintergarden Suite on the 10-night Gems of the Java Sea cruise departing on 22 March 2017 start from £15,999 per person, based on two sharing.
(Image credit to Seabourn)