Search for your ideal Cruise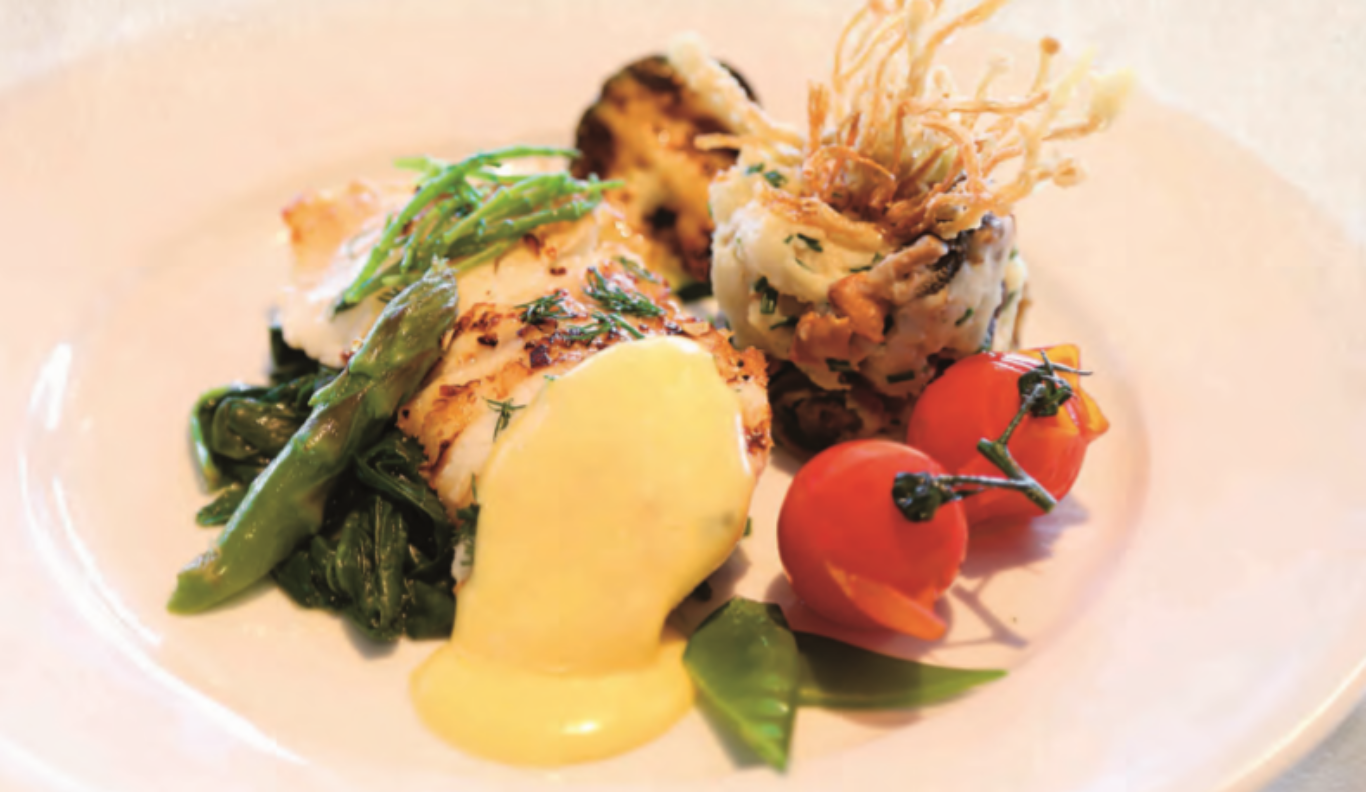 George Streeter's Recipe: Baked Norwegian fish
Baked Norwegian fish with an aquavit hollandaise sauce on wilted spinach and crushed potatoes withwild mushrooms George Streeter was able to use a wolf fish bought fresh from the market in Bergen. He says the recipe would work just as well with haddock or turbot INGREDIENTS Serves 4 4 pieces of fresh fish fillet ¼
Baked Norwegian fish with an aquavit hollandaise sauce on wilted spinach and crushed potatoes withwild mushrooms
George Streeter was able to use a wolf fish bought fresh from the market in Bergen. He says the recipe would work just as well with haddock or turbot
INGREDIENTS
Serves 4
4 pieces of fresh fish fillet
¼ lemon wedge
Sunflower oil
Fresh dill
Salt and freshly milled black pepper
8 handfuls of fresh spinach
1 small onion chopped
2 tbsp. olive oil

CRUSHED POTATOES WITH WILD MUSHROOMS
4 medium potatoes Cream Salt and pepper
50g fresh mixed wild mushrooms sliced
1 tbsp. butter
Chives

HOLLANDAISE SAUCE
3 tbsp. white wine vinegar
7 black peppercorns
1 onion slice
1 bay leaf
3 medium egg yolks
150g unsalted butter cut in pieces (at room temperature)
2 tbsp. cream
Aquavit, lemon juice, salt and pepper to taste
METHOD

Marinate the fish with the lemon, dill, oil and seasoning. Boil the potatoes until soft, crush lightly so they still have texture, add the cream and butter.

Make the Hollandaise sauce: Put the vinegar into a small pan with the peppercorns, onion and bay leaf.

Bring to the boil and reduce to 1 tbsp. liquid. Put the egg yolks into a heatproof bowl with 15g butter and a pinch of salt, beat until well-combined, then strain in the reduced vinegar.

Put the bowl over a pan of barely simmering water and whisk for 3-4 minutes until the mixture is pale and beginning to thicken.

Beat in the remaining butter, a piece at a time, until mixture begins to thicken and emulsify.

Ensure each addition of butter incorporates before adding the next.

Whisk in the cream, season and at the last minute add the aquavit to taste, keep warm.

Season, then sauté the mushrooms until just cooked and gently fold into the potatoes, keep hot.

Put the fish on a baking tray and cook for 5-8 mins in a hot oven (200° C, gas mark 6). While the fish is in the oven sauté the onion, add the spinach and season. Serve.

Aquavit
Aquavit is a Scandinavian liqueur and its name derives from the Latin aqua vitae, water of life. Popular since the 15th century, its distinctive flavour comes from herbs and spices which usually include caraway or dill.