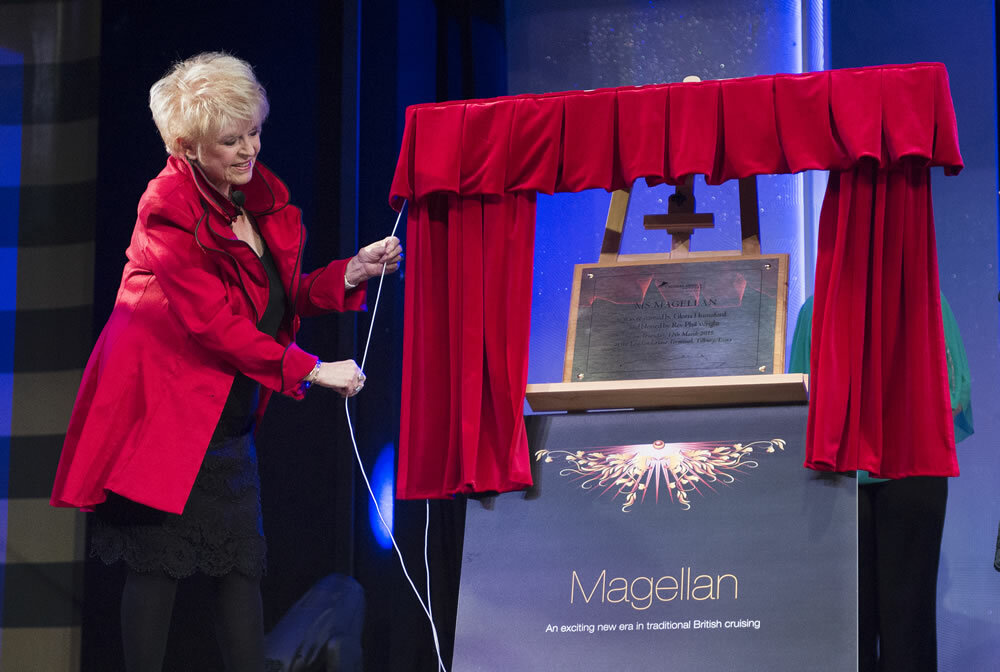 Gloria Hunniford names CMV's Magellan
Last week television personality Gloria Hunniford officially named Cruise & Maritime Voyages' Magellan. The ship arrived at the London Cruise Terminal in Tilbury on Wednesday 11 March and on Thursday Gloria Hunniford officially named the ship "Magellan" in a ceremony attended by 1,200 people from the trade and media together with CMV's most loyal customers
Last week television personality Gloria Hunniford officially named Cruise & Maritime Voyages' Magellan.
The ship arrived at the London Cruise Terminal in Tilbury on Wednesday 11 March and on Thursday Gloria Hunniford officially named the ship "Magellan" in a ceremony attended by 1,200 people from the trade and media together with CMV's most loyal customers and local VIP's, such as the Mayor of Thurrock.
During the ceremony she quipped "I would like to take this opportunity of thanking Her Majesty the Queen for being the warm up act earlier this week!" – a reference to the naming ceremony of P&O Cruises' Britannia.
Mike Hall, Head of Marketing at Cruise & Maritime Voyages, said "Judging by the very positive feedback we have received we got it about right. Guests were treated to a spectacular show by Luke Miller and Laura Robinson, one of the UK's hottest Latin American dance couples, and the wonderful voice of Yvonne Howard. All the guests enjoyed a five course meal followed by a spectacular firework display, a stunning floor show then various cabarets and entertainment. We had various look- a-likes roaming around including the Queen, Dame Edna, Del Boy, Jack Sparrow from 'Pirates' and David Beckham. Plus, caricaturists and magicians. So our busy smart phone guests have left with some memorable photos."
Two special passenger evenings were also held on-board on Friday and Saturday. More than 3,100 members of the public took the chance to go on-board and enjoy lunch and a show or dinner and show with an overnight stay.
Magellan is the latest vessel to join the CMV ocean cruises fleet which consists of Marco Polo, Azores and Astor. At 46,052 gross tons this former Carnival Cruise Lines Holiday-class cruise ship can carry around 1,250 passengers across 726 cabins over nine passenger decks. Magellan features a wide range of comfortable well-appointed lounges, panoramic seating and observation areas .
In the build-up to the event Mike Hall said "to say we are all excited is an understatement. There is something special when you see your logo on the funnel and the 'swish' on the side for the first time. Like all CMV vessels Magellan will be an adult only ship offering a traditional British cruise experience."
Magellan departed London Tilbury on her maiden voyage yesterday on a 12-night Solar Eclipse itinerary calling at the Faroe Islands, Scotland and Iceland.
World of Cruising editor John Honeywell was impressed with the spacious public areas on the ship, and the amount of open deck, saying "it will be an impressive addition to the CMV fleet". More details about his experience on-board can be found in the next issue of World of Cruising magazine.
(Photo credit to Cruise and Maritime Voyages)