Search for your ideal Cruise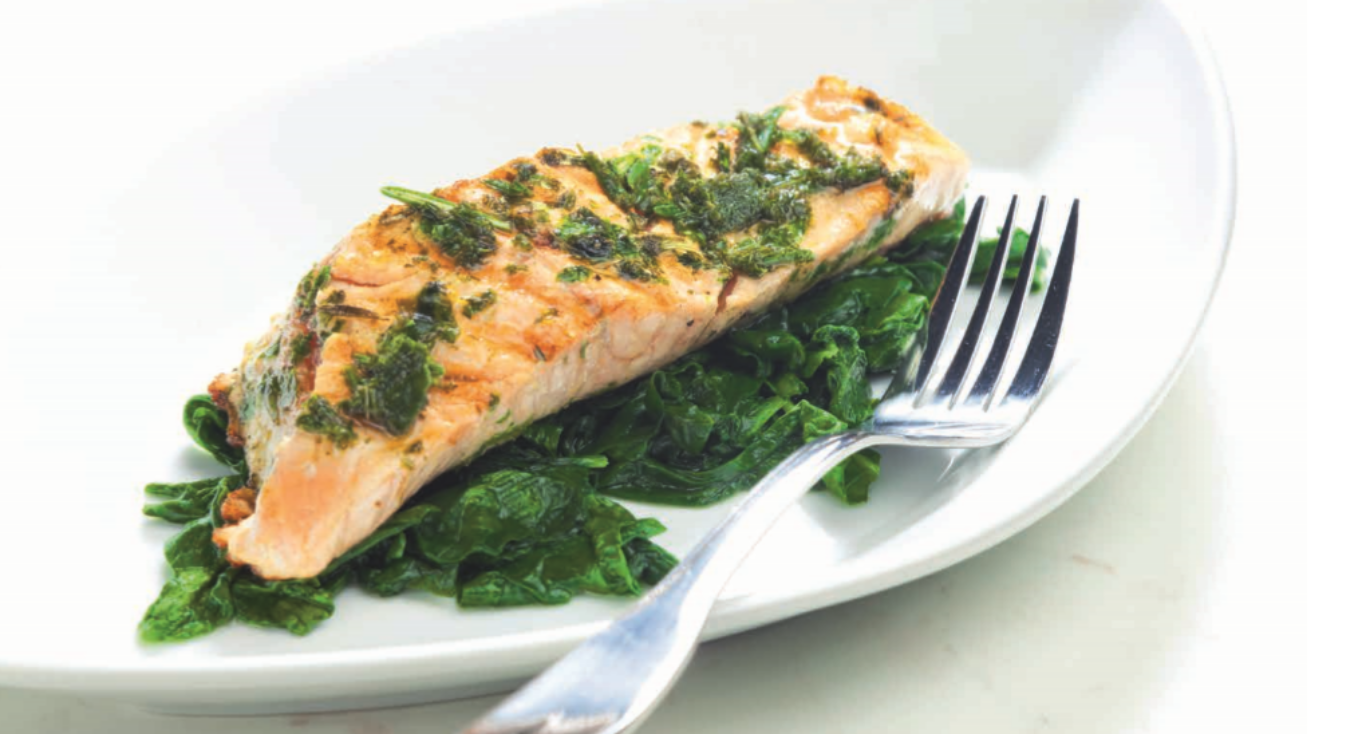 Grilled salmon with ginger-cilantro pesto
Holland America Line prides itself on serving sustainable seafood, and while cruising in Alaskan waters there's no more iconic dish than grilled salmon. The Vista Dining Room offers this version most nights. The succulent salmon is drizzled with ginger-cilantro (coriander) pesto and served with basmati rice, garlic cherry tomatoes and a lemon wedge Ingredients: Serve
Holland America Line prides itself on serving sustainable seafood, and while cruising in Alaskan waters there's no more iconic dish than grilled salmon.
The Vista Dining Room offers this version most nights. The succulent salmon is drizzled with ginger-cilantro (coriander) pesto and served with basmati rice, garlic cherry tomatoes and a lemon wedge
Ingredients: Serve 4
Method of Preparation
– 1.00 oz (1 cup) chopped coriander leaves (cilantro)
– 2.00 oz (½ cup) chopped spring onions
– 1.75 oz (1/3 cup) roasted, salted macadamia nuts
– 1.00 oz (¼ cup) chopped fresh ginger
– ¼ tsp cayenne pepper Olive oil as needed
– Kosher salt to taste
– Black pepper to taste 4 salmon fillets,
– 6 oz or 170g each Chef's Promise (or other) fish rub as desired 1 minced garlic clove 3 bunches watercress, stems trimmed, washed
-Combine first 5 ingredients in food processor. Blend until nuts are finely chopped. Add 6 tablespoons oil and process until well blended. Season with salt and pepper.

-Brush salmon with oil and sprinkle with salt and pepper to taste. Grill salmon on an oiled rack until just cooked through, about 5 minutes on each side.

-Meanwhile, in a large heavy skillet sauté the garlic in the olive oil over moderately high heat for 30 seconds, or until it is fragrant.

-Add the watercress, and stir the mixture until it is combined well.

-Sauté the watercress, covered, for 2 to 3 minutes, or until it is just wilted, and season it with salt and pepper.

-Place sautéed watercress in the center of plate. Top with the salmon and spoon pesto around.
Serve with basmati rice. Garnish with garlic cherry tomatoes and lemon wedge.