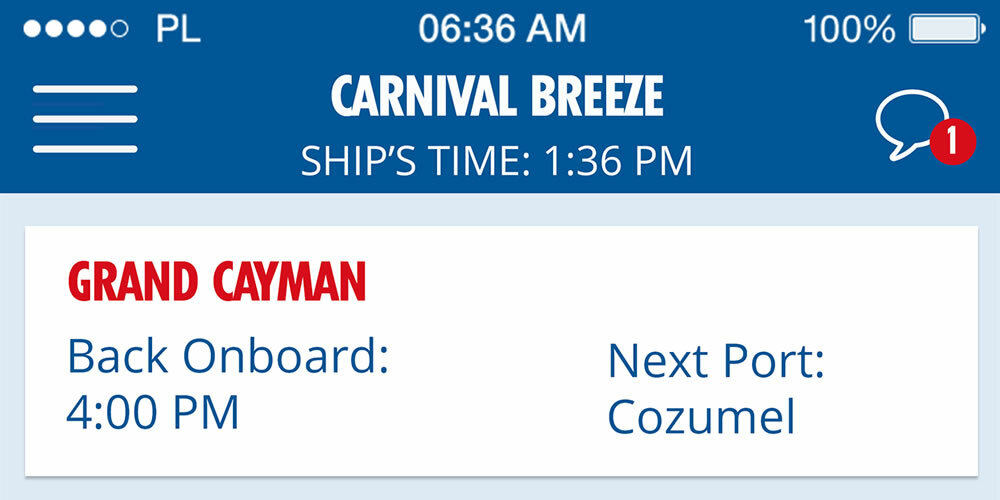 Guide to cruise line smartphone apps
Smart phones and devices such as tablets and iPads make it easy to stay connected with friends, family, and our favourite brands; now we can stay connected with our favourite cruise lines too. Some mobile applications are interactive versions of websites but others, especially the ones specifically developed for use on board, offer a little
Smart phones and devices such as tablets and iPads make it easy to stay connected with friends, family, and our favourite brands; now we can stay connected with our favourite cruise lines too.
Some mobile applications are interactive versions of websites but others, especially the ones specifically developed for use on board, offer a little extra, and are packed with tools and features to plan every aspect of a cruise: make dinner reservations, book shore excursions, check the on-board account, and navigate around the ship with built in deck plans. Passengers have the ship in the palm of their hand.
Other applications are designed to help banish those cruise blues when not sailing, by offering a browse-and-book function. Search by destination, date, ship, or departure port. View webcams and stateroom descriptions. Find the ideal cruise, then call reservations directly or secure a cabin in just a few clicks.Some of the apps developed for use on-board connect to the ship's Wi-Fi and can be used free of charge – this does vary per cruise line so be sure to check before connecting.
Carnival Hub
Currently available aboard Carnival Breeze – fleetwide within 24 months – the Carnival Hub app lets you view deck plans, itinerary details, a day-by-day schedule of on-board events, and live information on your Sale & Sign account.
Celebrity Xplorer
With Celebrity Xplorer iPhone users can discover everything that Celebrity Cruises has to offer and in just a few swipes. Search by ship, destination, departure port or sail date.
Cruise Norwegian
Cruise Norwegian is available anywhere but is currently only for iPhone users. Browse ship information including deck plans, stateroom descriptions and frequently asked questions.
Disney Cruise Line Navigator
Let your Disney dreams come true via Android and iPhone. This magical on-board app lets you see what is happening every minute of every day – even letting you save your favourite activities to one convenient list.
MSC Cruises Holiday & Travel
Available on iPhone and Android, the MSC Cruises Holiday & Travel app is perfect for planning your next 'Med Way of Life' adventure. Receive special offer notifications, browse destinations and itineraries, take a virtual ship tour, and even see where in the world your favourite ship is via the live webcam feature.
Norwegian iConcierge
Available aboard Norwegian Epic, Norwegian Breakaway, Norwegian Getaway, Norwegian Pearl, Norwegian Jewel and Pride of America. Reserve shore excursions and a table at your favourite on-board restaurant, see what activities are taking place during the day, and communicate with friends on-board via the built-in messenger function – available at an additional cost.
Princess@Sea
The award-winning Princess @ Sea app gives guests the ability to browse restaurant menus, check their on-board account, pick through the days selection of activities and entertainment, and find things to do in port with the informative port guides.
Royal App
The Royal App is available anywhere via iPhone and Android and is the perfect tool to help find your ideal Royal Caribbean cruise. Features include a cruise search function, cruise deals, detailed deck plans and the ability to search numerous destinations.
Royal iQ
A new generation of on-board app for iPhone and Android is found in Royal Caribbean International's, Royal iQ aboard Quantum of the Seas and Anthem. With easy navigation, it is intended to make booking shore excursions, managing Dynamic Dining reservations and customising your cruise experience all possible in just a few taps.
Find out more about these apps in Danielle Fear's guide to cruise ship apps in the April/May 2015 edition of World of Cruising magazine available here. You can subscribe to our cruise magazine here.