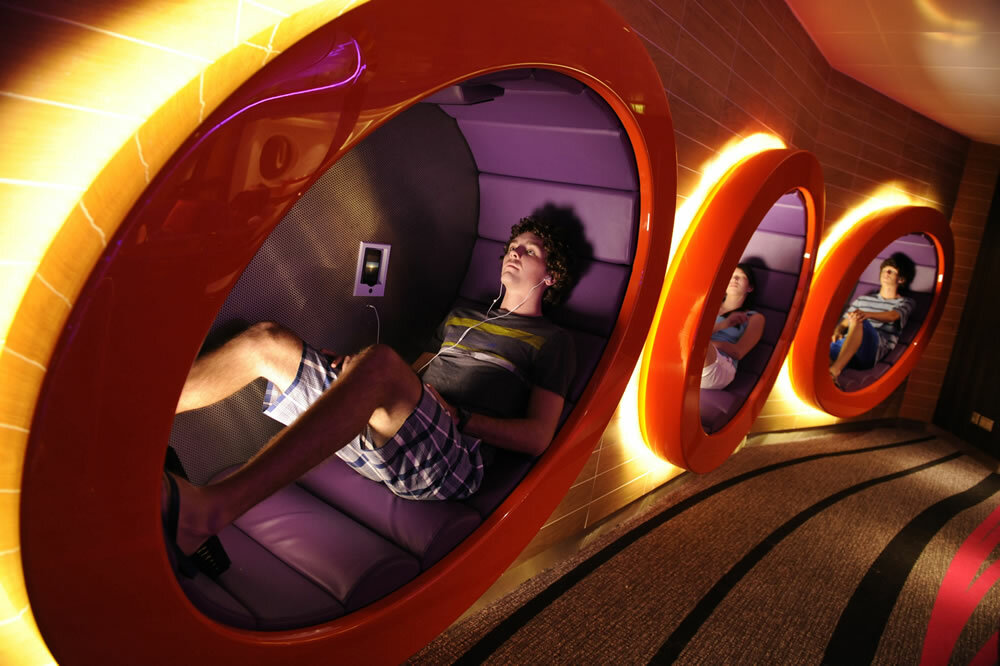 Guide to kids' clubs on cruise ships
For young cruisers the children's clubs cruise ships are places to have fun, make new friends and most importantly enjoy time away from their parents! David Fiske takes a look at the variety of supervised children's clubs available. Carnival Cruise Line Camp Ocean offers a range of age-appropriate activities designed around the themes of oceans
For young cruisers the children's clubs cruise ships are places to have fun, make new friends and most importantly enjoy time away from their parents! David Fiske takes a look at the variety of supervised children's clubs available.
Carnival Cruise Line
Camp Ocean offers a range of age-appropriate activities designed around the themes of oceans and marine life. Circle "C" is a supervised hangout offering activities such as dance parties and fun games. Older teens in Club O2 can enjoy similar activities as well as sports, video games and even pool parties.
Celebrity Cruises
Children in the Fun Factory children's club can participate in a variety of games, sports, crafts, music, karaoke, treasure hunts, themed parties, movies and more. Teens have the X Club which offers a social space complete with gaming consoles, sports activities, and late night dances.
Costa Cruise
Costa Cruises operates club sessions catering to four age groups. Each club offers activities including arts and crafts, games, sports and parties.
Crystal Cruises
Crystal Cruises offers a range of supervised activities across three age groups including games, crafts, video games, cookery, movies, sports and more. Teens can also access a video arcade.
Cunard Line
The Play Zone offers an arts and crafts corner, building blocks, toys, puzzles and board games. The Kids Zone offers gaming consoles, sports competitions, arts and crafts and karaoke whilst teens in The Teen Zone can enjoy table tennis tournaments, deck sports, discos, and quizzes.
Disney Cruise Line
Disney offers two venues for children aged three to 12; the Oceaneer Club and the Oceaneer Lab. These both offer supervised activities but in different themed spaces. Edge offers video games, television, and music as does Vibe but this is exclusively for teens.
Fred. Olsen Cruise Lines
Fred. Olsen Cruise Lines operates a supervised children's club during Easter, summer holiday, and Christmas cruises and on mini cruises subject to a minimum number of children on-board. These offer a range of activities including games, contests, scavenger hunts, sports, arts and crafts, cooking and parties.
Hapag-Lloyd Cruises
Children aged between four and 10 can enjoy handicrafts, painting, playing and reading in the Kids Club. Meanwhile teens can enjoy chilling with friends, playing on games consoles, sports and reading.
Holland America Line
Children's clubs are offered to children aged two to 17 with each group enjoying a selection of age appropriate activities including treasure hunts, cookery demonstrations, sports, crafts and parties. The exception is ms Prinsendam which offers different youth activities for children aged fi ve to 17. The Loft is also unavailable on this ship.
MSC Cruises
MSC Cruises offer several children's clubs for kids aged three to 17. The clubs run from 9am to 10pm and run age-appropriate activities including parties, live shows, arts and crafts lessons, sports tournaments and more.
Norwegian Cruise Line
In the Splash Academy children can learn circus skills, enjoy educational arts and crafts sessions, and compete on the Wii™ wall. Entourage is the programme for teenagers where they can enjoy a range of active sports, enjoy parties and chill out in the lounge.
P&O Cruises
The Reef children's club is split into four age groups and each offers a range of fun activities and games within a dedicated space on-board.
Princess Cruises
Children are kept busy with a range of age-appropriate activities including games, arts and crafts, educational workshops, scavenger hunts, and parties. Pacific Princess and Ocean Princess do not have dedicated Youth and Teen facilities and only offer youth programmes when 20 or more children are sailing on-board.
Royal Caribbean
The Adventure Ocean programme offers fun activities for all age groups with a focus on educational activities. Teenagers benefit from a teen-only space and can enjoy sports, movie nights and pool parties in their clubs.
Thomson Cruises
Thomson Cruises offers three kid's clubs to cater for three to 11 year olds, complete with arts and crafts, themed parties, treasure hunts and more.
For full details of each of the children's clubs on offer read the full article in the April/May 2015 edition of World of Cruising magazine available here. You can subscribe to our cruise magazine here.