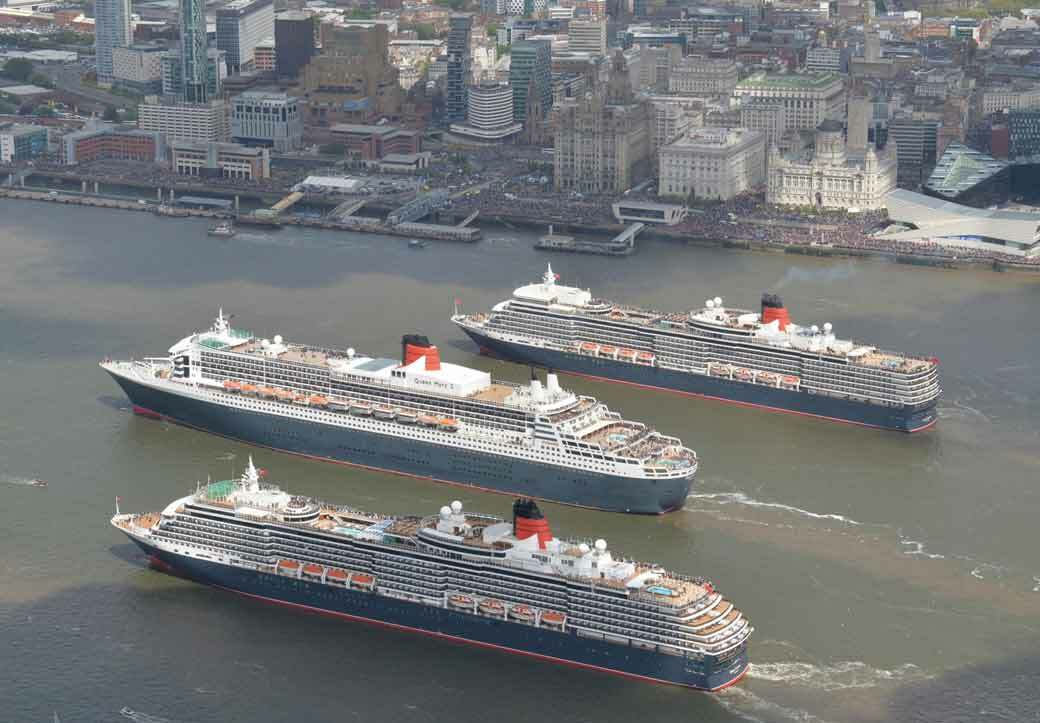 Historic Mersey gathering of 3 Cunard Queens is watched by a million
From the beaches at Crosby and New Brighton to the Mersey Ferry terminals in Birkenhead and at Liverpool Pier Head, a sea of humanity gathered to watch Cunard's Three Queens sail in history-making procession up the river. The final pas de trois, as the ships performed a synchronised ballet spin mid-river, was topped off with
From the beaches at Crosby and New Brighton to the Mersey Ferry terminals in Birkenhead and at Liverpool Pier Head, a sea of humanity gathered to watch Cunard's Three Queens sail in history-making procession up the river.
The final pas de trois, as the ships performed a synchronised ballet spin mid-river, was topped off with a flypast by the Red Arrows, trailing red, white and blue smoke behind them.
The event, to mark Cunard's 175th anniversary in the port it first called home, was watched by up to a million spectators over the Bank Holiday weekend.
Flagship Queen Mary 2 had arrived at her Liverpool berth on Sunday morning and left at 10.45 on Monday to greet her sisters, Queen Elizabeth and Queen Victoria at the mouth of the Mersey.
Escorted by firetugs sending jets of water high in the air, the three ships sailed in close single file up the river to the city's Three Graces – the Royal Liver Building, The P:ort of Liverpool Building, and the Cunard Building..
Just 400 metres apart, they performed their 180-degree pirouette, and then the two smaller ships pulled alongside Queen Mary 2 as they sailed in arrowhead formation. They were just 130 metres apart when the Red Arrows flashed overhead for a once-in-a-lifetime moment to remember.
Christopher Rynd, Commodore of the Cunard fleet, said: "It has been a privilege to bring the fleet together on the Mersey for the first time ever to mark Cunard's 175th anniversary year and our historic partnership with our spiritual home.
"The spectators have been amazing and the numbers extraordinary – all the way from the mouth of the Mersey to Pier Head, we have seen such enthusiastic crowds."
Cunard Director Angus Struthers added: " All of us have been touched by the fantastic reception the Three Queens have received from the people of Liverpool and beyond. It feels like 175 years of stories, people and history linking Cunard to the city have really come alive. With the Red Arrows flypast adding an amazing extra 'wow', it's been the sort of day we hope parents and grandparents will remember with their children and grandchildren in years to come. "
At a civic dinner on board Queen Mary 2 on Sunday evening, Cunard was given the Freedom of the City of Liverpool and in return presented the city with a Robert Lloyd oil painting imagining the QM2 and Cunard's first ever ship, Britannia, in front of the Liver Building.
Picture: James Morgan