Search for your ideal Cruise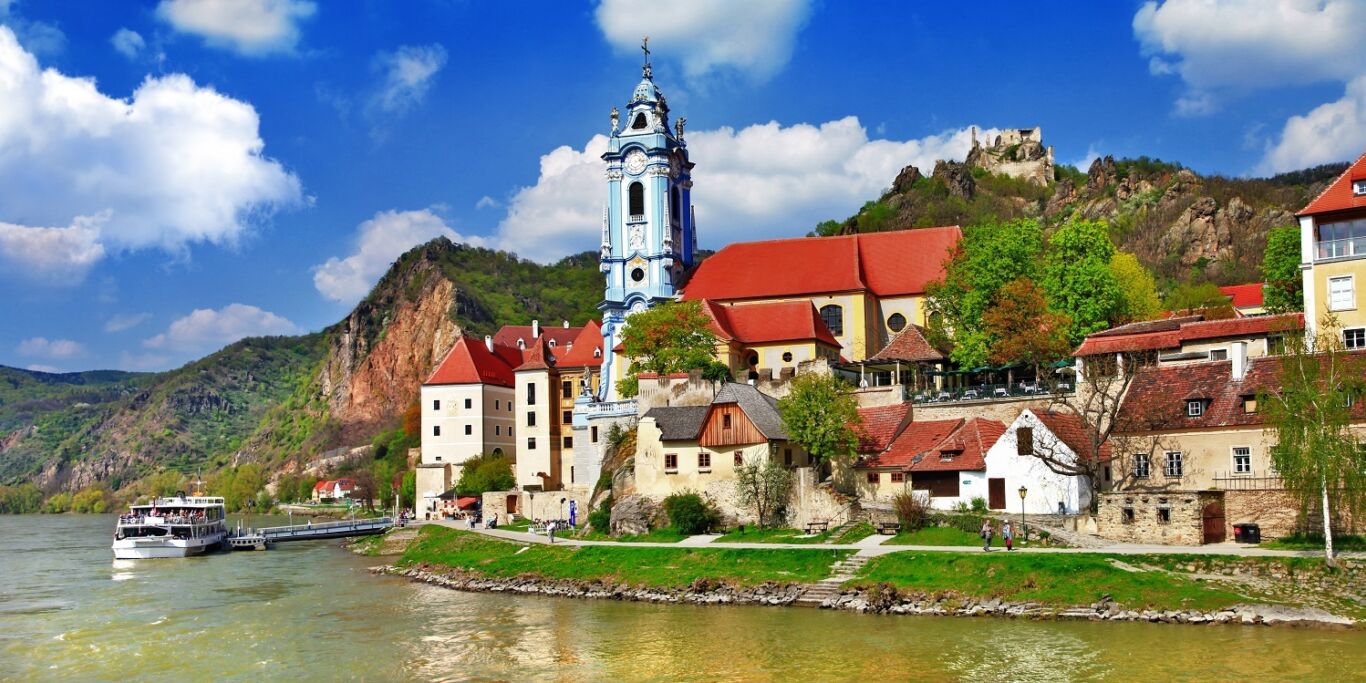 Into the Blue
As an introduction to river cruising, the Danube hits all the right notes. Ever heard the song called "Messing About On The River"? That gentle refrain has lingered in my head since childhood, and I'd remember it each time I saw one of those TV ads with a glass-sided boat slipping silently along some grand European waterway.
As an introduction to river cruising, the Danube hits all the right notes.
Ever heard the song called "Messing About On The River"? That gentle refrain has lingered in my head since childhood, and I'd remember it each time I saw one of those TV ads with a glass-sided boat slipping silently along some grand European waterway.
This, I always thought, looked a lovely way to spend time, but somehow I never got round to trying it. Then the chance came up to join an APT river cruise on the Danube. With my sister (and fellow river-cruise virgin) Kristina as my travelling companion, I grabbed it with both hands.
APT stands – a little unexpectedly – for Australian Pacific Touring. The company started with bus tours Down Under nearly a century ago but in 2005 it brought its wealth of experience to Europe's rivers. Kristina and I would be joining the last stretch of a cruise that starts in Amsterdam and takes two weeks to wend its way down the Rhine to Cologne and the beautiful Rhineland, before cutting across by canal and joining the Danube as it flows southeast to Budapest in the very heart of Europe.
Our first thoughts on stepping aboard the AmaVenita? This is a boat that unashamedly puts comfort before style. The soft furnishings in the bars and restaurant are all swirly patterns in turquoise and green, and the effect is something of a Seventies flashback. But who wants minimalism on holiday? Not us.
The dining room strikes a real note of middle-European elegance, all plush banquettes and wraparound seats that you sink into as you tuck into fine cuisine. And – oh joy! – there's free dining, with no time slots, restrictions or allocated tables, and no being saddled with dull company for the duration.
On our first evening, we dine in the Chef's Table restaurant, enjoying five courses and a wine-tasting talk by Tom Hardy (a scion of the Australian grape-growing dynasty and not, as we had secretly hoped, the dishy actor).
With a nightcap in the lively bar to round off the night, it feels like a fine way to start our holiday.
Next day we cruise through the famously picturesque Wachau Valley. The banks of the Danube are a mere 200 metres apart here; cowbells tinkle in the distance and ancient towers peep out from the orchards and vineyards on either side of us, speaking of centuries of history.
At our first mooring, a 20-minute walk up ancient steps brings us to magnificent Melk Abbey, for more than 1,000 years one of the most important cultural centres in Austria. It began as a seat of the noble Babenberg family before it passed into the hands of the Church as a Benedictine monastery in 1089. Monks still occupy it today, running a prestigious school and maintaining one of the world's oldest libraries (which just happened to inspire Umberto Eco to write The Name Of The Rose).
From the scholarly gloom of the library, we step out onto a wide terrace with glorious views of the valley below, where steeply terraced vines melt into medieval villages, the green expanses punctuated by brilliant splashes of scarlet geraniums.
Our next port of call is Durnstein where, at Kuenring Castle, Richard the Lionheart was imprisoned and held to ransom on his way home from the Crusades.
The specialities of the Wachau are wine and apricots, from which the locals make a powerful but flavoursome brandy. There are any number of shops where we can sample both (while for those who prefer exertion to indulgence, Durnstein also offers a range of cycling routes through the valley).
The afternoon brings a change in our mode of transport. The Imperator (or Majestic Imperator Train de Luxe, to give it its full title) is Belle Époque elegance on rails, and it conveys us into the heart of what is arguably Europe's most elegant city for a tour of its most famous sites.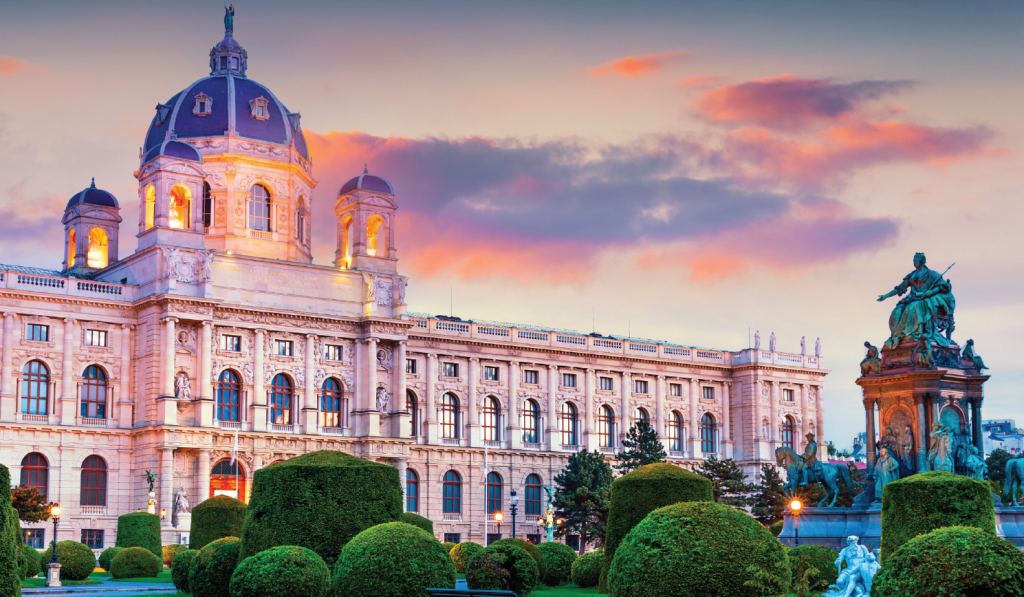 Though it was once the capital of a great empire, Vienna is surprisingly compact. All the famous sights – the Stephansdom cathedral, the Opera House, the Spanish Riding School and enough grand architecture to bring on severe palace fatigue – are within the Ring, the city's ring road. It is easy to explore on foot, though the city also has an excellent tram and metro network to reach the more peripheral attractions such as the spectacular Schönbrunn, the riot of baroque and rococo styles that was home to the Hapsburgs.
The highlight for us was the Spanish Riding School, which allows visitors inside to see the famous white Lipizzaner horses go through their morning training sessions. Making sure to arrive good and early, we take our seats to watch these noble beasts – all stallions – practice their dancing, prancing, leaping and loping, in what amounts to a grand, sand-strewn ballroom lit by chandeliers. And all to the music of Viennese waltzes, naturally.
Two other Viennese experiences not to be missed are a slice of Sachertorte at the hotel opposite the Opera House, where the famous cake was invented, and a musical performance. During our journey on the Imperator we were entertained by singers performing well-known favourites from opera, Austrian folk songs and even The Sound of Music (which, curiously, was a hit everywhere except Austria, although they weren't slow in exploiting its appeal to tourists).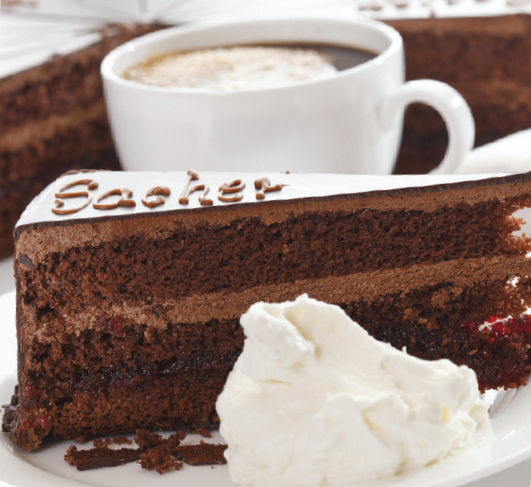 But Vienna has produced many of the great masters, including Strauss, Schubert and Mozart (who lived and worked here, though he was born in Salzburg). Even if you don't think you like classical music, you simply must take the opportunity to hear top-class musicians and singers in a setting that Marie-Antoinette (born a Hapsburg) would not have disdained.
For us cruisers, APT had arranged a superlative treat: a concert by the Viennese Imperial Orchestra in the baroque splendour of the Liechtenstein City Palace. After which, with tunes ringing in our ears, it was time to return to the AmaVenita and another peaceful night gliding along the Danube towards Budapest, our final stop.
We awoke next morning to blue skies – a welcome sight for the first time in our trip – and the hint of a skyline that grew steadily more spectacular as we approached.
Arriving into Budapest by water is a truly unforgettable experience. The cruise dock is right in the centre, with the hills of Buda to the right and the gothic splendour of the Hungarian parliament to the left. I had been to the city before but had never seen it look as lovely as it did from the lapping waters of the Danube.
With our first taste of river cruising nearly over, it was time to consider our verdict. "Loved it," said Kristina.
"There's always something to look at on the bank, even if it's just people going about their daily lives. You feel part of the activity but you enjoy it in absolute comfort. And you can't get seasick."
Amen to that. I have to add that AmaVenita isn't the perfect ship – the "library" turned out to be two shelves of books and a few board games at one side of the bar, and the gift shop needs a serious restock with useful items such as toothpaste rather than knick-knacks. But these are minor quibbles. The crew, mostly from eastern Europe, were friendly without being over-familiar, always available to help with a query yet never intrusive, and all impeccably drilled and dressed. Add to that the pleasure of unpacking once and then relaxing while the captain moves the scenery past your window, and I'd say those TV ads don't do river cruising justice. Now I've tried it, I can tell you that there really is nothing better than messing about – or eating, or drinking or simply gazing – on the river.
BOOK IT
15 days Amsterdam-Budapest aboard AmaVenita, departures in May and June 2017 from £3,895 per person (meals, drinks, excursions, tips, return flights from the UK and airport transfers all included). See aptouring.co.uk