Search for your ideal Cruise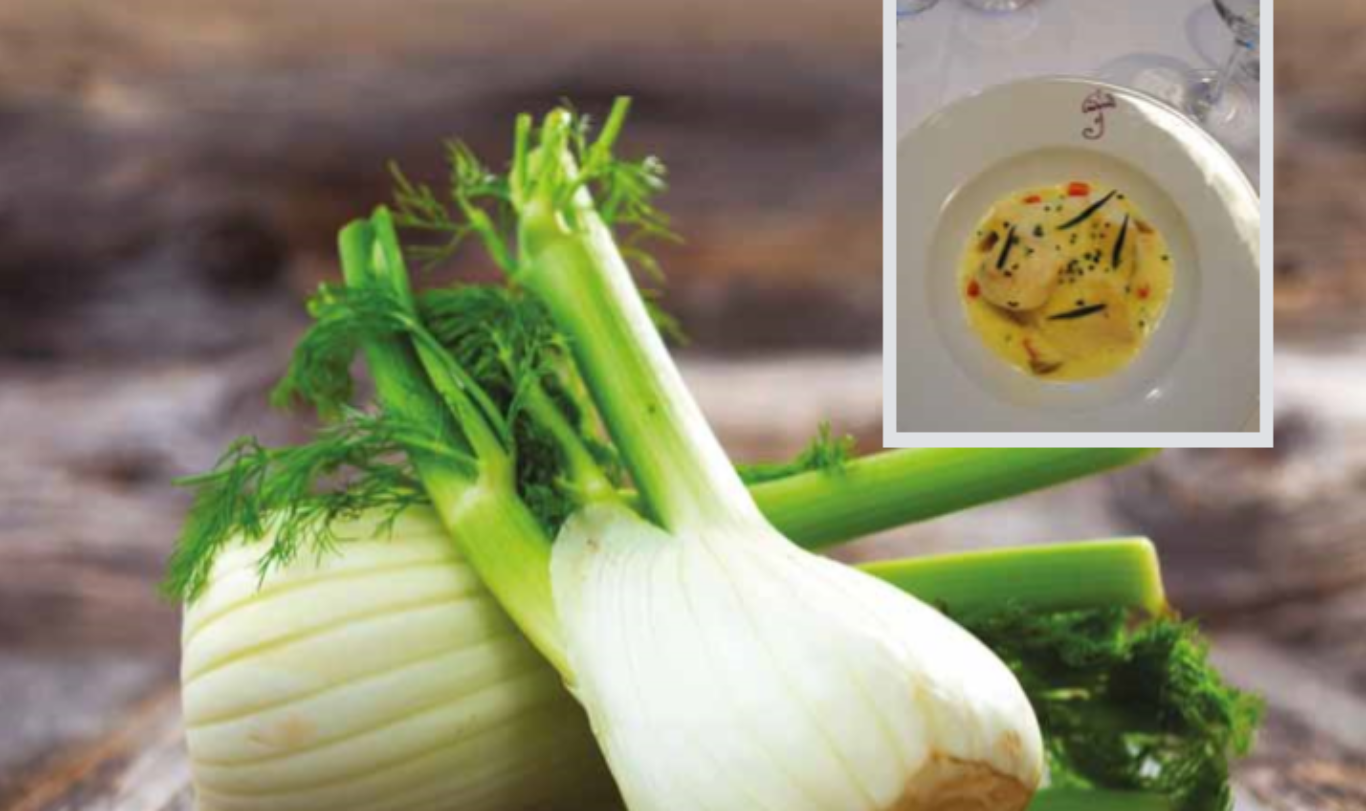 John Dory Cassolette with Braised Fennel and Saffron-Tarragon Nage
The recipe has been served onboard Oceania Cruises at the well-known restaurant, Jacques. Ingredients 480g John Dory fillet (120g/portion) Braised fennel 2 fennel cut in quarters or 6 if too big 90g shallots, Sliced 90g carrot diced (1cm cubes) 100g extra virgin olive oil 10g lemon peel, pith removed, cut in fine julienne 20g lemon
The recipe has been served onboard Oceania Cruises at the well-known restaurant, Jacques.
Ingredients
480g John Dory fillet (120g/portion)
Braised fennel
2 fennel cut in quarters or 6 if too big
90g shallots,
Sliced 90g carrot diced (1cm cubes)
100g extra virgin olive oil
10g lemon peel, pith removed, cut in fine julienne
20g lemon juice
11g salt
1l mineral water
Garnish
20 tarragon leaves
8 green olives, pitted, cut in quarters
Foamy sauce
300g fennel cooking juice
10g butter
½ tsp saffron powder
Preparation
Remove the outer leaves of the fennel and cut in quarters. Place in a roasting pan and reserve. Sweat the carrots and shallots in a large amount of extra virgin olive oil without allowing them to colour. Add salt, water, lemon juice and lemon zest. Bring to the boil, then remove from the heat and pour over the fennel. Cover tightly with 2 sheets of aluminum foil and bake for 1 hour at 170°C. Remove from the oven and allow the fennel to cool in the juice. Remove the fennel, carrot and shallot and set aside, reserving the juice.
For the foamy sauce
Take 300g of the fennel braising juice making sure to include all the olive oil. Add the saffron and bring to the boil. Keep the remaining juice (without olive oil) for cooking the fish.
To serve
Place the braised fennel with carrot and shallot in a casserole and add one ladle of the reserved cooking juice. Add the John Dory filets and green olives. Cover and simmer for 2 minutes, keeping the John Dory translucent.
To present
Carefully spoon 2 pieces of fennel on the bottom of the plate and top with the fish fillet. Add the sauce. Meanwhile warm and blend the fennel juice, making sure you have enough olive oil to foam. Add a piece of butter and keep mixing to get foam. Spoon the foam over the dish.