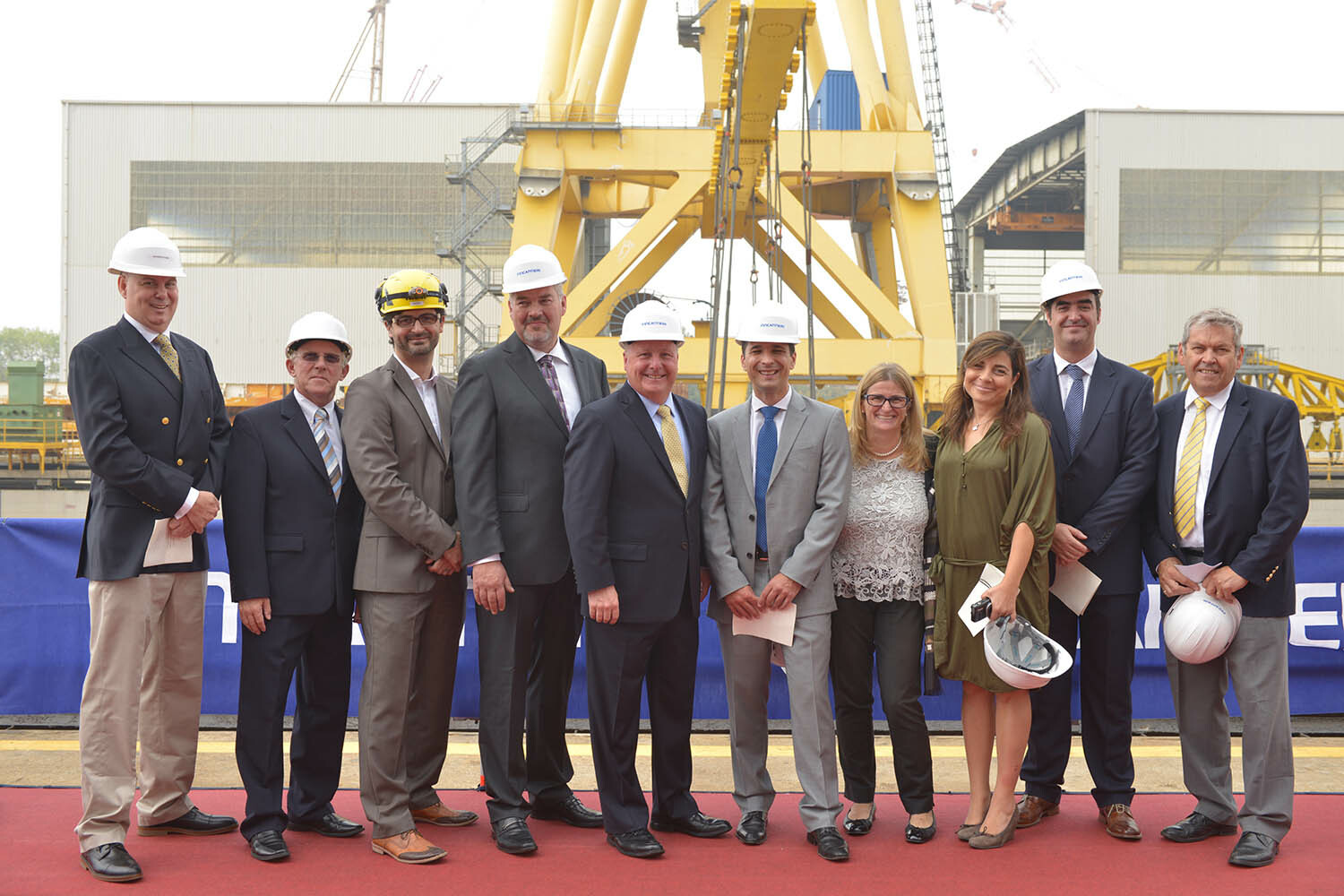 Keel laid for new luxury ship Seabourn Encore
On Tuesday Seabourn Encore's keel laying ceremony took place at the Fincantieri shipyard in Marghera, Italy, marking the latest construction milestone. The keel laying ceremony follows the steel cutting ceremony held back in April. This latest ceremony at the Fincantieri shipyard in Italy was attended, among others, by Holland America Group Executive Vice President Fleet
On Tuesday Seabourn Encore's keel laying ceremony took place at the Fincantieri shipyard in Marghera, Italy, marking the latest construction milestone.
The keel laying ceremony follows the steel cutting ceremony held back in April. This latest ceremony at the Fincantieri shipyard in Italy was attended, among others, by Holland America Group Executive Vice President Fleet Operations Keith Taylor and Antonio Quintano, director of Fincantieri's Marghera shipyard. Seabourn Encore is the first of two ultra-luxury cruise ships that Fincantieri will build for Seabourn over the next three years. The second, Seabourn Ovation, is due to be launched in Winter 2018.
Richard Meadows, President of Seabourn, said: "Set to début as the most modern and acclaimed ship in the ultra-luxury segment, the keel laying of Seabourn Encore represents another pivotal stage in the evolution of small-ship cruising. This is an important milestone and we look forward to revealing further progress and highlights of Seabourn Encore in the months ahead."
Due to launch in late 2016, the all-suite 41,700 gross ton ship will carry just 604 passengers. The vessel will be modelled after the award-winning trio of Seabourn's Odyssey-class ships and will be designed by leading hospitality designer Adam D. Tihany. Images of the luxury suites were released last month and can be seen here.
When she enters service in December 2016 Seabourn Encore will offer two pre-inaugural cruises – a 16-day sailing from Athens to Dubai and an 18-day itinerary from Dubai to Singapore. Here a gala naming ceremony will take place on 7 January 2017 before her official 10-day inaugural voyage to Bali, including calls to Surabaya (Java); Celukan Bawang (Bali); and Slawi Bay, Komodo (Indonesia). In April 2017, Seabourn Encore will return to Europe and will spend the summer season sailing seven-night itineraries in the eastern Mediterranean.
For details on the latest cruise ships on order click here.
(Photo credit to Seabourn)