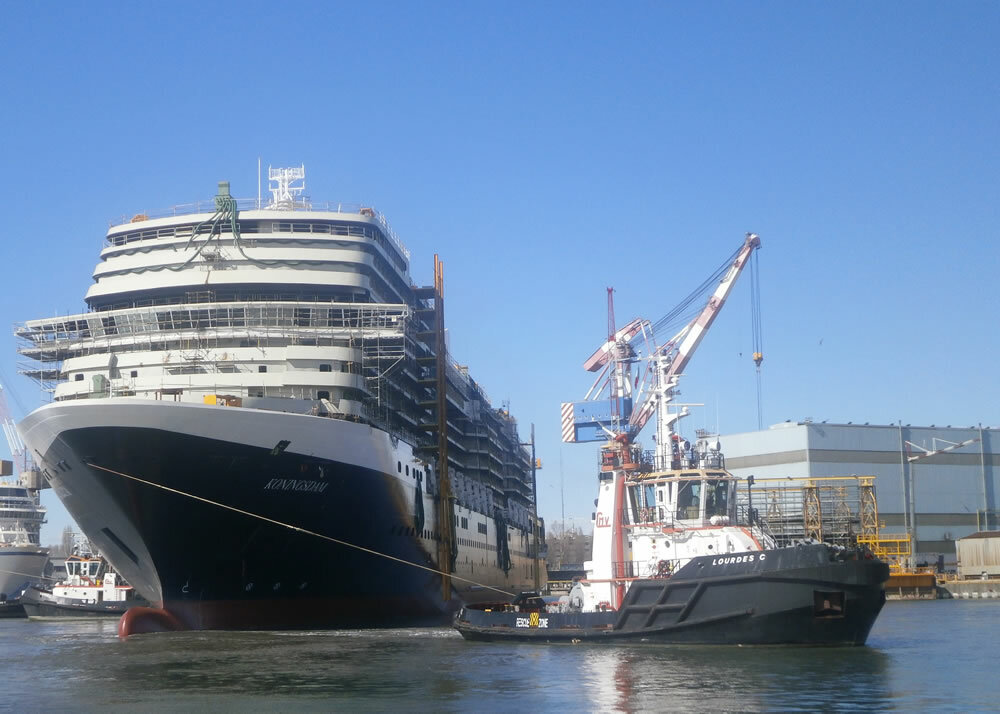 Koningsdam floats out as the delivery date is pushed back
Holland America Line celebrated a milestone last week in the construction of ms Koningsdam with the float out and transfer of the ship from its dry dock to the outfitting dock at the Fincantieri's Marghera shipyard in Italy. A coin ceremony was also held on 26 February 2015. During the ceremony, two gold coins were
Holland America Line celebrated a milestone last week in the construction of ms Koningsdam with the float out and transfer of the ship from its dry dock to the outfitting dock at the Fincantieri's Marghera shipyard in Italy.
A coin ceremony was also held on 26 February 2015. During the ceremony, two gold coins were welded to the forward mast of the ship by Schröder; Antonio Quintano, director of Fincantieri Shipyard; and Keith Taylor, executive vice president of fleet operations for Holland America Line. The gold coins bore the image of His Majesty King Willem-Alexander of the Netherlands. The word koning means "king" in Dutch, and the ship's name pays honour to the first king of the Netherlands in over a century.
Orlando Ashford, president of Holland America Line said "A ship's construction has many key milestones, and floating it out and moving it to the outfitting dock is especially symbolic. The float out represents that we are getting closer to welcoming Koningsdam to our fleet and seeing the ship in the water adds to the excitement among our loyal guests, travel agent partners and employees in anticipation of its arrival."
While in the outfitting dock Koningsdam will undergo the final construction and interior furnishing.
This announcement from Holland America Line also revealed that the delivery date has been pushed back from 20 February to 31 March 2016, with the maiden voyage now scheduled to depart on 8 April 2016. This maiden voyage will set sail on a round trip from Civitavecchia (for Rome; Italy) and will call at Dubrovnik (Croatia), Kerkira (Nisos Kerkira, Corfu; Greece), Katakolon (for Olympia; Greece), and Naples (for Pompeii; Italy).
(Photo credit to Holland America Line)