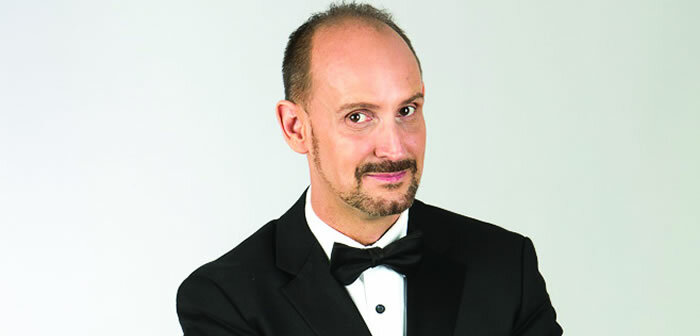 Life On-Board with Anthem of the Seas' Cruise Director Joff Eaton
Joff Eaton is the launch Cruise Director on Anthem of the Seas, arriving in Southampton for the first time in April, and sailing from the UK throughout the summer. Originally from Chichester, in West Sussex, he has worked in entertainment for 25 years and has been at sea since 1993. His wife, Amber, travels with
Joff Eaton is the launch Cruise Director on Anthem of the Seas, arriving in Southampton for the first time in April, and sailing from the UK throughout the summer.
Originally from Chichester, in West Sussex, he has worked in entertainment for 25 years and has been at sea since 1993. His wife, Amber, travels with him and is a trusted "auntie" to many of the younger members of the entertainment crew.
Tell us how you became an entertainer?
My life has always centred around some form of entertainment. Drama was a big part of my childhood. My first acting role was as a talking Mars Bar in a school production of The Hobbit! To this day I'm still not sure how they tied the two together, but no doubt Ian McKellan would have been proud. Organising events, shows and parties dominated my teenage years, and a desire to present on radio meant voluntary work at local stations to get whatever experience I could.
How did you start your career?
A good friend and I moved to the Costa Del Sol in Spain in 1989 working nightclubs and booking parties and functions for holiday companies. A return to the UK found me working for Virgin Records as an in-store radio presenter.
How did you get your big break, and when did you start working on cruise ships?
Thursday was always an exciting day in the UK for the entertainment industry as it meant the weekly edition of The Stage newspaper went on sale. One week, there it was: a cruise company looking for activities staff. I auditioned the following week and I was offered a three-month contract. Eight months later I realised I was doing something I really enjoyed and wanted to continue doing. The company I worked for initially had only three ships, so promotion opportunities were limited, yet two years on I found myself taking on the role of Assistant Cruise Director.
Strangely enough, about a month after starting the new ACD job I was approached by a guest who said she was a psychic medium. She told me I was going to be offered a promotion, and that there would be no time to think about it – I should just say yes. Less than two months later I was called into a meeting and offered the position of Cruise Director. I asked if I could take time to consider it and was advised I had one hour! Bearing in mind what I had been told just months before I accepted the job and within weeks I was heading up the entertainment department as the company's youngest Cruise Director. By the way, the lady who made the prediction had left me her number, so I called it to tell her my news, but on speaking to her husband he informed me that she had died just days after that cruise. Spooky!
How did your career develop from there?
I have been a Cruise Director now for 17 years with three companies. I was with Sun Cruises in the Mediterranean and Caribbean for 10 years and met Amber, my wife, while I was there. We were on board what was originally the Song of America, but the ship was bought by our company at the time and renamed Sunbird. This was followed by just over three years with P&O Cruises, sailing all over the world. Amber and I joined Royal Caribbean International in January 2008.
We spend a short period travelling on various ships getting to know the product, and took residency on Jewel of the Seas for 18 months before moving to Independence of the Seas in 2009. We spent five wonderful years on Independence and left at the end of 2014 in preparation for joining Anthem of the Seas.
How do the dynamics of ships and passengers change between cruises in the Caribbean and when sailing from Southampton?
Both are fantastic, but very different. From Southampton we have an 80-90 per cent UK guests, whereas sailing from Florida sees the same percentage in US guests. Luckily my style seems to work both sides of the Atlantic and although certain words, phrases and pronunciations change to the different nationalities there is one common denominator which links us all and that is that everyone is looking for a memorable holiday (or vacation!) and you have to go the extra mile to stand out and ensure guests return again and again.
What are the best and worst aspects of a predominantly British crowd on board?
Being British myself I love working with UK audiences. The cruises in the summer from Southampton tend to be 12-14 nights on average. As a nationality we like the traditional elements of what a cruise offers, but the more we get into the cruise the more relatable the key players become and the more involved the guests get. Some of the biggest audience participation events are attended by UK guests on any of our ships. It's about offering activities and shows that are classy, not forced and clever.
When did you find out you would be on Anthem? What was your reaction?
I was actually informed about my role on Anthem in August 2013, but nothing was announced until summer 2014 (that's a long time to bite your lip!). At the time it was over 18 months away, but it meant we could start looking at some new features and have a good understanding of how Quantum class would be new in various areas. Both Amber and I feel honoured to be offered the new ship, especially as it will be launched from Southampton which is only 40 minutes from where we live.
What are you most looking forward to among all the innovations Anthem has to offer?
Having sailed on Anthem's sister ship Quantum of the Seas in December 2014 it is immediately apparent the amount of new and very exciting features and venues on board. Two70 is just mind-blowing. By day the views and ambience of the room are incredible, and by night the shows and events performed are taken to a new level. The Bionic Bar is a great feature to repeatedly watch and order from, and the location of the venue puts you in the hub of the Royal Esplanade and amongst a great atmosphere. Anthem itself will offer the West End show We Will Rock You which has entertained audiences around the world with the best of the music of Queen, in addition to a second theatre show entitled The Gift, whereas Two70 will be home to the Spectra's Cabaret. It's great also to have Bumper Cars, RipCord by iFly and Northstar as brand new features….I could go on and on.
What acts do you want to see (or have you already lined up) in the Music Hall?
This venue is one-of-a-kind, with music, themed events and activities day and night. The tribute acts play a huge role and we'll be welcoming one or two bands each cruise, ranging from Beatles, Rolling Stones, general 60's/70's/80's band to The Police, Status Quo, Eagles and even soul groups. In addition, our resident bands will be offering a great line up of live music throughout the evenings. This venue absolutely rocks!
How can you exploit other venues on the ship to make the most of its entertainment potential?
Every main venue onboard is designed for entertainment, be it a production show, tribute band, live music, dance class, theme event, parties and general activities. Anthem will offer many incredible new entertainment features, in addition to some of the classic cruising favourites. It's a clique I know but there really is something for everyone…and loads of it!
Will you miss not having a Royal Promenade like the one on Independence?
The Royal Promenade is a great venue, there's no doubt about that, but just wait to see what Anthem will be offering. Groovy Town and Anthem Rocks are two of the new theme night parties in Music Hall, a brand new high energy interactive theatre game show that everyone will know and love will be opening during the summer, starring the guests, the orchestra, plus the singers and dancers. Two70 will feature various after parties and dance events.
What is your favourite aspect of life at sea?
The role of the Cruise Director is an amazing job to have. No cruise is the same, no set of guests are the same, no response is the same, and that's the magical thing…anything can happen, it's live, it's real-time and to quote my boss "there's nothing like it on the planet"!
And the least favourite?
Missing my own bed.
What are your favourite destinations around the world, and why?
The French Riviera has to be my favourite. In particular the small Cote d'Azur fishing port of Villefranche-surMer, near Nice and just a few miles from Monte Carlo. From my first visit here in 1996, Villefranche has become a town I will revisit again and again. There's nowhere to dock, so the tender boats carry everyone ashore. Just the views from the short tender journey are enough to pull you back. The glamour, the money, the property and the towering mountains make this a day to remember for any cruise. Try it!
Who is your favourite performer (alive or dead) you dream about introducing?
I would love to have introduced Sinatra. Just to hear the opening number and brass section kick in as he walks on stage. There's something very special about a brass section, and our own 'High C Horns' (as they're called) play for many entertainers and shows, it's a special sound. Sinatra would have been welcome on a ship with me…I think he would have enjoyed himself